News Review - 21 Apr 2017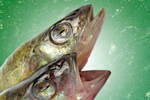 Rivers becoming a toxic waste dump… excessive mercury levels… radioactive contamination… gender-bending chemicals… hormone disrupters… cancer-linked weedkillers…
Water under Pressure
Without water, life as we know it could not exist on earth. The oceans hold about 96.5 percent of all earth's water. Only 0.5% of the world's water resources are available to provide for the freshwater needs of our planet's ecosystem and population. So you would think that this vital resource would be greatly prized and highly protected!
When you read the following articles you will quickly realise that mankind in general has little respect for this vital resource, with many of the world's great rivers being little better than open sewers!
American: Public Water Supply Unsafe
Radiation Problems? Just Raise The Limits!
Members Of The European Parliament Fail Important Test!
'ORGANIC' Food From China
USA: Don't Eat The Fish
The following article warns people about eating fish caught in reservoirs. What about a warning about drinking the water?
Salmon Test Positive For 81 Different Drugs
Gender-bender Chemicals
Indian Spiritual Festival Caused Damage To Sacred River
Pope Francis: 'Major World War For Water'
Famines: Not Simply About Food
A Song Of The 60's
Back in the 1960's, water pollution hit the headlines… the words are a lot more powerful today…
A Disaster Looking For A Place To Happen!
Why has this situation come about? The short answer is – GREED!
Here is how Mr Armstrong explained the situation:
Just 10 corporations have a monopoly on almost everything you buy at the supermarket. They are out to make a profit – no matter what! When it takes at least twice as much water to produce a plastic water bottle as the amount of water in the water bottle, then we have a problem!
21st Century Corruption To End – Soon!
The world's population is continually rising, water pollution is intensifying and still there is little action to protect our most vital resource – water!
As we continually point out, this is not God's world, Satan is in control. And Satan has deceived the whole world (Revelation 12:9)! Mankind cannot go on polluting the three main elements needed for human existence: Clean water, clean air and good wholesome food. But there is a solution coming, and that solution is revealed in the world's best selling, but least understood book, the Holy Bible!
Around 2,000 years ago, Christ came to announce to the world the soon-coming Kingdom of God. The return of Jesus Christ, to take control of all of this world's governments, is now imminent!
One of the first events to happen at the beginning of the 1,000 year rule of Jesus Christ is revealed in the book of Isaiah – and it concerns water!
As Mr Armstrong wrote:
---