News Review - 5 May 2017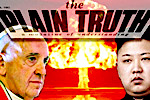 EU leaders go to the Pope for guidance… German warns against trusting Germans… terrorists and rogue nations with nuclear weapons…
The News Plays Catch-Up!
In the last few weeks, the news appears to have been playing catch-up to events predicted many years ago by Jesus Christ through God's end time Apostle, Mr Herbert W Armstrong. Since his death in 1986, many have criticized what he taught, even to calling him a false prophet. A look at recent events should cause critics to think again, and increase the confidence of those who believe that he was indeed a true servant of Jesus Christ!
What follows are three recent news items that prove this point:
Rome - 24th March 2017
"EU heads of state and government are planning to meet with Pope Francis in Rome on 24 March, ahead of a summit expected to provide a vision for the future of the EU after Brexit, diplomats told EURACTIV.com.
On the occasion of the 60th anniversary of the Rome Treaties, EU leaders will hold a summit in the Italian capital on 25 March with the hope of creating a new positive vision for the Union, which is faced with multiple crises.
But the day before, they will meet with Pope Francis in the Vatican.
Prime Minister of Malta Joseph Muscat mentioned on Monday (27 February) a possible meeting with the Pope, which in his words would 'provide leadership that politicians miss' in the context of the historic date of the Rome anniversary." ( euractiv.com)
The 27 leaders of the EU went to Rome to seek guidance from the Pope because their European dream is turning into a nightmare. They are looking to the Pope to "provide leadership that politicians miss" as he is the only leader that "has the skills and the vision to say things that transcend the obvious…"
Are we witnessing the beginning of the prophecy in Revelation chapter 17? It looks like the "woman" - the great false church - is beginning to "ride" - to control – the "Beast"!
We were warned… over 50 years ago:
1962 - "United within ancient boundaries of the Holy Roman Empire; united by the common spiritual bond of universal Catholicism…" ( The Plain Truth - March 1962)
…and again, shortly before he died!
1985 - "This is further explained in the 17th chapter of Revelation, depicting those 10 nations of Europe uniting under the Roman Catholic Church. In the last decade certain leaders in Europe have been working feverishly to bring about such a reuniting of Europe." ( Co-worker Letter – February 25, 1985)
WATCH – This event sets a precedent: when in trouble, EU leaders will go to Rome to seek leadership from the Pope!
Germany - 27th April 2017
"Nazi leader's son: 'Don't trust us' Germans. Germany could return to authoritarianism if the economic conditions were to seriously worsen in the country, the son of Hans Frank the governor general of Nazi occupied Poland during World War Two, has told BBC Hardtalk. 'As long as our economy is great, and as long as we make money everything is very democratic,' said Niklas Frank, but 'if we have five to 10 years heavy economic problems the swamp is a lake, and is a sea and will swallow again, everything,' he added." ( bbc.com)
Remember that warning of over 50 years ago?
1963 - "So long as present German prosperity continues — the Nazi takeover will not be possible! But — should any severe threat to that hard-won prosperity come — the picture will change — violently in Germany… Terrible economic disasters would result. And the result from such disasters? A new Nazi Germany!" ( Plain Truth - December 1963)
Hawaii - 27th April 2017
"The Pentagon needs to consider deploying new anti-ballistic missile systems and a defensive radar to Hawaii to protect against a growing threat from North Korea, the top US military officer in the Pacific told Congress on Wednesday. 'Kim Jong-Un is clearly in a position to threaten Hawaii today, in my opinion,' Admiral Harry Harris, the chief of US Pacific Command, told the House Armed Services Committee." ( mcclatchydc.com)
Yet again, we were warned!
1982 - "Even more disturbing is the growing prospect of nuclear terrorism – nuclear mass murder by madmen bent on their own insane goals! Many authorities believe that when the next nuclear bomb is used, it will be by terrorists and not by a national government.
The destructive capacity of nuclear bombs in terrorists' hands is a growing risk… In addition to terrorist groups, experts fear that unstable regimes in various countries could also get the bomb. An unbalanced Third World dictator with a nuclear device could kill millions of people. A new Stalin or Hitler in a major nation would have the stockpiles to literally obliterate the entire human race!
The nuclear 'genie' is out of the bottle! Events are even now impelling the world toward a time of cataclysmic destruction. It is time to awake to the imminence of nuclear war and nuclear terrorism!" ( Co-worker Letter – April 21, 1982)
"My people are destroyed for lack of knowledge" (Hosea 4:6)
Its not just the EU leaders who lack understanding. As Mr Armstrong pointed out almost 40 years ago, it includes this world's media and leaders! There is no REAL understanding of world events!
1978 - "I know this may sound incredible, but it's true. And it's time the facts were understood! Editors, news-casters, foreign correspondents and reporters do not understand the real meaning of the world news they report, analyse and discuss. Equally incredible – heads of governments are utterly unaware of the true significance of the world shaking events with which they deal. They have no conception of where these events are leading. Incredible? Perhaps – but true! " ( The United States and Britain in Prophecy - Chapter 1)
"Constantly Accelerating International Tensions"
When we look at the condition of the world today we see a world descending rapidly into chaos.
Wars, And Rumours Of Wars
The Middle East is a major centre of conflict. Syria is in the middle of a conflict involving most of the major powers – some pushing for regime change while others try to maintain the status quo. When the major players include the USA, Britain, Israel, Iran, Russia, Saudi Arabia plus several terrorist organisations, this could lead to disaster.
Tension is on the increase between Israel and Gaza, which some predict will escalate into open conflict soon.
China is flexing its muscles in the China sea, while the USA is opposing them, along with several other nations in the region.
Meanwhile, tiny North Korea threatens to blow the American fleet out of the water while continuing to test nuclear weapons.
Now the Pope intervenes calling for a diplomatic solution…
Islamic Terrorism
Due to political correctness, there is reticence amongst Western nations to talk about Islamic terrorism, but the facts speak for themselves. Terror attacks by Islamist extremists are occurring globally. No nation is safe!
The methods are many: running vehicles into crowds of people, shootings, car bombs, knife attacks, suicide attacks and more. This creates a climate of fear, which governments use to bring in more "protective" legislation, most of which curtails personal freedom.
On a recent trip to Egypt, the Pope criticized the 'barbarity' of violence in God's name, but the violence continues unabated!
Worldwide Political Strife
In the USA, the two main parties don't seem to be able to agree on anything. In Britain we have Brexit – the process of withdrawing from the EU. This is causing much strife, both in Britain and Europe. France is on the brink of electing a new president which could further add to the problems facing the EU!
Germany has an upcoming election in September, and with a great resurgence amongst right wing parties, their future is uncertain! There are also problems between Germany and the USA, with Germany threatening to leave NATO and create a Euro Defence Zone – run by Germany!
The problems between Russia and Ukraine are not being resolved, causing strife in the region.
China and Russia are excluding the US dollar in their trade with each other. This too is causing upheaval in the financial world. The fact that US debt is now over $20 trillion also causes problems, both in America and the rest of the world.
Meanwhile, Japan is fast dumping its pacifist status as it rearms to protect itself from a very aggressive North Korea.
Gender Strife
Life has become so confused for some that they no longer can make up their minds whether they are male or female. The whole situation is clouded by terms such as "homophobia", "gay rights", "gay marriage" and "transgender". All is chaos and confusion!
With personal relationships in crisis and modern lifestyles in chaos, unwanted pregnancies abound. According to the World Heath Organisation
"…there are between 40-50 million abortions worldwide every year. Twenty-two percent of all pregnancies in the USA (excluding miscarriages) end in abortion." ( worldometers.info)
What does that say about this world's society?
Upsurge In The Supernatural
According to the media, UFO's are very much back in vogue. With all these "sightings", and the technical ability of modern cameras, we could expect at least a few "sharp" photos – not the blurry offerings that abound in the media. Then we have the science fiction films – most of which involve invaders from a superior world coming to destroy the earth! Is this all a part of mind conditioning, preparing people to fight Christ at His return?
Religion – Division Inside – At The Top
While the Pope is being pushed as the world's moral authority, the Roman Catholic Church itself is full of strife – inside, and at the very top. A large group of Cardinals object strongly to some of Pope Francis' ideas. This could lead to open conflict and total upheaval within the Catholic Church!
So that's today's world – with wars and rumours of wars, famine in North Africa affecting 20 million people, political chaos between nations, terrorism worldwide, an unstable world, unstable people, a fearful world, a very dangerous place to live right now.
The Question Is – WHY?
Why all this chaos and strife in today's world? Christ revealed the "WHY" to His end time Apostle.
The staggering truth is – this is not God's world!
Satan is in control. He is the god of this world (2 Corinthians 4:4).
This world's religions – ALL OF THEM – worship the god of this world.
How Has This Happened?
Because…
" Satan has deceived the whole world" (Revelation 12:9).
The Apostle Paul makes this very clear:
"And no marvel; for Satan himself is transformed into an angel of light. Therefore it is no great thing if his ministers also be transformed as the ministers of righteousness; whose end shall be according to their works" (2 Corinthians 11:14).
The Apostle Paul also warned:
"…lest Satan should get an advantage of us: for we are not ignorant of his devices" (2 Corinthians 2:11).
The problem: Most ARE ignorant of his devices… not only that, most are ignorant about his very existence!
How Does Satan Work?
"Likewise, Satan, a powerful spirit being next to God in power, and prince of the power of the air, is the SPIRIT 'that now worketh in the children of disobedience' – that is, all humanity. I could not have understood that until I myself began broadcasting by radio and television. Every human spirit is tuned in on his wavelength." ( The Good News – May 1981)
Satan's Broadcast
"He broadcasts in attitudes of self-centeredness, lust, greed, vanity, jealousy, envy, resentment, competition, strife, bitterness, and hate.
In a word, the selfishness, hostility, deceitfulness, wickedness, rebellion, etc that we call 'human nature' is actually Satan's nature. It is Satan's attitude. And broadcasting it, surcharging the air with it, Satan actually now works in the unsuspecting all over the world today! That is HOW Satan deceives the whole world today (Rev. 12:9 and 20:3). Being invisible, people do not see or hear him.
This prince of the power of the air – this god of this world – is the real source of what we have come to call 'human nature'!" ( The INCREDIBLE Human Potential - Chapter 11)
So - Why All This Chaos And Strife In Today's World?
To fully understand why this world is in such a chaotic state – and getting worse daily – we need to understand where we are in prophecy right now.
When the disciples asked Christ: "…what shall be the sign of thy coming, and of the end of the world?"(Matthew 24:3) Here is Christ's reply: "And this gospel of the kingdom shall be preached in all the world for a witness unto all nations; and then shall the end come" (Matthew 24:14).
Mr Armstrong completed that part of God's work.
The next major event is revealed through the Apostle Paul: "let no man deceive you by any means: for that day shall not come, except there come a falling away first…" (2 Thessalonian 2:3). This is where we are right now. God's true Church is shattered and scattered. This is why we have to… "earnestly contend for the faith which was once [and for all] delivered unto the saints" (Jude v3).
The Apostle John was inspired to warn us… "behold, I come quickly: hold that fast which thou hast, that no man take thy crown" (Revelation 3:11).
We can "lose our crown" by following men who preach a doctrine contrary to what Christ revealed to His Church! We need to "earnestly contend" for that spiritual heritage!
A key event to watch for now, is the forming of a 10 nation/power-block German led Europe – an event that will usher in the great tribulation and trigger a clear prophetic countdown to the second coming of Jesus Christ, as King of Kings, and Lord of Lords
Key Part Of Satan's Great Deception
The churches of this world preach a gospel about Jesus, while totally ignoring His message! He came to announce the soon-coming Kingdom of God – on the earth!
"Now after that John was put in prison, Jesus came into Galilee, preaching the gospel [good news] of the kingdom of God, And saying, The time is fulfilled, and the kingdom of God is at hand: repent ye, and believe the gospel" (Mark 1:14-15).
The Return Of Jesus Christ
"And I saw heaven opened, and behold a white horse; and he that sat upon him was called Faithful and True, and in righteousness he doth judge and make war. His eyes were as a flame of fire, and on his head were many crowns; and he had a name written, that no man knew, but he himself.
And he was clothed with a vesture dipped in blood: and his name is called The Word of God. And the armies which were in heaven followed him upon white horses, clothed in fine linen, white and clean.
And out of his mouth goeth a sharp sword, that with it he should smite the nations: and he shall rule them with a rod of iron: and he treadeth the winepress of the fierceness and wrath of Almighty God. And he hath on his vesture and on his thigh a name written, KING OF KINGS, AND LORD OF LORDS" (Revelation 19:11-16).
That's Why Satan Is Angry
The Apostle Peter warned: "be sober, be vigilant; because your adversary the devil, as a roaring lion, walketh about, seeking whom he may devour" (1 Peter 5:8).
The effects of Satan's anger are obvious in today's world!
" Woe to the inhabiters of the earth and of the sea! for the devil is come down unto you, having GREAT WRATH, because he knoweth that he hath but a short time" (Revelation 12:12).
A short time before what happens?
When Christ returns, one of the first things He does is to shut Satan away!
"And I saw an angel come down from heaven, having the key of the bottomless pit and a great chain in his hand. And he laid hold on the dragon, that old serpent, which is the Devil, and Satan, and bound him a thousand years, and cast him into the bottomless pit, and shut him up, and set a seal upon him, that he should deceive the nations no more, till the thousand years should be fulfilled…" (Revelation 20:1-3).
The Future Is Almost Here!
"Christ, the King of kings. Perfect in character, absolute in honesty, integrity, faithfulness, loyalty and trust; filled with outgoing concern for the governed – their welfare and salvation; total knowledge, understanding, wisdom. Complete love, mercy, patience, kindness, compassion, forgiveness. Yet, possessing total power, and never compromising one millionth of an inch with His perfect law – which is the way of love. He will enforce God's Law – God's Government on earth. He will compel haughty, carnal, rebellious humans to yield in complete submission to God's Government.
No one will be deceived – as the vast majority of mankind is today. All will know the truth. No more religious confusion. Eyes will be opened to the truth. Humans will become teachable. People will start living God's Way – the way of outgoing concern for others – the way of the true values – the way of peace, of happiness, of well-being, of joy.
Crime, sickness, disease, pain and suffering, gone. Poverty, ignorance banished. Smiles on people's faces – faces that radiate. Wild animals tame. Air pollution, water pollution, soil pollution, gone. Crystal pure water to drink; clean, crisp, pure air to breathe; rich black soil where deserts, mountains and seas formerly were, producing full-flavored foods, and fantastic beauty in flowers, shrubs, trees. A world filled with happy radiating humans, guided, helped, protected, and ruled by former mortals made immortal – and all the humans realizing that they, too, may inherit everlasting life in supreme happiness and thrilling joy.
What a fabulous picture!" ( Tomorrow… What It Will Be Like - Chapter 7)
" YOU DON'T HAVE TO BELIEVE IT! It will happen, regardless. It is sure – the world's only sure hope. This advance good news of tomorrow is as certain as the rising of tomorrow's sun " ( Tomorrow… What It Will Be Like - Chapter 1).
---