News Review - 28 Jul 2017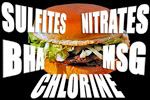 Fast Food… processed food… "cosmetically perfect" food… wasted food… low sugar food… low fat food… low salt food… food laced with chemicals and pesticides… how do we survive…
"The War on Food"
In our modern Western world, our food supply has been greatly corrupted. One big reason is that supermarkets demand perfection, so farmers are forced to use pesticides and herbicides to try to satisfy their demands. Much of our food is "processed", for profit, leading to the term "foodless food". How can we survive the war on our food? First, a look at the problem…
"More than 97% of European food products contain pesticide residues, according to analyses carried out by the EU's national authorities. The European Food Safety Authority's (EFSA) annual compilation of results from studies across the EU on the presence of pesticides in food products held no surprises. Of the 84,341 samples of produce from conventional agriculture analysed, 97.2% contained traces of one or more of 774 pesticides. Meanwhile, 99.3% of organic food was free from residues or within legal limits '." ( euractiv.com)
Do You Know What You Are Eating?
First, read the contents on the label. If you cannot pronounce the names of the ingredients, then this points to the fact that they could well be unhealthy. A long list of ingredients just has to raise some questions!
And what about those unpronouncable chemicals? Would you like some Tertiary butylhydroquionone, or some Sodium acid pyrophosphate? How about some Dimethylpolysiloxane?
Later on in this article, you will find out that if you eat Fast Food, you are eating these chemicals.
The following article explains the effects of junk food on the body:
So Much For The Fries – Now The Burger
It's not just McDonald's. Note the phrase in the next article: ' The ingredients are similar to anything you'd see in processed fast food.' All processed food is similar. It contains chemicals to make it smell good, taste good and have a long shelf life. Nutritional value is always going to be suspect, as are the effects of the chemicals used on our health!
Why This Reaction To Fast Food?
The following article reads a bit like a horror story. French Fries should be potatoes, oil and salt – but not these fries. They sound more like a chemical experiment!
The High Price Of Wastage
Supermarkets demand perfection. The slightest imperfection results in rejection. So farmers are pushed to protect their produce with all the chemicals available.
What Can We Do?
Avoid fad diets for a start. Low salt, low sugar, low fat… the question is, what has been used to replace the salt, sugar and fat?
You are what you eat… and so is the meat you eat!
What we eat affects our health. When we eat meat, what the animal is fed affects the quality of their meat, as the following article points out:
Real Food Or Pills?
Now some doctors are stressing the importance of a well balanced diet:
The Basic Third Law Of Success
In his booklet, The Seven Laws of Success, Mr Armstrong stresses the importance of being careful what we eat:
The Key To Radiant Health
Writing in The Plain Truth magazine in January 1982, Mr Armstrong wrote:
---