News Review - 8 Dec 2017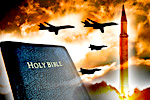 To Watch… with Wisdom
We see preparation for wars… we see threats of war… we see God's church shattered and scattered… we are entering a time of world trouble – utter WORLD chaos… we are told to watch world events… but what are we looking out for?
The vast majority of people today have no idea of what is to shortly take place. Some see danger, and try to warn the masses.
" Can't you see war on the horizon?" asks political analyst Paul Craig Roberts.
Russia v North Korea
According to the following article, Russia is preparing for conflict with North Korea, not the USA!
Saudi Arabia v Iran
Sunnis and Shia: Islam's ancient schism threatens war…
The Great Asian War Game
Ground Zero: Israel
There has been much talk about moving the US embassy to Jerusalem. But this is easier said than done! Surely this could lead to war?
The World's Most Dangerous Flashpoint?
The World Today: Chaos And Conflict!
While we have major conflicts involving Saudi Arabia, Iran, Russia, North Korea, China, Japan, Pakistan, India, USA, the UK, and Israel… we also have to keep in mind ongoing conflicts in Syria, Libya, Somalia, Afghanistan, Iraq, Mexico, Ukraine, Nigeria, Sudan, South Sudan, Central African Republic, Democratic Republic of Congo, Egypt, Mali, Mozambique… the list seems endless!
While the world is focused on war in the Far East, their attention is being diverted from the real problem areas, Europe and Israel!
Add to all this the internal political strife in the USA, between Republicans and Democrats, in the UK over Brexit, in Germany, still without a government, in the EU, with several countries threatening to leave… this world is a world of chaos, conflict and confusion. The question is… WHY?
No understanding of world events!
Our Spiritual Heritage
From the very beginning of the end time work, Jesus Christ revealed the outline of future events to His end time Apostle. From the beginning, the focus was on the rise of the Holy Roman Empire, and the fact that God was going to use that power to punish His people, the USA and Britain, destroying their nations and enslaving the survivors.
The message has not changed!
A German led Europe foretold…
Britain not a part of the final 10 nation Europe.
Europe to turn against the USA…
In his book, ' United States and Britain in Prophecy', Mr Armstrong gave this overview:
Where Are We Now In Prophecy?
The question is, are we near to that time of "world chaos?" The nations of the world are full of "crime, violence, sickness, disease, inequality, poverty, filth, squalor, degeneration, suffering…"
When we look at Matthew 24, can we see the scripture being fulfilled? The world is full of religious confusion. God's own church is shattered and scattered. The whole world is deceived - they think they are worshipping God when they are actually worshipping Satan!
We are surrounded by wars and rumours of wars, nations are rising against each other. We see famines – 20 million people need feeding according to the UN. We see pestilence – the dreaded Black Death returns … the earth is being shaken – volcanoes and earthquakes are on the increase…
These things are all coming to pass!
But could we be missing something?
Something serious?
Beware The Black Swan…
We have our spiritual heritage. We have been given understanding of end time events. But we need to be careful! Sometimes the unexpected happens – the Black Swan event.
We understand that a German-led resurrected Holy Roman Empire is going to be centre-stage very soon now. We know that this great European power is going down into the Middle East, and particularly into Israel, where the Roman Catholic Church will set up its headquarters. We know that God is going to use this "beast power" to punish modern day Israel, Britain and America, destroying both countries, and the survivors to be taken into a harsh captivity.
We know WHAT happens, but the question is, HOW?
How does all this come about?
Enter the Black Swan – the totally unexpected event that catches people off guard!
For example, Mr Armstrong warned that after he died, some of the leading men whom he had disfellowshipped would return and try to take over the church. The event occurred, the church was destroyed, but not in the manner we all expected. The attack came, not from the outside, but from the inside – at the very top! We were caught off guard, watching for the wrong area of attack.
When it comes to end time events, we not only need to be watching – but watching carefully.
Now consider: In I Corinthians 10:11 the Apostle Paul informed us that Old Testament events happened for our admonition…
How Did Israel End Up In Egypt?
Look at the events that occurred when Israel went down into Egypt, and ended up as slaves. They left the land of Israel because it was made totally desolate by drought. This drought hit all nations (Genesis 41:57) so they went to Egypt to buy food. Eventually, with 5 more years of famine ahead, they moved to Egypt (Genesis 45:9).
They were rescued by Egypt – but not for long. Soon they became enslaved and after several hundred years of slavery, they cried out to God. God rescued them from Egypt and at the same time totally destroyed the then world superpower.
There are several other scenarios which could be alternatives to a direct attack by the Beast Power, which many are expecting:
Could this be a possibility?
It is feasible that the attack on the cities of the USA and Britain could come from terrorists, using nuclear weapons.
Then Europe and other nations step in to rescue the survivors. Once rescued, they become enslaved. When some cry out to God for help, He comes and rescues them and destroys this world's superpowers.
It is possible that the USA could be hit by a series of natural disasters, earthquakes, tsunamis… making the country uninhabitable.
An EMP (electro-magnetic pulse) attack, even possibly by North Korea, could destroy the electricity grid and "fry" all computer chips, according to some authorities. This would also make America uninhabitable…
It could even be that the "attack" could come surreptitiously from within, at the top, causing civil war to break out in the US – leading to the destruction of cities and drastic food shortages.
Prophetic Events WILL Occur
Modern day Israel WILL go into captivity!
Jesus Christ WILL return, to set up the Kingdom of God!
We need to ask God for wisdom… so we can watch correctly… so we can understand end time events!
So we must watch - but watch with wisdom including the desire to be ready - to be spiritually fit to serve in the coming Kingdom of God!
---