News Review - 16 Feb 2018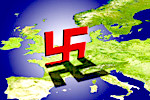 EUROPE 2018
"We Europeans will have to take our fate into our own hands." ( German Chancellor Angela Merkel)
As we watch history unfold, we can see that much of what Jesus Christ revealed to His Church has already come to pass. Note that the message has not changed! From the beginning, the focus has been on the Resurrection of the Holy Roman Empire, even when Germany was laid waste at the end of the Second World War! Here are a few quotes to prove the point:
Talking about the Holy Roman Empire, Mr Armstrong said…
March 2017
October 2017
1945 – The Nazis Will Return!
Mr Herbert Armstrong wrote about this situation over 70 years ago after attending the San Francisco conference at the end of World War II, which led to the founding of the United Nations:
February 2018
The Nazis are back – and they have power!
"Germany Will Lead Europe AGAIN!"
Germany coalition deal: A marriage of convenience, not love
The Rise Of The European Military
Germany 2018 – "We Cannot Depend On Others!"
German Army To Set Up New NATO Headquarters
Yet More Drama In The Coalition Crisis
Europe Moves To The Right!
Austria already has a coalition government which includes a right wing party. The AfD party in Germany will have real power in a German coalition government. Italy next?
What Happens Next?
The situation in Germany is confused. It has been over four months since they had a proper government. This, along with Brexit, has led to a more unstable Europe.
SPD members all have a vote, either to approve or throw out, the coalition agreement. If they agree to the coalition, Germany could well have a government in place by the end of March. If the motion is defeated, then Mrs Merkel has two choices: Form a minority government – or go for fresh elections.
What Mrs Merkel and the SPD want to avoid is fresh elections, as this would almost certainly result in yet more gains for the AfD party.
Weak Coalition Government?
Next - A Breakdown Of Civilization Coming?
As we watch the news, we can see that what Jesus Christ revealed to His Church is coming to pass. Germany has destabilised Europe by allowing over one million young Muslim men to migrate to Europe. Europe is in turmoil as a result.
Just 70 years after the end of World War ll, the Nazis are back, as the largest opposition party in the German Government.
The European leaders have gone to the Pope, seeking help and advice to save their faltering dream. The political chaos in Europe is crying out for strong leadership. Strong leaders are needed in time of extreme crisis.
In view of what many financial analysts are predicting for the near future, we would do well to review what Mr Armstrong wrote back in 1984:
Recipe For A Dictator
Blend a large amount of political confusion with a nice big juicy financial disaster. Add to this a fearful population, garnished with a few natural disasters. Then carefully add several terrorist attacks, or false flag attacks, and stir briskly – and don't forget to add a black swan to spice things up… and you have created chaos, the perfect environment from which a dictator can arise.
Then supply a strong leader, backed and controlled by an apparently miracle working religious leader and they will both be accepted by the vast majority of the people…
They will give the people of Europe new hope…
AND DESTROY ALL WHO OPPOSE THEM!
---