News Review - 11 May 2018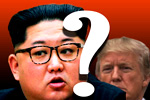 A poor nation that struggles to feed its own people… yet a nation with nuclear weapons… that even threatens the USA… what's going on in
North Korea?
In the 21st century, how can the richest, most powerful nation on earth be threatened by one of the world's poorest nations? Strange, but true! The US finds itself under threat from one of the poorest nations on earth – tiny North Korea! And that threat appears to be real!
First, a brief history of North Korea, and then a look at how it came to have the ability to attack the USA.
20th Century Korea Overview
Trade: China Replaces Russia
History tells us why North Korea really wants the bomb!
When you understand the reason why North Korea wants 'the bomb', it seems highly unlikely that the regime would be willing to bargain away its prized program.
North Korea Nuclear Tests: What Did They Achieve?
North Korea Missile tests
Now: US Within Range!
How Did North Korea Get Nuclear Weapons?
North Korean Scientists: Dedicated Or Fearful?
North Korea Had External Help In Building Its Nuclear Weapons
Kim-Xi Meeting Presents A New Challenge For Trump On North Korea
The News Behind The News
Given the fact that North Korea is called a hermit state, poor and underdeveloped, the sheer scale of their nuclear project is huge…
Where Does The Money Come From?
IF "the pace of North Korea's development surpasses similar programs in India, Pakistan, South Africa, Israel, and even France", where does the money come from?
How can they afford a nuclear program with a GDP of a mere $16 billion? It's not possible! Compare that to South Korea – at 1,411 billion US dollars – or the US $20+ trillion!
Is somebody else helping foot the bill?
And if so – who …and why?
Here is a pointer to the "who"!
As a previous article pointed out:
Given that China controls 90% of all trade with North Korea, and that it was Russia that helped get the North's nuclear program up and running, and that the missiles and launchers are of Russian and Chinese origin, the "who" seems none too well hidden!
That being the case, the next question is: WHY?
China wants the US military out of South Korea. That would make it much easier for China to attack Taiwan, and take control of the South China Sea. Recent news items point in this direction.
Taiwan Under Threat
America Under Threat – From Both Russia And China
America is involved in a war in Syria. Syria is backed by Iran. Iran is backed by Russia. Tensions are high. Iran is hard at work trying to obtain nuclear weapons. If they succeed, Saudi Arabia will follow suit! The only mid-East nation with nuclear weapons is Israel. President Trump is challenging the Iran nuclear deal while Iran is threatening to sink US ships. This is one crisis away from a disaster!
Meanwhile, China is claiming control of the South China Sea area – and is challenging US power of the region. Removing the US military from South Korea would help China's cause. The US also supports Taiwan, which China will not tolerate! This is another area that is one crisis away from a disaster.
On top of all this, tiny North Korea apparently has nuclear missiles that could reach the US!
As Mr Armstrong warned:
Watch for two important upcoming events:
President Trump's decision on the Iran nuclear deal – due May 12th
President Trump's meeting with North Korean leader Kim Jong Un - now set for June 12th in Singapore.