News Review - 31 Aug 2018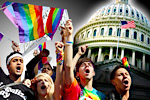 Self love… love of money… scoffers… nothing sacred… unloving… unforgiving… no self control… cruel… full of hate… reckless and puffed up with pride…
The Dangers of the Last Days
We now live in a world that has lost its way, as Mr Armstrong explained that:
Here is a Bible description of today's world:
The 1960's – A Dramatic Drop In Standards
Burning Man: Searching for Meaning and Purpose
Education Goes Off Track
There was a time when education prepared people to be able to get a good job. Today, it's all changed. More and more colleges and universities are offering "queer" courses – courses where students study a subject by studying from material prepared by "Queers"! Instead of getting an education, students minds are being perverted.
Students Taken Off-Track!
This is their real goal, to "destabilize long held assumptions about what the Bible — and religion — says about gender and sexuality." This is a classic example of end time bafflegab! The Bible is VERY clear on gender and sexuality. Read Romans 1:18–32!
Here is an example of the outline of a College course in English literature…
They use language designed to sound "professional" - pure bafflegab!
Teach Students To "Read Queerly"
Navigate Through The Pressures Of Social Media – Via The Occult
Drag Queen Story Hour For Young Children
Their purpose is to get children to believe that their perverted ways are "normal and acceptable".
Truth Is Fallen In The Street – Isaiah 59:14
Told The Truth – Thrown Into Prison
Modern Religion
Where is the leadership in Christianity today? The largest Christian group, the Roman Catholics, are full of corruption and perversion, as the following articles point out. No wonder people are looking elsewhere for help!
The Great Gender Debate
We really do live in the age of chaos and confusion. God created male and female. Simple! Not so today.
Parents Teach Their Children To Be Confused
And Now We Have - "Gender Pronoun" Badges
Free speech is dead!
Some address the problem…
Abortion: One Man Speaks Out!
Big Brother Really IS Watching You!
The "Normalization" Of Evil
How low can they go? Very low!
Social media and video games:
The Thin Veneer Of Civilization Disappearing
Society IS unravelling: A young boy will have no father for the rest of his life because a psycho started shooting at a Madden Tournament.
Magazines we trust – lie!
"Stop The 'Religious Indoctrination Of Children"
After all, according to the "experts", " science is better than religion at explaining the natural world."
The Final Corruption - Witchcraft
We ARE Living In The LAST DAYS!
The "self" takes centre-stage. "Me, myself and I" are all important. Money is all important. Nothing is sacred any more, especially when it comes to morals. Our so called news is full of slander and lies. The main thrust today seems to be to get people to accept that sodomy, and transgenderism, pedophilia, bestiality, cannibalism, and Satanism are the new norm – all of which are condemned in the Bible!
We were warned of this end time attitude:
People don't want to know about God. As Mr Armstrong explained:
LEAVE IT ALL BEHIND!
As we look forward to keeping the Feast, we need to remember our calling, leave this dying world behind and focus on the future. Remember - we are the custodians of the Law of God – God's way of life! (Isaiah 8:16)
We must not be a part of the problem, we are in training to be a part of the solution!