News Review - 23 Nov 2018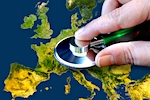 European empire… German leadership… military union… fear of Russia… trade wars… financial collapse… here is a…
Prophecy Healthcheck (part 1)
The Unchanging Message
Since the production of the very first issue of the Plain Truth Magazine in 1934, the message has not changed! Back in November, 1982 Mr Armstrong warned yet again: the "United States Of Europe Is Coming".
Europe is now politically united.
Out of this group will appear the final 10 nation Europe.
The Eurozone has a common currency.
A European army is under construction.
And now, the latest idea is…
Europe Must Become An "Empire"
German Leadership
Germany Can't Accept Being Treated Like An Occupied Country
Launching Europe's Military Union
Please take note of this statement: "…the military union is not only aimed at reaching more 'independence' from the United States, but also at advancing EU 'integration,' which is difficult to achieve with civilian means. "
This shows how the Germans are thinking. Use a common enemy to unite the nations.
Europäische Wirtschafts-gemeinschaft
(European Economic Community)
Military Union
The EU has lied for 50 YEARS
'Real Army' Will Defend Europe 'Against China, Russia, US'
Back in 1982, Mr Armstrong explained why the Europeans would unite militarily to counter the threat from Russia and even the United States! It's now happening! Governments have changed – but the threat remains!
Europe Can Shoulder Its Own Defense Burdens
Macron Wants 'European Army' To Share 'Nukes' With Berlin
EU Army: Will It Be Easy For Europe To Get Rid Of American Political Diktat?
Trade Wars Soon?
Back in 1963, the world was a very different place. Germany was a divided nation – separated by the Berlin Wall while the Eastern European nations were firmly controlled by the Soviet Union. Yet this warning appeared in the Plain Truth Magazine in December 1963 – over 50 years ahead of its time!
The Threat Grows… Worldwide
US Trade War With The EU?
The Nazi's ARE Back!
Back in February 1973, a Plain Truth article entitled ' 1973 Critical Year for the New Europe' used a quotation from The Economist magazine:
In the light of present day events, that "TRULY SHATTERING EVENT" that "MIGHT QUICKLY PRODUCE THE UNITED EUROPE" could be very close. And that event is…
FINANCIAL COLLAPSE!
In July 1984, Mr Armstrong wrote:
France Warns Of Euro Break-up In Next Crisis
Not Just In Europe – In The USA As Well!
A Perfect Storm Is Brewing
World Warned Of Resurging 'Old Demons'
Mr Armstrong had this message for the Church: