News Review - 18 Jan 2019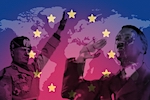 EU bubble doomed to burst… Brussels on 'cliff edge of disaster' … London, Washington & Paris on brink of collapse:
Are we approaching…
"The Time of Monsters?"
Many analysts feel that we are dangerously close to world changing events. One man warns:
Monsters? Dictators? In The 21st Century?
Is it really possible?
Many are warning that major changes are about to happen in the world, both politically and in the world of finance.
The modern banking system practices what is termed fractional-reserve banking. Banks keep only a fraction of their deposits set aside as reserves to conduct day-to-day transactions. The remainder of the deposits are used for interest-paying loans. In other words, they lend out cash which is not theirs, on which they charge interest.
Does that sound honest?
If you think that is dishonest, what about the way central banks, such as the Federal Reserve and the Bank of England, simply create more money out of thin air. They call the process " quantitative easing" - sounds professional, but it debases the currency (please do not try this at home, they would lock you up and throw away the key!!).
If all the bank customers were to try to remove their cash from their bank, this would be called "a run on the bank" - the bank would simply close its doors. They could not possibly pay out!
This might be regarded as standard practice in today's world, but is it 'righteous'? Remember the warning from Roger Babson, way back in 1920. In his Autobiography, Mr Herbert Armstrong has this to say:
The Corrupt Banking System
Today, we are well past the " 51% unrighteous" mark. The whole financial system, both banking and the stock market, is steeped in corruption. Many analysts are predicting a great financial crash, a big enough crash that will change the balance of power in the world.
We were given THIS warning by Mr Armstrong over thirty years ago:
Is That Warning About To Come To Pass?
The following articles show that some "experts" foresee a great financial crisis – and coming soon. Trade wars are underway. The dollar looks like it could lose its reserve currency status, and the USA could even lose its triple AAA financial rating.
Those at the top of the financial world are concerned – very concerned!
Here are some leaders' views about the near future…
EU Bubble Is Doomed To Burst In 2019
Brussels On 'Cliff Edge Of Disaster'
Yellow Vests Hope To Trigger Bank Run
The power of protesters cannot be underestimated:
US Dollar Dominance Jeopardized
Russia: The Great Dollar Dump
Russia has been dumping the dollar. Debt-wise they are way more financially stable than the USA. While US debt is over $21 trillion, Russia's debt is around a mere $200 billion.
China's Yuan To Challenge The Dollar
China's Gold Backed Petro-Yuan Challenges US Dollar Hegemony
Beginning Of The End?
US Risks Losing Triple-A Sovereign Credit Rating
'Winter Is Coming': Another Crash Looms
Fall Of Empires: London, Washington & Paris On Brink Of Collapse
Brexit Shambles…
The News Behind The News
When we understand the prophecies, we can get some idea as to what really comes next. The newspaper headline " No Deal… No hope… No clue… No confidence" sums up the situation today - the BBC gives us some ideas on what could happen next.
But to understand why Britain ( Ephraim ) is in this situation, and what IS going to happen next, we must look to Bible prophecy. This is from a modern translation:
Britain's leaders are "old, weak and arrogant". But as a nation, they have rejected God. God promises to punish Britain "for the evil they do"…
The End Of The Age Crisis
Over the years, all of God's servants have believed that the return of Christ would happen in their day. Mr Armstrong was no exception. However, he pointed us to events… the gathering storm… leading up to the end of the age crisis that in turn will lead up to the return of Jesus Christ!
This was written over thirty years ago, and we are still waiting and watching. But – it WILL all happen. The "Storm IS Gathering". The "Grand Smash Crisis" is not far off!
---