News Review - 1 Feb 2019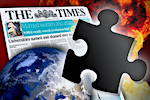 Business… Politics… Science… Tech… Entertainment… Videos… Sport… Health… Education… Comment… Life and Style… Showbiz… TV… and ?????
The Missing Dimension in News
During the last few weeks the news has been full of conspiracy theories, some of which are based on facts… some are pure fiction, while others defy the imagination, but they all tend to point to great problems for mankind in the very near future. Here are some samples, starting with the recent " ominous blood moon":
Eclipse 2019 WARNING:
Blood Moon Is Proof Of 'God's Final Hour' - End Of The World SHOCK
Blood Lunar Eclipse Will Spark 'GREAT WAR' In Middle East
The "Blood Moon" came – and went – and we are all still here. However, this next item is based on facts – the Middle East is near to war… so it sounds more convincing.
Nostradamus 2019 prediction:
Donald Trump ASSASSINATION, War And Hard Brexit
Regarding Nostradamus – keep the following in mind:
Hindsight is 20/20 vision. Prophecy is revealing the future – before it happens! Note in the following article that the events "predicted" are guesses – but they could be true.
Baba Vanga (who many claim predicted 9/11 and Brexit) makes 2019 predictions - and EU should worry
Baba Vanga and Nostradamus are not in agreement. Nostradamus has a President Trump assassination attempt while Baba Vanga predicts an assassination attempt on Russian president Vladimir Putin.
A Woman Warned…
Melissa Tabor claims to have had visions showing an East Coast Tsunami destroying Florida, a New Madrid Earthquake hitting Ohio, and the nuclear destruction of US Cities…
Rise In Mysterious 'TR-3B UFO Sightings' Sparks PANIC Over 'Top-secret US Military Plans'
Another "old faithful" - the UFO, makes an appearance. Interesting to note that while there have been thousands of UFO sightings, we have yet to see a genuine sharp, in focus photograph!
Nibiru PROOF? Scientists 'Uncovered Planet X' After Finding Heat 50 Billion Miles Away
As the following article from NASA points out, there seems to be no risk of this planet coming anywhere near earth – if in fact it exists at all.
Asteroid Spike: Earth COULD Be Caught In Shock Crossfire, Warns New Study
UFO Seen Near ISS - Alien Hunters Say Space Station Used As Meeting Place For Aliens
This one stretches the imagination somewhat! Just show us a sharp clear photo… not just flashing lights!
Four UFO Sightings At Yellowstone Supervolcano Spark Claims Of 'Alien Tourists'
After using the international space station as a meeting point, we are now to believe that they are "alien space tourists"!
Time Travel Proof
There have been quite a few time travellers in the news – all with different views of the future… perhaps the headline should read… "Time travel spoof"!
UFO seen near Mexico volcano is Proof of alien base - shock claim
IF aliens were to visit earth, they would almost certainly be superior in intelligence to us earthlings, and would surely realise that having a base in a volcano is not a good idea!
Aliens ARE Out There! Harvard Astronomer Predicts FIRST CONTACT In Shock Claim
They simply have to role out a "professor" to push the idea that aliens exist. Note that the professor bases his ideas firmly on the theory of evolution.
This World Has No Understanding Of World Events!
Mr Armstrong made this observation over 50 years ago:
Why do they not understand what is going on in the world? Because they do not understand the "missing dimension!"
The Missing Dimension In News
People today do not understand the Spiritual dimension.
This world is ruled by Satan the Devil and his demons.
That's what is revealed in the Bible!
Here is what Jesus Christ had to say about Satan… while talking to the religious leaders of His day…
…hence today's false news… filled with lies!
Satan Is The God Of This World
Having blinded the whole world – he has also deceived them…
He commands the powers of the unseen world…
Mr Armstrong explained how Satan broadcasts:
Once we realise how Satan works, then we can better understand what we are up against!
So all these "predictions" go out on Satan's broadcast, causing fear in some people, but causing others to shrug… and get on with their lives. So when a real warning comes, they will not be ready to react.
Nations Run By Satan And His Demons
Back in the time of Daniel, we see warfare in the spirit realm. The archangel Gabriel explained to Daniel…
Now We Can Start To Understand Today's News!
This last year has seen the situation in the world deteriorate rapidly. Now we can understand why. Satan knows that Jesus Christ is soon to return, and remove him from his position as the god of this world.
Satan is very angry! He is preparing ALL the nations of the world to fight Christ at His return. Notice Revelation 13:7:
Revelation 18:23 tells us that…
We as God's people must be extra careful right now, as these attitudes can affect us – as well as the world!
The Result Of Satan's Broadcast
Satan broadcasts the attitudes that bring about aggression, gloom, resentment, rebellion, and strife that fill our news today.
Threats of war between China and Taiwan… between China and India… between India and Pakistan… between Israel and Iran… the list goes on and on.
Then there is social strife, broken homes, feral children, mass shootings, drug addiction, mass abortion… this is a very unhappy world!
Then there is political strife… in Britain regarding Brexit… in the US, with the Democrats trying to get rid of the duly elected President… in Europe, with France and Germany trying to resurrect the Holy Roman Empire… not forgetting the "Russian threat"!
"The Way Of Peace They Know Not…"
We Have Been Given The "More Sure Word Of Prophecy!
We are warned of wars and rumours of wars, earthquakes and other "natural" disasters in Matthew 24:4–7 This is ongoing.
The Gospel preached to all nations… Matthew 24:14. This has been fulfilled – we witnessed it!
Then – the falling away, ongoing as of now!
The resurrection of the Holy Roman Empire – we are witnessing the birth of this right now in the news! Europe will only really unite after a serious crisis, which would seem to be a major worldwide financial collapse.
At some point in the near future, the daily sacrifices will start.
1290 days before the return of Christ, we see this event:
Thirty days later, 1260 days before the return of Christ, the great tribulation starts. It begins with the Beast power attacking Britain and the USA ( The United States and Britain in Prophecy).
The Apostle Paul left us this warning:
Patience And Endurance
---