News Review - 15 Mar 2019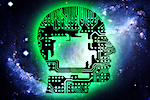 Algorithms… neural networks… machine learning… deep learning… cognitive computing… bits… qubits… atoms, ions, photons, electrons… welcome to the strange new world of:
Artificial Intelligence
Suddenly, it's everywhere!
Artificial intelligence (AI) is used in robotics and self-driving cars. Use of AI in banking has reduced fraud and crime. AI has also been applied to video games. Artificial Intelligence is used in the design of aircraft - computer scientists have even created AI programs capable of writing their own code. The list seems endless.
What Is Artificial Intelligence?
Understanding AI Jargon
To try to begin to understand modern technology, we must first understand the "jargon" - the buzzwords used by those involved.
Artificial Intelligence: How It Really Works
How Artificial Intelligence Is Used
In-Store Cameras Spot Shoplifters Before They Steal
Here is an example of behavioural algorithms in use – to spot potential shoplifters!
Danger Ahead?
All new technology has a downside. As the following article points out, the question is - " WHO is setting the standards? "
AI Will Get Into Wrong Hands
Computers: Origins
Computers: The Next Level
We are told that the next level of computing is quantum computers.
Working With The Building Blocks Of The Universe
This is where technology becomes the sci-fi reality of today.
The Mystical Qubit?
This is where this new technology gets VERY complicated.
A "bit" is either 1 OR 0.
A qubit can be 1, or 0, or both at the same time.
Confused?
Man is now playing with the building blocks of the universe - atoms, ions, photons or electrons - it's just like electricity, we can use it but we don't really understand what it is!
What's Next For AI And Quantum Computers?
Quantum Computers And Artificial Intelligence To Solve ALL This World's Problems?
This World's Problems WILL Be Solved!
Back in 1981, Mr Armstrong explained:
This Civilization CAN'T Be Saved!
This Civilization WILL not be saved. Today's world is totally motivated by Satan. He is the god of this world (II Corinthians 4:4). He has deceived the whole world (Revelation 12:9).
As Jesus Christ ascended back up to heaven, an angel gave the Apostles, and us today, this promise:
That Return Is Not Far Off!
This Satan-led society is about to be replaced by Jesus Christ when He returns to take over the rulership of the whole world. Here is an eye "witness account", which the Apostle John saw in a vision: