News Review - 10 May 2019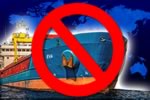 Protectionist policies… trade disputes… tariffs… trade embargoes… sanctions… xenophobic attitudes and financial chaos… all leading up to…
Trade Wars
Are trade wars good – or bad? According to President Trump, they are " good and easy to win! " Hardly a week goes by without some article on trade wars appearing in our news. Trade wars are a serious end time problem.
Stock Markets On The Brink?
May 5th 2019 - Trade Talks With China Collapse
Trade Wars Can Lead To Hot Wars
As you read the following article, remember that the impact of the great depression brought Hitler to power and laid the foundation for the Second World War!
We Were Warned!
Over 50 years ago, an article in the Plain Truth Magazine gave the following stark warning:
Over 20 years later, Mr Armstrong repeated the warning in a Co-Worker Letter – May 16, 1985:
Struggle For Global Power Status
Europe is taking this problem seriously. Note the language used in the following article: "US sanctions will lead to a confrontation with the whole of the EU" - and - "even conflicts with the USA"
The Power Of The Pipes
Germany needs this natural gas supply from Russia, and will do anything to secure it – even if it means major problems with the USA!
EU Vows To Trade With Iran
Germany's problem: it needs Russian natural gas to keep its industry going. The situation is so vital to Germany's industry that they are not afraid to go against US policy, as the following article points out!,
Germany Makes Its Own Threats
Not only is Germany not afraid to go against US policy, they are fighting fire with fire!
German Backlash
Germany now refusing to buy America's latest warplane – the F35…
The Russian Threat
Germany, refusing to buy the F35 fighter, refusing to pay for US troops stationed in Germany, refusing to obey US sanctions on Iran, continuing with the gas pipeline supplying natural gas from Russia against US demands and involving China in the setting up of the G5 internet system in Germany, do they still regard America as an ally?
Back in 1982, Mr Armstrong had this to say regarding this situation…
Accord With Russia Soon?
America is forcing Germany to look more towards Russia for help. But Germany is under no illusions about Russian intent. The are pushing for a European defence force, totally independent from NATO – and hence America!
Germans' Faith In Democracy Falters
Germany's hard earned prosperity IS now under threat. Attitudes ARE changing in Germany – rapidly!
'Siren call' Of A Fourth Reich Is Spreading
As political upheaval increases throughout the western world, German attitudes are changing. The AfD party is now represented in the German Government. The concept of a Nazi return to power, a Fourth Reich, is openly discussed, as the following article points out:
Something TRULY SHATTERING?
Mr Armstrong warned back in July 1984:
Global Financial System Collapse?
According to the following article, the global financial collapse could well start in Germany. Remember what we saw in a previous article… The concept of a Fourth Reich… is "invoked in times of crisis and fades in times of stability." It looks like the crisis is not far off.
Pastor General's Report – February 8, 1980
The Real Problem With Today's World
Today's world is spiritually sick. We only have to look at the banking sector to see fraud upon fraud, huge fines imposed, but few of the perpetrators ever go to prison. Dishonesty is the new norm! WHY?
Why Can Mankind Not Solve Their Problems?
In a Co-worker Letter – January 20, 1983, Mr Armstrong wrote:
The Spiritual Dimension
This Decades Old Warning Still Stands!
We Were Warned…
For over 50 years, Mr Armstrong was used by Jesus Christ to re-establish God's government within the Church, and warn of end time events: Trade wars, financial crises, the rise of Germany, ending up with a new Nazi Germany controlling the upcoming United States of Europe, Europe losing confidence in the United States, the formation of a European military force, the fact that this world is controlled by Satan, ending with the Great Tribulation and the return of Jesus Christ to take over the rulership of the whole world!
But his focus in all this, was to reveal that man's real problems are spiritual and that without the Holy Spirit, man cannot solve the problems facing mankind today. The world couldn't get it – but we, as God's Church are expected to try and grasp the very depth this change requires! In Revelation 3:11 we are told to "hold that fast which you have" and the "that" very much revolves around the lesson of the Two Trees - two utterly divergent ways of life.
Our Spiritual Heritage
We are to hold fast to this Spirit-led administration of God's Word – received via the apostle sent to us – the spiritual heritage which we in fact received from God via Jesus Christ, as explained in our booklet: Just What IS an APOSTLE ?