News Review - 29 Nov 2019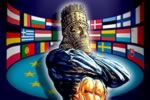 Aggression… corruption… coups… global financial chaos:
We are very close to the end of…
6,000 years of Human Government
No matter where we look in today's world, we see confrontation, arguments, lies and even open hatred and wars. Worldwide, governments are in crisis. There are many questions and few answers. They have no solutions for most of the problems they face.
Welcome to the end of this age!
For the last 6,000 years, God has allowed mankind to try every conceivable form of government, but none have brought the lasting peace and prosperity that man desires. And the reason is simple. Mankind has rejected the one way that would ensure a peaceful prosperous world. But not for much longer!
There is a feeling that war could break out in the Middle East at any time. The situation is tense. The situation is also serious in the Far East, with China showing off its newfound military power. Democracy appears to be dead in both the UK and the USA, while German politics are in chaos and Europe is in danger of disintegrating!
An Obituary To The Western World
The Plain Truth About Today's World News!
UNITED KINGDOM
Democracy Is Dead In Britain
The British people voted to leave Europe in a referendum 3 years ago. The problem is that a majority in Parliament over-ruled that decision. Some say that this amounts to a coup! So now we have an election in a few weeks time… and then what?
The Dismal Choice At This Election Is Between Disaster And Catastrophe
The Battle For The Soul Of Great Britain
The Monarchy – Fit For Purpose?
Now, even the position of the monarchy is being questioned…
UNITED STATES OF AMERICA
The Illusion Of Democracy
A Blueprint To Overthrow Government From Within
America is being torn apart by a "blatant abuse of constitutional authority…"
How America Ends
EUROPE
Prepare For An EU Crisis
Germany: Can The Centre Hold?
Far-right AfD Surges To Second Place In German State Election
Merkel's CDU Call For AfD Coalition
As you read the following article, keep in mind that Hitler was elected by the people – legally! Are we seeing the formation of a new powerful right wing party in German politics? As was pointed out in a previous article… " those looking for clues to the continent's future would do well to watch Germany closely over the coming weeks ."
Deutsche Bank Death Watch
At its peak, Deutsche Bank shares reached 110 euros – today, they trade under the 7 euro mark.
Macron: Claims NATO 'Brain Death'
President Trump wants NATO countries to pay their full dues to NATO. However, some European leaders are using this pressure to call for an EU military force…
'Europe Is Dying!'
In Poland, people want to return to "traditional Catholic values"!
CHINA
The Hong Kong protests
China's response…
INDIA/PAKISTAN
MIDDLE EAST
Political Chaos In Israel
At a time when Israel is under rocket attack from Gaza, and after two elections, Israel still hasn't got a government, so a third election now looks imminent. Prime Minister Netanyahu is under attack, similar to President Trump, with what some claim to be false accusations…
Is A New Arab Spring Unfolding In The Middle East?
All around the Middle East, there are serious problems…
Middle East Is More Combustible Than Ever
WORLD FINANCE
Global Debt Is Up To $188,000,000,000,000
Trouble Brewing On Horizon
IS WORLD GOVERNMENT THE ANSWER?
Pope Calls For A World Government
Forty years ago, Mr Armstrong explained:
There Is Good News!
The Perfect Government IS Coming!
The Perfect Government