News Review - 26 Jun 2020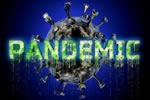 Signs of the Times
Christ's challenge to the Pharisees: " …ye can discern the face of the sky; but can ye not discern the Signs of the Times?" (Matthew 16:3)
The question is: can we?
Last year at the Feast in the UK, I speculated that our world could well be a different place "this time next year". I made this statement because we appear to be very close to the end of this age, and if that is so, then we can expect major life-changing events to take place.
But no one could foresee what actually took place! Just a few months later the world descended into chaos. There are now apparently over 500,000 dead from coronavirus worldwide with millions more infected. Many people have been locked up in their own homes for several months, many shops and factories closed, whole cities on lockdown, over 40 million unemployed in the USA, sports cancelled, airlines grounded and airports closed, people wearing face masks, a world of food shortages.
A world completely different to this time last year…
A world that will never return to "normal"!
Pandemic Drives Broadest Economic Collapse In 150 Years
Federal Debt Tops $26 Trillion For First Time
One of the major problems in today's world is debt. This world works on borrowed money. In the USA, the numbers are staggering!
Job Losses Continue To Escalate
In the USA, over 40 million people have lost their jobs – only sustained by government handouts that cease in a few weeks' time - or if they are renewed, will add yet another several trillion dollars to the national debt.
When the government handouts cease, mortgage payments, credit card debt, repayments on the family car, many will go unpaid - leaving the banks near collapse!
Britain's Economy Is Paralysed By Lockdown
Coronavirus Will Bankrupt More People Than It Kills
Coronavirus Pandemic Will Bankrupt Nearly ALL Of The World's Airlines
Bank Losses During COVID To Trigger Next Financial Crisis…
A Dollar Crash Is Virtually Inevitable
Countdown To Immense Economic Despair…
Will Major US Cities Be Transformed Into Economic Wastelands?
To add to the chaos, rioting is happening all over the US.
A Worldwide Situation
While all this is going on in the world, other problems are largely being ignored by the media. One area we watch carefully is Europe, where great changes are taking place. If we are near the end of this age, these are the sorts of problems we should be seeing!
US Troop Withdrawal A 'Wake-up Call For Europeans'
How Will Europe Guarantee Its Security Without The US?
Europe is being forced to rearm!
German Navy Prepares For Worldwide Military Missions
Suddenly, Germany finds the money to upgrade its own military – yet it could not pay its dues to NATO.
Merkel: Damning Assessment Of 'Fragile EU Project'
European unity is not working right now. Nations still want to do their own thing! As Mrs Merkel points out, they need "cohesion and solidarity" right now!
EU Panic: 'Fundamental Flaw' In Brussels System Crippling Bloc
Germany's Solution:
'The World Needs More Europe'
Interesting that Germany will lead the EU at this critical next six months…
Unity Only Possible Out Of Chaos…
Accord with Russia Soon?
As Russia is still seen as the main threat, watch out for some sort of treaty between Europe and Russia. Mr Armstrong warned…
'One, Holy, Catholic Apostolic Church'
The Roman Catholic Church continues its Ecumenical thrust by getting more and more protestant groups to recognise the Roman Church as the only true Church…
The Pope continues to point out that the world's economic order is flawed – and needs to be changed! If/when the existing financial system collapses, will they look to him for solutions?
Pope Calling For Downfall Of Global System
High Prices At Grocery Stores… And Shortages
Meanwhile, away from all the politics, another huge problem looms…
UN Warns World Faces Worst Food Crisis In 50 Years
Billions More Desert Locusts Devour Crops From India To Africa
Rumours Of Wars
As Jesus Christ warned in Matthew 24, we can expect… "…wars and rumours of wars… For nation shall rise against nation, and kingdom against kingdom" (Matthew 24:6-7).
We are witnessing this right now.
Next, it's watch out for 'natural' disasters, earthquakes, volcanoes and hurricanes. Again, if we are close to the end of the age, these will occur. They are the "signs of the times"!
The Real Problem…
"Dreaming of a world without God"
Written well over a decade ago the author of the article below could clearly see the way things were headed:
We Were Warned…
We were warned about this endtime attitude over 2,500 years ago…
Never Forget These Words…
This world "…COLLAPSES SUDDENLY, IN AN INSTANT"
We MUST be watching, we MUST be discerning … The Signs of the Times!
But the end of all things is at hand: be ye therefore sober, and watch unto prayer. And above all things have fervent [love] among yourselves: for [love] shall cover the multitude of sins. (I Peter 4:7,8)