News Review - 10 Jul 2020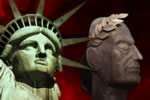 Rome was impregnable… She was the world… and the world was Rome…

But Rome fell!
USA – The Modern Rome?
In the late 1960's, a series of articles in the Plain Truth magazine warned that the conditions that preceded the fall of Rome were becoming very obvious in the USA, even back then. Fifty years on, both the USA and Britain fulfil all five conditions laid out in the Plain Truth articles.
After WW2, Britain's world empire faded away. Now it looks like the USA is on the brink of losing its status as the world's superpower.
And the threat comes not from enemies – but from within!
Decline And Fall…
How You Topple The Greatest Nation On Earth
1. The breakdown of the family and the rapid increase of divorce
While conditions back in 1969 were bad, they have now sunk to a whole new level!
Teens are going feral
Destruction of the family
Demographic doom
2. The spiralling rise of taxes and extravagant spending
The looming financial nightmare
3. The mounting craze for pleasure and the brutalization of sports
UK attendance at live sporting events
The global gambling industry
Horse race betting in the United Kingdom
Sports TV broadcast hours in the United States
The North America sports market size
4. The mounting production of armaments to fight ever increasing threats of enemy attacks
The military-industrial complex
5. The decay of religion into a myriad of confusing forms, leaving the people without a uniform guide
Satanic temple wins IRS recognition
Mass exodus from the church
Witches outnumber Presbyterians in the United States
The spiritual void
As Empires Collapse – The Vultures Gather!
It seems that Europe now believes that America is losing its superpower status. Other nations are now starting to challenge America's position…
German chancellor Merkel warns Europe
Now China threatens US military power
Even tiny North Korea threatens America
The Lessons Of History
Modern day Israel – the USA and Britain – is now in real jeopardy of suffering the same fate … just as God's end time Apostle warned!