News Review - 24 Jul 2020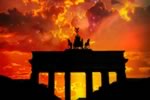 Germany should lead Europe to lead the world… an independent power in global politics… Germany must want to lead… the US is the opponent… Merkel Has Fulfilled Hitler's Dream…
Germany Rising
We are now living in a rapidly changing world. Germany now views the USA, along with Russia and China, as a threat! Attitudes are changing in Germany. "The world needs grown-up leadership"… "Europe must fill the vacuum left by the retreating USA" … "Together. Making Europe strong again" … as the following article points out!
Germany's EU Council Presidency
The Link Between German Industry And The Nazis
When Hitler wanted support to achieve his political ends, he appealed to the industrialists. When the Germans realised that they were going to lose the war, they organised the industrialists, as Mr Armstrong explained!
What follows is part of a Plain Truth article written by Mr Herbert Armstrong entitled "Under Cover IN EUROPE" in November, 1949.
Europaische Wirtschaftgemeinschaft – May 2009
The Germans called it 'Europäische Wirtschaftgemeinschaft' – which translated is - 'European Economic Community'. The following article was published in the Daily Mail on the 9th of May, 2009. This article backed up what Mr Armstrong had written some 60 years earlier.
The Military - Industrial Link
In Hitler's speech to the Dusseldorf Industry Club on January 26, 1932, he called on big business to support him and the government in pushing through a militarist foreign policy turn against the will of the people.
In 1944, when it became clear that Germany could not win the war, the Nazis and the industrialists got together to plan Germany's future.
2014 – Same Tactics!
The strong link between industry and the government still exists. In December 2014, the then German Foreign Minister Frank-Walter Steinmeier - now President of Germany - appealed to business heads to support Germany's rise to be a world power. At the end of the following article, note the respose from the industrialists present!
German Foreign Minister Steinmeier's 'Great Power' Speech to Big Business
2014 - German Government Plans Massive Re-armament
Europe has a fear of Russia. In 1980, Mr Armstrong explained:
German Government Plans New Military Interventions And Massive Re-armament
Germany Reportedly Reviving WWII-Era "Leopards"
Germany Strengthens Baltic Naval Alliance
Other European nations welcome the fact that Germany is taking the lead!
Germany's Global Policy Aspiration
Germany And EU Expand Military Deployment In Africa
German Navy Prepares For Worldwide Military Missions
Merkel Has 'Fulfilled Hitler's Dream'
Germany now controls Europe, without firing a shot! The plan is working – a German controlled Europe has arrived! One man made the point – and lost his job for telling the truth!
A Warning To God's People
Satan To Speed Up His Wrath
The coronavirus pandemic is destroying the world economic system. The world is on the brink of great changes, both economically and politically.
As Mr Armstrong clearly warned us all as he put the Church back on track:
The Wise WILL Understand!
---