News Review - 7 Aug 2020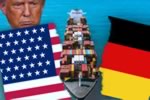 US expands draconian sanctions… pulls out 12,000 troops from Germany… an assault on Europe's sovereignty… this is…
Trade War 2020
Are trade wars good or bad? According to President Trump, they are "good and easy to win!" Hardly a week goes by without some article on trade wars appearing in our news. They appear to be a serious end time problem.
The Warning Went Out
Over 50 years ago, an article in the Plain Truth Magazine gave the following stark warning:
Over 20 years later, Mr Armstrong repeated the warning in a Co-Worker Letter – May 16, 1985:
No Need For Europe To Buy US Gas At Triple The Price
Europe Already Relies On Russian Energy
Russia's Nord Stream 2 Pipeline Will Significantly Cut Gas Prices In Europe, Energy Consultancy Says
The US Viewpoint
President Trump says US won't protect Germany as it 'pays Russia billions for energy' in first tweet after Pentagon announces troop withdrawal.
US Expands Draconian Sanctions Against Russia's Nord Stream 2 Gas Pipeline
"A Dangerous Precedent"
The German Viewpoint
"An Assault On Europe's Sovereignty"
This is the German view of US actions. They see it as "An assault on Europe's sovereignty" and a ploy to stop Germany from… " maintaining good relations with their eastern neighbor ."
' Attempted extortion': Germany reaffirms commitment to Russian gas project despite US threats
New Head Of Board Of Directors Of Russian Oil Firm Rosneft
Germany makes its goals clear. They want good relations with the Russian energy industry – and good relations with Russia itself.
US-EU Alliance Could Now End
The Germans see the attitude of the US as " a deliberate termination of the transatlantic partnership." Over the last year, attitudes in Germany have hardened. Germany refused to buy the F35 fighter, refused to pay for US troops stationed in Germany, refused to obey US sanctions on Iran, is continuing with the gas pipeline supplying natural gas from Russia against US demands, and is involving China in the setting up of the 5G internet system in Germany. Do they still regard America as an ally?
America is forcing Germany to look more towards Russia for help. But Germany is under no illusions about Russian intent. They are pushing for an European defence force, totally independent from NATO – and hence America!
Back in 1982, Mr Armstrong had this to say regarding this situation…
End Of Transatlantic Bond – Former German Chancellor
"The Writing Is On The Wall"
From the beginning of the end time work of God, the message never changed. The focal point has always been the creation of a resurrected German-led Holy Roman Empire and one of the main factors leading up to its creation would be trade wars.
Less than a year before he died, Mr Armstrong issued the following warning:
Fast forward to 2020:
Way back in 1955, talking about the restoration of the Holy Roman Empire, Mr Armstrong warned:
The Spiritual Reason
As we approach the end time – the culmination of 6,000 years of Satan's misrule – we in God's church should be clearly recognising the spiritual basis behind all that we are witnessing in this world. That very much includes trade wars. There is a reason – a cause for every effect – and God gives us that reason very clearly in the book of James:
In the last few years of his life, Mr Armstrong would repeatedly bring this in-coming frame of mind to our attention – the very basis behind the trade wars that we are now witnessing – but he would also show clearly the opposite "way of give" that is destined to bring the only true solution to the problem: