News Review - 21 Aug 2020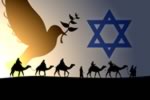 President Trump: "This is very important… This is a big event… This is a truly historic moment… building a more peaceful, secure, and prosperous Middle East…"
The Abraham Accord
Since the war of 1967 when Israel captured the West Bank, East Jerusalem, the Sinai peninsula, the Gaza Strip and the Golan Heights there have been many efforts to bring peace to the Middle East.
1967 - UN Security Council Resolution 242
1978 - Camp David agreement
1979 - Israeli-Egyptian peace treaty
1981 - Fahd Plan
1991 - Madrid summit
1993-1995 - Declaration of Principles/Oslo Accords
2000 - Camp David summit
2002-2003 - Bush Declaration/Arab peace initiative/Road Map
2007 - Annapolis summit
2009 - Netanyahu's Bar-Ilan address
2010 - Israeli settlement freeze/talks resume - and end
2013 - 2014 - Washington peace talks/negotiations collapse
2019 - Trump economic plan announced
2020 - The Abraham accord
Now It's President Trump's Turn
"President Donald Trump said on Thursday that the United Arab Emirates and Israel have agreed to establish full diplomatic ties as part of a deal to halt the Israeli annexation of occupied land sought by the Palestinians for their future state.
The announcement makes the UAE only the third Arab nation to have active diplomatic ties to Israel, after Egypt and Jordan, and, in with it, Israel forgoes plans to annex occupied West Bank territory in order to focus on improving its relationship with the rest of the Arab world.
In a surprise announcement, Trump tweeted a statement from the countries, acknowledging the deal.
'This is very important. This is a big event,' Trump said in a hastily scheduled Oval Office announcement. 'This is a truly historic moment. Not since the Israel/Jordan peace treaty was signed more than 25 years ago has so much progress been made towards peace in the Middle East. By uniting two of America's closest and most capable partners in the region - something which was said could not be done - this deal is a significant step towards building a more peaceful, secure, and prosperous Middle East. Now that the ice has been broken I expect more Arab and Muslim countries will follow the United Arab Emirates' lead.'
The recognition grants a rare diplomatic win to Trump ahead of the November election…
[David] Friedman [the US ambassador to Israel] said it would be called the Abraham accord.
'Abraham, as many of you know, was the father of all three great faiths,' he said. 'No person better symbolizes the potential for unity among all these three great faiths than Abraham. That's why this accord has been given that name.'
The UAE also has announced plans to build the Abrahamic Family House in Abu Dhabi, which will house a mosque, a church and a synagogue." ( yourdestinationnow.com)
This is not a new idea… back in 1981:
"President Sadat's planned PEACE CENTER at the foot of Mount Sinai. Both the center, and its Mount Sinai location are dually symbolic of PEACE." ( The Plain Truth – February 1981)
A few months later, President Sadat was assassinated!
Israeli Annexation Of Palestinian Lands Only "Suspended"
In the previous article, President Trump is quoted as saying:" …as part of a deal to halt the Israeli annexation of occupied land sought by the Palestinians for their future state. " However, this may be misleading because Israel has a different take on the situation, as the following article points out.
"Israel and the UAE have restored diplomatic ties after inking a deal with the US that will see Tel Aviv temporarily shelve its annexation of the West Bank and Jordan Valley to focus on improving relations with its neighbors.
Netanyahu hailed the agreement, officially named the Abraham Accords, as an 'historic day' and praised the arrival of a 'peace that will stand in opposition to extremism.' 'For decades, Israel was rejected in the region, and now this has changed,' he said, adding that 'there will be more Arab and Muslim countries that will enter into peace with us.'
However, he made it clear annexation was only being put on ice temporarily. 'There is no change in my plans to apply sovereignty over Judea and Samaria, with full coordination with the US' ." ( rt.com)
" The way of peace they know not; and there is no judgment in their goings: they have made them crooked paths: whosoever goeth therein shall not know peace." (Isaiah 59:8)
"Peace, Peace, And There Is No Peace"
Wherever you go around the world today, all you see is conflict. What follows is a quick world tour, looking at just some of the problem areas, starting with Israel's neighbour, Syria.
The civil war in Syria is right on Israel's doorstep. The Russians are involved, Iran is involved, along with the US, UK, France, Turkey, Saudi Arabia and Qatar. Israel is also directly involved. Iran is using the conflict to threaten Israel, while Israel is continually attacking Iranian bases in Syria. Iran also uses Syria as a gateway to supplying weapons to Hezbollah in Lebanon.
Syria: How Did The Syrian War Start?
"Even before the conflict began, many Syrians were complaining about high unemployment, corruption and a lack of political freedom under President Bashar al-Assad, who succeeded his father, Hafez, after he died in 2000. In March 2011, pro-democracy demonstrations erupted in the southern city of Deraa, inspired by the 'Arab Spring' in neighbouring countries. When the government used deadly force to crush the dissent, protests demanding the president's resignation erupted nationwide.
The unrest spread and the crackdown intensified. Opposition supporters took up arms, first to defend themselves and later to rid their areas of security forces. Mr Assad vowed to crush what he called 'foreign-backed terrorism'.
The government's key supporters have been Russia and Iran, while Turkey, Western powers and several Gulf Arab states have backed the opposition.
Russia - which already had military bases in Syria - launched an air campaign in support of Mr Assad in 2015 that has been crucial in turning the tide of the war in the government's favour. The Russian military says its strikes only target 'terrorists' but activists say they regularly kill mainstream rebels and civilians.
Iran is believed to have deployed hundreds of troops and spent billions of dollars to help Mr Assad. Thousands of Shia Muslim militiamen armed, trained and financed by Iran - mostly from Lebanon's Hezbollah movement, but also Iraq, Afghanistan and Yemen - have also fought alongside the Syrian army.
Saudi Arabia, which is keen to counter Iranian influence, has armed and financed the rebels, as has the kingdom's Gulf rival, Qatar. Israel, meanwhile, has been so concerned by what it calls Iran's 'military entrenchment' in Syria and shipments of Iranian weapons to Hezbollah that it has conducted hundreds of air strikes in an attempt to thwart them." ( bbc.co.uk)
Civil War In Yemen
Yemen is strategically important because it controls the approach to the Red Sea and the Suez canal. It was once controlled by Britain as one of the world's most important sea gates.
"The conflict has its roots in the failure of a political transition supposed to bring stability to Yemen following an Arab Spring uprising that forced its longtime authoritarian president, Ali Abdullah Saleh, to hand over power to his deputy, Abdrabbuh Mansour Hadi, in 2011. Disillusioned with the transition, many ordinary Yemenis - including Sunnis - supported the Houthis, and in late 2014 and early 2015 the rebels gradually took over the capital Sanaa.
Alarmed by the rise of a group they believed to be backed militarily by regional Shia power Iran, Saudi Arabia and eight other mostly Sunni Arab states began an air campaign aimed at defeating the Houthis, ending Iranian influence in Yemen and restoring Mr Hadi's government. The coalition received logistical and intelligence support from the US, UK and France.
In September 2019, Saudi Arabia's eastern oil fields of Abqaiq and Khurais were attacked by air, disrupting nearly half the kingdom's oil production - representing around 5% of global oil output. The Houthis claimed responsibility but Saudi Arabia and the US accused Iran of carrying out the attacks.
What's been the human cost?
In short, Yemen is experiencing the world's worst humanitarian crisis. The UN had verified the deaths of at least 7,700 civilians by March 2020, with most caused by Saudi-led coalition air strikes.
The charity Save the Children estimated that 85,000 children with severe acute malnutrition might have died between April 2015 and October 2018. About 80% of the population - 24 million people - need humanitarian assistance and protection.
Some 20 million people need help securing food, according to the UN. Almost 10 million of them are considered "one step away from famine". With only half of the country's 3,500 medical facilities fully functioning, almost 20 million people lack access to adequate healthcare. And almost 18 million do not have enough clean water or access to adequate sanitation.
The conflict is also seen as part of a regional power struggle between Shia-ruled Iran and Sunni-ruled Saudi Arabia. Gulf Arab states - backers of President Hadi - have accused Iran of bolstering the Houthis financially and militarily, though Iran has denied this. Yemen is also strategically important because it sits on a strait linking the Red Sea with the Gulf of Aden, through which much of the world's oil shipments pass." ( bbc.co.uk)
Afghanistan
February 29, 2020 - US, Taliban Sign Deal on Path to Peace
"US envoy Khalilzad and the Taliban's Baradar sign an agreement that paves the way for a significant drawdown of US troops in Afghanistan and includes guarantees from the Taliban that the country will not be used for terrorist activities. The deal says intra-Afghan negotiations should begin the following month, but Afghan President Ghani says the Taliban must meet his government's own conditions before it enters talks. The US-Taliban deal doesn't call for an immediate cease-fire, and in the days after its signing, Taliban fighters carry out dozens of attacks on Afghan security forces. US forces respond with an air strike against the Taliban in the southern province of Helmand." ( cfr.org)
That story continues…!
Next door to Afghanistan – Pakistan
India and Pakistan are near to open warfare over Kashmir. The big problem here is that both countries have nuclear weapons. To make the situation even more complex, China, another nuclear power, is now getting involved…
"The Kashmir Valley and its surrounding territory have been at the heart of nearly every conflict between India and Pakistan — including three wars in 1947, 1965, and 1999. Colonialism created the problem, but the great powers have had little interest in it, with Britain washing its hands of the issue as soon as it could. But last year's abolition of Article 370, the guarantee of Kashmir's quasi-autonomy, has allowed an old player to take a stronger role: China.
China's Himalayan ambitions have become the subject of global concern after this week's bloody clash with the Indian Army, but its involvement in Indian territory goes beyond its own borders. Generations of Indian politicians have declared Kashmir a purely domestic issue. The roots of the problem go back to the state's origins, a Muslim-majority population with a Hindu ruler who, during the retreat of empire, initially tried to strike out on his own rather than being forced to pick sides between India and Pakistan.
But for Pakistan, a nation founded on the idea that it was a homeland for Muslims, losing a Muslim-majority state would be catastrophic. To India, the idea of a Muslim state with a Hindu leader would be an ideal feather in the cap — a nation founded on pluralism with a state perfectly exemplifying it. The resulting war left the state in India's control — but with a permanently unhappy population and an angry neighbor." ( foreignpolicy.com)
China – The Next Superpower?
China is trying to control the whole South China Sea. This is causing a lot of friction in the area.
"Rival countries have wrangled over territory in the South China Sea for centuries, but tension has steadily increased in recent years. China, Vietnam, the Philippines, Taiwan, Malaysia and Brunei all have competing claims.
China has backed its expansive claims with island-building and naval patrols. The US says it does not take sides in territorial disputes, but has sent military ships and planes near disputed islands, calling them 'freedom of navigation' operations to ensure access to key shipping and air routes.
Both sides have accused each other of 'militarising' the South China Sea. There are fears that the area is becoming a flashpoint, with potentially serious global consequences." ( bbc.co.uk)
China And Taiwan
"China sees Taiwan as a breakaway province that will eventually be part of the country again, but many Taiwanese want a separate nation. The dispute with China has left relations frayed and a constant threat of a violent flare up that could drag the US into the fray.
What role does the US play?
The US is by far Taiwan's most important friend, and its only ally.
The relationship, forged during World War Two and the Cold War, underwent its sternest test in 1979, when President Jimmy Carter ended US diplomatic recognition of Taiwan in order to concentrate on burgeoning ties with China.
The US Congress, responding to the move, passed the Taiwan Relations Act, which promises to supply Taiwan with defensive weapons, and stressed that any attack by China would be considered of 'grave concern' to the US." ( bbc.co.uk)
Tiny North Korea
In a Co-worker Letter dated April 21, 1982, Mr Armstrong warned:
"In addition to terrorist groups, experts fear that unstable regimes in various countries could also get the bomb. An unbalanced Third World dictator with a nuclear device could kill millions of people. A new Stalin or Hitler in a major nation would have the stockpiles to literally obliterate the entire human race! The nuclear 'genie' is out of the bottle! Events are even now impelling the world toward a time of cataclysmic destruction. It is time to awake to the imminence of nuclear war and nuclear terrorism!" ( Co-worker Letter – April 21, 1982)
North Korea fits the bill – perfectly!
Now "Pacifist" Japan Re-arms!
Attitudes are changing, even in pacifist Japan! While Japan is concerned about threats from China, Russia and North Korea, their main concern is that they cannot be sure that the US would protect them in a crisis.
"Washington's relationship with Tokyo is generally considered the most important of the United States' 70-odd alliances. In this intimately knowledgeable book, [Sheila] Smith [senior fellow for Japan studies at the Council on Foreign Relations] shows how that alliance looks to the Japanese: increasingly unreliable. Japan has done much to keep the United States committed to its defense: raising its defense budget, upgrading equipment and training, and deploying troops overseas as part of UN missions and US-led coalitions. It has also strengthened its forces' independent ability to fend off air and maritime probes from China and Russia and potential missile attacks from North Korea. But as threats from all three neighbors intensify, the Japanese are less and less sure that the United States will defend them in a crisis." ( foreignaffairs.com)
Germany Pushing For An EU Army
In Europe, attitudes are changing. Germany is rearming rapidly and calling for an European army.
"Time for Germany to step up. With Germany at the EU helm, there's a unique chance for Europe to fill the vacuum left by the retreating USA. 'Not only is Angela Merkel's government chairing the EU, it is a member of the UN security council until 31 December.' The first step is for Berlin and Brussels to wean themselves off their over-dependence on the US, a fact recognised by Merkel." ( theguardian.com)
Europe has a fear of Russia. In 1980, Mr Armstrong explained:
"As the Russians mass more troops and other military hardware closer to West European borders, and as the United States vascillates, European leaders will become more and more frightened – and they are frightened against this Russian threat already!" ( Co-worker Letter – January 23, 1980)
Recent Headlines Reveal The German Position
"German government plans new military interventions, massive rearmament…" ( wsws.org)
"Germany strengthens Baltic naval alliance…" ( reuters.com)
"Germany's Global Policy Aspiration…" ( wsws.org)
"German Navy prepares for worldwide military missions." ( wsws.org)
"Merkel Has 'Fulfilled Hitler's Dream', Germany now controls Europe, without firing a shot!" ( breitbart.com)
"Germany and EU expand military deployment in Africa." ( wsws.org)
"Peace, Peace, And There Is No Peace"
The prophecies in Matthew 24 are very real right now.
We see wars and rumours of wars.
We see nation rising against nation.
Wherever you go in the world today, there is conflict.
We have the pestilence – Coronavirus responsible for over 700,000 deaths so far and with no end in sight. Now we have a breakout of bubonic plague in the Far East.
We see locusts eating their way through crops in Africa and the Middle East.
Millions live in a famine situation.
Erupting volcanoes and earthquakes are constantly in the news.
The world's weather is a chaotic mix of floods and drought.
As we watch these events unfold, we must keep our eyes focused on the future.
The Feast this year will be different with no organised Feast site. But the spiritual " food in due season " will still be available – services will still go out over the internet. We will all miss the fellowship and the physical events of the Feast – and perhaps that is what God wants…
…to focus our minds on what's about to happen.
"Now learn a parable of the fig tree; When his branch is yet tender, and putteth forth leaves, ye know that summer is nigh:
So likewise ye, when ye shall see all these things, know that it is near, even at the doors."
"For when they shall say, Peace and safety; then sudden destruction cometh upon them, as travail upon a woman with child; and they shall not escape. But ye, brethren, are not in darkness, that that day should overtake you as a thief."
" Watch ye therefore, and pray always, that ye may be accounted worthy to escape all these things that shall come to pass, and to stand before the Son of man."
" Behold, I come quickly: hold that fast which thou hast, that no man take thy crown."
(Matthew 24:32-33, 1 Thessalonians 5:3-4, Luke 21:36, Revelation 3:11)