News Review - 19 Feb 2021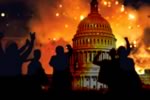 Anger… Hatred… Extremism… Lawlessness… Violence…
OR
Unity… Decency… Dignity… Love… Healing?
USA – What Next?
One of the things that the Bible makes very clear, and we should keep in mind as we watch end time events unfolding, is that the whole world has been deceived by Satan (Revelation 12:9), as Mr Armstrong explained:
Let's ask some basic questions…
The new US government – what are they saying?
What are they doing?
What is the media saying?
What has God got to say about America today?
What is next for America?
An Inauguration Like No Other
This new administration started with chaos…
What The Government Is Saying
So let's look at what the new President said in his Inaugural Address. Much of what he said was about promoting unity – uniting an obviously divided nation…
Excerpts from the Inaugural Address by President Joseph R Biden, Jr - January 20, 2021
What The New Administration Is Doing!
After a plea for unity – look at what they have done!
Will these actions bring about unity – or yet more chaos?
Being faced with a world full to the brim with problems - Coronavirus, disputes with China, Europe and Russia, huge unemployment, a nation deep in debt, violence in the streets and a huge rise in crime, their first task is…?
Immediately Capitulating To The Trans Lobby
Secretary of State Antony Blinken Orders LGBT Flags Flown at US Embassies
BIDEN: "Financial Sanctions" For Failing To Embrace The LGBTQI+ Agenda
Joe Biden Restores Taxpayer Funding To Pro-Abortion World Health Organization
Roe v Wade: Statement From President Biden
What The Media Is Doing
Facebook Ban: Criticizing Biden's Transgender Policy Violates Standards
"Unbridled Power Held By Big Tech CEOs Must Be "Reined In"
Big Tech Behaves As If They're The New Rulers Of The World
FACEBOOK: Zuckerberg & Execs Admitting They Have 'Too Much Power'
The Elite Believe They Must Be Intolerant Of All Dissenting Views
What Has God Got To Say About America Today?
What's Next For America
The administration is only doing what the people want. Over 50% of the American people voted for all this. They have rejected God's way. "Their feet run to evil."
The next thing to happen is that "high wall" is about to break!
Mr Armstrong quoted Boston statistician and economist, Roger Babson:
Tomorrow's World Governmental Structure