News Review - 2 Apr 2021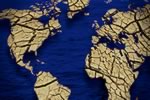 Lack of leadership… reckless debt… return to paganism… politics becomes a god… freedom in short supply… trade wars… political instability… conflicts between nations and cultures…
Satan Weakens The Nations
American Leadership Weakened
Who Is Ruling The USA Right Now?
The 'Biden-Harris' White House
Democrats Accused Of Promoting 'Unfit' Candidate
China Thinks Biden Is 'Exceptionally Weak'
American Currency Weakened
Here Come Trillions More
The Most Dramatic Shift In The Standard Of Living
We Are Going To Need A Lot More "Weimar Money"…
American Religion Weakened
In what was a "Christian nation", the following article reveals the new direction:
In today's world, "Children must be made to PRACTICE those religions" - Yet another sign that we are very near the end of this age. At least their goal is obvious – "to root out Christianity, and the capitalism and racism that apparently came with it."
God gave His people specific commands concerning worshipping the "gods of the lands"!
But our nations have disobeyed this command – and there is a price to pay:
The New God – Politics!
Politics is not the solution: Politics is the problem!
America's Freedom Weakened
America's Infrastructure Is Weakened
Texas Is Foreshadowing The Total Collapse Of The United States!
A Weakened World
It's not just America – it's ALL nations. As we watch world events, we see trade wars, political instability, conflicts between nations and cultures – even the earth itself is being weakened – earthquakes are an ongoing problem, as are volcanic eruptions.
While this situation is world wide, the reason for the focus on America is that God made the US into a superpower. They were to lead the world.
But recently, things are changing. As mentioned in a previous article, "President Joe Biden has said the US will lead the world by the 'power of our example'."
This Is What God Wanted!
God wanted Israel to be a good example to the surrounding nations.
There was a time when the US did set a good example – but no more.
When children are taught to reject Christianity and pray to Aztec gods, when people turn from Christianity and make a god out of politics and wokeness, it's hard to see if the US can sink any lower!
Watch – be awake – what comes next cannot be far off!