Pastors Report - 28 Apr 2017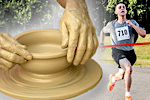 Being Made Perfect - Together:
"Be ye therefore perfect, even as your Father which is in heaven is perfect." (Matthew 5:48)
God's Perfection:
Many times the above scripture impacts us in a negative way – as we put the emphasis on the need to reach what we feel is an impossible goal. But turning it around for a moment ... let's think about what it means; that God is perfect. How does this perfection impact His lifestyle, His approach to everything? What IS perfect righteousness? Mr Armstrong puts it this way in his sermon, Hungering For God's Righteousness – 11th of June 1983:
"I wonder if you've ever thought about this thing of hungering and thirsting FOR GOD'S RIGHTEOUSNESS. I remember just recently it hit me in a different way than I ever saw it before. I thought about God Himself. He has that righteousness, and He certainly doesn't have to have any hurt conscience. He doesn't have to have any fears or worries about having to reap what He sows. He has perfect faith... If we just had God's righteousness, what a wonderful feeling it would be in our minds! Even then, harm might come to us – persecution, accidents in this life; but at least we wouldn't be bringing them on ourselves. We bring so many things on ourselves, and we don't realize it."
Such perfection of character clearly fits His perfection in other areas of existence also:
"Do you people think that I am some local deity and not the transcendent God?" the Lord asks.
"Do you really think anyone can hide himself where I cannot see him?" the Lord asks. "Do you not know that I am everywhere?" the Lord asks. (Jeremiah 23:23-24 NET Bible)
Like our Father:
A glance at some definitions of 'perfect' can be daunting : "Conforming absolutely to the description or definition of an ideal type: Excellent or complete beyond practical or theoretical improvement: Exactly fitting the need in a certain situation or for a certain purpose: Entirely without any flaws, defects or shortcoming: pure or unmixed." ( Dictionary.com)
A challenge to say the least, and yet we are told, "Be ye therefore perfect, even as your Father which is in heaven is perfect." (Matthew 5:48) – perfect as this Almighty, Everliving God Himself! Is it possible to be without any flaws, defects or shortcoming, let alone mirror a Being who has had no beginning? Who fills heaven and earth – the unfathomable expanses of the universe - and yet also knows when each sparrow falls? Thankfully we have been given a vivid example of how this can – and will be done!
No matter your calendar age at this moment – young or old – at one time every single one of us reading these words was no bigger than the period/full-stop at the end of this sentence. Barely visible to the naked eye. You and me. As it says so often in the Psalms ... Selah. Just think about that for a while.
An Awesome Miracle:
Now, after being injected with life from its father, in 40 short weeks that bundle of "jelly" developed according to a Plan. At the very outset it hardly looked human, but as time progressed, and under instruction formed by the Creator God, that minute cell took on the attributes of its parents, and grew from a humble, insignificant beginning into a physical being the same as its father or mother. This commonplace, awesome miracle should prove to us that, with God, nothing is beyond His creative ability and – if we have the eyes to see – indeed all is possible within the spiritual creation also!
King David did indeed contemplate this miracle and stood in awe of the Master Potter behind it:
You are the one who created my innermost parts; you knit me together while I was still in my mother's womb.
I give thanks to you that I was marvelously set apart. Your works are wonderful—I know that very well.
My bones weren't hidden from you when I was being put together in a secret place, when I was being woven together in the deep parts of the earth
Your eyes saw my embryo, and on your scroll every day was written that was being formed for me, before any one of them had yet happened.(Psalm 139:13-16 Common English Bible)
With Unleavened Bread so recently behind us, what did we learn during those seven days? Did we see ourselves becoming steadily more aligned with our Father in heaven – year on year – with His perfection of character? Getting rid of sin? Or did we rather become discouraged, having seen yet more areas still to be overcome – year on year – perhaps even struggling to cope with totally new and different trials that we have not had to face before?
And the question then is: when is our character expected to become perfected anyway? In this frail human life? Is true godly perfection even possible now – or only finally possible upon our resurrection to Spirit Life? And seen within Scripture the answer is very clear: both aspects are true, and both are utterly vital!
The Finishing Line:
Hebrews chapter 11 – the faith chapter – ends with a statement which shows very clearly that the luminaries of faith mentioned in the preceding verses did not and will not obtain perfection before us – showing that such perfection is yet future:
And these all, having obtained a good report through faith, received not the promise:
God having provided some better thing for us, that they without us should not be made perfect. (Hebrews 11:39-40)
So the timing of that final perfection – our finish line – is clearly the first resurrection to Spirit Born Life as is borne out in the book of Jude:
Now unto him that is able to keep you from falling, and to present you faultless before the presence of his glory with exceeding joy, (Jude 1:24)
And the same finish line is indicated in the book of first Peter:
Wherefore gird up the loins of your mind, be sober, and hope to the end for the grace that is to be brought unto you at the revelation of Jesus Christ;
As obedient children, not fashioning yourselves according to the former lusts in your ignorance:
But as he which hath called you is holy, so be ye holy in all manner of [conduct];
Because it is written, Be ye holy; for I am holy. (I Peter 1:13-16)
But Also a Process Now:
Although it is clear from scriptures such as those above that it's only at the point of the resurrection – and our spirit birth into the family of God – that true perfection will finally be achieved, it should be regarded much more as the culmination of a lifetime of growth rather than the sudden flicking of a switch. This Mr Armstrong brings out in his explanation of how our physical begettal, growth and birth is so precisely a mirror of the spiritual:
Are you really comprehending this? Are you? And mortal man, if he repents, surrenders unconditionally to God and God's government, accepts in living FAITH Jesus Christ as personal Savior, can receive God's gift of His HOLY SPIRIT – the very life, essence, nature, mind and power of God – BEGETTlNG him now as God's own (yet unborn) Son! If he then GROWS spiritually (II Pet. 3:18), overcomes and endures, he shall – at Christ's soon coming, be changed (or resurrected if he dies) from mortal to immortal (I Cor. 15:44-54).
And then – IF the very CHARACTER of God has been developed within him – his vile material body will be instantaneously changed (converted) into one "like unto his [Christ's] GLORIOUS body"!(Phil. 3:21.) But your vile character will not then be instantaneously changed – THAT change must take place NOW in this life ! So THAT is the supreme heritage of MAN – if he is willing! ( Missing Dimension in Sex - chapter 5)
So, the perfection of spiritual character is an ongoing lifelong process, looking forward to the finishing line with patience. As James instructs us, we must "let patience have her perfect work, that ye may be perfect and entire, wanting nothing." (James 1:4) – Just as Paul himself also found:
Not as though I had already attained, either were already perfect: but I follow after, if that I may apprehend that for which also I am apprehended of Christ Jesus.
Brethren, I count not myself to have apprehended: but this one thing I do, forgetting those things which are behind, and reaching forth unto those things which are before,
I press toward the mark for the prize of the high calling of God in Christ Jesus.
Let us therefore, as many as be perfect, be thus minded: and if in any thing ye be otherwise minded, God shall reveal even this unto you. (Philippians 3:12-15)
Abraham's Example:
Undoubtedly, part of the problem in this process of developing perfect righteous character is that we as human beings are not consistent. Some days we feel like we can take on the world – while other days we can't even take on ourselves. Such inconsistency was true even of Abraham, the "father of the faithful"! He believed God when he was instructed to leave Ur of the Chaldees – readily changing from being a city dweller to an essentially nomadic existence, journeying toward a land yet to be shown to him. Even after waiting until his father had died in Haran he once again resumed his journey leaving his brother Nahor behind – still implicitly trusting and believing God to guide his steps. Yet when in Egypt during a famine his faith wavered, and he allowed Sarah to be taken into Pharaoh's household/harem – using deceit and failing to trust God for protection. And later, in a very similar incident with Abimelech he again fell short of "perfection" in the area of faith.
But as we read the account in Genesis of the life of Abraham, we can see God didn't give up on him. God's hand was continually guiding and working with Abraham – even as he was tested to trust the Eternal far beyond anything that was humanly viable – that he and Sarah would have a child, even though Sarah had been barren all her life and now they were aged 100 and 90 respectively. But that was not all. He then was severely tested by being told to sacrifice his son – a son through whom the Eternal had specifically promised His covenant would operate (Genesis 17:21). Only when he had passed that test did God then truly know Abraham's heart of hearts – through which his perfection will eventually be complete:
By faith Abraham, when he was tried, offered up Isaac: and he that had received the promises offered up his only begotten son,
Of whom it was said, That in Isaac shall thy seed be called:
Accounting that God was able to raise him up, even from the dead; from whence also he received him in a figure. (Hebrews 11:17-19)
And he said, Lay not thine hand upon the lad, neither do thou any thing unto him: for now I know that thou fearest God, seeing thou hast not withheld thy son, thine only son from me. (Genesis 22:12)
Jacob's Example:
We can also see the same hand of God fashioning and moulding Jacob throughout his life in the various trials he went through. As a young man – partially under the direction of his mother Rebecca – he selfishly inveigled both the birthright and the blessing away from his brother Esau; only to have his uncle Laban do something very similar to him in having him first marry Leah rather than Rachel as agreed. You can't help but wonder how he must have reflected on his own previous devious actions as he smarted from Laban's duplicity!
Even after his name had been changed from Jacob (Supplanter) to Israel (a prince of God) – as he wrestled with the One who would become Jesus Christ (Genesis 32:28), – and very shortly after appearing to him in Bethel, where he was promised incredible national greatness (Genesis 35:11), the Eternal still allowed Rachel to die in childbirth with Benjamin (Genesis 35:18).
What we need to understand is that God could see the much bigger picture – Jacob's position and ultimate perfection within the very Kingdom of God – and so He even stayed silent and refrained from intervening as He witnessed his struggle and sorrow with the apparent death of his beloved son Joseph at age 17 – and allowed him to mourn for well over two decades thereafter:
And they sent the coat of many colours, and they brought it to their father; and said, This have we found: know now whether it be thy son's coat or no.
And he knew it, and said, It is my son's coat; an evil beast hath devoured him; Joseph is without doubt rent in pieces.
And Jacob rent his clothes, and put sackcloth upon his loins, and mourned for his son many days.
And all his sons and all his daughters rose up to comfort him; but he refused to be comforted; and he said, For I will go down into the grave unto my son mourning. Thus his father wept for him. (Genesis 37:32-35)
The trouble is, none of us as human beings can see the whole picture, just a few small pieces of the jigsaw, so to speak, but God knows how it will all fit together, and be ultimately for our good, our perfection. (Romans 8:28)
Not Without us:
Abraham and Jacob are but two of the inspirational examples of faith, previously mentioned, "God having provided some better thing for us, that they without us should not be made perfect." (Hebrews 11:40) They may not yet have been made fully perfect, as they are still waiting the resurrection. But we do clearly see them as having been fashioned and moulded – perfected – throughout their entire lifetime .... now fully ready to effectively serve in the Kingdom of God.
And is it any wonder that we too should find ourselves suffering trials and facing a deluge of problems – when we begin to grasp the TRUE purpose of this present physical, chemical existence? The development of perfect, holy, righteous Godly character is the very reason we find ourselves on this earth – and in training right now!
Indeed, the definition of the word used for "perfect" in the Greek (telios, Strongs 5056) throws more light on the subject: " brought to its end, finished: Wanting nothing necessary to completeness: Consummate human integrity and virtue: Full grown, adult, of full age, mature" . And it is God, as the Master Potter, who does the finishing, the completing, the maturing ... the perfecting – with our tacit agreement – through Jesus Christ the perfect living Word.
Though he were a Son, yet learned he obedience by the things which he suffered;And being made perfect, he became the author of eternal salvation unto all them that obey him (Hebrews 5:8-9)
The disciple is not above his master: but every one that is perfect shall be as his master. (Luke 6:40)
It is written in the prophets, And they shall be all taught of God. Every man therefore that hath heard, and hath learned of the Father, cometh unto me. (John 6:45)
I in them, and thou in me, that they may be made perfect in one; and that the world may know that thou hast sent me, and hast loved them, as thou hast loved me. (John 17:23)
Herein is our love made perfect, that we may have boldness in the day of judgment: because as he is, so are we in this world. There is no fear in love; but perfect love casteth out fear: because fear hath torment. He that feareth is not made perfect in love. (I John 4:17-18)
But the God of all grace, who hath called us unto his eternal glory by Christ Jesus, after that ye have suffered a while, make you perfect, stablish, strengthen, settle you. To him be glory and dominion for ever and ever. Amen. (I Peter 5:10-11)
I think every one of us would wholeheartedly agree with David, as he expresses his ultimate desire:
As for me, I will behold thy face in righteousness: I shall be satisfied, when I awake, with thy likeness.(Psalm 17:15)