Pastors Report - 26 May 2017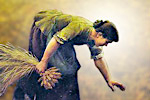 The Spiritual Message in Ruth:
"And Ruth said ... whither thou goest, I will go; and where thou lodgest, I will lodge: thy people shall be my people, and thy God my God..." (Ruth 1:16)
A Festival Book:
It is very clear from Luke 24:44-45, that Jesus Christ accepted the way the Old Testament Scriptures had been traditionally grouped by the Jews. That grouping was into three major divisions: the Law, the Prophets and the Psalms – something very different from the current English organisation and one that places the book of Ruth in what is known as "the megillot" or festival books. In that position it was the scroll that was read each year on the day of Pentecost, the festival also meaningfully known as the feast of Firstfruits that God's church will celebrate this year on Sunday 4 June.
The story of Ruth revolves around the weeks of harvest that begin following the wave-sheaf ceremony within the days of Unleavened Bread, and culminates with Pentecost. So, yes, it would make physical sense to read the story of Ruth – purely as something of agricultural interest – around this time of year. But taking into account that we are also talking about the day on which the New Testament church began and that the holy days graphically illustrate the very plan of God, the association between the book of Ruth and the day of Firstfruits is made much more profound! In addition to the first harvest, this short book of just four chapters describes the character of both Boaz and his bride to be – the ancestors of King David – whereas in reality, we can discern the much more profound – and multifaceted – spiritual messages concerning Jesus Christ and His bride: the one true Church.
Our Former Society:
Following the death of not only her husband, but tragically her two sons as well, Naomi decided to return from the land of Moab, to which they had originally fled during a time of famine, back to the land of Israel. Even though she was intent on returning, she urged her two Moabitish daughters-in-law to remain in their own country – with their own gods (Ruth 1:14-15). The primary god of the Moabites appears to have been Chemosh (II Kings 23:13) but this was a god associated with the Semitic mother goddess Ashtar and often given the title "Baal" – meaning Lord – such as when the women of Moab corrupted Israel at Baal-peor (Numbers 25:3, Psalms 106:28). Although her sister-in-law remained, Ruth left this entire society behind – with all its foreign gods, ways and customs.
And each of us in God's true Church – as the collective bride of Christ, God's Firstfruit harvest – are clearly depicted as having to do the same:
... upon thy right hand did stand the queen in gold of Ophir.
Hearken, O daughter, and consider, and incline thine ear; forget also thine own people, and thy father's house;
So shall the king greatly desire thy beauty: for he is thy Lord; and worship thou him...
... Instead of thy fathers shall be thy children, whom thou mayest make princes in all the earth.
I will make thy name to be remembered in all generations: therefore shall the people praise thee for ever and ever. (Psalm 45:9-11,16-17)
And there went great multitudes with him: and he turned, and said unto them,
If any man come to me, and hate not his father, and mother, and wife, and children, and brethren, and sisters, yea, and his own life also, he cannot be my disciple.
And whosoever doth not bear his cross, and come after me, cannot be my disciple...
... So likewise, whosoever he be of you that forsaketh not all that he hath, he cannot be my disciple.
Salt is good: but if the salt have lost his savour, wherewith shall it be seasoned?
It is neither fit for the land, nor yet for the dunghill; but men cast it out. He that hath ears to hear, let him hear. (Luke 14:25-27, 33-35)
A New Civilisation:
It was not just that Ruth was intent on leaving her former society, but that she was totally focused on then following the God of Israel and integrating completely into the entirely new civilisation she was about to enter – founded originally on the Law of that one true God. This is conveyed to us in some of the most moving and well known words found in Scripture:
And she said, Behold, thy sister in law is gone back unto her people, and unto her gods: return thou after thy sister in law.
And Ruth said, Intreat me not to leave thee, or to return from following after thee: for whither thou goest, I will go; and where thou lodgest, I will lodge: thy people shall be my people, and thy God my God:
Where thou diest, will I die, and there will I be buried: the LORD do so to me, and more also, if ought but death part thee and me.
When she saw that she was stedfastly minded to go with her, then she left speaking unto her. (Ruth 1:15-18)
We too, in God's church, must become similarly focused. Our entire perspective must be forwarded facing – looking earnestly toward the coming Kingdom of God, preparing now to leave this present world totally behind, as a mere relic, a defunct age. To embrace and be part of a totally new and Godly civilisation.
These all died in faith, not having received the promises, but having seen them afar off, and were persuaded of them, and embraced them, and confessed that they were strangers and pilgrims on the earth.
For they that say such things declare plainly that they seek a country.
And truly, if they had been mindful of that country from whence they came out, they might have had opportunity to have returned.
But now they desire a better country, that is, an heavenly: wherefore God is not ashamed to be called their God: for he hath prepared for them a city. (Hebrews 11:13-16)
As Mr Armstrong puts it below:
With the Holy Spirit shut off, a human civilization has been built blinded by Satan. Into such a world came Jesus; and He came to start ANOTHER WORLD, which Adam could have started. To START A WHOLE DIFFERENT WORLD, brethren! Now the world doesn't understand this. Now get this. Everything I said up to now is only just background material. Here's the real message. Now get it.
Jesus came to start another civilization, to start another world. He didn't call everybody volunteers and just hocus-pocus "Just accept My name, and I'll send you up to heaven:" Nothing of the kind. He didn't come saying, "Please believe in Me. Won't you accept Me? Won't you let Me into your heart?" You can't find that in the Bible. He didn't say anything of the kind...
... Brethren, if you come into the Church, you are a student; and you are to learn and to study the Word of God -- to study a new kind of civilization that is in the Book of Life. If you think just accepting Christ and warming the seat of a church service is going to get you into the Kingdom of God, you are of all people most deceived. ( Another Civilisation – 2 October 1982)
Gleaning God's Word:
In Leviticus 23 – immediately following the verse that commands us to observe the feast of Firstfruits as one of God's holy days – is the following short command regarding gleaning:
And when ye reap the harvest of your land, thou shalt not make clean riddance of the corners of thy field when thou reapest, neither shalt thou gather any gleaning of thy harvest: thou shalt leave them unto the poor, and to the stranger: I am the LORD your God. (Leviticus 23:22)
Such laws of God provided for the poor in ancient Israel, yet did so in such a way that did not stifle initiative and hard work. This law Ruth used to advantage to enable her to glean throughout the seven weeks of both the barley and wheat harvests – providing bread as a staple for both herself and Naomi throughout the rest of the year from her consistent hard work and diligence during harvest time.
The parallels spiritually are quite profound: just as a gleaner has no part in sowing or tending the crop, so it is God – as the farmer – who "worketh in [us] both to will and to do of his good pleasure" (Philippians 2:13) – "For we are his workmanship, created in Christ Jesus unto good works, which God hath before ordained that we should walk in them. (Ephesians 2:10). But it still requires diligence on our part to regularly gather the words of life through daily Bible study.
There we find those "good works" defined, and by ingesting these words, they then become part of us and we develop the Mind of Christ. In so many respects, gleaning is what Israel did when collecting manna each morning in the wilderness as they gathered their daily physical bread. Jesus however, gathers the various strands together in His comments at the end of John chapter six – showing the spiritual dimension of the entire subject and its links to the Living Word of God by which God's Church – the potential bride of Christ and antitype of Ruth – must live:
Then Jesus said unto them, Verily, verily, I say unto you, Moses gave you not that bread from heaven; but my Father giveth you the true bread from heaven.
For the bread of God is he which cometh down from heaven, and giveth life unto the world...
I am that bread of life.
Your fathers did eat manna in the wilderness, and are dead.
This is the bread which cometh down from heaven, that a man may eat thereof, and not die...
As the living Father hath sent me, and I live by the Father: so he that eateth me, even he shall live by me.
This is that bread which came down from heaven: not as your fathers did eat manna, and are dead: he that eateth of this bread shall live for ever...
It is the spirit that quickeneth; the flesh profiteth nothing: the words that I speak unto you, they are spirit, and they are life...
Then Simon Peter answered him, Lord, to whom shall we go? thou hast the words of eternal life. (John 6:32-33,48-50,57,58,63,68)
Christ's Protection:
As soon as Boaz found out that Ruth was part of his extended family, he took it upon himself to both help and provide for her, for he could see not only her vulnerability but also her allegiance and trust in the God of Israel:
And Boaz answered and said to her, "It has been fully reported to me, all that you have done for your mother-in-law since the death of your husband, and how you have left your father and your mother and the land of your birth, and have come to a people whom you did not know before.

The Lord repay your work, and a full reward be given you by the Lord God of Israel, under whose wings you have come for refuge."(Ruth 2:11-12 NKJV)
In a similar way, once in the church we come under the protection of Christ and the Father. Christ specifically instructed us to, "Fear not, little flock; for it is your Father's good pleasure to give you the kingdom." (Luke 12:32) And as the Eternal of ancient times, He encourages all who tremble at the words they glean from God – looking forward to the World Tomorrow and our place within the New Jerusalem – as brought out by the prophet Isaiah:
Hear the word of the LORD, ye that tremble at his word; Your brethren that hated you, that cast you out for my name's sake, said, Let the LORD be glorified: but he shall appear to your joy, and they shall be ashamed.
A voice of noise from the city, a voice from the temple, a voice of the LORD that rendereth recompence to his enemies.
Before she travailed, she brought forth; before her pain came, she was delivered of a man child.
Who hath heard such a thing? who hath seen such things? Shall the earth be made to bring forth in one day? or shall a nation be born at once? for as soon as Zion travailed, she brought forth her children.
Shall I bring to the birth, and not cause to bring forth? saith the LORD: shall I cause to bring forth, and shut the womb? saith thy God.
Rejoice ye with Jerusalem, and be glad with her, all ye that love her: rejoice for joy with her, all ye that mourn for her:
That ye may suck, and be satisfied with the breasts of her consolations; that ye may milk out, and be delighted with the abundance of her glory.
For thus saith the LORD, Behold, I will extend peace to her like a river, and the glory of the Gentiles like a flowing stream: then shall ye suck, ye shall be borne upon her sides, and be dandled upon her knees.
As one whom his mother comforteth, so will I comfort you; and ye shall be comforted in Jerusalem. (Isaiah 66:5-13)
Seek First The Kingdom:
With Naomi's guidance as to the accepted customs of the land, Ruth then boldly makes known the fact that she wanted to marry Boaz. Her boldness was similar to the trusting confidence held by Caleb and Joshua when they returned from assessing the land with the rest of the spies:
And Joshua the son of Nun, and Caleb the son of Jephunneh, which were of them that searched the land, rent their clothes:
And they spake unto all the company of the children of Israel, saying, The land, which we passed through to search it, is an exceeding good land.
If the LORD delight in us, then he will bring us into this land, and give it us; a land which floweth with milk and honey.
Only rebel not ye against the LORD, neither fear ye the people of the land; for they are bread for us: their defence is departed from them, and the LORD is with us: fear them not.
But all the congregation bade stone them with stones. And the glory of the LORD appeared in the tabernacle of the congregation before all the children of Israel.
And the LORD said unto Moses, How long will this people provoke me? and how long will it be ere they believe me, for all the signs which I have shewed among them?...
Surely they shall not see the land which I sware unto their fathers, neither shall any of them that provoked me see it:
But my servant Caleb, because he had another spirit with him, and hath followed me fully, him will I bring into the land whereinto he went; and his seed shall possess it. (Numbers 14:6-11,23-24)
Humanly speaking, Ruth was an alien Moabitess and had no justification to consider marriage with Boaz who was monetarily and culturally so much her superior. How much more ourselves in God's church compared with Christ? As King David asked in Psalm 8..."what is man that you are mindful of him?" And in I Corinthians we are aptly described as being the weak and foolish of this world. Yet our future husband is the One who created all things, and before whom every knee shall bow! For some years, Mr. Armstrong felt it was almost blasphemous to talk of us becoming part of the God family....but it is true, as we can read in many places – such the first chapter of gospel of John: " But as many as received him, to them gave he power to become the sons of God, even to them that believe on his name" (John 1:12) .
By reading the parables of the talents (Matthew 25:20-29) and the pounds (Luke 19:13-26) it's very clear that God wants the same positive, bold, trusting and "can do" attitude of both Ruth and Caleb within us, His children, who are destined to marry His Son. It's the "fearful and unbelieving" as brought out in Revelation 21, that will not inherit the fantastic future ahead.
Christ Our Redeemer:
The reaction of Boaz to this bold approach by Ruth was one of love and respect because, as he expressed it: "all the city of my people doth know that thou art a virtuous woman." (Ruth 3:11) He clearly wanted to marry Ruth and was determined to redeem her to himself if at all possible. On hearing this from Ruth, Naomi simply advised, "Sit still, my daughter, until thou know how the matter will fall: for the man will not be in rest, until he have finished the thing this day." (Ruth 3:18)
Boaz redeeming Ruth was but the first stage of a lifelong relationship. So too with Christ and the Church. Being redeemed by His blood is merely the first stage of our conversion – and reflects the very start of the engagement period of the Church to Christ.
Forasmuch as ye know that ye were not redeemed with corruptible things, as silver and gold, from your vain conversation received by tradition from your fathers;
But with the precious blood of Christ, as of a lamb without blemish and without spot:
Who verily was foreordained before the foundation of the world, but was manifest in these last times for you,
Who by him do believe in God, that raised him up from the dead, and gave him glory; that your faith and hope might be in God.(I Peter 1:18-21)
As Romans 5 brings out, the redemption process involves being first reconciled to the Father, who then gives us to His Son for training and development. "It is written in the prophets, And they shall be all taught of God. Every man therefore that hath heard, and hath learned of the Father, cometh unto me".(John 6:45). It is this training and development that is largely the meaning of being saved by His life – washed by the waters of the Word.
Husbands, love your wives, even as Christ also loved the church, and gave himself for it;
That he might sanctify and cleanse it with the washing of water by the word,
That he might present it to himself a glorious church, not having spot, or wrinkle, or any such thing; but that it should be holy and without blemish.......
For this cause shall a man leave his father and mother, and shall be joined unto his wife, and they two shall be one flesh.
This is a great mystery: but I speak concerning Christ and the church..(Ephesians 5:25-27, 31,32)
A New Dynasty:
Unlike the lust-fuelled pseudo-romantic emphasis in today's degenerate society, the society in which Ruth found herself was very much both family and land-based. The inheritance of the land was of supreme importance and was even the reason for the redemption process that Boaz had to go through. This was because stewardship of the land of Israel was placed into the various family groups – within their tribe – when Israel first settled the area under Joshua.
These things will have been in both the minds of Boaz and Ruth, when contemplating marriage....it was not just pure romance, but the establishment of a dynasty that would eventually lead to the Davidic monarchy, a rulership that would ultimately be held for eternity by Jesus Christ Himself.
So too with us. Those young folk contemplating marriage often do not see far past the wedding and the honeymoon in the first flush of excitement and romance. But for us in the Church, it is not just the marriage to Jesus Christ and the wedding Feast that is involved, but the establishment of an eternal Kingdom – the very Family of God Himself. As Mr Armstrong brings out in ( Why Marriage – Soon Obsolete?)
Why this divine marriage – this marriage within the very family or Kingdom of God?
First, this gives us additional positive evidence that the Kingdom of God is a family – with Father, Son, and His wife. Those in the true Church of God, now begotten as heirs, are already now children of God, not yet born, who call Him Father. But, then these begotten children of God will be born of God – still His children just as Christ is still His Son – then divine – but also then we (collectively) shall be Christ's wife.
And why?What then? Then many children will be Spirit-born of that divine union – it will greatly enlarge the divine family which is the Kingdom of God.
How? During the thousand years beginning from the time of that marriage, God, through Christ and His divine wife, will set Himself to save the world!
An End Time Book:
The very short book of Ruth has much to teach us about what Jesus Christ expects of us now – as a bride waiting for her future husband. We stand poised before a time of great trouble – the greatest this world will ever see – even now seeing evil growing and expanding around the globe. But we have an everlasting position laid out before us – first within this earth, and eventually throughout the vast reaches of the cosmos. These words of David – inspired by Christ – should therefore give us great hope, as we strive – with God's full involvement – to build the divine character necessary to be part of that new universe-ruling union of Jesus Christ and his divine wife.
Rest in the LORD, and wait patiently for him: fret not thyself because of him who prospereth in his way, because of the man who bringeth wicked devices to pass.
Cease from anger, and forsake wrath: fret not thyself in any wise to do evil.
For evildoers shall be cut off: but those that wait upon the LORD, they shall inherit the earth.
For yet a little while, and the wicked shall not be: yea, thou shalt diligently consider his place, and it shall not be.
But the meek shall inherit the earth; and shall delight themselves in the abundance of peace. (Psalm 37:7-11)
---