Pastors Report - 21 Jul 2017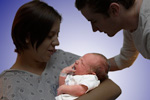 The Peace of thy Children:
And all thy children shall be taught of the LORD; and great shall be the peace of thy children ". (Isaiah 54:13)
The verses that surround the above passage deal with the huge contrast found between physical and spiritual Israel. They describe the future married status of God's church – to the Eternal, her Redeemer, the Holy One of Israel; then to be called the God of the whole earth (verse 5) – contrasted with the current state of affairs within our physical countries which find themselves: "afflicted, tossed with tempest, and not comforted" (verse 11). The degree of peace within the progeny of these two divergent systems could not be more different. And the key? Whether or not those children are being taught of The Eternal (verse 13) and the desperate need for God's Holy Spirit to guide the process (Isaiah 55:1).
Today's Teens:
A week ago last Thursday we witnessed some of the most hideously mindless violence imaginable on the streets of London. Two teenage boys – aged just 15 and 16 – threw corrosive acid into the faces of five complete strangers who happened to be riding motorbikes which the boys were wanting to steal. At least one of the victims has been left with horrendous life changing injuries. The 16-year-old has now been charged with 15 offences including: one count of grievous bodily harm (GBH) with intent, one count of possession of an item to discharge a noxious substance, three counts of robbery, one count of handling stolen goods, four counts of attempted robbery and five counts of attempted GBH with intent.
Just a handful of years ago, these two lads were innocent newborn babies – knowing nothing at their birth. They were not "destined" to be so evil ... so what went wrong in the lives of these young men – and so many others like them – that brought them to the position of committing such horrendous acts? Mr Armstrong makes it very clear that in most cases the primary problem is not juvenile delinquency, but delinquent parents. It is clear when asking "why?", that the main answer has to do with the way these youngsters were raised. How they have been taught – by parents, teachers, media, peers – largely brings about what we see on our streets and in the nations' homes today:
"... ninety percent of the youth problem is irresponsibility of parents and the main trouble, my friends, is that we do not teach respect for authority. We do not discipline any more. And children are not taught to obey authority. From the beginning of the Bible to the end – the first chapter of Genesis of course, deals with creation, not God's teaching to man, but what God began creating. But you begin to find God's teaching in the very second chapter of Genesis. And there you find God commanding the man saying, 'Do so and so, I, am the supreme ruler. And it will go well with you and everything is going to break right for you and you're going to prosper and going to be happy if you obey. But if you don't, the wages of sin is death.' (Genesis 2:16-17) ( WT – Hebrew Series – Juvenile Delinquency )
A World Cut Off:
Today we live in a civilisation that has lost its way. Without God, we find ourselves floundering around in an amoral morass that typifies today's western society – bewilderment, wondering why our marriages are breaking up, our children delinquent, and witnessing chaos and confusion in any and all areas of life. A position brought out vividly in Isaiah;
Behold, the LORD'S hand is not shortened, that it cannot save; neither his ear heavy, that it cannot hear:
But your iniquities have separated between you and your God, and your sins have hid his face from you, that he will not hear.
For your hands are defiled with blood, and your fingers with iniquity; your lips have spoken lies, your tongue hath muttered perverseness.
None calleth for justice, nor any pleadeth for truth: they trust in vanity, and speak lies; they conceive mischief, and bring forth iniquity.
They hatch cockatrice' eggs, and weave the spider's web: he that eateth of their eggs dieth, and that which is crushed breaketh out into a viper.
Their webs shall not become garments, neither shall they cover themselves with their works: their works are works of iniquity, and the act of violence is in their hands.
Their feet run to evil, and they make haste to shed innocent blood: their thoughts are thoughts of iniquity; wasting and destruction are in their paths.
The way of peace they know not; and there is no judgment in their goings: they have made them crooked paths: whosoever goeth therein shall not know peace. (Isaiah 59:1-8)
Thankfully, God offers a solution, and it's contained in His plan to rescue mankind ... to buy us back from this "world held captive" by the devil. It's THE solution – the only sure answer – if mankind is ever to attain peace and stability in this world.
1927 Article:
There is an old but very enlightening Plain Truth article that deals with the solution required for young people. It was an article written originally by Mr Armstrong over 90 years ago, in 1927, when he was just 35 years old and the Plain Truth had yet to come into existence. As he explains in the April '82 edition, "Here's an article written for the first issue of The Plain Truth, seven years before the magazine was finally born in the depths of the Great Depression. Now, in 1982, we think our vast audience of new readers would find this article highly informative...." The article is called: What's Wrong With the YOUNGER GENERATION?, and though talking about a bygone "sheik-flapper" generation who were, by 1982 well into their 70s, he comments on the time when they were young:
Our young people are simply heart-hungry – that's all that's wrong. They're empty – and they want to be filled up and warmed in the inner man. The churches have failed them. They don't understand – how can we expect that they should? – and they are merely seeking the spiritual food they really need, in movies, in dances, in wild entertainment, in "necking," sex and debauchery, and all too often finding the "inspiration" in bootleg liquor! They're getting and buying at a dear price – cheap Woolworth jewelry, when what they really crave is the pearls of a heart-warming, Spirit-firing Christian experience!...
...Instead of something that makes one happy – instead of something that would feed those cold, empty, hungry hearts – religion is pictured as something gloomy, foreboding, painful and cold and as silly and superstitious.
When Jesus ascended into heaven, he promised that the Comforter would come. And he promised that "ye shall receive POWER after that the Holy Spirit is come upon you." The apostles were FULL of power, and fire, and vigor and interest, after the day of Pentecost. What's become of that POWER? What have men done with the heart-warming, soul-satisfying Comforter that Christ sent down from heaven? That's what our young people are really seeking. But they don't know it, and it seems there's no one to tell them, or lead the way! ( PT - April 1982 - What's Wrong With the YOUNGER GENERATION?)
Today's Problem:
How little has really changed! What we find in the youth today is that the emptiness of the inner man is merely more pronounced – with evolution an accepted fact ... to the point that should a teacher dare to teach otherwise, he faces discipline by the board of education! Man is merely a higher animal with no purpose in life ... and therefore no real future, spawning a attitude of "I'll get mine while the getting is good". Very much survival of the fittest!
The legacy of two devastating world wars in the 1900's left many people totally disillusioned with the organised "Christianity" of the day, and for good reason. No answers were able to be given to the whys and wherefores of the death of millions upon millions of people ... and whether they had a future of any sort. Society was ripe for change, and the licentious mindset manipulated by Satan during the 1960's that is leading the world today is anything but godly.
We have now a society where there are more babies born out of wedlock than within a marriage relationship. It is a rare thing indeed to find a married couple that have not had previous sexual partners or divorces. This fluid and unstable state of affairs has had a horrendous effect on the children that are conceived and – if not aborted – finally born into these "families".
Absent Fathers:
Statistically, in the UK, there are over two million lone parents with dependent children – 25% of the whole, with absent fathers in 90% of the cases. And its a growing trend. In most cases, when children and young people go "feral", there is no biological father living at home. It is not without reason that God mentions that the sins of the fathers trickle down to the 3rd and 4th generations – it's a vital need for youngsters to have solid, moral role models. The boys need to have someone to look up to and want to emulate, and the girls need a loving father's example to guide them when choosing their future life's partner.
So is part of the problem a dearth of respect to their parents, and "the establishment"? Yes, the scriptures are still there that we can point to, such as: Thou shalt rise up before the hoary head, and honour the face of the old man, and fear thy God: I am the LORD. ( Leviticus 19:32 ) ... and this is true, and a definite lack in our society. Honour of the elderly is part of the very Law and commandments of Almighty God – an expansion of honouring our parents – the first commandment with promise.
But such scriptures also need to be understood in the context of other equally applicable passages such as: "The hoary head is a crown of glory, if it be found in the way of righteousness". (Proverbs 16:31) The reason that honour should be shown is because of the greater righteous wisdom that should be there in the elderly. If righteousness is absent in that "wisdom", then where is the true leadership? Far from being beneficial, it becomes a leadership that guides society in the wrong direction! As Jesus Christ Himself points out: "can the blind lead the blind? shall they not both fall into the ditch?" (Luke 6:39) and again: "For the leaders of this people cause them to err; and they that are led of them are destroyed." (Isaiah 9:16)
Wonderfully Made:
A fascinating article appeared in the newspaper a few years ago, that showed that it's not just life's experiences that bring wisdom to the more elderly, but the human brain itself continues to develop well into middle age (meaning we can continue to learn) - especially in the area of dealing with others, and even leadership roles! In an article entitled, Brain only fully 'matures' in middle age, claims neuroscientist Richard Alleyne, the Telegraph Science Correspondent writes.......
You might think that you become fully mature when you turn 21 but new research suggests that your brain does not stop developing until your late 40s. Scientists used to believe that your brain stopped physically evolving in early childhood but new research has shown that keeps changing well into middle age ...
... Professor Sarah-Jayne Blakemore, a neuroscientist at University College London, revealed the new thinking at the British Neuroscience Christmas symposium in London. She said: "Until about 10 years ago we pretty much assumed that the human brain stopped developing in early childhood.
"But we now understand from brain imaging that that is far from the truth and that many human brains keep on developing for many decades. "The area of the brain that goes through the most protracted development is the prefrontal cortex right at the front of the brain.
"It is the part of the brain that is involved in high cognitive function such as decision making, planning and social behaviour. It is also to do with understanding other people.
"It starts to develop in early childhood, is reorganised in late adolescence and continues developing well into the 30s and 40s.
"It is the part of the brain that makes us human."
Spiritual Creation:
Creation did not end in the Garden of Eden! The great Majestic God is now in the process of producing His greatest creation ever: His own perfect, holy righteous character within spirit begotten sons and daughters. Family! And with this goal in mind, He's clearly put a great deal of effort and thought into even the physical brain itself, within which He knew He would eventually work, granting we humans firstly the spirit in man, but eventually the marvellous, life-changing Holy Spirit. But it is that very pinnacle of His creative power – character – that The Master Potter is truly focused on. Note the vast contrast in thinking that is brought out just a few verses further on from the opening passage on the children's peace in Isaiah:
Seek ye the LORD while he may be found, call ye upon him while he is near:
Let the wicked forsake his way, and the unrighteous man his thoughts: and let him return unto the LORD, and he will have mercy upon him; and to our God, for he will abundantly pardon.
For my thoughts are not your thoughts, neither are your ways my ways, saith the LORD.
For as the heavens are higher than the earth, so are my ways higher than your ways, and my thoughts than your thoughts.
For as the rain cometh down, and the snow from heaven, and returneth not thither, but watereth the earth, and maketh it bring forth and bud, that it may give seed to the sower, and bread to the eater:
So shall my word be that goeth forth out of my mouth: it shall not return unto me void, but it shall accomplish that which I please, and it shall prosper in the thing whereto I sent it. (Isaiah 55:6-11)
We within God's Church must be learning this radically different Way of thinking – our Father's way of thinking, His 'ways', literally having the mind of Christ. (I Corinthians 2:16) We can see that God has even created mankind with a brain that doesn't stop developing when our physical bodies have achieved maturity and reproductive ability ... but can and should continue developing into the time when our young families need guidance and wisdom! And through "the rich tapestry of life" by the time the grey hairs arrive, we should have the wisdom to know what works and what doesn't – and moreover, be able to teach it!
This is The Way:
So.... "What's become of that POWER? What have men done with the heart-warming, soul-satisfying Comforter that Christ sent down from heaven? That's what our young people are really seeking. But they don't know it, and it seems there's no one to tell them, or lead the way!"
Well, that is our job. Right now we need to allow God as the Master Potter to create His character within us, so that one day ... soon ... we will be qualified - fully grounded and dedicated to The Way, and therefore able to teach these young people, who desperately need this kind of direction. We'll say: "This is the way, walk ye in it, when [they] turn to the right hand, and when [they] turn to the left." (Isaiah 30:21)
For the next few years, no doubt we'll witness and be sickened by even more "aversion therapy" ... the result of taking the wrong tree, all those millennia ago. But we can be assured of the temporariness of such heartache, as the time will come when God will intervene in world affairs as prophesied, and He makes us the most wonderful promise regarding our families, who not only will be taught of the Eternal, but will enthusiastically pass this wisdom to their children also.
Yea, truth faileth; and he that departeth from evil maketh himself a prey: and the LORD saw it, and it displeased him that there was no judgment.
And he saw that there was no man, and wondered that there was no intercessor: therefore his arm brought salvation unto him; and his righteousness, it sustained him.
For he put on righteousness as a breastplate, and an helmet of salvation upon his head; and he put on the garments of vengeance for clothing, and was clad with zeal as a cloke.
According to their deeds, accordingly he will repay, fury to his adversaries, recompence to his enemies; to the islands he will repay recompence.
So shall they fear the name of the LORD from the west, and his glory from the rising of the sun. When the enemy shall come in like a flood, the Spirit of the LORD shall lift up a standard against him.
And the Redeemer shall come to Zion, and unto them that turn from transgression in Jacob, saith the LORD.
As for me, this is my covenant with them, saith the LORD; My spirit that is upon thee, and my words which I have put in thy mouth, shall not depart out of thy mouth, nor out of the mouth of thy seed, nor out of the mouth of thy seed's seed, saith the LORD, from henceforth and for ever. (Isaiah 59:15-21)