Pastors Report - 4 Aug 2017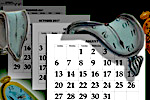 What if ? ... What IS !
"Therefore do not worry about tomorrow, for tomorrow will worry about its own things. Sufficient for the day is its own trouble." (Matthew 6:34 NKJV)
Unnecessary worry:
How many of us have found ourselves worrying unnecessarily and getting stressed out over things that never actually happen? So many times we seem to delight in playing the "what ifs ... ", stewing and fretting when God tells us very clearly to get our minds on "what IS" instead. And, when properly understood, that underlying concept becomes something truly profound. Certainly the verses that precede the above passage deal with not worrying about our daily needs – e.g. the desire for a marriage partner, secure employment, affordable housing, having a family – but what IS, is so much more. As verse 33 emphasises, it also requires our mind be focused, day in day out, on the certainty of the coming kingdom of God, and the righteousness needed to be part of it:
Now if God so clothes the grass of the field, which today is, and tomorrow is thrown into the oven, will He not much more clothe you, O you of little faith?
Therefore do not worry, saying, 'What shall we eat?' or 'What shall we drink?' or 'What shall we wear?'
For after all these things the Gentiles seek. For your heavenly Father knows that you need all these things.
But seek first the kingdom of God and His righteousness, and all these things shall be added to you.(Matthew 6:30-33 NKJV)
Conversely, we can also find ourselves fretting over the past, thinking "what if I'd done this, that or the other?" Or NOT done so? I don't think there is anyone of us that hasn't regretted some of our past actions, or lack of them. Not one of us has been the perfect parent, for example, yet we can't "turn the clock back" for one second, but we can alter our future actions, by learning from the past. If there was one individual who would liked to have changed some things he'd been involved in, it could be the apostle Paul, who organised the imprisonment and possible murder of newly converted Christians. So how did he cope with this burden?
Brethren, I count not myself to have apprehended: but this one thing I do, forgetting those things which are behind, and reaching forth unto those things which are before,
I press toward the mark for the prize of the high calling of God in Christ Jesus.
Let us therefore, as many as be perfect, be thus minded: and if in any thing ye be otherwise minded, God shall reveal even this unto you.(Philippians 3:13-15)
Day-tight compartments:
From the Genesis account of creation being accomplished in day-tight segments, to the command; "let not the sun go down upon your wrath" (Ephesians 4:26) God reinforces our need as human beings to live our lives within realistic day-tight compartments. The very fact that we have time so usefully divided for us into these 24 hour segments at all should add weight to the truth of this – something further reinforced within the Scriptures themselves:
And God divided the light from the darkness. And God called the light Day, and the darkness he called Night. And the evening and the morning were the first day. (Genesis 1:4-5)
And God said, Let there be lights in the firmament of the heaven to divide the day from the night; and let them be for signs, and for seasons, and for days, and years: (Genesis 1:14)
It's clear that Christ followed His own advice while here on earth to concentrate on what was for the day – rather than constantly playing "what if" for the future – by not allowing Himself to become distraught over what was about to occur until well after sunset on the Passover – a mere few hours before His crucifixion. And even then, His mind always returned to the coming kingdom of God, and all that that entailed for humanity – made possible by His impending sacrifice. This was a future focus that Paul expresses in Hebrews 12:2 as "the joy that was set before him" and that He Himself had prophesied He would possess within the closing verses of Psalm 22 – a prophetic psalm that deals extensively with events and His thoughts during the crucifixion:
The poor shall eat and be satisfied; Those who seek Him will praise the Lord. Let your heart live forever!
All the ends of the world Shall remember and turn to the Lord, And all the families of the nations Shall worship before You.
For the kingdom is the Lord's, And He rules over the nations.
All the prosperous of the earth Shall eat and worship; All those who go down to the dust Shall bow before Him, Even he who cannot keep himself alive.
A posterity shall serve Him. It will be recounted of the Lord to the next generation,
They will come and declare His righteousness to a people who will be born, That He has done this.(Psalm 22:26-31 NKJV)
Daily Prayer:
Many of the daily rituals performed within the tabernacle and temple in ancient Israel also point in a similar direction and are clearly there to teach us, as firstfruits, spiritual lessons during this church age. We can see this very clearly when we examine the use of incense. Just before the trumpet plagues we are given a glimpse of the activity that is prophesied to take place before the throne of God at that time - in Revelation chapter 8. Note carefully how incense is given as the symbolism of prayer, and the way it is offered by burning it on the golden altar before the throne:
And I saw the seven angels which stood before God; and to them were given seven trumpets.
And another angel came and stood at the altar, having a golden censer; and there was given unto him much incense, that he should offer it with the prayers of all saints upon the golden altar which was before the throne.
And the smoke of the incense, which came with the prayers of the saints, ascended up before God out of the angel's hand. (Revelation 8:2-4)
This altar of incense – overlaid with pure gold – was used on two occasions each day. This was when the lights, fuelled with olive oil, were tended – picturing the flow of God's Holy Spirit into us as we pray (Luke 1:10) to then become the very light of God seen within this world as it is used by His saints (holy ones) throughout the same day – very much a day-by-day occurrence (Matthew 5:14).
And thou shalt make an altar to burn incense upon: of shittim wood shalt thou make it.
... And thou shalt overlay it with pure gold,
... And thou shalt put it before the vail that is by the ark of the testimony, before the mercy seat that is over the testimony, where I will meet with thee.
And Aaron shall burn thereon sweet incense every morning: when he dresseth the lamps, he shall burn incense upon it.
And when Aaron lighteth the lamps at even, he shall burn incense upon it, a perpetual incense before the LORD throughout your generations. (Exodus 30:1,3,6-8)
Family Talk:
Unlike the rest of this world's "christianity" we understand that the reason for our very existence is to be part of the God family... no wonder Satan is pulling out all stops to muddy the waters as to what a family consists of, even to the extent of confusing the basic tenets of what is male and what is female! And in a vibrant family, the members talk often to one another, share experiences, hopes, dreams, even amusing incidents of everyday life. Should we not do that also with our heavenly Father?
And also, Jesus Christ, our compassionate High Priest, gladly fulfils his role in the process of enabling us to go before the Father - with all our worries, concerns, heartaches - in our daily prayers, not allowing them to multiply and grow out of all proportion:
Seeing then that we have a great high priest, that is passed into the heavens, Jesus the Son of God, let us hold fast our profession.
For we have not an high priest which cannot be touched with the feeling of our infirmities; but was in all points tempted like as we are, yet without sin.
Let us therefore come boldly unto the throne of grace, that we may obtain mercy, and find grace to help in time of need.(Hebrews 4:14-16)
Come unto me, all ye that labour and are heavy laden, and I will give you rest.
Take my yoke upon you, and learn of me; for I am meek and lowly in heart: and ye shall find rest unto your souls.
For my yoke is easy, and my burden is light.(Matthew 11:28-30)
Daily Study:
In the outline prayer Jesus Christ gave us as a guide, He stressed "give us this day our daily bread" (Matthew 6:11) , or as it says in Luke, "give us day by day our daily bread" (Luke 11:3) , or as the margin says, "give us for the day our daily bread" (Luke 11:3 margin) . The point to recognise is that the daily bread being asked for is only for that single day. Very much, "what IS" rather than needlessly worrying about future "what ifs".
Christ comments extensively on this "daily bread" that we all require in John chapter 6 – as being something that is profoundly multifaceted. One facet is certainly that of Christ Himself – the living Word of God; Emmanuel, God in the flesh; The One we all must emulate:
For the bread of God is he which cometh down from heaven, and giveth life unto the world.
And Jesus said unto them, I am the bread of life: he that cometh to me shall never hunger; and he that believeth on me shall never thirst.
The Jews then murmured at him, because he said, I am the bread which came down from heaven.
I am that bread of life.
I am the living bread which came down from heaven: if any man eat of this bread, he shall live for ever: and the bread that I will give is my flesh, which I will give for the life of the world.
As the living Father hath sent me, and I live by the Father: so he that eateth me, even he shall live by me. (verses 33, 35, 41, 48, 51, 57)
Another facet is the spiritual example found within the daily gathering of manna by the ancient Israelites (Exodus 16:21)
Our fathers did eat manna in the desert; as it is written, He gave them bread from heaven to eat.
Your fathers did eat manna in the wilderness, and are dead.
This is the bread which cometh down from heaven, that a man may eat thereof, and not die.
This is that bread which came down from heaven: not as your fathers did eat manna, and are dead: he that eateth of this bread shall live for ever. (verses 31, 49, 50, 58)
But the key facet of this "daily bread" is found within His private closing comments reserved for His disciples:
It is the spirit that quickeneth; the flesh profiteth nothing: the words that I speak unto you, they are spirit, and they are life .
But there are some of you that believe not. For Jesus knew from the beginning who they were that believed not, and who should betray him.
And he said, Therefore said I unto you, that no man can come unto me, except it were given unto him of my Father.
From that time many of his disciples went back, and walked no more with him.
Then said Jesus unto the twelve, Will ye also go away?
Then Simon Peter answered him, Lord, to whom shall we go? thou hast the words of eternal life . (John 6:63-68)
What needs to be gathered daily – in a similar fashion to the way the ancient Israelites gathered manna day by day – are the spirit inspired words of eternal life, eaten and digested in personal Bible study, until we too become a living breathing word of God in the flesh – as was Christ Himself. But the point is, this very much involves eating such spiritual bread DAILY.
And by this regular study of the word of God, we find that "What IS" for each one of us, is the most incredible future that any human mind can dream of. Not only the future though, but guidance through life, rescue from trials, protection from danger, blessings as well as our needs provided for. This is reality...this is what truly IS.
Now in training:
Unlike the world that on the one hand sees this physical life as something they desperately need to hold onto at all costs, yet on the other hand it's viewed as entirely without meaning or purpose of any kind – those of us in God's church should be approaching the subject in almost an opposite way. The life we have now is merely a physical chemical existence – not real life at all – but on the other hand it has vital meaning and purpose. That purpose is to prepare each one of us for our future role in the kingdom of God as the firstfruits of God's harvest:
There is A REASON why we are the firstfruits. And I wish I could drive that home, but I fear that most of you just don't get it. You don't understand it at all. WHY? Why are we the firstfruits? I am going to try to make it plain this afternoon, and still I think you won't get it. So much Protestantism has rubbed off on us we can't get it out of our heads. They think God is trying to save the whole world; and then we think, "Well, He's just saving us first." And that is not the answer at all. We're not saved just because God wants us to be His favorites and get us into His Kingdom ahead of others. We are saved for a very, very great purpose. We are the firstfruits of God's harvest for His Kingdom. ( Why the Firstfruits – 26th of May 1985)
That purpose should colour everything we do on a day by day basis. Not merely to "make it " into the Kingdom of God – but to have been trained throughout this temporary chemical existence, by the daily trials and problems we face, under the loving guidance of the Master Potter, until we are finally ready – fully prepared – to then teach God's Way of Life, His Lifestyle, throughout the millennium and eternity beyond.
In other words, Jesus came to
QUALIFY
TO RULE in the place of Satan. He came to call a firstfruits out to become teachers and to become rulers and governors (like He is, with Him when He sits on the throne); and rule the others, and teach the others
when God starts to save the world.
He didn't come to teach us just to be saved. He came to teach us TO BECOME TEACHERS!...
... WE are NOT CALLED just for salvation; and, if it were for salvation, we wouldn't have been called at all. You wouldn't have been called at all just to get you into the Kingdom. THAT'S NOT WHY YOU WERE CALLED. You were called to become a student. You were called to learn how to save others when God's Kingdom comes, when Jesus is sitting on the throne on this Earth. Brethren, YOU DON'T GET IT.
I've heard ministers speaking as if they never heard of that! I've said to some of them, "I don't think our people understand that." And they say, "Oh yes, they do, Mr. Armstrong." Oh no, you don't. Brethren, you just don't understand that. We're not called to just be the first ones to get into the Kingdom of God. We are called for a special mission—to become teachers. We are not called to become some to go out and convert the world now. We are called to learn how, in the resurrection, we can be rulers and teachers. ( Why the Firstfruits – 26th of May 1985)
Day to day life:
We find ourselves standing on the cusp of the end time tribulation with God's kingdom and its utopian rule just beyond our horizon. None of us like to think too deeply about the horrors that are shortly to overtake humanity, sadly necessary in order to get this world's attention. So the temptation to bury our heads in the sand – or conversely, worry needlessly by playing the "what ifs" – can at times be very great. But as Hebrews 12:1 encourages us, we have within the pages of Scripture many witnesses who have had to face similar circumstances in the past. They too faced an uncertain future at times: Abraham, Jacob, Jeremiah, Job, Elijah – all struggled to see God's hand with clarity on occasions. But with their lives recorded so faithfully in scripture, we can clearly seen how they were being trained, even if they themselves could not much of the time.
But let's take the example of Joseph:
Having been castigated for his dreams by the entire family he then finds himself sold into slavery by his brothers. As if that was not bad enough, having done absolutely nothing wrong he finds himself falsely accused by Potiphar's wife and ends up in prison, for the best part of 13 years, as far as we can tell, where according to Psalm 105:18 he became injured and disabled from the iron fetters he was forced to wear. But we know the reality. God's hand was both on him and guiding him throughout. No doubt he had his very dark moments....who wouldn't? but playing "what if" on a daily basis would have been futile for him. He had those dreams to fall back on....he must have re-visited them often to help him cope. It seemed God had a great job lined up for him! So, "What IS" – including an appreciation of the ongoing training God gives to all his servants (and future spirit born sons) – would have been the only way to handle the situation. So too for us! We must keep in mind that whatever we are facing, is part of our training. We've been assured by Christ in John 14 that He is preparing a place for us, in His coming government. We probably have no idea what that might be, but we can be assured we won't be square pegs in a round hole!
And God shows us also, through this real life example of Joseph, that what really is, is going to be so much more than we can even hope for. One day in prison and the next day second in command over the greatest nation on earth at that time? Truly, a God that goes over and above what we ask or think. (Ephesians 3:20)
Bereavement:
I remember talking at one time with a lady who had been recently widowed. I was trying to encourage her to begin to make a new life for herself when she cut me off with a statement that has stayed with me many years: she said, "I don't want to make a new life for myself. What I want, is my old life back!" And I think anyone of us, humanly, would have similar thoughts in such a situation – not only with the loss of a loved one, but other situations as well, such the "empty nest", when the last child leaves the family home for example, or when facing up to a serious medical condition. Yet playing "what if" remains futile. Taking no anxious thought for tomorrow and concentrating on "what is" is the approach in which we can best recognise the hand of God as He works with us through the trials and difficulties ahead. As the apostle Paul said – who certainly had his own set of trials to face:
Finally, brethren, whatsoever things are true, whatsoever things are honest, whatsoever things are just, whatsoever things are pure, whatsoever things are lovely, whatsoever things are of good report; if there be any virtue, and if there be any praise, think on these things.
Those things, which ye have both learned, and received, and heard, and seen in me, do: and the God of peace shall be with you.
But I rejoiced in the Lord greatly, that now at the last your care of me hath flourished again; wherein ye were also careful, but ye lacked opportunity.
Not that I speak in respect of want: for I have learned, in whatsoever state I am, therewith to be content.
I know both how to be abased, and I know how to abound: every where and in all things I am instructed both to be full and to be hungry, both to abound and to suffer need.
I can do all things through Christ which strengtheneth me. ( Philippians 4:8-13)
Whatever trial we are facing today, or might do in the near future, we can be assured of our loving God walking us through each and every one, as He promises in so many places in the Bible. The "what ifs" tend to bring worry and stress – and most times just don't happen anyway, whereas focusing our minds on reality, the things not yet seen, – the what truly IS – will bring us that peace that passes all understanding.
While we look not at the things which are seen, but at the things which are not seen: for the things which are seen are temporal; but the things which are not seen are eternal. (2 Corinthians 4:18)