Pastors Report - 26 Jan 2018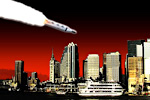 This is NOT a Drill...
Saturday morning, two weeks ago, Hawaiian residents and visitors alike received this terrifying official emergency alert on their phones: "BALLISTIC MISSILE THREAT INBOUND TO HAWAII. SEEK IMMEDIATE SHELTER. THIS IS NOT A DRILL"...
Needless panic:
Fortunately, it DID prove to be a false alarm. Fifteen frantic and frightening minutes later, Hawaii's Emergency Management Agency tweeted that there was no incoming missile — but it took nearly 40 minutes for officials to send out another message through the emergency alert system rescinding the warning. Apparently someone had inadvertently clicked "PACOM (CDW) - STATE ONLY" instead of the similarly named option "DRILL-PACOM (DEMO) STATE ONLY", on a remarkably confusing computer screen, creating massive panic until the follow up message 40 minutes later revealed it was a mistake.
This emergency alert system is part of a national warning system within the United States designed to alert the public of local emergencies such as tornadoes and flash floods. As can be seen from this mishap, whatever message is sent out appears to be sent to everyone. Apparently there seems to be no assessment made as to the person receiving it. In the case in Hawaii, it was a blanket message that went as a text message to all smart phones on the islands. But fortunately for mankind, the Eternal God does not have to rely on smart phones to get His message across – even though He also uses a messaging system of sorts. But His divine process is much, much more refined – tailored to each individual for their specific need, personal qualities and time in history. And for those of us within God's true Church today, what He has to convey to us right now is factual, is timely, and is most certainly NOT a drill!
Hidden from the world:
Scripture is very plain indeed – that both the Father and Jesus Christ have deliberately hidden the truth from the world at large, revealing it only to those who are specifically called during this present time. "No man can come to me" said Jesus, "except the Father which hath sent me draw him: and" [notice carefully, the reason and ultimate destination of this calling:]"I will raise him up at the last day." (John 6:44) . These individuals who are destined to be resurrected to immortal life at Christ's return are very much the select few. For them the Word of Truth that they have received is most certainly not a drill. It is all part of the Father's overall plan to initially hide the truth from the wise and prudent of this world and instead illuminate and work with selected individuals who are weak to ultimately confound the wise:
For ye see your calling, brethren, how that not many wise men after the flesh, not many mighty, not many noble, are called:
But God hath chosen the foolish things of the world to confound the wise; and God hath chosen the weak things of the world to confound the things which are mighty;
And base things of the world, and things which are despised, hath God chosen, yea, and things which are not, to bring to nought things that are:
That no flesh should glory in his presence. (I Corinthians 1:26-29)
Similarly, Jesus used parables to deliberately obscure the meaning and to hide the truth from the world at large. Only those with the ears to hear were granted the ability to understand and begin the conversion process during that time:
And he said unto them, He that hath ears to hear, let him hear.
And when he was alone, they that were about him with the twelve asked of him the parable.
And he said unto them, Unto you it is given to know the mystery of the kingdom of God: but unto them that are without, all these things are done in parables:
That seeing they may see, and not perceive; and hearing they may hear, and not understand; lest at any time they should be converted, and their sins should be forgiven them. (Mark 4:9)
A glorious truth:
Christ, through the writings of both Peter and Paul, makes it very clear that God's ultimate aim is to bring all to the point of repentance – which, taking into account the above passages as well, implies an organised plan to do so:
But, beloved, be not ignorant of this one thing, that one day is with the Lord as a thousand years, and a thousand years as one day.
The Lord is not slack concerning his promise, as some men count slackness; but is longsuffering to us–ward, not willing that any should perish, but that ALL should come to repentance. (II Peter 3:8-9)
...Who will have all men to be saved, and to come unto the knowledge of the truth.(I Timothy 2:4)
To have ALL come to repentance would clearly require another opportunity for life for most people who have ever lived who, through the ages, have never even heard the name of Jesus – let alone been converted. Yet how many grasp this inescapable conclusion? Mr Armstrong labelled the belief held by most professing Christians, that "now is the only day of salvation" – and the assumptions that then flow from that position – as "the most universal erroneous and false belief and teaching – that has caused the world's evils, troubles, sufferings and sorrows" :
That most widely accepted, universally believed error is the teaching that God is now trying desperately to GET THE WHOLE WORLD SPIRITUALLY "SAVED." That this, now, is the ONLY day of salvation. That Satan is trying to keep everybody "lost" – and that all who do not accept – receive Christ NOW in our time, will be "LOST" – condemned to an eternity in hellfire. And time is about up – soon it will be too late – soon probation will close. ( Personal PT – January 1980 )
Judgement periods:
Yet the glorious truth – that this is NOT the only day of salvation – caused the apostle Paul to proclaim:
O the depth of the riches both of the wisdom and knowledge of God! how unsearchable are his judgments, and his ways past finding out!
For who hath known the mind of the Lord? or who hath been his counsellor?
Or who hath first given to him, and it shall be recompensed unto him again?
For of him, and through him, and to him, are all things: to whom be glory for ever. Amen. (Romans 11:33-36)
On a casual reading of the above passage, the phrase, "how unsearchable are his judgements" could merely be taken as talking about God's decision-making processes. But when the passage is placed in its rightful context the judgements being talked about here are actually judgement periods – the very plan that God will use to ensure that ALL should be given the full opportunity to come to repentance – Jew and Gentile alike. That ALL may have their own period of judgement in which their lives are given purpose and meaning for the first time – no longer merely pointlessly existing, going through the motion of a "drill":
For I would not, brethren, that ye should be ignorant of this mystery, lest ye should be wise in your own conceits; that blindness in part is happened to Israel, UNTIL the fulness of the Gentiles be come in.
And so ALL Israel shall be saved ...
... For as ye in times past have not believed God, yet have now obtained mercy through their unbelief:
Even so have these also now not believed, that through your mercy they also may obtain mercy.
For God hath concluded them all in unbelief, that he might have mercy UPON ALL.
O the depth of the riches both of the wisdom and knowledge of God! how unsearchable are his judgments, and his ways past finding out! (Romans 11:25-26, 31-33)
Prophets of old:
The first period of judgement involved the four millennia from Adam to Christ's appearance as the second Adam. It covered very few people indeed – perhaps only a few dozen through the entire age. These are the prophets and patriarchs of old, called at a specific time for a specific task – to perform both then and in the future Kingdom of God – and given the spiritual means to carry it out on an individual basis. As Mr Armstrong points out:
King David of Israel had God's Holy Spirit. Praying for forgiveness, following his adultery with Bathsheba and murder of Uriah, he implored: "Create in me a clean heart, O God; and renew a right spirit within me. Cast me not away from thy presence; and take not thy Holy Spirit from me" (Psalm 51:10-11).
The prophets had received God's Holy Spirit. Peter wrote: "…Holy men of God spake as they were moved by the Holy Spirit" (2 Pet. 1:21). They could not be called "holy men" unless God's Spirit was within them.
Abraham, Isaac and Jacob are to be seen in the Kingdom of God. Jesus said so. Therefore God's Spirit was "dwelling in them" – they were begotten of God – but THEY WERE NOT BORN OF GOD – for Jesus is the first born of many brethren. ( Just what do you mean…BORN AGAIN?)
... God made His Holy Spirit, and eternal life, available only to Israel's prophets. They and they only, of all on earth in those years, were being then JUDGED as to final salvation or final DEATH! For ALL OTHERS – the nation Israel, and all other people on earth – God's MASTER PLAN called for their JUDGMENT to come in a later life... ( Why This Gap In The Bible? - GN Dec 1980)
For the vast majority who lived during this period life was merely a trial run – a drill. Even with ancient Israel God's purpose was to prove, through them, that even with the knowledge of God and His basic spiritual law humans without the addition of God's Holy Spirit are utterly incapable of correctly keeping it. But for the tiny few granted access to God's spirit during this time, life most certainly was NOT a drill. It was very much their time of judgement.
The church age:
And so we come to the present day. Following the sacrifice of Christ and His subsequent resurrection, the present judgement period began on Pentecost 31 A.D. and is destined to last until Christ's return and His binding of Satan. Until Satan is removed he remains as the god of this world, the god of this age (II Corinthians 4:4) – deceiving the entire world (Revelation 12:9) which remains under his sway in order to give the majority of mankind a contrast with the time when, in their case, it will no longer be a practice run, but the real thing. A very vivid taste of "aversion therapy".
But for those of us in God's church, the time we find ourselves in today is very much not a drill! You may often hear the comment, or see the bumper sticker: "Life is not a rehearsal"... and for us, that is absolutely true! It is described as a time of judgement by Jesus Christ through the apostle Peter, who goes on to remind us that the purpose of the time we are in at present is part of God's plan to create righteous character within us, the Father being the Master Potter, moulding and shaping us for our future role.
For the time is come that judgment must begin at the house of God: and if it first begin at us, what shall the end be of them that obey not the gospel of God?
And if the righteous scarcely be saved, where shall the ungodly and the sinner appear?
Wherefore let them that suffer according to the will of God commit the keeping of their souls to him in well doing, as unto a faithful Creator. (I Peter 4:17-19)
The Millennium:
On Christ's return not only will Satan be bound, and his broadcast removed but the focus of the prophet Joel's message regarding the Holy Spirit will then take place in earnest. The very purpose of the millennial rule will be to demonstrate — to all who rise up in the following judgement period — that God's way is THE answer to all the murder, mayhem, heartache and misery that went before. With God's spirit and mind then freely available to all, the entire age will have purpose — something that has been missing in the lives of the vast majority. Now having free access to God's spirit and the truth it will be their one and only time of judgement.
Fear not, O land; be glad and rejoice: for the LORD will do great things.
Be not afraid, ye beasts of the field: for the pastures of the wilderness do spring, for the tree beareth her fruit, the fig tree and the vine do yield their strength.
Be glad then, ye children of Zion, and rejoice in the LORD your God: for he hath given you the former rain moderately, and he will cause to come down for you the rain, the former rain, and the latter rain in the first month.
And the floors shall be full of wheat, and the fats shall overflow with wine and oil.
And I will restore to you the years that the locust hath eaten, the cankerworm, and the caterpiller, and the palmerworm, my great army which I sent among you.
And ye shall eat in plenty, and be satisfied, and praise the name of the LORD your God, that hath dealt wondrously with you: and my people shall never be ashamed.
And ye shall know that I am in the midst of Israel, and that I am the LORD your God, and none else: and my people shall never be ashamed.
And it shall come to pass afterward, that I will pour out my spirit upon all flesh; and your sons and your daughters shall prophesy, your old men shall dream dreams, your young men shall see visions:
And also upon the servants and upon the handmaids in those days will I pour out my spirit.
And I will shew wonders in the heavens and in the earth, blood, and fire, and pillars of smoke.
The sun shall be turned into darkness, and the moon into blood, before the great and the terrible day of the LORD come. (Joel 2:21:31)
White Throne Judgement:
Once the millennium draws to its close — after one thousand years in which God's way of Give will have been applied universally — the result will be a true Utopia. And it is into this godly paradise that the multiple billions of the previously uncalled will be raised! From the youngest stillborn child to the most senior centenarian, to the young man dying on the battlefield in progressive centuries, down through the ages... all will be given a new body, a new life and all will be able to witness the astounding contrast. It will be then that life is no longer merely a rehearsal — a "drill" of existence, but real abundant living that will lead to eternal, spirit-born Life in the Kingdom and Family of God.
Then he said unto me, Son of man, these bones are the whole house of Israel: behold, they say, Our bones are dried, and our hope is lost: we are cut off for our parts.
Therefore prophesy and say unto them, Thus saith the Lord GOD; Behold, O my people, I will open your graves, and cause you to come up out of your graves, and bring you into the land of Israel.
And ye shall know that I am the LORD, when I have opened your graves, O my people, and brought you up out of your graves,
And shall put my spirit in you, and ye shall live, and I shall place you in your own land: then shall ye know that I the LORD have spoken it, and performed it, saith the LORD.(Ezekiel 37:11-14)
Not a drill:
The vast majority of the people who Christ dealt with when He was walking the earth 2,000 years ago will get their first chance in the Great White Throne judgement period. At the time of their resurrection they will undoubtedly remember the words of Christ below. This will be their "day of judgement" that He is talking about. It will also be the day of judgement for ancient Tyre and ancient Sodom, all finally receiving their first chance of learning how to live God's way....
Then began he to upbraid the cities wherein most of his mighty works were done, because they repented not:
Woe unto thee, Chorazin! woe unto thee, Bethsaida! for if the mighty works, which were done in you, had been done in Tyre and Sidon, they would have repented long ago in sackcloth and ashes.
But I say unto you, It shall be more tolerable for Tyre and Sidon at the day of judgment, than for you.
And thou, Capernaum, which art exalted unto heaven, shalt be brought down to hell: for if the mighty works, which have been done in thee, had been done in Sodom, it would have remained until this day.
But I say unto you, That it shall be more tolerable for the land of Sodom in the day of judgment, than for thee. (Matthew 11:20-24)
But notice what Christ then goes on to say! In the clear context of the planned judgement period that will apply to the cities He dealt with at the time, He then thanks the Father for His incredible Plan — that also involves not only hiding the Truth but also revealing it to a select few for an awesome purpose....that of becoming teachers to the entirety of mankind through a series of resurrections:
At that time Jesus answered and said, I thank thee, O Father, Lord of heaven and earth, because thou hast hid these things from the wise and prudent, and hast revealed them unto babes.
Even so, Father: for so it seemed good in thy sight.
All things are delivered unto me of my Father: and no man knoweth the Son, but the Father; neither knoweth any man the Father, save the Son, and he to whomsoever the Son will reveal him. (Matthew 11:25-27)
And although at times we might wish this wasn't our only day of salvation — having to battle against "spiritual wickedness in high places" — whereas it would seem to be so much easier for those called in the future, would we really want to miss out on being at the HQ of the New Jerusalem? A spirit-born "mover and shaker" in putting this world to rights? Yes, we suffer along with the world in so many cases, but being called now has another incredible advantage, as Christ brings out below, ending chapter eleven in Matthew's gospel. We most certainly are not in a "drill", but we don't have to battle on alone, either.
Come unto me, all ye that labour and are heavy laden, and I will give you rest.
Take my yoke upon you, and learn of me; for I am meek and lowly in heart: and ye shall find rest unto your souls.
For my yoke is easy, and my burden is light.(Matthew 11:28-30)