Pastors Report - 9 Mar 2018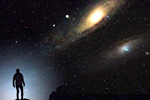 God's Expansive View ...
"Before the mountains were brought forth, or ever thou hadst formed the earth and the world, even from everlasting to everlasting, thou art God." (Psalm 90:2)
Prophecy in Context:
We stand today poised before the greatest cataclysm ever to strike humanity. Labelled within Scripture as "The Great Tribulation" it is prophesied to be a time of trouble, "such as was not since the beginning of the world to this time, no, nor ever shall be." (Matthew 24:21) And we, as God's people, currently find ourselves witnessing evidence within this modern age that points imminently in this direction. Having sown the wind, the world seems about to reap the whirlwind (Hosea 8:7) – an entire society on the edge of a financial precipice; a moral precipice; a social precipice; a political precipice – the inevitable result of a generation so intent on throwing off restraint – particularly during the 60s and early 70s.
Is that not how we view the current situation "on the boil" around us? Yet at the same time, maybe we're truly grateful we can be aware of such things whereas the majority in this world remain largely oblivious, and without answers. But is that all there is to it? Or is there more – much more – that we, even in God's church, so often don't see? What after all is God's view of such a subject? For it is THAT perspective that we should seek – a perspective of prophecy, for example, that does not merely take into account whatever can be seen within a mere human lifetime, but one that places prophetic events in their true historical context – even should that take us millions of years into prehistory.
The 2 trees
And that is precisely what Mr Armstrong would do for us – over and over again – in returning to the account of the two trees when dealing with any subject of a spiritual nature. He would endeavour to place the topic into its true historical context even though it invariably would involve taking us into prehistory to do so:
Now once again, there are the Two Trees. If I mention it, someone's going to get up and walk out and say "There's Mr. Armstrong getting back to those Two Trees." You betcha! And I'm going to do it again, and again, and again – because you can't understand salvation, you can't understand what Christ is doing, you can't understand the Church, you can't understand the world or what's wrong with it, you can't understand ANYTHING unless you understand the lesson of those Two Trees and the incident of the forbidden fruit. ( Sermon UB 4 April 1983 – "Sin" )
The reason Mr Armstrong was so adamant about the need to go back to the story of the two trees, is that this would be a vital part of the perspective God Himself would have. Because God and Christ fully remember both when Lucifer chose the wrong path of life: "And he said unto them, I beheld Satan as lightning fall from heaven." (Luke 10:18) as well as when Adam did the same! So all spiritual subjects are best viewed within that overarching context. It is very much part of God's expansive view.
Brethren, how does God look at this world? It is common for us to look at it as we have been seeing it in our lifetime, in our little PART of this world. God sees the WHOLE world from its very foundation. It was founded through one man. Adam followed his wife, who was deceived by Satan, into rebelling against the GOVERNMENT of God. ... So God CLOSED OFF the tree of life (the Holy Spirit, impregnating with immortal life) until Christ, the second Adam, 4,000 years later. Adam's decision was the FOUNDATION of this world. At that time it was decreed that the "WORD" would come as Savior of the world and be slain for human sins (Revelation 13:8). It was also decreed at the foundation of the world that all men should once die and after that the JUDGMENT. Also, that as in Adam ALL die, so in Christ should all be made alive by resurrection (Hebrews 9:27, I Corinthians 15:22). ( Co-worker letter 26th of January 1983 )
For every effect, there has to be a CAUSE. ... If we are going to learn that CAUSE, we need first to ask: What has made MAN as he is? How did humanity come to be on this earth? Or, going back even further, how did the earth, itself, come to be?
That may seem like going a long way back. But this futile search for PEACE goes a long way back – as far as history goes – or further. Man's troubles, evils and war extend back to the beginning – or prior to the beginning – of history. To find the right answer, we need to go back even to PRE-history! That takes us even to the question of ORIGINS – of BEGINNINGS! ( PT – May 1983 – Personal)
Even in the World:
Part of the problem we face today is that we live in a world that appears hellbent to crush every last vestige of Godly morality from public life. Good and bad, right and wrong, righteousness and wickedness have effectively been hijacked by those holding the perverted "values" of licentious liberalism which promotes and attempts to rationalise such things as the feminist, LGBT and other chaotic lifestyles – largely based on a demand for instant gratification. Very much the wrong tree! But it most certainly has not always been this way. In fact the entire present civilisation rests largely on the self-sacrifice of our forefathers and their promotion of a much more expansive, biblically-moral standard of conduct – albeit a worldly one. As an example let us take just one individual: the US General Douglas MacArthur (1880-1964). Note what he said in retirement when looking back on his life:
"If the historian of the future should deem my service worthy of some slight reference, it would be my hope that he mention me not as a commander engaged in campaigns and battles, even though victorious to American arms, but rather as that one whose sacred duty it became, once the guns were silenced, to carry to the land of our vanquished foe the solace and hope and faith of Christian morals…An occupation not conceived in a spirit of vengeance or mastery of victor over vanquished, but committed to the Christian purpose of helping a defeated, bewildered and despairing people recreate in the East a nation designed in the image of the West." ( General Douglas MacArthur's reflections on his role as the Supreme Commander of Allied Powers (SCAP) during the U.S. occupation of Japan, 1945-1951 )
And where did this benevolent breadth of character come from? During his time in Tokyo, it is said that MacArthur read his American Standard Version of the Bible every day, oversaw the distribution of at least 43 million Bibles to the Japanese, served as Honorary Chairman of Japan's first post-war Christian University – largely in an attempt to fill the "spiritual vacuum" in Japan following the abject failure of an entire belief system based on militaristic Emperor worship. His aim was to fill Japanese society instead with an overtly biblical sense of morality and democratic values. As a member of the Japanese surrender procession, diplomat and Harvard graduate, Toshikazu Kase stated, "We were not beaten on the battlefield by dint of superior arms. We were defeated in the spiritual contest by virtue of a nobler idea. The real issue was moral, beyond all the power of algebra to compute."
Beyond Human Reform:
General MacArthur's view – though certainly expansive and biblically based – nevertheless, remained very much a worldly one. He readily admitted the utter inability of mankind to solve the root problems of conflict during his address to the annual reunion of the 42nd infantry (rainbow) division in July 1935 – because, in reality, solving such problems would require a complete reform of every human being:
The springs of human conflict cannot be eradicated through institutions but only through the reform of the individual human being. And that is a task which has baffled the highest theologians for 2,000 years and more. ... Every reasonable man knows that war is cruel and destructive. Yet, our civilization is such that a very little of the fever of war is sufficient to melt its veneer of kindliness. We all dream of the day when human conduct will be governed by the Decalogue and the Sermon on the Mount. But as yet it is only a dream. ( MacArthur's Speeches: "The Noblest Development of Mankind" )
Yet that dream is precisely what the Eternal God decrees is indeed going to take place – the day when human conduct will be governed by the 10 Commandments and the Sermon on the Mount. But, it will not be brought about BY man, but FOR man – BY the Kingdom of God – a time when not only will mankind be at peace – but even the animals will no longer hurt or destroy!
The wolf also shall dwell with the lamb, and the leopard shall lie down with the kid; and the calf and the young lion and the fatling together; and a little child shall lead them.
And the cow and the bear shall feed; their young ones shall lie down together: and the lion shall eat straw like the ox.
And the sucking child shall play on the hole of the asp, and the weaned child shall put his hand on the cockatrice' den.
They shall not hurt nor destroy in all my holy mountain: for the earth shall be full of the knowledge of the LORD, as the waters cover the sea . (Isaiah 11:6-9)
Spirit-born Commanders:
On September 6, 1945, Douglas MacArthur became the Supreme Commander of Allied Powers (SCAP) for the U.S. occupation of Japan, 1945-1951 when President Truman sent him a message stating, "The authority of the Emperor and the Japanese Government to rule the State is subordinate to you as Supreme Commander for the Allied powers. You will exercise your authority as you deem proper to carry out your mission." This message effectively made MacArthur the most powerful American in U.S. history.
In a similar way we too are destined to find ourselves as supreme commanders over the cities entrusted to us – with the immortal words empowering us to carry out our mission: "well done you good and faithful servant because you have been faithful over a very little have authority over ..." (Matthew 25:21 Luke 19:17 paraphrased) . But notice carefully, it is specifically because we have been faithful in a small way during this life now that enables God to feel confident to trust us as His good and faithful servants in the future. But what is it – above all else – that God is looking for in those faithful servants? What is that standard that He requires of the saints of the most High who will be made the supreme commanders – the King priests – of the world tomorrow? It's God's own holy and righteous spiritual character. His way of doing things. His outlook. His mind. His lifestyle.
God's Character:
In making man, God created in clay His own image – His own likeness – within which He, as The Master Potter, could then fashion His greatest of all creations – His own spiritual character – the very essence of what He is. This sums up the process:
And God said, Let us make man in our image, after our likeness: and let them have dominion over the fish of the sea, and over the fowl of the air, and over the cattle, and over all the earth, and over every creeping thing that creepeth upon the earth.
So God created man in his own image, in the image of God created he him; male and female created he them. (Genesis 1:26)
For as many as are led by the Spirit of God, they are the sons of God. (Romans 8:14)
But as many as received him, to them gave he power to become the sons of God, even to them that believe on his name. (John 1:12)
And the kingdom and dominion, and the greatness of the kingdom under the whole heaven, shall be given to the people of the saints of the most High, whose kingdom is an everlasting kingdom, and all dominions shall serve and obey him. (Daniel 7:27)
This is the very pinnacle of God's truly expansive view for mankind. And the point is we are all to one degree or another involved in the process! This is what our life is really all about. It is why we have been made human. The very purpose of our existence - why we were born! And yet is that where our minds naturally gravitate? Or are they more likely to be on the shopping, the house, the children, our jobs, the mortgage, our health – the manifold cares and worries of this life?
Our Focus:
To be ready for our role in the future it is vital we look at things more from God's perspective:
If ye then be risen with Christ, seek those things which are above, where Christ sitteth on the right hand of God.
Set your affection on things above, not on things on the earth.
For ye are dead, and your life is hid with Christ in God.
When Christ, who is our life, shall appear, then shall ye also appear with him in glory. (Colossians 3:1-4)
One thing Christ has given us to focus our minds each morning when we pray, are the very first few words of the sample, or outline, prayer: "Our Father – who is in heaven/on high" (Matthew 6:9) . This opening address reminds us not only that God is our Father, but that His perspective is so much higher than ours. It is a perspective that simultaneously has both an overview of the entire creation as well as the detail down to the number of hairs on our heads....and an indepth understanding of what worries and concerns us individually. Certainly a heavenly perspective that we need to appreciate, and internalise - as it can bring great peace of mind.
Which he wrought in Christ, when he raised him from the dead, and set him at his own right hand in the heavenly places,
Far above all principality, and power, and might, and dominion, and every name that is named, not only in this world, but also in that which is to come:
And hath put all things under his feet ...
... And hath raised us up together, and made us sit together in heavenly places in Christ Jesus:
That in the ages to come he might shew the exceeding riches of his grace in his kindness toward us through Christ Jesus. (Ephesians 1:20-22, 2:6-7)
Gethsemane:
Often we find ourselves being "pruned" through trials....and although these are common to all men, they are particularly hard when they hit us personally, as Peter puts it: " being in heaviness through manifold temptations" (I Peter 1:6). Even Christ Himself had moments of near despair when faced with the hardest trial of His life in the Garden of Gethsemane. He knew the whole future of mankind lay on His shoulders....but knowing ahead of time what He was to face - as prophesied in Psalm 22 - He was human enough to fear it and wonder if there was a way out. What if He should fail?
He well knew the plan that both of them had drawn up 4,000 years earlier and that "crunch time" had come. But He also showed us how to conquer this devastating fear...by drawing close to our Father in earnest, heartrending prayer, in order to gain the Father's perspective, and not His own. "Not my will but yours be done" was His repeated conclusion. Perhaps the Father reminded Him of the end result of His sacrifice - what it would mean to mankind in general, and also to Christ's own human family. Without that sacrifice, they didn't have a future beyond the grave.
As we approach the Passover this year we should be reflecting not only on the sacrifice of Christ physically but also what He gave up as spirit life to become a mere human – and the way He, as a mere human, was able to rely on the Father's more expansive view throughout His life – including during this time of immense trial:
Looking unto Jesus the author and finisher of our faith; who for the joy that was set before him endured the cross, despising the shame, and is set down at the right hand of the throne of God. (Hebrews 12:2)
Higher thoughts:
God realises He has chosen the weak of the world ....none of us have the natural inborn ability of a General MacArthur ... but in reality we must possess even more! The humanly insoluble problems are going to be solved through the dynamic power of the living God – including that power living and working within us. Mankind has absolutely no solution – but the Eternal God does, and we must learn to trust His expansive view of the situation - whether on a national level or within our own families. General MacArthur's warning of 70 years ago is just as true today, albeit from a human perspective. Fortunately the solution is going to be divine:
"Military alliances, balances of power, leagues of nations, all in turn failed, leaving the only path to be by way of the crucible of war. We have had our last chance. If we do not now devise some greater and more equitable system, Armageddon will be at our door. The problem basically is theological and involves a spiritual recrudescence and improvement of human character that will synchronize with our almost matchless advances in science, art, literature and all material and cultural developments of the past two thousand years, It must be of the spirit if we are to save the flesh." ( General MacArthur's Radio address to the American People, September 2, 1945 )
In around 1,000 year's time, General MacArthur will be raised into Utopia - the dream he had of the day when human conduct will be governed by God's laws will finally have arrived. And how can we have confidence in being part of that incredible time? Through Isaiah God gives us the answer. Firstly, realise the importance of being fed REAL spiritual food:
Ho, every one that thirsteth, come ye to the waters, and he that hath no money; come ye, buy, and eat; yea, come, buy wine and milk without money and without price.
Wherefore do ye spend money for that which is not bread? and your labour for that which satisfieth not? hearken diligently unto me, and eat ye that which is good , and let your soul delight itself in fatness.
Incline your ear, and come unto me: hear, and your soul shall live; and I will make an everlasting covenant with you, even the sure mercies of David. (Isaiah 55:1-3)
Secondly, repent our own ways and thoughts - aim for the mind of God..... "higher education"!
Seek ye the LORD while he may be found, call ye upon him while he is near:
Let the wicked forsake his way, and the unrighteous man his thoughts: and let him return unto the LORD, and he will have mercy upon him; and to our God, for he will abundantly pardon.
For my thoughts are not your thoughts, neither are your ways my ways, saith the LORD.
For as the heavens are higher than the earth, so are my ways higher than your ways, and my thoughts than your thoughts. (Isaiah 55:6-9)
And if we continue throughout life to do the above, then we have this sure promise of being part of the most wonderful future possible:
For as the rain cometh down, and the snow from heaven, and returneth not thither, but watereth the earth, and maketh it bring forth and bud, that it may give seed to the sower, and bread to the eater:
So shall my word be that goeth forth out of my mouth: it shall not return unto me void, but it shall accomplish that which I please, and it shall prosper in the thing whereto I sent it.
For ye shall go out with joy, and be led forth with peace: the mountains and the hills shall break forth before you into singing, and all the trees of the field shall clap their hands.
Instead of the thorn shall come up the fir tree, and instead of the brier shall come up the myrtle tree: and it shall be to the LORD for a name, for an everlasting sign that shall not be cut off. (Isaiah 55:10-13)