Pastors Report - 23 Mar 2018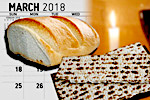 Discerning the Bread
... not discerning the Lord's body. For this cause many are weak and sickly among you, and many sleep." (I Corinthians 11:29-30)
At this time of the year we are expected to properly discern between the leavened and the unleavened – both during the days of unleavened bread and the lead-up to them as we deleaven our homes prior to those days. And throughout this time we find ourselves constantly having to discern, to consider, to separate, to determine – but how much distinction do we place between the unleavened bread eaten daily during these 7 days and the small portion of unleavened bread eaten at Passover? For they are symbolically very, very different!
The Apostasy:
One of the first things attacked during the apostasy was the subject of healing – and allied closely to it, the meaning of the bread of Passover as a symbol of the broken body of Christ to pay the penalty of physical sin. But we must keep in mind that those who attempted to destroy the clarity and understanding we had previously were off-track in many other areas as well:
They refused to acknowledge the specific grace (to place foundational teaching within God's Church) given uniquely to an apostle – and instead attempted to take this privilege to themselves. Having rejected the Government of God of the spiritual heritage that was over them, they thus made themselves

false apostles, deceitful workers, transforming themselves into the apostles of Christ. And no marvel; for Satan himself is transformed into an angel of light. Therefore [it is] no great thing if his ministers also be transformed as the ministers of righteousness; whose end shall be according to their works." (2Corinthians 11:13-15)

They failed to recognise the uniqueness of our calling – thinking all "christians" in the world are also being dealt with by God at this time. Doing this caused them to misread much that deals with the fact that "No man can come to me, except the Father which hath sent me draw him" (John 6:44) – and other vital teaching brought out in John 6.

They eventually rejected the Holy Days – treating the Passover in isolation much as the world approaches "holy communion" – and so failed to see the Passover's proper position as the very start of God's plan. They therefore attached to the Passover emblems aspects that can only come after the sacrifice of Christ has first reconciled us to God the Father.

They eventually even rejected the need to keep the Commandments of God – thereby failing to grasp the true enormity of sin in God's eyes, and utterly missed the main point, that the Passover emblems were given to us by God specifically for the forgiveness of sin – of all kinds; both physical and spiritual.
Confusion of Symbols:
Without the clear framework found rooted within a correct understanding of the Holy days the result was chaos. They eventually ended up no longer able even to clearly differentiate between the two Atonement goats found within Leviticus 16 – but speculated that they both had to picture Christ in some way. The first and smaller spring harvest to be followed in the autumn/fall by a much larger harvest of ingathering was deliberately ridiculed in an attempt to undermine the very basis of God's Plan for all of mankind and our place - as teachers - within it. And the very first area attacked – of symbolic confusion foisted on the church – was to no longer clearly discern the meaning of the Passover bread. It was the first stage in an eventual drive towards ultimately corrupting the sacred ordinance altogether into a fully apostate "holy Communion" or "Lord's supper".
The attack was essentially twofold: by focusing our attention on the idea that Christ offered a single sacrifice they thus attempted to mix the meaning of the wine and bread together – destroying the entire concept of physical sin in the process. And secondly, by mixing together symbolic aspects of the bread used during the Days of Unleavened Bread, with the small portion of bread used for Passover, they attempted to further trash both the doctrine of healing and the Passover itself in one insidious move.
These actions resulted in God's people no longer correctly discerning – or separating – the Passover bread for physical sin as they used to .... and instead regarding the beating Christ went through as merely a further payment for spiritual sin. Some of God's people were led to misapply passages that referred to Christ as the living Word of God active within us to the Passover bread – something only possible after reconciliation to the Father – and that reconciliation is not pictured until after the ordinance of the wine at the very end of the ceremony. Meanwhile, others took the Passover bread as a symbol of the church – totally missing the entire point: that the Passover is for sins that are PAST – as before God's Plan can start, including His will that we live an abundant life now, sins of all kinds – both spiritual AND physical – must first be dealt with.
Mr Armstrong's Clarity:
There was certainly no confusion in Mr Armstrong's mind concerning the meaning of the bread of Passover. Notice this opening comment of the sermon given in 1983 entitled "Sin":
... we came to take the Passover a week ago last night, renewing our acceptance of Jesus' stripes (being beaten with stripes) for our physical healing – something I'm afraid we don't take advantage of as we should, but which we could; and that's one of the great advantages God has given us. It's something extra He doesn't charge for, that He wants to give; and I think He's displeased when we don't take better advantage of it. Then, of His shed blood for the remission of our sins ... ( sermon: Sin – UB April 4, 1983)
Similarly, there was no confusion in Mr Armstrong's mind concerning the subject of physical sin. Notice what he says regarding this topic in the sermon given in 1981 entitled "What is Sin?":
Now, talking about this thing of sin: There is both physical sin and spiritual sin. Many, even of our MINISTERS, don't seem to understand that! And many people in the CHURCH don't seem to understand that. The penalty of physical sin is physical sickness or debility of some kind, and pain and suffering that is physical. Now, physical sin is transgressing the law that normally would operate in a body that God started functioning and working. ...
... It isn't always that you have committed a sin. You haven't always done it intentionally, and maybe you didn't know it. Or maybe you caught a germ that brought a transgression of the physical laws of your body. Maybe it was a contagious something from someone else. It might have been in the water you drink. I think that's what happened to me when I was nineteen years old, and I had typhoid fever. The only time in my life I ever went to a hospital. But it is a physical sin, and the penalty is physical suffering. And, of course, it could result finally in this physical death too–or the cessation of this physical existence. ( sermon: What is Sin? – December 5, 1981 )
Misreading John 6:
Yet – without in any way changing the concepts above concerning the meaning of the Passover bread – Mr Armstrong did say the following in his instructions for the Passover service: "Next read John 6:53-54, noticing this ordinance is commanded as necessary for all Christians." That was all he said.
Then Jesus said unto them, Verily, verily, I say unto you, Except ye eat the flesh of the Son of man, and drink his blood, ye have no life in you.
Whoso eateth my flesh, and drinketh my blood, hath eternal life; and I will raise him up at the last day. (John 6:53-54)
As soon as Mr Armstrong died, these two verses were then expanded in the ceremony, by the apostate leaders, to include much more from John 6. Those that did this then used the expanded section to attack and destroy the meaning within the very Passover emblems themselves. A slightly more detailed explanation of the subject can be found in this explanation of John 6 but the living bread seen as the main topic within John chapter 6 is clearly presented in the passage as God's Words to us – not one of the emblems of the Passover at all. Christ was answering a specific question from John 6:31 regarding manna, and manna was given to daily sustain ancient Israel. It was also given by the God of the Old Testament (who was Christ Himself before His human birth) to show that we "do not live by bread alone, but by every WORD that proceeds from the mouth of God" (Deuteronomy 8:3). This reference to manna is returned to a number of times through the passage in verses 49 and 58.
John begins his entire gospel talking about Christ as "The Word". In fact Christ explains exactly what He is talking about within John 6 regarding His flesh giving life when He says to his disciples in verse 63: "the flesh profits nothing: the words that I speak to you, they are spirit, and they are life." (John 6:63) This verse shows clearly that the bread primarily talked of in John 6 is not the physical Passover bread, nor is it the literal flesh of Christ's person, but it is the living Word of God. The Word of God, living within us through the indwelling of The Holy Spirit. As it says in James, "Of his own will begat he us with the word of truth, that we should be a kind of firstfruits of his creatures." (James 1:18) The bread of John 6 is the very sperm of God's understanding via His Spirit – when His Word lives and grows within us – that begets us as the very sons of God.
The Secondary Theme:
But there is also a secondary theme that is woven within this latter section of John 6. This secondary theme is summed up within the verse that says, "No man can come to me, except the Father which hath sent me draw him" (John 6:44) This secondary theme was continually referred to by Mr Armstrong, who constantly quoted the above verse to show the uniqueness of our calling. The apostle John also goes back to this theme repeatedly within John 6 as he shows that the group of people Christ is talking about, who have access to the "living bread", are only those called by the Father.
All that the Father giveth me shall come to me; and him that cometh to me I will in no wise cast out...
And this is the Father's will which hath sent me, that of all which he hath given me I should lose nothing, but should raise it up again at the last day.
And this is the will of him that sent me, that every one which seeth the Son, and believeth on him, may have everlasting life: and I will raise him up at the last day...
No man can come to me, except the Father which hath sent me draw him: and I will raise him up at the last day.
It is written in the prophets, And they shall be all taught of God. Every man therefore that hath heard, and hath learned of the Father, cometh unto me. (John 6:37, 39, 40, 44, 45)
John finally ends the section, showing this huge divide between those who are being called by the Father, and those who are not, when Christ says:
But there are some of you that believe not. For Jesus knew from the beginning who they were that believed not, and who should betray him.
And he said, Therefore said I unto you, that no man can come unto me, except it were given unto him of my Father.
From that [time] many of his disciples went back, and walked no more with him." (John 6:64-66)
Immediately after the above, He asks the twelve apostles, "Will ye also go away?", and Simon Peter replies, "Lord, to whom shall we go? thou hast the words of eternal life." (John 6:67-68) This reply shows clearly that the Father was in the process of calling Peter – putting him into this special group of the Church (literally: "called out ones"). To some degree Peter could see the meaning of "the bread of life" that Christ was talking about. It was Christ's "words of eternal life" that only the select group would eventually have living within them. This is what Peter – having been called by God – now wanted to hold on to.
Why include John 6:53-54?
Although Mr Armstrong recognised both the above themes within the latter part of John 6, he also included verses 53-54 within the introductory statements of the Passover. But he did this without changing the meaning of the bread whatsoever. It is very clear therefore, that these particular verses are different from the surrounding themes, and are uniquely Passover related. What we must notice, is that these verses (and even verses 55-56) are not dealing with the meaning of the Passover emblems at all. They are dealing with the act of eating and drinking. "Except ye eat the flesh ... and drink his blood....Whoso eateth my flesh, and drinketh my blood, hath eternal life; and I will raise him up at the last day." (John 6:53-54) It is the correct ACT of taking the Passover, that identifies this unique group of people being dealt with within the passage. Only those who correctly take the Passover are the "ecclesia" – the Church – or "called out ones". Just as the act of taking the Passover in the Old Testament was essential to be part of Israel of old, it is just as essential today for those of us who wish to remain part of Spiritual Israel.
This is why Mr Armstrong makes no reference to the meaning of the emblems when he says, "Next read John 6:53-54, noticing this ordinance is commanded as necessary for all Christians." What is vital is the act of taking the Passover if we are indeed a Christian – part of the very "called out ones". It is this group – that correctly takes the Passover – that are able to then go on to ingest the living body of Christ – His living flesh – His Living Words – on a daily basis, as the living manna that descends from God – living by every word that proceeds from the mouth of God (Deuteronomy 8:3). But this symbolism can only come after the emblems of the Passover are taken, as both emblems deal with the forgiveness of sin – physical and spiritual – and are not to be prematurely mixed with Christ in us, or any other apostate view, as was erroneously foisted on the Church in the past.
Holy Days Context:
So what did Mr Armstrong see biblically, that allowed him to so clearly recognise the distinction between the bread of Passover and bread eaten during the Days of Unleavened Bread? First – and most importantly – he was obedient to God in keeping all the Holy Days – not just the Passover. He therefore saw Passover in its correct context – as the vital beginning stage needed for the Plan of God to start. He saw the sacrifice of Jesus Christ for sin of all kinds, within the context of ALL the other Holy days that followed – and the profound meaning of those days, included the Days of Unleavened Bread:
The picture – the meaning – the symbolism, is not complete with Passover alone. Passover pictures the acceptance of Christ's blood for the REMISSION of past sins. It pictures the CRUCIFIED – the DEAD – Christ.
Shall we leave Christ hanging on the cross? The seven Days of UNLEAVENED BREAD, following Passover, picture to us the COMPLETE putting away of sin, the KEEPING of the Commandments – after past sins are forgiven. They picture the life and work of the RISEN CHRIST – who ascended to the throne of God where He is actively at work in our behalf as our HIGH PRIEST, cleansing us of sin – delivering us completely from its POWER!
To observe Passover alone, and then fail to observe the seven Days of Unleavened Bread, means, in the symbolism, to accept Christ's blood, and to continue on in sin – to say with the Sunday churches the LAW is done away, we are under grace, meaning license, to continue in sin!
The seven Days of Unleavened Bread picture the keeping of the Commandments, which is another way of saying the putting away of sin. ( What You Should Know About The Passover And Festival Of Unleavened Bread - GN - March 1979 )
Memorial of His Death:
Just as there is a clear order – seen within the Holy days – of the resurrections to life portrayed: Christ the first fruit; those changed at Christ's return; and the final large ingathering (I Corinthians 15:23) ... So there is a clear order – seen within the Passover and Holy days – of the work of Jesus Christ within the very plan of God. That work begins with the Passover – as a memorial of His death, not His life, and note carefully that both emblems are to be taken in this way:
For I have received of the Lord that which also I delivered unto you, That the Lord Jesus the same night in which he was betrayed took bread:
And when he had given thanks, he brake it, and said, Take, eat: this is my body, which is broken for you: this do in remembrance of me.
After the same manner also he took the cup, when he had supped, saying, This cup is the new testament in my blood: this do ye, as oft as ye drink it, in remembrance of me.
For as often as ye eat this bread, and drink this cup, ye do shew the Lord's death till he come. (I Corinthians 11:23-26)
That death – that sacrifice – was for sin of all kinds (I Corinthians 15:3) It was designed as the initial stage in totally destroying the works of the devil, without compromising the laws of God – both physical and spiritual – in any way (I John 3:8). The bread of Passover cannot therefore signify Christ within us as it is taken prior to the wine that is clearly to forgive sin and thereby reconcile us to God the Father. That symbolism – of the living Christ, as God's living Word, within His people – is clearly encapsulated within the bread used daily during the Days of Unleavened Bread:
But God commendeth his love toward us, in that, while we were yet sinners, Christ died for us.
Much more then, being now justified by his blood, we shall be saved from wrath through him.
For if, when we were enemies, we were reconciled to God by the death of his Son, much more, being reconciled, we shall be saved by his life . (Romans 5:8-10)
UB Pictures Law in Mouth:
Having been released from Egypt – or past sins – by the power of the Passover, we are then to hold the very laws of God in our mouths – ready to teach within the coming Kingdom of God:
Unleavened bread shall be eaten seven days; and there shall no leavened bread be seen with thee, neither shall there be leaven seen with thee in all thy quarters.
And thou shalt shew thy son in that day, saying, This is done because of that which the LORD did unto me when I came forth out of Egypt.
And it shall be for a sign unto thee upon thine hand, and for a memorial between thine eyes, that the LORD'S law may be in thy mouth: for with a strong hand hath the LORD brought thee out of Egypt. (Exodus 13:7-9)
Where do we place our faith?
The above points I've addressed re. the apostasy taking us off track are sadly not merely historical as there is confusion still in the Church of God today regarding this vital subject. Many of us have been tainted by the twisted explanation of the bread of Passover and added to that, we live in – and have faith in – a materialistic world unlike any society before us. And we struggle to understand the spiritual, far more than our ancestors did. Notice this admonition from Mr. Armstrong:
People don't believe God. GOD SAYS YOU SHALL BE HEALED. You don't believe that. Now Jesus was walking along and a woman came and touched His garments. She'd been going to doctors for, what was it, 12 years, I believe it was. She had spent all the money she had, and they hadn't helped her a bit, she'd gotten worse. She was healed instantly like that. He turned around and He said, "Sister, or woman, your faith healed you, because you believed" (Matthew 9:20-22). We wonder why we never get healed. The doctor does more good to most of us – and medicine. Medicine does more good than God does. You know why? Because we believe in it , and we don't believe God. Oh no, God says the prayer of faith SHALL SAVE THE SICK. Oh, I don't believe that – God said that – well God I don't believe what you said. How about you? Do you believe what God said? No most of you don't I am afraid. But we do believe the doctors. We need to think that over a little bit. We certainly ought to. ( Passover Examination (UK) - 27 March 1982 )
Sobering words that hold a great deal of truth! Our doctors' desire is to make us well as soon as possible and remove all pain, but God's overarching desire is to make us into His sons, and that might call for delaying the healing for a few days, months or even years. "That the trial of your faith, being much more precious than of gold that perisheth, though it be tried with fire, might be found unto praise and honour and glory at the appearing of Jesus Christ" (I Peter 1:7)
As we hear or read the familiar passage below during the Passover service this coming Thursday evening, let us think deeply about the true understanding of the symbols that have been given to us by Christ, and the amazing benefits they give to us - now and for eternity.
For as often as you eat this bread and drink this cup, you proclaim the Lord's death till he comes.
Hence anyone who eats the bread or drinks the cup of the Lord carelessly, will have to answer for a sin against the body and the blood of the Lord.
Let a man test himself; then he can eat the bread and drink from the cup.
For he who eats and drinks without a proper sense of the body, eats and drinks to his own condemnation.
This is why many of you are ill and infirm, and a number even dead.
If we only judged our own lives truly, we would not come under the Lord's judgment.
As it is, we are chastened when we are judged by him, so that we may not be condemned along with the world. (I Corinthians 11:28-32 Moffatt)
And let us take them in full assurance of the deep meaning both the bread and wine have for us....given to us by a loving God who only wants the very best for us, and who has laid out this incredible Plan for mankind – and at this time – our individual part in it.
Now unto him that is able to keep you from falling, and to present you faultless before the presence of his glory with exceeding joy,
To the only wise God our Saviour, be glory and majesty, dominion and power, both now and ever. Amen. (Jude 1:24-25)
---