Pastors Report - 20 Apr 2018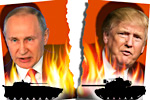 The Spirit of a Cold War ...
"What causes quarrels and what causes fights among you? Is it not this, that your passions are at war within you?" (James 4:1 ESV)
A Yearning Wish:
The subject of this Pastors Report was largely prompted by a short comment made on Sky News 12 April 2018. It was in an interview covering the Russian view of the impending airstrikes with Russia's Foreign Ministry spokeswoman Maria Vladimirovna Zakharova. The full interview can be seen here, but the part that struck me so forcibly was the following:
(at 5:20 – 6:01) To the question, "If Russian blood is spilt, will American blood be spilt?", she replied: "I really don't want to even think about this because you know, I just want to remind you and myself and everybody who will watch this interview that we are living in 2018 we have all sorts of communications including Twitter and we can resolve all the questions like that (clicks her fingers) just by picking up the phone or just sending messages and I think that this is the case which should be resolved through the communication but not through force"
(at 15:40 - 16:20) In response to the statement, "some believe if certain circumstances occur that we are not far from a nuclear war", she replied: "I really, I just even don't want to talk about this thing. Just don't let me think about this. You know I just want to remind you one more time it's 2018 – it's not you know, the middle of the 20th century. We are at the beginning of the first quarter of the 21st-century. You know we are human beings we can talk. If you and me can talk why people in charge of our security and international peace can not talk, this is my question."
The spiritual dimension:
Yes indeed, how sad and just how insane it is to have a world where everyone can be instantly connected – as Ms Zakharova points out – and yet still have communication problems between the leaders of the nations. But such a simple assessment misses the most fundamental point. What both she and the rest of mankind fail to articulate, as they also clearly fail to grasp, is that the very core of the problem – and therefore the only solution – is spiritual. As Mr Armstrong explained in a Plain Truth article nearly 40 years ago:
I have already mentioned how the intellectuals and scholarly of this world feel that, given sufficient KNOWLEDGE, human carnal MAN could solve all problems.
God let many generations of ancient Israel and Judah PROVE by hundreds of years of human experience, that the best of humanity, without God's Holy Spirit CANNOT SOLVE HUMAN PROBLEMS AND EVILS!
I have spoken, during the past 10 years, to many heads of governments over Europe, Asia, Africa, South America. China, I believe the Communist heads of government believe that communism, once it gains control of the earth, will solve all problems and evils. But many kings, emperors, presidents and prime ministers I have conferred privately with now realize the problems are beyond human ability to solve. And this I said plainly to many leaders of the People's Republic of China.
The problems and evils are of a spiritual nature. And a carnal mind without God's Spirit cannot come to grips with spiritual problems. ( PT - 1980-09 A Voice Cries Out Amid Religious Confusion)
A Way of Life:
We live in a world of incredible technological advancements, but the vitriolic spat between the heads of these two nations – and the aggravation between all human beings - has nothing to do with the technical quality of our communications. Just as God says within the book of James: "What causes quarrels and what causes fights among you? Is it not this, that your passions are at war within you?" (James 4:1 ESV) Mr Armstrong comments on this fundamental aspect with great clarity:
But you see, God had a Law which defines a way of living, a way of life. If you live that way, you will be happy and you will make others around you happy. You will be peaceful. You won't be at war with your neighbor. He will be peaceful. He won't be at war with you. You will be helping him. He will be helping you. You will help each other to have more to do more. You will help each other to be more and more happy. You will have more happiness. You will have peace. You will have joy. You will have, well since we're material beings on a material Earth; we will have more of the material things to enjoy. We don't live that way. We don't have that kind of happiness. But there is "a Way", that lives that way, and that is the Law of God. ( Interracial Marriage Sermon - May 1982 )
This world today is utterly blind to God's Law. Since God shut off the Tree of Life 6,000 years ago to mankind in general, it simply does not have the spiritual resources to live "that Way" – the only way to produce truly abiding peace. Something that God demonstrated with Israel of old! But the question I want to ask is - do we? Are we using that rare and priceless resource – available to so few? Are we within God's church applying God's Spirit of a Warm Peace – rather than the spirit of a Cold War that is so prevalent in every level of today's society? Are we yet ready to teach That Way of God's Law – that is destined to produce a full 1,000 years of utopian peace after Christ's return? For that is the monumental task that we have been placed within God's church to ultimately perform. This subject is that profound.
Satan's divisive spirit:
There is also a vital feature of this issue's spiritual dimension that the majority in the world tend to dismissively ridicule. That is the fact that we currently live in a world that is under the invisible sway of Satan the devil. Yes, there are a few that claim to be devil worshippers, but for the vast majority – particularly those that have taken the theory of evolution on board – Satan has been thrown out along with the Creator God.
But scripture is very clear on this point – that his is the controlling spirit of the age - the "zeitgeist" - and that, as the god of this world, he aggressively broadcasts his incoming and selfish frame of mind to all mankind - including us! - in the attitudes, moods and impulses of jealousy, envy, competition and strife, resentment and bitterness, yes, and therefore also of the hostility of a Cold War.
And the great dragon was cast out, that old serpent, called the Devil, and Satan, which deceiveth the whole world: he was cast out into the earth, and his angels were cast out with him.(Revelation 12:9)
And the devil said unto him, All this power will I give thee, and the glory of them: for that is delivered unto me; and to whomsoever I will I give it. (Luke 4:6)
In whom the god of this world hath blinded the minds of them which believe not, lest the light of the glorious gospel of Christ, who is the image of God, should shine unto them.(II Corinthians 4:4)
Wherein in time past ye walked according to the course of this world, according to the prince of the power of the air, the spirit that now worketh in the children of disobedience: (Ephesians 2:2)
This is the fundamental reason why there is such strife, resentment and bitterness between so many nations in the world today – and why the world seems to stumble from one crisis to the next with so little true resolution to the problems faced. The same spiritual mindset that enticed our first parents to reject God's clear direction and instead take the determination of good and evil to themselves is alive and well today - thriving, in fact, and enticing the entire world to do the same. For each person's determination of what is right and wrong, good and evil, is different – leading to confrontation, yes, and also inevitably to Cold War.
At an Individual Level:
And so the world lives currently under the permanent cloud of potential nuclear war – a very real and ever present danger that grows more ominous as more and more nations join the nuclear club. But Cold War is not confined to this area alone by any means. An equally valid definition according to the Merriam Webster dictionary is: "a condition of rivalry, mistrust, and often open hostility short of violence especially between power groups (such as labor and management)" This aspect of the term "Cold War" brings it down to a very personal level indeed – that of our own workplace, between us and our next-door neighbour, within our families, between our self and our spouse. Yes, and even sometimes between various factions of what was once God's church as well!
The thing we should all keep in mind, be it a cold war of words between Russia and the USA or simmering unspoken contention between a husband and wife, the incoming spirit which lies behind such verbal cold war conflicts is largely the same. As the book of James reminds us about our tongue:
People can tame and already have tamed every kind of animal, bird, reptile, and fish.
No one can tame the tongue, though. It is a restless evil, full of deadly poison.
With it we both bless the Lord and Father and curse human beings made in God's likeness.
Blessing and cursing come from the same mouth. My brothers and sisters, it just shouldn't be this way!
Both fresh water and salt water don't come from the same spring, do they?
My brothers and sisters, can a fig tree produce olives? Can a grapevine produce figs? Of course not, and fresh water doesn't flow from a saltwater spring either.(James 3:7-12 CEB)
Correcting in Love:
As James explains above, the key to the subject lies firmly in the spirit realm. We must continually ask ourselves "What is the true source behind the words that are coming out of my mouth, or into my emails, my texts?" Is it still the spirit of this world? Or is it the Spirit of the world to come? A world that will be flooded by a very different broadcast! Determining the spiritual source of our words is particularly important should we need to correct someone. On such occasions it is all too easy to verbally attack the individual rather than genuinely seek to help the individual correct whatever is wrong.
I remember listening to a sermonette some years ago where the speaker completely reversed the meaning of a clear scripture in one of his points. This failing was pointed out to him after the service in no uncertain terms by a member of the audience – when I happened to be present. Technically, the criticism he gave was valid, but the spirit in which it was given was dead wrong – flagrantly tearing down the speaker in a clear attempt to elevate himself in a public way. The irony was, a major aspect of the sermonette dealt with loving the brethren. As the book of James goes on to point out, however technically "right" we feel we may be, the spirit of a Cold War remains the very antithesis of what spirit is needed:
However, if you have bitter jealousy and selfish ambition in your heart, then stop bragging and living in ways that deny the truth.
This is not the wisdom that comes down from above. Instead, it is from the earth, natural and demonic.
Wherever there is jealousy and selfish ambition, there is disorder and everything that is evil.(James 3:14-16 CEB)
Jesus Christ our example:
The One who gave us the Golden Rule clearly applied the principal Himself – providing us with an example of its implementation:
And just as you want men to do to you, you also do to them likewise.
But if you love those who love you, what credit is that to you? For even sinners love those who love them.
And if you do good to those who do good to you, what credit is that to you? For even sinners do the same.
And if you lend to those from whom you hope to receive back, what credit is that to you? For even sinners lend to sinners to receive as much back.
But love your enemies, do good, and lend, hoping for nothing in return; and your reward will be great, and you will be sons of the Most High. For He is kind to the unthankful and evil.
Therefore be merciful, just as your Father also is merciful.(Luke 6:31-36 NKJV)
So it is clear that in both instances when He cleared the temple area, His castigation of the Pharisees in Matthew 23 and even His rebuke of Satan himself – all proceeded from the Spirit of God which He had without measure (John 3:34). In spite of being corrective, they were all done with the clear intent, attitude and direction of producing: love, joy, peace, long-suffering, gentleness, goodness, faith, meekness and self-control (Galatians 5:22-23) – the very fruit of that Spirit. Never the worldly spirit of a Cold War. And so it was with every other aspect of His life:
For even hereunto were ye called: because Christ also suffered for us, leaving us an example, that ye should follow his steps:
Who did no sin, neither was guile found in his mouth:
Who, when he was reviled, reviled not again; when he suffered, he threatened not; but committed himself to him that judgeth righteously: (I Peter 2:21-23)
Millennial Utopia:
Jesus Christ is very much the first of the first fruits. In that capacity He sets us all an example of carrying the character we see in His human life through into the world tomorrow. So too it must be with us. We cannot continue to live with the spirit of Cold War today, and expect to be able to teach peace in the future. Getting rid of the Cold War spirit is very much part of our learning process – as preparation for a future role:
And it shall come to pass in the last days, that the mountain of the LORD'S house shall be established in the top of the mountains, and shall be exalted above the hills; and all nations shall flow unto it.
And many people shall go and say, Come ye, and let us go up to the mountain of the LORD, to the house of the God of Jacob; and he will teach us of his ways, and we will walk in his paths: for out of Zion [the Church] shall go forth the law, and the word of the LORD from Jerusalem.
And he shall judge among the nations, and shall rebuke many people: and they shall beat their swords into plowshares, and their spears into pruninghooks: nation shall not lift up sword against nation, neither shall they learn war any more. (Isaiah 2:2-4)
Not learning war any more involves much more than removing hydrogen bombs and the rockets to deliver them! As we have seen above, the reason we do not have peace is not a lack of at-our-fingertip technical resources to communicate one with another. But it's very much a lack of the right kind of spirit – God's Spirit of peace. The spirit of a cold war is what must be overcome therefore to build a peaceful millennial utopia – where none will be afraid. Such things must be dealt with first – so that the vines and fig trees might then be planted:
And he shall judge among many people, and rebuke strong nations afar off; and they shall beat their swords into plowshares, and their spears into pruninghooks: nation shall not lift up a sword against nation, neither shall they learn war any more.
But they shall sit every man under his vine and under his fig tree; and none shall make them afraid: for the mouth of the LORD of hosts hath spoken it.
For all people will walk every one in the name of his god, and we will walk in the name of the LORD our God for ever and ever. (Micah 4:3-5)
And all thy children shall be taught of the LORD; and great shall be the peace of thy children. (Isaiah 54:13)
Teacher Training Today:
And the time to learn about the spiritual dimension of a Cold War, is NOW – particularly in the fractured church environment in which we currently find ourselves. Being half-hearted in such an environment – Laodicean and lukewarm – would be very unwise indeed. In fact Christ tells us very plainly to "hold that fast which we have" (Revelation 3:11) at the same time as warning against, "smiting our fellow servants" (Matthew 24:49). The key therefore appears to be to continue to hold fast to the truth, and yes, point out where others are off-track – but to do so very much in the spirit of genuine humility and love – "restoring such an one in the spirit of meekness; considering thyself, lest thou also be tempted." (Galatians 6:1) As Christ Himself warns us against allowing the spirit of a Cold War to appear:
Then said he unto the disciples, It is impossible but that offences will come: but woe unto him, through whom they come!
It were better for him that a millstone were hanged about his neck, and he cast into the sea, than that he should offend one of these little ones.
Take heed to yourselves: If thy brother trespass against thee, rebuke him; and if he repent, forgive him.
And if he trespass against thee seven times in a day, and seven times in a day turn again to thee, saying, I repent; thou shalt forgive him. (Luke 17:1-4)
At times, the disagreements can be quite severe – as they were between Paul and Barnabas regarding John Mark:
And Barnabas determined to take with them John, whose surname was Mark.
But Paul thought not good to take him with them, who departed from them from Pamphylia, and went not with them to the work.
And the contention was so sharp between them, that they departed asunder one from the other: and so Barnabas took Mark, and sailed unto Cyprus; (Acts 15:37-39)
But this contention was not allowed to fester but was rectified – something we can see later on when toward the end of his life, the apostle Paul instructed Timothy to, "Take Mark, and bring him with thee: for he is profitable to me for the ministry." (II Timothy 4:11) Clearly God's spirit was in evidence throughout – not the spirit of a cold war. And if in holding onto the truth we are indeed to be classed as, "Philadelphian" – a word that literally means brotherly love – it's vitally important that we learn to do the same.
If you are wise and understand God's ways, prove it by living an honorable life, doing good works with the humility that comes from wisdom.
But if you are bitterly jealous and there is selfish ambition in your heart, don't cover up the truth with boasting and lying.
For jealousy and selfishness are not God's kind of wisdom. Such things are earthly, unspiritual, and demonic.
For wherever there is jealousy and selfish ambition, there you will find disorder and evil of every kind.
But the wisdom from above is first of all pure. It is also peace loving, gentle at all times, and willing to yield to others. It is full of mercy and good deeds. It shows no favoritism and is always sincere.
And those who are peacemakers will plant seeds of peace and reap a harvest of righteousness. (James 3:13-18 NLT)