Pastors Report - 28 Jun 2018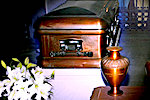 Burial or Cremation — Which?
"As he came forth of his mother's womb, naked shall he return to go as he came, and shall take nothing of his labour, which he may carry away in his hand." (Ecclesiastes 5:15)
The book of Ecclesiastes takes a very physical approach to the things of this life and by doing so, shows how desperately we need the spiritual aspect as well. But I wonder if we — those called out of the world — really do thank God for what has been given to us spiritually? I know that can sound a little trite, and when someone uses the word "spiritual", our eyes can easily glaze over and whatever is being talked about suddenly takes on a nebulous, airy-fairy sheen. But that is not what the word implies at all. All the word "spiritual" means is "things of the spirit" and such things are very real — in truth, much more "real" than this present physical, chemical existence — and in addition, resolve into some truly astounding aspects that can be witnessed in a most tangible way within this present life as well — particularly when faced with a funeral!
A Family Funeral:
For our particular family, Judy and I have no parents left alive. The last parent to die was Judy's mother and a few years ago we buried her at the age of 91. I say, "we" buried, but in actual fact, the funeral arrangements were overseen primarily by another relative who followed fairly precise instructions that Mum had laid out for us many years before. It involved moving the body from here in Wales over 100 miles back into England, to the small town in Devon in which she used to live, until a stroke made it impossible for her to adequately look after herself there. She had already purchased her burial plot next to Judy's father who'd died 28 years earlier, and given instructions regarding the vicar who was to officiate.
And here arises the first "spiritual" insight: Because the cost of moving a body that distance and the extra mileage for the relatives, a local service with a local cremation would be both more logical — and significantly cheaper. So the question came up, should that be the thing to do ... regardless of Mum's earlier wishes? The ashes could then be spread on the grave privately and the headstone altered accordingly. But Judy and I said no — and strongly suggested to the other relatives that we stick to the original instructions, even with the extra expense and inconvenience. And the reason we were able to say no with such clarity, was due to being able to spiritually understand what death really entails....
The Apostasy:
Certainly it would have made no difference to her resurrection. In the Great White Throne judgement period, Mum will be resurrected whether buried or cremated, but I wonder if we realise the way the apostasy subtly corrupted the way the Church began to look at this subject? The apostate leadership tried to promote and justify cremation by altering the form letter that dealt with the subject, inserting the following:
"However, the Bible, taken as a whole, teaches that the mode of a person's burial is not of great importance. Jacob was embalmed, and the Bible states that he will sit with Abraham and Isaac in the Kingdom of God (Luke 13:28). Christ was not embalmed, but He was resurrected to become the firstborn of many brethren. Jonathan, son of Saul, was cremated. Others who were martyred received no burial. Some were torn asunder by wild beasts. They, too, are promised a place in the Kingdom." (from form letter L124)
This casual approach to the topic — that it is "not of great importance" — was not the approach within the Church under Mr Armstrong. The phrase "Jonathan, son of Saul, was cremated" is an oblique reference to 1 Samuel 31:12, but when the verse is correctly read in its context, it does not say Jonathan was cremated. You have to twist the scriptural context to make the passage say such a thing:
All the valiant men arose, and went all night, and took the body of Saul and the bodies of his sons from the wall of Bethshan, and came to Jabesh, and burnt them there.
And they took their bones, and buried them under a tree at Jabesh, and fasted seven days.(I Samuel 31:12,13)
All we have to do is read verse 13 — to see that this was NOT a cremation, but merely a means by the raiding party of disposing of the (by then probably rank) soft tissues in an unobtrusive way — so the most survivable segments could be buried with dignity — as was normal.
Cremation vs Burial:
It is true that the disposal of our physical remains does not affect our spiritual outcome — as Mr Armstrong himself points out ....
Notice what happens AT DEATH. "Then shall the dust return to the earth as it was: and the spirit shall return unto God who gave it." After death, whether buried in the earth, cremated, or what, the physical body returns to the earth. But the spirit that was IN the man, now having recorded everything – the body's form and shape, the facial identity, the memory and the character – returns to God. It will be PRESERVED UNCHANGED. ( The INCREDIBLE Human Potential Chapter 7)
But the above in no way attempts to make cremation biblical as did the apostate letter. The concepts that surround cremation in reality come from a very different source. Note the following from the GN of May 1961 where there was a small Q&A on the topic:
Is the practice of cremation wrong? Does it prevent a person being resurrected?
The practice of cremation is of ancient origin. It was used in the idolatrous fire worship of paganism. Notice what the Encyclopaedia Americana says: "In primitive cultures which have survived into modern times, cremation is widely practised. Burning is not only supposed to destroy the dead body most effectively and thus to prevent the possible return of the ghost, but since fire serves also as a purifying agency, it is often considered a good means of warding off evil spirits .... Besides discouraging the ghost from haunting the corpse and its former abode, and serving as a means of purification from evil spirits and the contamination associated with the dead body, cremation has also, in some instances, as among the Hindus and [the] Chupchi of Siberia, has been associated with a belief in a heavenly abode for the spirit of the deceased. The flames of the funeral pyre, leaping upward, are thought to facilitate the ascent of the soul" (article, "Cremation").
Nimrod and Semiramis were the originators of paganism and it was Nimrod who first bore the title of "Moloch." In his honour children were made to "pass through the fire to Moloch" (Jer. 32: 35) — a pagan practice that God condemned! (Lev. 18: 21 ).
Parents even sacrificed their children to Moloch, "the belief being cherished that the fire that consumed them also perfected them, and made them meet for eternal happiness .... Both the passing though the fire, and the burning in the fire were essential rites in the worship of Moloch or Nimrod" ( The Two Babylons by Hislop, p. 315).
Examples in the Bible show that a simple burial was the custom of the Hebrews who lived during that time. (Gen. 25:9; 35:20). Jacob, for example, was embalmed (an Egyptian custom) and buried (Gen. 50:5,26). Christ was buried, not cremated! "Burning was looked upon as abominable, as injury to the dead (Josh. 7:25; ... II Kings 23:20; Amos 2: 1 ) .... Not to be buried was a terrible disgrace which one could hardly wish even to one's greatest enemy" ( Encyclopaedia Biblica, article, "The Dead").
It is our absolute recommendation that the body be simply buried. In cases where a person has no control over the disposition of the body, however, we should remember that it is not so important what happens to our bodies after death as it is that of having lived a new life after conversion and having died in Christ.
Whether a body becomes dust OR ashes. ("burnt" dust) the Bible promises that It will be in the resurrection (Acts 24: 15; Rev. 20: 17-15). Through the power of God, all cremated bodies will be resurrected!
A Balanced View:

If we are wanting to "get back On Track" the above gives the correctly balanced biblical position. It therefore should remain as the position of the Church today — not the view given by the apostate PCD letter: L124 of January 1988.

But it needs to be also pointed out that in today's society, to insist on our physical remains being buried rather than cremated may well inflict a huge financial burden on family members left behind. This needs to be taken into account also, as that is not following the way of God of loving our neighbour as ourselves
Also, in some African cultures for example, the burial of a relative can become so incredibly costly as to leave the grieving family members in debt and dependence for many years. In this case, it is quite acceptable to insist on a short ceremony without all the "frills" that are usually demanded.

Sleep of Death:
And this brings me to an even greater "spiritual insight" ... understanding what actually happens when we die! To all of us within God's Church the answer is very much "milk of the word" — but to most of humanity, including most at the ceremony for Judy's mother, the subject is a total mystery. For example, the only scripture read during the entire funeral came from John chapter 14:
Let not your heart be troubled: ye believe in God, believe also in me.
In my Father's house are many mansions: if it were not so, I would have told you. I go to prepare a place for you.
And if I go and prepare a place for you, I will come again, and receive you unto myself; that where I am, there ye may be also.
And whither I go ye know, and the way ye know.
Thomas saith unto him, Lord, we know not whither thou goest; and how can we know the way?
Jesus saith unto him, I am the way, the truth, and the life: no man cometh unto the Father, but by me. (John 14:1-6)
The impression given concerning the above passage was that Christ went ahead to welcome us at death. The timing expressed in verse 3: " I will come again and receive you" did not seem to register. This confusion meant that, during the funeral service, certain of the prayers were addressed to the deceased — not God. Whereas scripture tells us that we mere men "return unto the ground; for out of it wast thou taken: for dust thou art, and unto dust shalt thou return." (Genesis 3:19) for .... "His breath goeth forth, he returneth to his earth; in that very day his thoughts perish." (Psalm 146:4) ... so a prayer to the deceased is most certainly not going to be heard!
If those listening to the above words from John 14 were able to grasp this most basic point of biblical truth — that death is merely a form of sleep (Ecclesiastes 9:5; John 11:11; 1Corinthians 15:51; 1Thessalonians 4:14 etc) — they would have been able to reject such an explanation of the passage out of hand. The "place" being prepared is our position — our role as kings and priests — ruling within the Kingdom and Family of God through the Millennium and into the Great White Throne Judgement and beyond. And that "place" being prepared is also one small segment of the much larger Plan of God.
Meaning of Life:
The meaning of death — as a form of sleep, waiting for the resurrection — leads inevitably on to the next big question ... what is the meaning of life? This is why I ask: do we really thank God for what has been given to us spiritually? Do we really appreciate just how utterly priceless the Truth is? It often takes attending an outside funeral — rubbing shoulders with those not yet converted — to appreciate how incredibly profound such basic things really are. Even the fact we prefer to bury the remains rather than cremate them, flows from the Truth that we sleep at death, making it more appropriate as a way of picturing lying down to sleep in the grave rather than to waft upwards in smoke. But this revealed knowledge points us to much more ... it points us to then being woken from that sleep, from that grave, and to the work ahead of us — the Firstfruits — as teachers after that resurrection. Such basic Truth then gives true meaning to our life today. Such basic Truth should mould our every waking moment!
Yet the world lies in darkness. For them, all that remains is a brief eulogy that in a few short words attempts to remind those present what kind of person the deceased was, and to be grateful for their life. Such words are not wrong, but they don't answer the real question ... Why? Why was the deceased given their life in the first place? Why have each of us been given this physical chemical existence? What is it for? If heaven is our destination, why be here first? Why not be taken away on conversion and removed from the trials of this life, this vale of tears? The world has no clue. No idea whatsoever.
God's Law:
But the point is, we do. Each of us in God's Church have had our minds opened — and they have been opened to fulfil God's greatest achievement of all time! We understand His incredible Plan — that God has not by any means finished His creation and He's right now in the process of creating in the minds of those now called His own Holy, Righteous, Perfect Character. The Plan in operation is to ultimately convert us from clay to Spirit; from being physical to Spiritual; from human to God — His own children! And the definition of what that means right now is that the very Law of God — the Torah, or pointing, or Way of outgoing Love — that expresses what God Himself is and stands for — becomes our own Path of Life, in everything, because it is The Way God Himself lives.
And that Living Law, that Path of Life — the Life we now must walk — will not end in death, but will go on for eternity. As Paul explains the mystery of this physical existence: "...We shall not all sleep but we shall all be changed, in a moment, in the twinkling of an eye, at the last trump: [and as written on the gravestone of my mother:] 'for the trumpet shall sound, and the dead shall be raised incorruptible, and we shall be changed' " (I Corinthians 15:51,52)
Unlike those yet uncalled, and who can only grasp the physical aspects of life and death — as brought out in Ecclesiastes for example — we comprehend this amazing way of life is based on a Spiritual Law (Romans 7:14) It is what has been given to us spiritually. And that law — and the understanding of the Truth that flows from it — are indeed very real, very tangible, spiritual things for which we all should remain eternally grateful.
Now we have received, not the spirit of the world, but the spirit which is of God; that we might know the things that are freely given to us of God.
Which things also we speak, not in the words which man's wisdom teacheth, but which the Holy [Spirit] teacheth; comparing spiritual things with spiritual.
But the natural man receiveth not the things of the Spirit of God: for they are foolishness unto him: neither can he know them, because they are spiritually discerned. (1Corinthians 2:12-14)
For which cause we faint not; but though our outward man perish, yet the inward man is renewed day by day.
For our light affliction, which is but for a moment, worketh for us a far more exceeding and eternal weight of glory;
While we look not at the things which are seen, but at the things which are not seen: for the things which are seen [such as death] are temporal; but the things which are not seen [our future - and that of the whole of humanity] are eternal.(2Corinthians 4:16-18)
---