Pastors Report - 13 Jul 2018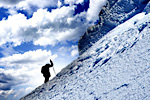 The Overcomer's Mindset:
"He that overcometh shall inherit all things; and I will be his God, and he shall be my son." (Revelation 21:7)

I received an email on one occasion as a result of a comment I made in a sermon about Christ living a sinless life, that I think warrants a wider audience. Although I have previously dealt with many aspects of what I hope to bring out in the Pastor's Report this time, the subject is SO important — and SO misunderstood, both in the world and in the shattered Church of God today — that I feel it is worth going into again.
Here is the query:
"Regarding your sermon when you said how Christ lived a sinless life... I imagine that Christ was sinless because He WAS the Eternal and for eternity was sinless. How can we match that? I just think that it was not a problem for Him not to sin. I think that we cannot imagine how not to even sin at all because we can't even imagine what eternity is like much less not sinning.
"Even though He was a real human being, as you said, He was God. So I think that we can't imagine comparing a sinful human to a God being. It's like comparing the endless space to our puny little speck of earth that is not even visible to the human eye compared to the other huge planets and stars even. .... I also think that Christ was, as you know as well, full of the Spirit as much as you could put into a human brain/body.... For the enormous power that Christ has could not be manifested in a mere human, but I think that that power was shown as much as humans could understand?
So the inference made is that because Jesus Christ was an Eternal Being before His human birth, He was able to lead a sinless life by retaining some of that power. But as mere humans, we cannot. So the implication is that God is not really expecting us to overcome sin in this life quite in the same way Christ did.
Protestantism:
The greatest problem with the above concept is that it is precisely what many of the churches of this world say to justify the idea that we no longer need to keep God's Law! After all, God is a loving God. He understands, doesn't He? "For he knoweth our frame; he remembereth that we are dust" (Psalms 103:14) and so cannot expect us to be perfect. The idea they then put forward is that this is why Jesus came — to keep the Law for us in our stead so that we no longer need to keep it. But as Mr Armstrong says in the article I reproduce below.... "There couldn't be a more soul-damning delusion of the devil!"
If we read the context of that passage from Psalm 103, we find that it is not about God sanctioning us to no longer have to keep His Law — but His mercy and pity for us in our struggle to be obedient to Him. He says:...
Like as a father pitieth his children, so the LORD pitieth them that fear him.
For he knoweth our frame; he remembereth that we are dust.
As for man, his days are as grass: as a flower of the field, so he flourisheth.
For the wind passeth over it, and it is gone; and the place thereof shall know it no more.
But the mercy of the LORD is from everlasting to everlasting upon them that fear him, and his righteousness unto children's children;
To such as keep his covenant, and to those that remember his commandments to do them. (Psalm 103, 13-18)
Admittedly, the person asking the question was not supporting the antinomian (no law) Protestant view. They too want to keep God's Law — but see the gulf between what Christ achieved and what we humanly seem to achieve as totally insurmountable. The only conclusion is that Jesus Christ must have had extra Power available to Him! And therein lies the answer — for all of us!
Jesus Christ:
Jesus Christ did indeed have extra Power available to Him, but He also expects us — through Him — to use that identical Power ourselves. He readily admitted that on His own, He could do nothing. (John 5:19,30) So it stands to reason that God doesn't expect more of us than He did of Christ! We're not placed here to fail. God is not willing that any should perish! (2Peter 3:9) Yes, we are in a world where sin forms an integral part of our daily experience as human beings. We have been specifically placed here during this age overseen by Satan to learn the effects of sin first hand. Aversion therapy! More often than not, what we suffer is the result of our own sins. But a large proportion of our trauma also arises when others around us and associated with us break God's Law. And in both cases — we learn.
But it was into just such a world that Jesus Christ also came. He is the example God expects us to follow — for within such a world He did indeed live an entirely sinless life: "For we have not an high priest which cannot be touched with the feeling of our infirmities; but was in all points tempted like as we are, yet without sin." (Hebrews 4:15) .
The Big Difference:
The big difference was that He was also God — having The Spirit without measure (John 3:34) — yet that in NO way lessened Him fully becoming flesh: " And the Word was made flesh, and dwelt among us, (and we beheld his glory, the glory as of the only begotten of the Father,) full of grace and truth." (John 1:14) As far as we can grasp from our frail human perspective, the individual who was from Eternity the Logos — breathing Spirit for His self-contained Life — divested Himself of it all (Philippians 2:7) to actually become a creature who instead breathed AIR for an utterly human, temporary, physical, chemical existence. Scripture clearly indicates that He, The Eternal, literally BECAME flesh!
This truth Simon Magus and his followers simply could not accept — among so many, many other things! The founder of the world's false christianity was a gnostic heretic who depicted Jesus Christ as part of a pagan trinity far, far above any contamination from " sarx" — the Greek word for flesh. In his distorted view of the subject the personage witnessed here on earth known as Jesus Christ was nothing more than a nebulous theophany (definition: a visible manifestation of God to mankind) of the divine. He did not literally BECOME flesh! This is why Simon Magus claimed to be the Simon who not only carried the stake for Christ but then had to substitute himself as the individual on the cross — so the divine would not be contaminated by such a mundane thing as death! This is almost certainly the source of the long-haired effeminate individual depicted in this world's crucifixion scenes. It is the likeness of Simon Magus — the supposed physical substitute. But the heresy was fully recognised and exposed by the apostle John:
Hereby know ye the Spirit of God: Every spirit that confesseth that Jesus Christ is come in the flesh is of God:
And every spirit that confesseth not that Jesus Christ is come in the flesh is not of God: and this is that spirit of antichrist, whereof ye have heard that it should come; and even now already is it in the world. (1John 4:2,3)
For many deceivers are entered into the world, who confess not that Jesus Christ is come in the flesh. This is a deceiver and an antichrist. (2John 1:7)
The important thing to realise is that the above passages apply in two ways. First, they counter the gnostic heresy outlined above. But they also use a more progressive tense for the words translated as "is come in the flesh". Those words are therefore probably better translated as "is come and is continually coming in the flesh" — and in so doing, counter the idea we don't need to keep God's Law. For the same Power of God's Spirit, used by Christ to lead His sinless life, is available to each and every one of us — if we would just make use of it as He did. In that way He, the Living Word of God, continues to manifest the identical spiritual character as before — the God Character of a sinless life — but this time lived in each of His begotten brethren! (Colossians 1:25-27)
Our Destiny:
This is why I said at the beginning that the subject was so important. It is certainly true that the gap between the Eternal God who became Jesus Christ and ourselves is beyond gigantic. And so the righteousness He displayed contrasted with our own attempts at being righteous are almost laughable! But that is the point. God is not looking for "our own attempts at being righteous". Such righteousness is nothing more than mere self-righteousness and so totally worthless — a righteousness that has at its basis merely a carnal desire to appear good — an incoming, self-centred, human approach.
But we are all as an unclean thing, and all our righteousnesses are as filthy rags; and we all do fade as a leaf; and our iniquities, like the wind, have taken us away.
And there is none that calleth upon thy name, that stirreth up himself to take hold of thee: for thou hast hid thy face from us, and hast consumed us, because of our iniquities.
But now, O LORD, thou art our father; we are the clay, and thou our potter; and we all are the work of thy hand. (Isaiah 64:6-8)
But to be truly righteous, as The Father and Christ are righteous, we must BECOME part of the Family of God — as ONLY God is truly good (Mark 10:18). We — of our own devices — cannot "stir up ourselves to take hold of thee" as it says above in verse 7. We must allow God — The Master Potter and our Father — to form us, willingly submitting to His guiding hands so as to become His supreme creation — His own children, with His own Divine sinless Character within each begotten son and daughter. Impossible? Absolutely! But not with God, with whom ALL things are possible! (Matthew 19:27; Mark 10:27, Luke 18:27).
Done Before:
And this is where faith comes in. It is both our faith in the sacrifice of Christ to cover PAST sins — and so reconcile us to the Father — and the faith OF Christ that then comes from God's Spirit, now living IN us, enabling each and every one of us to live a similar sinless lifestyle as our elder Brother.
That they all may be one; as thou, Father, art in me, and I in thee, that they also may be one in us: that the world may believe that thou hast sent me.
And the glory which thou gavest me I have given them; that they may be one, even as we are one:
I in them, and thou in me, that they may be made perfect in one; and that the world may know that thou hast sent me, and hast loved them, as thou hast loved me....
.... And I have declared unto them thy name, and will declare it: that the love wherewith thou hast loved me may be in them, and I in them. (John 17:21-26)
For if, when we were enemies, we were reconciled to God by the death of his Son, much more, being reconciled, we shall be saved by his life. (Romans 5:10)
The beauty of it all is that it has already taken place! As an embryo in the womb we had the guiding information within our parents' DNA coordinating the process of our growth — from an egg the size of the minute full stop/period at the end of this sentence - joined with a sperm cell that is invisible to the naked eye - right through to a fully-functioning 7 lbs or so human being at our birth. An impossible process? Absolutely! But with God all things are possible — and here we are — writing this, reading this. In the same way, having been washed by the Living Waters of God's Word, those within God's Church are to become "a glorious church, not having spot, or wrinkle, or any such thing; but that it should be holy and without blemish." (Ephesians 5:27) An impossible process? Most definitely! But not when we have the faith of Christ active within us. For Christ — and we — know without a shadow of a doubt that with God all things are possible. We don't have to sink into despair and discouragement, and "throw in the towel", thinking it's an impossible, herculean task we've been given, as we have this sure promise from a loving God: "Being confident of this very thing, that he which hath begun a good work in you will perform it until the day of Jesus Christ." (Philippians 1:6)
So until that day:....
Now unto him that is able to keep you from falling, and to present you faultless before the presence of his glory with exceeding joy,
To the only wise God our Saviour, be glory and majesty, dominion and power, both now and ever. Amen. (Jude v24-25)
---
The Good News, June/July 1982
How YOU Can Overcome
By Herbert W. Armstrong
---
How can you overcome and master your human nature? – and keep ALL God's commandments?
---
I FEEL I must have a real heart-to-heart talk with my family of readers and co-workers, sharing with you thoughts that came to my mind.
It concerns the most important thing in life and eternity for you. But at the moment, I was thinking about myself.
Every person – yes, even you – is his own worst enemy. All my life I have been impelled to fight my worst enemy – that troublesome inner self, which by nature is desperately wicked.
I was not born with a mild, submissive, weak-willed inner self. Had I been, I probably never could have been used as God's instrument in bearing His message to you. My mother, who lived well into her 90s, said I was a very strong-willed boy, and while I was still young enough to be under parental discipline, I caused her and my father no end of trouble.
Since growing into the age of self-discipline, this same evil, determined inner self has caused me no end of trouble. And I should add that since I gave that self over to God, it surely must have tried His patience!
The troublesome inner self
That brings us to the point. The thought that came to my mind concerned this very troublesome inner self. HOW, came the question, can I myself ever become finally saved, and inherit eternal life in the Kingdom of God, with such a powerful, seemingly irresistible inner force of evil constantly pulling the other way?
When God says "there shall in no wise enter into it [the Kingdom of God] any thing that defileth, neither whatsoever worketh abomination, or maketh a lie" (Rev. 21:27), it surely seemed impossible that I should be able to "overcome" and "endure unto the end."
But the same instant the answer flashed to mind – God will save me!
I can't save myself. When I look at this troublesome, evil self, so human and full of faults and weaknesses, so beset by temptations of pride and the flesh, with all its limitations and shortcomings – knowing that to be finally saved I must GROW in grace and God's knowledge, must develop in righteous holy character, must overcome this self and temptations and weaknesses and must endure through trial and test and opposition and discouragement unto the end – well, when I look at it that way, it seems utterly HOPELESS to expect ever to be saved.
And I wondered, as this thought flashed through my mind, how many of my readers and co-workers are tempted to look at it the same way – to feel a sense of futility and helplessness– perhaps to become discouraged and lose faith?
Ah, that's the key word FAITH!
Our plight isn't hopeless at all!
How we shall be saved
Of course, of ourselves, it is impossible to be saved. But with God it is certain – if we yield to Him and TRUST Him. We shall be saved, not by our own power to overcome and develop perfect characters, but through FAITH IN GOD'S POWER!
But right here is where 999 out of 1,000 become deceived by the fables of this time. And when the blind lead the blind, they both fall into the ditch!
Because we can't save ourselves we can't master the evil inner self – we can't always resist every temptation – we can't keep God's holy law perfectly – and, of ourselves, we would fail to overcome, to grow in spiritual character and to endure to the end – the false teaching is going out that JESUS DID THESE THINGS FOR US – that we don't need to do them.
Millions today believe that God imputes Jesus' righteousness to us, counting us as righteous when we are not!
There couldn't be a more soul-damning delusion of the devil!
No, Jesus didn't live a good life for you, in your stead! You are not excused from keeping God's commandments, living a righteous holy life, overcoming, growing in spiritual character and enduring in spite of all opposition, persecution, trial and test unto the end. You and I must actually do these things in order to be saved!
Here is the great mystery! Since we must do these things to be saved, yet are utterly unable to do them, it is natural to conclude either that God sent Jesus to do it for us and excuse us from accomplishing it, or else to become discouraged and be tempted to quit trying.
The true answer is the KEY to salvation!
Key to salvation
We can't save ourselves. GOD will save us!
But how?
Not by saving us in our sins – not by deceiving Himself into counting us righteous by imputing Jesus' righteousness to us while we remain unrighteous – BUT BY SAVING US FROM OUR SINS, by giving us His very own Spirit!
God's Spirit gives us His POWER to overcome these cantankerous selves, His LOVE to actually fulfill His law, His PEACE to avoid strife with enemies and resentment and bitterness at their injustices, His PATIENCE to endure!
We can't save ourselves – GOD must save us!
But He does it by changing us, through His indwelling divine supernatural power, from what we have been into the holy, righteous characters He wills to make of us! He does it by forgiving past sins not only, but cleansing us from sinning now and in the future!
God does not look upon our hopeless plight – our evil natures, our weaknesses and inabilities – and say: "Poor, helpless humans! Since they are unable to master and overcome their evil natures, to keep my law, to endure trial and test and temptation and to grow into holy characters, I'll be merciful and have my Son do it for them, and save them just as they are in all their sins."
Instead, God who knows our every weakness – who knows and understands this human nature in every one of us – sent His Son into the world to proclaim His MESSAGE to us that we must yield to GOD's government over our lives – that we must REPENT and turn from our filth of the flesh and pride of mind and heart.
He sent His Son into the world to be tempted in all points as we are – human as we are – to prove that a human can, with the help of the Spirit of God, live without sin – TO SET AN EXAMPLE FOR US THAT WE SHOULD FOLLOW HIS STEPS and live also without sinning!
He sent His Son into the world to die for us – not living a good life in our stead, but paying the penalty of our past sins in our stead – that we might be reconciled to God, so that we might receive His Spirit, begetting us as His SONS, so that God through the power of His Spirit may CHANGE us from mortal sinners into immortal, holy sons of God!
"Come as you are"?
Some hotels and restaurants, catering to tourists who may be in old clothes and dirty from traveling, post a sign: "COME AS YOU ARE!"
The favorite "invitation" or altar-call hymn sung by the popular denominations in revival or evangelistic services is "JUST AS I AM."
But be not deceived – GOD WON'T RECEIVE YOU JUST AS YOU ARE! You can't sit down at His immaculate, holy table with your wrinkled, soiled clothes and dirty hands, which symbolically represent the human sinning condition.
No, you must be first WASHED in the blood of the Lamb, Jesus Christ – and before Jesus, as your Savior and Mediator with God, can wash you of the filth of your sins, YOU MUST FIRST REPENT OF TRANSGRESSING GOD'S HOLY LAW, WHICH MEANS TO BE SO SORRY THAT YOU FORSAKE YOUR WAY AND THE WORLD'S WAY AND TURN TO A LIFE OF OBEDIENCE TO GOD'S LAWS AND WAYS!
Of course you'll have to come as you are to Christ for CLEANSING from the filth of your past life – but confessing your filthy, sinful condition, asking Him to cleanse you and wash you in His blood, because you can't cleanse yourself – so that He may present you chaste and pure and spiritually clean to His Father, that you may then receive the indwelling POWER of God that will enable you to overcome and keep God's law, and live as His sons ought to live!
Receive God's power
Jesus showed by His life that we can, if we rely upon God in faith for the power to do, live the way of God's will as expressed in His spiritual law! Of Himself, even Jesus said He could not do it – "the Father that dwelleth in me," He said, "HE doeth the works" (John 14:10). And again, "He that believeth on me, the works that I do shall he do also" (verse 12).
And so it was that, almost the same instant the temptation to doubt the final result came to my mind, as I thought of my own weaknesses, faults and limitations, the answer flashed strong and firm:
"GOD WON'T LET ME FALL! He may punish me more yet to chasten and teach me and make me righteous, but He won't let me fail – He will impute His very own righteousness by implanting it into my life until, through His power energizing me, I'm really living it – ETERNALLY!"
And that comforting and definite ASSURANCE of the final result, based on God's own unbreakable PROMISES, just warmed my heart and made me feel good clear through – and so I had to share this glorious assurance with all of you! Read Jude 24 and II Peter 1:10.

---