Pastors Report - 7 Sep 2018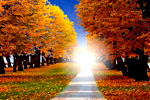 Look to the Future!
Forgetting the things that are behind, and reaching forth unto those things which are before, I press toward the mark for the prize of the high calling of God in Christ Jesus." (Philippians 3:13-14)
Good News of WT:
Have you ever noticed how often Mr Armstrong in the World Tomorrow broadcast will contrast the news being read or transmitted today with the good news that there will be in the soon coming future? Focusing our attention on the World Tomorrow? Focusing our yearning forward? Here is one typical instance:
Well greetings friends. This is Herbert W Armstrong with the Good News of the World Tomorrow. Yes, it's a wonderful thing that news is going to be good, tomorrow. There's a reason why it isn't good today. And it isn't good, because we haven't made it good. It isn't good, because human beings don't know the way of peace. We are reaping exactly what we have been sowing.
Now "There is a way that seems right to a man, the ends thereof are the ways of death." (Proverbs 14:12 paraphrased) That's the way we have been living. We are living now in a world of chaos growing up in world revolution. You look out over this world and look at the suffering, the unhappiness, the heartache, the empty lives: there is a cause for it all. And we are not going to have a world of peace and a world of real happiness and abundant living and prosperity for all, until we come to find the way into those things. And we are going to be forced to learn that way ... ( WT - Christ's Mission and Message - Continued )
Using the News:
Notice how Mr Armstrong does not merely point out how different things are going to be in the future, but also stresses the overall change in direction needed to bring it about. It is very much cause and effect. The implementation of actions based on Godly thinking is what will produce the utopian age of the Millennium that we in God's Church long for – and during the Feast of Tabernacles specifically celebrate. The coming Millennium will become the utopia it is prophesied to be not by merely "tinkering" with the present world, but by a sustained programme that brings every single facet of the new age into harmony with "The Way" – the spiritual Law or Torah of God. The degree of change will then be something we can scarcely imagine.
Seek ye the LORD while he may be found, call ye upon him while he is near:
Let the wicked forsake his way, and the unrighteous man his thoughts: and let him return unto the LORD, and he will have mercy upon him; and to our God, for he will abundantly pardon.
For my thoughts are not your thoughts, neither are your ways my ways, saith the LORD.
For as the heavens are higher than the earth, so are my ways higher than your ways, and my thoughts than your thoughts. (Isaiah 55:6-9)
As we watch the prophetic events of this dying world unfold before us, doing so should give us a heightened appreciation of this DEGREE of change required. But it shouldn't end there. We should also do what Mr Armstrong did continually – recognise some of the specifics as to WHY the world is in the chaos it is, and just WHAT it is that needs to change to put it right. The reason this understanding is particularly vital for us at this time, is that the purpose of us being called now – for the first resurrection – is so that we may have a part in implementing the only lasting solution. It is this teaching role that is our true destiny – and something we need to focus on in a much more profound way, and especially during the upcoming Feast of Tabernacles that pictures this Millennial age.
Our Ultimate Future:
There is a reason why God is continually pointing us forward – to a degree that indicates this entire physical experience will eventually be largely forgotten. This present physical, chemical existence appears almost a duplication of our previous experience within the womb of our physical mother – once the only reality that we had ever known, yet it's something now that rarely - if ever - crosses our mind. Whatever memories of that time that there might once have been, have today been totally superseded by the experiences following our birth. This also appears to be the case following our spiritual birth into real LIFE in the kingdom and family of God:
For, behold, I create new heavens and a new earth: and the former shall not be remembered, nor come into mind.
But be ye glad and rejoice for ever in that which I create: for, behold, I create Jerusalem a rejoicing, and her people a joy.
And I will rejoice in Jerusalem, and joy in my people: and the voice of weeping shall be no more heard in her, nor the voice of crying. (Isaiah 65:17-19)
The apostle Paul, on being given a vision where he was transported to the third heaven, said that he experienced "things so astounding that they cannot be expressed in words" (II Corinthians 12:4 NLT). So the question is, how can our frail human minds look forward to an existence which is, quite literally, ineffable (definition: causing so much emotion, especially pleasure, that it cannot be described)? The clear answer has to be that it cannot – and God fully understands this. As He says in Psalm 103:
Like as a father pitieth his children, so the LORD pitieth them that fear him.
For he knoweth our frame; he remembereth that we are dust.
As for man, his days are as grass: as a flower of the field, so he flourisheth.
For the wind passeth over it, and it is gone; and the place thereof shall know it no more.
But the mercy of the LORD is from everlasting to everlasting upon them that fear him, and his righteousness unto children's children;
To such as keep his covenant, and to those that remember his commandments to do them. (Psalm 103:13-18)
A New World:
We serve a loving God who knows our frailty, our limitations, and therefore talks to us in language that we CAN understand. He eases us in gently, so to speak, looking forward first to our teaching positions within the soon coming Millennial rule and the Great White Throne judgement period thereafter. This is something we can get our heads around – including the vast difference between the Way of life that will then be in place compared to what we currently experience.
And what a world it will be! Although the 10 Commandments will certainly form the basis of the Way of life throughout this earth, there is more, much more, required to produce a utopia. After all, ancient Israel had the commandments, but didn't have the heart to keep them. Neither does the world today. It doesn't have "the love of God shed abroad in our hearts by the Holy Spirit". But the Millennial age to come will!
And it shall come to pass afterward, that I will pour out my spirit upon all flesh; and your sons and your daughters shall prophesy, your old men shall dream dreams, your young men shall see visions:
And also upon the servants and upon the handmaids in those days will I pour out my spirit. (Joel 2:28-29)
For I will take you from among the heathen, and gather you out of all countries, and will bring you into your own land.
Then will I sprinkle clean water upon you, and ye shall be clean: from all your filthiness, and from all your idols, will I cleanse you.
A new heart also will I give you, and a new spirit will I put within you: and I will take away the stony heart out of your flesh, and I will give you an heart of flesh.
And I will put my spirit within you, and cause you to walk in my statutes, and ye shall keep my judgments, and do them. (Ezekiel 36:24-27)
Astounding Results:
And the effects will be totally spectacular. Even the natural world – currently red in tooth and claw – will undergo a complete transformation:
The wolf also shall dwell with the lamb, and the leopard shall lie down with the kid; and the calf and the young lion and the fatling together; and a little child shall lead them.
And the cow and the bear shall feed; their young ones shall lie down together: and the lion shall eat straw like the ox.
And the sucking child shall play on the hole of the asp, and the weaned child shall put his hand on the cockatrice' den.
They shall not hurt nor destroy in all my holy mountain: for the earth shall be full of the knowledge of the LORD, as the waters cover the sea. (Isaiah 11:6-9)
By choosing the wrong tree, Adam – and the age of man that formed from that choice – adopted what is actually an entirely alien approach to the Way God actually intends for mankind. Totally rejecting the righteous, godly mindset they instead chose Satan's self-centred way of doing things where competition, strife and self-seeking are the norm. Survival of the fittest – in both the human and the natural realms – therefore ruthlessly operated, trampling all beneath it. How different the New World will be once this sad, sad world has finally served its full purpose of providing adequate negative contrast in the process of aversion therapy for humanity.
And the result? An entire world then going in a totally different direction – nations, cities, sports, manufacturing, commerce, farming, business – and most of all families - all being conducted with love and concern rather than with selfishness and raw competition. But another benefit will also come to the fore as the entire earth is reformed. So great and so fundamental will be the change from Get to Give – and so pervasive throughout society – that the Millennium will have no alternative but to leave the past firmly behind – no longer tinkering at the edges, but the total RE-construction in all areas of civilisation. The overriding focus will therefore be forward to the ultimate solution of all that went before – to the awesome reality of the Great White Throne Judgement Period and the eternity thereafter.
For the creation waits in eager expectation for the children of God to be revealed.
For the creation was subjected to frustration, not by its own choice, but by the will of the one who subjected it, in hope
that the creation itself will be liberated from its bondage to decay and brought into the freedom and glory of the children of God.
We know that the whole creation has been groaning as in the pains of childbirth right up to the present time.
Not only so, but we ourselves, who have the firstfruits of the Spirit, groan inwardly as we wait eagerly for our adoption to sonship, the redemption of our bodies.(Romans 8:19-23 NIV)
True Wealth:
At that time the land will be owned by the families – passed down from father to son without any of the crippling death duties of today's society (Numbers 33:54). There will be no interest on loans (Deuteronomy 23:19). The capital of a debt will be wiped out after seven years (Deuteronomy 15:1-2). Land mortgaged will return to the family, free of debt, every Jubilee (every 50 years – Leviticus 25:10)
In God's Kingdom, these commands of His will be obeyed. They'll become the standard for regulating commerce, business, finance, and the entire economic structure of the world.
And all will be on the giving basis. Christ said, "Give, and it shall be given unto you; good measure, pressed down, and shaken together, and running over, shall men give into your bosom. For with the same measure that ye mete withal it shall be measured to you again" (Luke 6:38).
The giving standard will be followed in God's rule on this earth – not the grasping, conniving, striving, deceitful, clandestine, furtive, scurrilous, devious, cheating and lying chicanery that is commonplace in today's business world. ( Tomorrow... What it Will be Like - Chapter 7)
The result? Outgoing happiness and joy! True wealth!
If ye walk in my statutes, and keep my commandments, and do them;
Then I will give you rain in due season, and the land shall yield her increase, and the trees of the field shall yield their fruit. (Leviticus 26:3-4)
Behold, the days come, saith the LORD, that the plowman shall overtake the reaper, and the treader of grapes him that soweth seed; and the mountains shall drop sweet wine, and all the hills shall melt. (Amos 9:13)
Instead of bronze I will bring you gold, and silver in place of iron. Instead of wood I will bring you bronze, and iron in place of stones. I will make peace your governor and well-being your ruler.
No longer will violence be heard in your land, nor ruin or destruction within your borders, but you will call your walls Salvation and your gates Praise. (Isaiah 60:17-18 NIV)
This Coming Feast:
And it is this glorious world that we will be gathering together to celebrate in just over two weeks time. The Feast of Tabernacles points us forward each year – as do all the autumn/fall festivals – focusing our minds on this TOTALLY different world. Just as the mind of the entire earth will be encouraged at that time to look to the glorious future – getting their minds away from the horrors of the past – so it must be today for us.
We too must strive to leave OUR world behind. Our home and family problems ... plumbing problems ... appliance problems ... car/automobile problems ... house ... work ... health ... this world's politics ... As much as these negatively impact on us, we need to realise just how temporary these worries are, as we are told by the apostle Paul:
For which cause we faint not; but though our outward man perish, yet the inward man is renewed day by day.
For our light affliction, which is but for a moment, worketh for us a far more exceeding and eternal weight of glory;
While we look not at the things which are seen, but at the things which are not seen: for the things which are seen are temporal; but the things which are not seen are eternal.(II Corinthians 4:16-18)
Moving Forward:
Recently when travelling in Australia to visit family and church brethren, my wife and I were told about the Australian coat of arms, which has a very interesting history behind it. As you can see from this link, the shield is upheld by a kangaroo and an emu, animals that, though endemic within Australia and found only in that continent, have never actually been designated as official emblems of Australia. However, word has it that they were chosen to symbolise a nation that is moving forward, based on the fact that neither the emu nor the kangaroo can easily, if at all, walk backwards. To reinforce this origin, when first designed in the late 19th century the coat of arms also carried the motto Australia Advance, or Australia Forward ... something that really appealed to this young, growing and developing nation.
In a similar way we, as citizens of the new dynamic age to come, also need to keep on keeping on, advancing, focusing forward to that glorious age as we gather together for eight days of looking to the soon coming future – and seeing that future in our mind's eye – we certainly need to fulfil God's command to: "celebrate, delight, exult, glory, joy, revel, triumph" and indeed ... REJOICE! Because we know, that as Mr. Armstrong would continually encourage us, "this advance good news of tomorrow is as certain as the rising of tomorrow's sun".
... and you shall rejoice before the LORD your God, you and your son and your daughter, your manservant and your maidservant, the Levite who is within your towns, the sojourner, the fatherless, and the widow who are among you, at the place which the LORD your God will choose, to make his name dwell there.
You shall remember that you were a slave in Egypt; and you shall be careful to observe these statutes.
"You shall keep the feast of booths seven days, when you make your ingathering from your threshing floor and your wine press;
you shall rejoice in your feast, you and your son and your daughter, your manservant and your maidservant, the Levite, the sojourner, the fatherless, and the widow who are within your towns.
For seven days you shall keep the feast to the LORD your God at the place which the LORD will choose; because the LORD your God will bless you in all your produce and in all the work of your hands, so that you will be altogether joyful .(Deuteronomy 16:11-15 RSV)