Pastors Report - 19 Oct 2018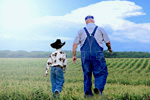 Teaching By The Way ...
"... and shall talk of them when you sit in your house, when you walk by the way, when you lie down and when you rise up." (Deuteronomy 6:7 NKJV)
Back from the Feast:
It seems incredible that the Feast this year is now over and I believe everyone's been back home for a little while. It feels like it was only yesterday that Judy and I were setting off for London en route to the airport to be with the brethren in Kentucky! But the Feast this year has gone very well indeed and certainly fulfilled its primary role of pointing us all to the 1,000 year reign of Jesus Christ and His wife of Spirit-born saints who'll prepare an entire earth for the Great White Throne Judgement period. That Millennial rule is not only going to prepare this earth for that awesome event – but I personally feel it will form a vital part of our own training programme as Spirit Beings as well!
In the same way, this present life – even within a world ruled by Satan – is also a training programme for our future role. It stands to reason that, as God guides us as to the best way to teach our children, He also knows the best way to teach HIS children ... us ... and that is on a day-in and day-out basis, "walking by the way". That each day is another step in our "curriculum" is an aspect we need to keep firmly at the forefront of our minds, in order to cope with what this world throws at us.
Biblical Examples:
To cement this concept, consider just a few of the Biblical "greats" and the training God put them through: Abraham - " Now I know him..." (Genesis 18:19, 22:12) ; Moses – 40 years a general and 40 years keeping sheep, and Joshua his "understudy"; Elisha's training alongside Elijah; king David's whole life, in effect, Queen Esther "Who knows whether you have come to the kingdom for such a time as this? (Esther 4:14) Daniel, trained in the court of Nebuchadnezzar; But for the moment, let's consider just the story of Joseph.
Joseph was 17 when he was sold into slavery, imprisoned on a trumped-up charge - where he rubbed shoulders with a couple of men from the royal court - and after 13 long years, overnight became 2nd in command to Pharaoh, the greatest world ruler at that time. He must have had some very dark days early on in this trial but in his late 30's – at the end of the 7 years of plenty in Egypt and 2 years into the famine – he was able to say to his brethren:
.... Come near to me, I pray you. And they came near. And he said, I am Joseph your brother, whom ye sold into Egypt.
Now therefore be not grieved, nor angry with yourselves, that ye sold me hither: for God did send me before you to preserve life.
For these two years hath the famine been in the land: and yet there are five years, in the which there shall neither be earing nor harvest.
And God sent me before you to preserve you a posterity in the earth, and to save your lives by a great deliverance.
So now it was not you that sent me hither, but God: and he hath made me a father to Pharaoh, and lord of all his house, and a ruler throughout all the land of Egypt. (Genesis 45:4-8)
Like Joseph, what happens in our life – whether orchestrated by God, or allowed by Him – is in actual fact, part of the vital, personalised training programme He is putting us through.
Applied in Life:
God's method of training does not follow the path of this world's education. The academic form of this world's education was originated by the pagan Greek philosopher Plato, 427-347 B.C. He was the founder of educating via a regular curriculum in a fixed place. He called it the academy. God's system however is very different in form. It is also diametrically different in content as Mr Armstrong explains:....
[God's System] portrays the Creator as the original Educator, giving instruction to the first man and woman, regarding the two basic ways of life. This was pictured by two symbolic trees. The one, freely offered, represented the way, as a life-philosophy of love – of outgoing concern for others – of giving – of serving – of sharing. The other, forbidden yet left completely accessible, symbolized the opposite life-philosophy. It evaluated success in terms of material acquisition. It was the way of vanity, selfishness and greed; of consideration, first of all, for SELF; it exalted competition and strife.
The first was simply the way of the invisible, inexorable, living LAWS performed by LOVE – the Law of the Ten Commandments – the Law of the Golden Rule. That way is the CAUSE of peace, happiness, abundant well being.
The second was the way this world has followed: competition, acquisition, materialism, fulfilling the twin pulls of human nature – vanity and greed. This way causes all war, strife, unhappiness, human TROUBLES. ( PT 1981-05 – The Surprising Origin of MODERN EDUCATION)
Our Future Role:
At the Feast this year we were consistently pointed forward to our role as teachers in the World Tomorrow – teaching the vast spiritual dimension of the two trees to the entire world. But that education is also going to be different in form as well. We might well be in charge of some Sabbath services, but the learning will not primarily be within a classroom. It will take place to an even greater degree as humanity begins to apply what they learn. Such knowledge is not merely academic, but practical, living, active – we are students or disciples of a complete Way of doing things. As the Living Word explains via Moses :.......
And thou shalt love the LORD thy God with all thine heart, and with all thy soul, and with all thy might.
And these words, which I command thee this day, shall be in thine heart:
And thou shalt teach them diligently unto thy children, and shalt talk of them when thou sittest in thine house, and when thou walkest by the way, and when thou liest down, and when thou risest up . (Deuteronomy 6:5-7)
This method of learning as we "walk by the Way" is also very much the way the Feast of Tabernacles is designed. We receive instruction in services, that is true, but we then have the rest of the day to go out and apply what we learn – living for 8 days as a picture, a foretaste, of the Wonderful World Tomorrow.
Written Word:
As we heard so often from Mr. Armstrong, we are students – the meaning of the world disciple – and a student generally has a curriculum, a specified course of study to follow. We certainly won't be able to teach what we ourselves don't know or understand! So at the heart of all we learn and apply – including the awesome picture we were given of the Millennium during the Feast – is the printed Word of God.... our instruction book, our training manual. Yet I wonder if we don't sometimes lose sight of just how precious that word is. It is the very sword of God's Spirit (Ephesians 6:17) – used by Christ to defeat Satan in the temptations on the Mount (Matthew 4). For as Christ tells us:
" the flesh profiteth nothing: the words that I speak unto you, they are spirit, and they are life. ... Then said Jesus unto the twelve, Will ye also go away? Then Simon Peter answered him, Lord, to whom shall we go? thou hast the words of eternal life. ( John 6:63,67-68)
We can see how much that Word was treasured in the way in it has come down to us: The sacrifices made through the ages on our behalf. The meticulous copying by candle light down through the millennia. The Jews even devising a numeric system that guaranteed the complete accuracy of the Hebrew that was copied. Then finally the invention of the printing press. And people such as Tyndale who were willing to give up their life – literally, at the stake – just so you and I might have an English Bible on our laps.
When we see the fervour of such people and the Satanic opposition arrayed against them, I think it gives even added emphasis to God's command to: "Study to shew thyself approved unto God, a workman that needeth not to be ashamed, rightly dividing the word of truth." (2 Timothy 2:15) Admittedly, the word "study" is actually translated from a Greek word that means to be diligent. But within the context, the translators were quite correct to stress our need to diligently 'study' God's Word. For in the passage Paul is urging Timothy to "strive not about words to no profit ... rightly dividing the word of truth ... shun profane and vain babblings: for ... their word will eat as doth a canker: .... Who concerning the truth have erred" (2 Timothy 2: 14-18)
And knowing our personal future as kings and priests, we should be able to relate to this command to the kings of old:
And it shall be, when he sitteth upon the throne of his kingdom, that he shall write him a copy of this law in a book out of that which is before the priests the Levites:
And it shall be with him, and he shall read therein all the days of his life: that he may learn to fear the LORD his God, to keep all the words of this law and these statutes, to do them:
Before you Start:
I'm sure that before each meal, we are careful to ask God to bless the food, so that it will nourish and build our bodies. And before church services each Sabbath, a prayer is given to ask God to bless the speaking and the hearing. So surely then, it makes sense to ask a blessing on our private, personal study? We need this spiritual food far more than any physical food! And without God's input, we don't stand a chance of understanding what He is saying to us. As Mr. Armstrong consistently explained to us:
But the Holy Spirit in us: the first manifestation of it is that it opens our minds to comprehend spiritual knowledge . Now a carnal mind cannot comprehend spiritual knowledge – just like you can take a science professor that can try to teach physics, chemistry, or zoology, or biology, or astronomy to a cow, or a chicken, or a turkey! They are not going to get any of it. Even though it is revealed to them and told them, but they don't understand the language at all; and they are not going to get it. Yet they have brains; and a cow's brain is just like ours, but it doesn't have that spirit in it. Our spirit needs the other spirit – the Holy Spirit of God, and the first thing the Holy Spirit does is to open our minds to comprehend the way of God.
So we have to be led by the Spirit. It opens up the Word of God, to understand the right way of life of God; and it's as many as are LED by the Spirit of God. In other words, we have to decide whether to follow it once our minds are open to it. It's as many as are led by the Spirit of God that are the sons of God. ( Grateful for God's Blessings, May 1982 )
Note-Taking:
Part of that diligent study would almost certainly include note-taking of various sorts – yet this is an area in which I have noticed a decline compared to years gone by. Perhaps it is that we are so used to a keyboard these days that we find note-taking difficult. But I would hope that – unless we have severe dyslexia or another disability – we are all taking notes during services. If not, then now is the time to begin. You may think, "Why bother when we have the audio files available today at the click of a mouse?" But note taking is not to replace the audio, but to augment it and act as an aid to the memory.
Do you know that even if we never review our notes, note-taking is still beneficial? When we listen to a sermon, we use our ears. When we turn to each passage quoted within our own Bibles we additionally add the sense of sight to the process – magnifying the experience. When we then take a note as well, we add the sense of touch and hand-movement to the process, once again adding another dimension to the experience within our minds. Each addition helps us to remember. Each addition reinforces the lesson learned.
In addition to taking notes on a piece of paper or notebook, also be aware just how valuable marking your Bible can be – including the adding of notes in the Bible margins. This was covered in the past by the sermon, " Bible Study Techniques" given 10 years ago.
Review:
Yes, the Feast of 2018 is now over. But what the festival pictures should live on – in the messages posted to the website certainly, but also within our notes. That process of adding additional dimensions to the listening process by taking notes can be reinforced even more if we now take the time to review those notes – opening our Bibles to each scripture, reading around them to gain the context, making notes even of how this might apply to ourselves personally and the future of our loved ones. Take the time too, to visualise what you are reading - in Isaiah, for example. See the awe and joy on the faces of your grandchildren as you call up a tame bear or lion for them to play with. In your mind's eye, see that individual you have just read about in the news that has suffered the loss of their family in a school shooting.... and see the time when you'll bringing them back together again. See yourself literally restoring sight to the blind, limbs to the disabled. Make it real, make it live!
Remember, we are presently in higher education – education for the highest job possible! Apparently we lose 70% of what we have learnt in a lecture within 24 hours! It is unthinkable that such a student would not also review the notes he took in a lecture. It is all very much part of being stewards of the mysteries of God – guardians of priceless knowledge, hidden from the world, revealed at the end-time to only those specifically chosen by God – but as the apostle Paul points out to all who are stewards of such mysteries, it is required in stewards, that a man be found faithful." (1 Corinthians 4:1-2)
Our future Job:
As Jesus Christ reminds us in His final words in Revelation "behold, I come quickly; and my reward is with me, to give every man according as his work shall be." (Revelation 22:12) We are indeed to be rewarded by our works. True, we are not saved by them, but our works are going to determine the area of responsibility best suited to us at that time. In John 14, Christ tells us that He is preparing that office of responsibility for us, and as we can extrapolate from Deuteronomy 6, He is also preparing us for that role.
That future job and reward has a great deal to do with how well we apply the things we understand from God's Word today. And this includes applying the information we gained from the messages given during this recent Feast of Tabernacles... they are part of the "washing of the water by the Word" that Christ can then use in our personalised training programme the rest of the year, and on into the coming Millennial reign.
A scripture to close on... one that was read more than once this past Feast is from the fascinating book of Isaiah. Read it again, putting yourself in this picture. If we want to be an integral part of Zion – spreading God's law from Jerusalem – then let's take the relevant steps this coming year to make sure we understand the Word of God by asking for His help, as enthusiastic students, thereby having a hands-on part on bringing peace, prosperity and everlasting joy to the earth.
This is what Isaiah, Amoz's son, saw concerning Judah and Jerusalem.

In the days to come the mountain of the LORD's house will be the highest of the mountains. It will be lifted above the hills; peoples will stream to it.

Many nations will go and say, "Come, let's go up to the LORD's mountain, to the house of Jacob's God so that he may teach us his ways and we may walk in God's paths." Instruction will come from Zion; the LORD's word from Jerusalem.

God will judge between the nations, and settle disputes of mighty nations. Then they will beat their swords into iron plows and their spears into pruning tools. Nation will not take up sword against nation; they will no longer learn how to make war.

Come, house of Jacob, let's walk by the LORD's light. (Isaiah 2:1-5 CEB)