Pastors Report - 22 Feb 2019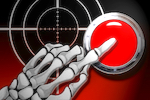 Alert to Satan's Aim:
"Be sober, be vigilant; because your adversary the devil, as a roaring lion, walketh about, seeking whom he may devour: whom resist, steadfast in the faith ... (I Peter 5:8-9)
His End-time Target:
Following a war in heaven the devil is prophesied to have been cast back to the earth, along with his angelic demons, "having great wrath, because he knoweth that he hath but a short time" (Revelation 12:12) And in this rage he makes his prime target very clear:
Now when the dragon saw that he had been cast to the earth, he persecuted the woman who gave birth to the male Child.
But the woman was given two wings of a great eagle, that she might fly into the wilderness to her place, where she is nourished for a time and times and half a time, from the presence of the serpent......
And the dragon was enraged with the woman, and he went to make war with the rest of her offspring, who keep the commandments of God and have the testimony of Jesus Christ.(Revelation 12:13-14,17 NKJV)
These verses show very plainly that the primary target of Satan at the end time is God's one true Church. Another interesting aspect is that verse 17 also hints at the reason for Satan's aim – an unbridled hatred of the Commandments of God while at the same time trying to silence "the testimony of Jesus, which is the spirit of prophecy". (Revelation 19:10) Within the context of the book of Revelation this spirit of prophecy would undoubtedly also include the clear prediction of Satan's ultimate fate. No wonder he's enraged!
Only So Far:
Clearly, what Satan would really like would be to destroy God's people totally – and eternally, and undoubtedly many will indeed die within the Great Tribulation that is coming. But, even during the Great Tribulation, God limits what Satan is allowed to do to mankind. In exactly the same way, restraint at this time – before the Tribulation – is also in place on Satan's activities. That restraint is inexorably bound to God's ultimate Plan and Purpose – with individual permissions only granted IF they will ultimately work towards furthering God's greater goal of developing His Spirit-begotten Sons, and the sterling character required within them. This can be seen very clearly within the book of Job where, at each stage, God strictly controlled what Satan was allowed to do.
But Satan is exceedingly crafty – accurately described as "more subtle than any beast of the field which the Lord God had made" (Genesis 3:1) – and we can see this characteristic vividly illustrated within the incident of Balaam's advice to Balak. The thing to be acutely aware of, is that the spiritual intent of the advice given to Balak did not originate with Balaam, but has all the hallmarks of subtlety and hatred of God's commandments. It was clearly Satan inspired:
And Balak's anger was kindled against Balaam, and he smote his hands together: and Balak said unto Balaam, I called thee to curse mine enemies, and, behold, thou hast altogether blessed them these three times...
And Balaam said unto Balak ... If Balak would give me his house full of silver and gold, I cannot go beyond the commandment of the LORD, to do either good or bad of mine own mind ...
And Balaam rose up, and went and returned to his place: and Balak also went his way.
And Israel abode in Shittim, and the people began to commit whoredom with the daughters of Moab.
And they called the people unto the sacrifices of their gods: and the people did eat, and bowed down to their gods
And Israel joined himself unto Baalpeor: and the anger of the LORD was kindled against Israel. (Numbers 24:10,12,13,25-25:3)
And Moses said unto them, Have ye saved all the women alive?
Behold, these caused the children of Israel, through the counsel of Balaam, to commit trespass against the LORD in the matter of Peor, and there was a plague among the congregation of the LORD. (Numbers 31:15-16)
Pre-Passover Preparation:
So what relevance does this event of over three and a half thousand years ago have to us today? The point is, just as was the case for Balaam, God has limited what Satan can do in cursing or tearing down God's people at this time – but if Satan can, as with ancient Israel, craftily get us to sin, and that sin remain unrepented of, he will have thereby circumvented the restrictions God has placed on him.
You will have heard the saying that God hates sin but loves the sinner? Well, Satan is diametrically the opposite – he hates the sinner but loves the sin. And it does not have to be something major – any sin will do. This is because he knows that if we habitually protect just one sin, we might as well be breaking every commandment of God's law. We are guilty of all (James 2:10). That sin – whatever it may be – becomes unforgivable because we refuse to repent of it – i.e. to turn from it and begin once again to live by every word that proceeds from the mouth of God (Matthew 4:4; Luke 4:4)
However, even though any sin will do, there do appear to be certain specific cases of unrighteousness that Scripture seems to indicate are particular problems within the satanic broadcast. These problems are not only with Satan personally, but also within human nature as well ... which is spawned from the satanic mindset. We would be wise therefore, to pay particular attention to these areas as we examine ourselves prior to Passover, "Lest Satan should get an advantage of us: for we are not ignorant of his devices." (II Corinthians 2:11) These are the devices – the ploys – we therefore need to be particularly alert to as they are very much part of the "sin-set" Satan uses to achieve his overall aim.
The Way of Lying:
Why do we lie? Is it not primarily to elevate ourselves or to gain a personal advantage in some way? At its heart and core is an INcoming, self-centred spirit – very much the spirit of Satan. That spirit of Satan also lies at the heart of human nature – making lying and half-truths almost as natural as breathing. We are constantly striving to present ourselves in the best possible light, so 'naturally' we shade the truth. But let's not deceive ourselves, when we lie we are literally giving our mind over to Satan, transforming ourselves into a child of the devil.
Ye are of your father the devil, and the lusts of your father ye will do. He was a murderer from the beginning, and abode not in the truth, because there is no truth in him. When he speaketh a lie, he speaketh of his own: for he is a liar, and the father of it. (John 8:44)
"You shall not bear false witness" sounds basic and uncomplicated, as commandments go, but the simple implications of this commandment are far-reaching and have great depth. This is one reason why David was a man after God's own heart, in that he recognised his need for repentance – not just for an outright lie, but for the way of lying. David, with the gift of the Holy Spirit, realised that there was more to obedience to God's commandments than just basic 'box-ticking'. There's very much a spiritual element to all of them.
Make me to understand the way of thy precepts: so shall I talk of thy wondrous works.
Remove from me the way of lying : and grant me thy law graciously.
I have chosen the way of truth : thy judgments have I laid before me.
I will run the way of thy commandments , when thou shalt enlarge my heart. (Psalm 119:27,29,30,32)
An Opposing Spirit:
It's a temptation to all of us at this juncture of man's rule over the earth – as we witness almost mind-defying evil and cruelty – to desire God to step in and intervene in no uncertain terms, holding nothing back, punishing the evil with as much force as God can muster. But if we are not careful, we can fall into another of Satan's traps, that of being hard-hearted and vengeful. Witness what Christ had to say to James and John, who He nicknamed "sons of thunder", when they wanted to take fierce revenge on the Samaritans who had snubbed them;
And it came to pass, when the time was come that he should be received up, he stedfastly set his face to go to Jerusalem,
And sent messengers before his face: and they went, and entered into a village of the Samaritans, to make ready for him.
And they did not receive him, because his face was as though he would go to Jerusalem.
And when his disciples James and John saw this, they said, Lord, wilt thou that we command fire to come down from heaven, and consume them, even as Elias did?
But he turned, and rebuked them, and said, Ye know not what manner of spirit ye are of.
For the Son of man is not come to destroy men's lives, but to save them. And they went to another village.(Luke 9:51-56)
Say unto them, As I live, saith the Lord GOD, I have no pleasure in the death of the wicked; but that the wicked turn from his way and live: turn ye, turn ye from your evil ways; for why will ye die, O house of Israel?(Ezekiel 33:11)
What will change this 6,000 year vale of tears into a joyful Utopia will not only be the banishment of Satan and his cohorts, but that the heart of stone will be removed from mankind, replaced with a heart of flesh. And a heart that will then respond quickly and joyfully to the outpouring of God's spirit, and that wants only the best for his neighbour. It's a heart that we need to be developing now, rejecting the opposing hard-hearted and retaliatory mind of our adversary, Satan. A heart that can say with all honesty, "Father forgive them, for they know not what they do" (Luke 23:34)
Discouragement:
The apostle Paul had numerous trials of all kinds and the natural human reaction would be to become demoralised and discouraged. But he recognised clearly that it was a satanic temptation to give in to such negativity and in I Thessalonians 3 he acknowledges this;
So that no one would be unsettled by these trials. For you know quite well that we are destined for them.
In fact, when we were with you, we kept telling you that we would be persecuted. And it turned out that way, as you well know.
For this reason, when I could stand it no longer, I sent to find out about your faith. I was afraid that in some way the tempter had tempted you and that our labors might have been in vain.(I Thessalonians 3:3-5 NIV)
Notice how the antidote Paul mentions is our faith – recognising at all times that whatever trial may arise we remain under the hand of the Master Potter, whose overall goal is to give us the kingdom. (Luke 12:32) So faith is the counter measure to this temptation of discouragement so often placed in our way by Satan, who would love us to give in and give up!
The apostle Peter also pointed to this fact in combatting the devil that he likens to a "roaring lion, walking about seeking whom he may devour." when he also says "Whom resist stedfast in the faith, knowing that the same afflictions are accomplished in your brethren that are in the world. " (I Peter 5:8-9)
And recognising it's the shield of faith that quenches the fiery darts of the wicked one (Ephesians 6), we remind ourselves that God won't allow us to be tried more than we are able, and can therefore have faith in the following promises:
No temptation has overtaken you except what is common to mankind. And God is faithful; he will not let you be tempted beyond what you can bear. But when you are tempted, he will also provide a way out so that you can endure it.(I Corinthians 10:13 NIV)
Now unto him that is able to keep you from falling, and to present you faultless before the presence of his glory with exceeding joy,
To the only wise God our Saviour, be glory and majesty, dominion and power, both now and ever. Amen. (Jude 1:24-25)
Unforgiving Nature
II Corinthians 2:11 directly warns us "lest Satan should get an advantage of us, for we are not ignorant of his devices". But to fully understand this verse it needs to be read in context. The first part of this chapter explains why Paul wrote the extremely corrective initial letter to the Corinthian church. Recall that in I Corinthians 5, Paul commands them to put the fornicator out of the church and it is within the aftermath of this event that Paul writes what he does in second Corinthians chapter 2. Two aspects within the context need to be noticed in regard to the satanic devices he mentioned:
First, the discouragement that might be suffered by the individual concerned if he remained isolated, even though he had repented. And second, the temptation that the church might be drawn into to remain unforgiving. A grudging, bitter attitude towards another plays right into Satan's hands, disqualifying us for the role of God's sons, and in the process, infecting others:
Follow peace with all men, and holiness, without which no man shall see the Lord:
Looking diligently lest any man fail of the grace of God; lest any root of bitterness springing up trouble you, and thereby many be defiled; (Hebrews 12:14-15)
Self- Righteousness:
Last week's Pastors Report was devoted to the subject of self-righteous self-deception. In it I pointed out how repentance must grow into something much more profound as we are worked with by God throughout our Christian life, as the aim is to develop His mind, being sons with the same spiritual DNA. Should that growth stagnate in self-righteousness, our progress immediately becomes stunted as we then begin deceiving ourselves. Unless there is deliberate action on our part to get back to and stay back in close contact with God – having a repentant frame of mind – we are stagnating at best and losing ground at worst. Treading water to stay afloat ... or even sinking! The major problem that is brought out in the book of Job is the blindness of the self-righteous ... they/we don't see the need! Note the difference that Christ pointed out in the example below in Luke. The Pharisee was deceiving himself – stagnating on self-righteous physical obedience, whereas the publican was far more aware of his shortcomings.
Two men went up into the temple to pray; the one a Pharisee, and the other a publican.
The Pharisee stood and prayed thus with himself, God, I thank thee, that I am not as other men are, extortioners, unjust, adulterers, or even as this publican.
I fast twice in the week, I give tithes of all that I possess.
And the publican, standing afar off, would not lift up so much as his eyes unto heaven, but smote upon his breast, saying, God be merciful to me a sinner.
I tell you, this man went down to his house justified rather than the other: for every one that exalteth himself shall be abased; and he that humbleth himself shall be exalted.(Luke 18:10-14)
Self-righteousness is clearly an incoming, self-centred, satanic frame of mind – and very much part of the broadcast, "that now works in the children of disobedience" (Ephesians 2:2) . That said, it becomes clear that Satan also – as unrighteous as he certainly is – is also self-righteous! But how can that be? How can a being be so satanically unrighteous and at the same time self-righteous? And the answer is to move the goalposts. To redefine right and wrong, good and evil – taking the prerogative to ourselves rather than "living by every word that proceeds out of the mouth of God" (Matthew 4:4; Luke 4:4). This clearly happened to our first parents – who took to themselves the definition of good and evil – but it also must have happened to Satan himself in the past. But the question has to be – do we sometimes do the same thing? After all, that is very much part of Satan's overall aim.
Accusing the Brethren:
It does seem as though one of Satan's most enjoyable pastimes is to appear before God and bring to His attention all our sins, shortcomings and failings. (Revelation 12:10) Having imbibed of his nature since babyhood, no doubt that is a temptation to us also, but do we really want to be stamped with the same name..."Slanderer"? Under the influence of the devil, Judas Iscariot betrayed His God, and handed Him over into the hands of the men who desired his death:
When Jesus had thus said, he was troubled in spirit, and testified, and said, Verily, verily, I say unto you, that one of you shall betray me...
He then lying on Jesus' breast saith unto him, Lord, who is it?
Jesus answered, He it is, to whom I shall give a sop, when I have dipped it. And when he had dipped the sop, he gave it to Judas Iscariot, the son of Simon.
And after the sop Satan entered into him. Then said Jesus unto him, That thou doest, do quickly. (John 13:21,25-27)
These men had accused Christ of wrongdoing ever since He appeared on the scene, three and a half years earlier. And this spirit of accusation finally culminated – after multiple illegal trials through that night – in the violent death of the Son of God. But do we not do the same when we judge one another within the church? Such brethren are being worked with by God, in order to form the identical obedient character that was in Christ Jesus. As the apostle James declares, if we fall into that trap, we're effectively "speaking evil of the law" ... that law being progressively obeyed within them, even though they and we fall down at times.
Submit yourselves therefore to God. Resist the devil, and he will flee from you.
Draw nigh to God, and he will draw nigh to you. Cleanse your hands, ye sinners; and purify your hearts, ye double minded.
Be afflicted, and mourn, and weep: let your laughter be turned to mourning, and your joy to heaviness.
Humble yourselves in the sight of the Lord, and he shall lift you up.
Speak not evil one of another, brethren. He that speaketh evil of his brother, and judgeth his brother, speaketh evil of the law, and judgeth the law: but if thou judge the law, thou art not a doer of the law, but a judge.
There is one lawgiver, who is able to save and to destroy: who art thou that judgest another? (James 4:7-12)
Misery Loves Company:
Misery loves company – so the saying goes – and you cannot help but wonder how much this was the reason behind Satan perverting the angels that sinned. For indeed, Satan is probably the most miserable individual in the universe – a condition exclusively due to his self-centred, ungodly, evil, disobedient lifestyle – so if the saying is indeed true, his desire will be for a great deal of company! And that includes us – if we let him.
As we approach the Passover – examining whether we are indeed still fully repentant before God – we should be particularly alert to these special areas that Scripture seems to indicate contribute greatly to the aims of Satan the devil: the way of lying; hard-heartedness; discouragement; unforgiveness; self-righteousness; accusation – taking the example of Christ, and how He countered each of the temptations Satan threw at Him with the words: "it is written .... ". God hasn't left us powerless before this mighty adversary ... we can fight back, skilfully and accurately, as Christ did, wielding the sword of the spirit – the very word of God, on which we base our eternal lives.
Finally, my brethren, be strong in the Lord, and in the power of his might.
Put on the whole armour of God, that ye may be able to stand against the wiles of the devil.
For we wrestle not against flesh and blood, but against principalities, against powers, against the rulers of the darkness of this world, against spiritual wickedness in high places.
Wherefore take unto you the whole armour of God, that ye may be able to withstand in the evil day, and having done all, to stand.
Stand therefore, having your loins girt about with truth, and having on the breastplate of righteousness;
And your feet shod with the preparation of the gospel of peace;
Above all, taking the shield of faith, wherewith ye shall be able to quench all the fiery darts of the wicked.
And take the helmet of salvation, and the sword of the Spirit, which is the word of God:
Praying always with all prayer and supplication in the Spirit, and watching thereunto with all perseverance and supplication for all saints (Ephesians 6:10-18)