Pastors Report - 26 Jul 2019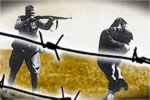 "God so loved the world"??
Although we in the Church understand why God allows suffering — we can sometimes forget just how profound that understanding is. Yet it is laid bare when we properly grasp the world's most recognised New Testament passage — John 3:16.
For God so loved the world, that he gave his only begotten Son, that whosoever believeth in him should not perish, but have everlasting life. (John 3:16)
With the advent of modern technology and the plethora of new knowledge concerning DNA in particular – bringing to light astounding micro-machines within every cell – it's become so much easier to defend one's stance on intelligent design and a belief in a Creator as opposed to a purely materialistic theory of evolution. But to many, that is almost child's play when compared to the age-old question from the other side of the argument: "If God is ALLmighty and as the Bible states – epitomises love – then why does He allow all this suffering to continue?"
It's a valid question! After all, virtually daily the media informs us of devastating floods, droughts, earthquakes, mud slides, famines, plagues, genocides, suicides, family breakdown, child cancers, knife crime, mass shootings, and on and on goes the mountain of misery. So what is the truly profound message within John 3:16 - both to us, and to all mankind – when properly understood?
For God so loved:
"Love" is a word that has been so trashed by this world's media that even we in the Church have difficulty keeping in mind what it really means in a biblical sense. The film and magazine industries' representations continually paint it as the exact opposite of its true meaning — applying it indiscriminately to emotionally-charged and illicit sexual lust of all kinds. But the Greek word "agape" is anything but. It is a deep concern that is always outgoing in a rational, controlled way — systematically working towards the best interests of those concerned. It remains true even if forced to allow someone to get their fingers burnt for their long-term good. It thus encapsulates and expresses the truly outgoing, yet all-wise, Supreme Mind and Character of God. For "God IS [agape]" (I John 4:8, 16) :
I may give up my body to be burnt, but if I have no love, I make nothing of it.
Love is very patient, very kind. Love knows no jealousy; love makes no parade, gives itself no airs,
Is never rude, never selfish, never irritated, never resentful.
Love is never glad when others go wrong, love is gladdened by goodness,
Always slow to expose, always eager to believe the best, always hopeful, always patient, Love never disappears. (I Corinthians 13:3-7 Moffatt)
So whatever we may see happening in this world — currently ruled and overseen by Satan the Devil and his way of "Get" (II Corinthians 4:4, Revelation 12:9) — the ultimate destination planned by God is SO spectacular, that everything that went before — all the suffering, all the pain, all the heartache — will be as nothing in comparison. Do we believe that? We should, for as God says:
For, behold, I create new heavens and a new earth: and the former shall not be remembered, nor come into mind.
But be ye glad and rejoice for ever in that which I create: for, behold, I create Jerusalem a rejoicing, and her people a joy.
And I will rejoice in Jerusalem, and joy in my people: and the voice of weeping shall be no more heard in her, nor the voice of crying. (Isaiah 65:17-19)
Loved the world:
This loving nature of God not only focuses on the breathtaking eternity He has planned for mankind — a mankind having to first learn some hard lessons about the "Get way" via this unhappy world — but also what is needed for us all to enjoy such an eternity to the full. An everlasting existence of misery is simply NOT an option that a loving God would allow. So an integral part of His Plan is that man must be led to change — and completely turn from his current "Get" direction that is the primary SOURCE of his misery and heartache. As Mr. Armstrong brought out when explaining the reason for all this heartache;
God allows it to teach us lessons. God allows it because we ourselves have brought it on ourselves, and because we have failed to develop the kind of character needed to become his children, to be glorified, to be given the gift of eternal life so as to live in happiness and peace and joy. There's no other way for peace. Man has brought all this on himself, in defiance of God! Man has been shaking his fist at God, telling God he won't obey God and going his own way, the way that has seemed right to a man. It's all a matter of cause and effect. It's the way we have lived that has brought all these troubles on us, not God. ( Plain Truth October 1983 - Why Must Man Suffer?)
This is why God reminds those He has called:
Don't love the world or the things in the world. If anyone loves the world, the love of the Father is not in them.
Everything that is in the world — the craving for whatever the body feels, the craving for whatever the eyes see and the arrogant pride in one's possessions — is not of the Father but is of the world.
And the world and its cravings are passing away, but the person who does the will of God remains forever. (I John 2:15-17 CEB)
The aim is clear from scripture that God plans to give an eternal life of true happiness to as many as He can via a series of resurrections — including one to mortal life for all who die uncalled ... but NOTE what this passage from II Peter below also tells us:
But, beloved, be not ignorant of this one thing, that one day is with the Lord as a thousand years, and a thousand years as one day.
The Lord is not slack concerning his promise, as some men count slackness; but is longsuffering to us–ward, not willing that any should perish, but that all should come to repentance. (II Peter 3:8-9)
This implies that the reason this unhappy world is allowed to continue is specifically to save as many as possible. Only when the timing is at its optimum — for repentance — will this satanic age close and God's age begin. Genuine repentance is the key! When the tool of "aversion therapy" has made Satan's way of Get utterly repugnant and vile to the degree necessary — only then will the end come. That is why the world is still here — in all its misery and heart-rending suffering. It remains only to allow the greatest degree of genuine repentance for as many as possible.
For God hath concluded them all in unbelief, that he might have mercy upon all.
O the depth of the riches both of the wisdom and knowledge of God! how unsearchable are his judgments, and his ways past finding out! (Romans 11:32, 33)
... that He gave ...
As we've had explained to us for many decades now, there are two basic but opposing ways of life, epitomised by the two trees of Genesis 2. The tree of life — "Giving" — is the Way of God. It is an integral part of His Agape Character as the Creator and Sustainer of all. And not only does the Father live this Way, but Christ also — and they have done so from eternity:
... I am come that they might have life, and that they might have it more abundantly.
I am the good shepherd: the good shepherd giveth his life for the sheep.
As the Father knoweth me, even so know I the Father: and I lay down my life for the sheep....
And other sheep I have, which are not of this fold: them also I must bring, and they shall hear my voice; and there shall be one fold, and one shepherd.
Therefore doth my Father love me, because I lay down my life, that I might take it again.
No man taketh it from me, but I lay it down of myself. I have power to lay it down, and I have power to take it again. This commandment have I received of my Father. (John 10:10, 11, 15-18)
Jesus Christ the same yesterday, and to day, and for ever. (Hebrews 13:8)
Christ and the Father cannot sanction any other way of life. They KNOW the results of sin — they have already witnessed the destruction it caused throughout creation when a powerful spirit being — Lucifer — turned from God's Way (Ezekiel 28:15). And as explained in the transcribed sermon, Why Christ had to die, and not another way — there was really no other option available. But as Paul points out regarding this unimaginably loving Godhead:
What shall we then say to these things? If God be for us, who can be against us?
He that spared not his own Son, but delivered him up for us all, how shall he not with him also freely give us all things?" (Romans 8:31, 32)
His only begotten Son:
Christ as a human being was also Emmanuel — God with us (Isaiah 7:14; Matthew 1:23) — whose Life was therefore worth more than the sum of all He had created. Not only was He the only begotten as a physical human being (Luke 1:35), but He is currently the only one to have been "born again" at the end of His earthly life — back into the Godhead, this time as a Spirit-born Son for all eternity — "declared to be the Son of God ... by the resurrection from the dead" (Romans 1:4)
But He did this as merely the firstborn human of what is ultimately to be the transcendental destiny of ALL repentant mankind:
For as many as are led by the Spirit of God, they are the sons of God.
For ye have not received the spirit of bondage again to fear; but ye have received the Spirit of [sonship Greek: making a son], whereby we cry, Abba, Father.
The Spirit itself beareth witness with our spirit, that we are the children of God:
And if children, then heirs; heirs of God, and joint–heirs with Christ....
For the earnest expectation of the creature waiteth for the manifestation of the sons of God. ...
For whom he did foreknow, he also did predestinate to be conformed to the image of his Son, that he might be the firstborn among many brethren. (Romans 8:14-17, 19, 29)
Whosoever believes:
This spectacular purpose of life — to become a very Born Son of the Living God — IS The Gospel! It is the message Jesus Christ brought to this desperately unhappy, blinded world. For remember that the word "gospel" means "good news" — spectacularly "Good News" — of God's Kingdom, or family grown large, and the Government it will administer forever, spreading everything good — "shalom" — throughout the universe. To achieve this Incredible Human Potential, requires belief. This is why Christ began His ministry by saying, "The time is fulfilled, and the kingdom of God is at hand: repent ye, and believe the gospel." (Mark 1:15)
Also note that the original of John 3:16 does NOT read as it has been translated in the KJV "that whosoever believeth IN him" should not perish, but rather, "that everyone believing INTO Him" (literal translation) should not perish. For Jesus Christ clearly says:
Abide in me, and I in you. As the branch cannot bear fruit of itself, except it abide in the vine; no more can ye, except ye abide in me.
I am the vine, ye are the branches: He that abideth in me, and I in him, the same bringeth forth much fruit: for without me ye can do nothing. (John 15:4-5)
For if, when we were enemies, we were reconciled to God by the death of his Son, much more, being reconciled, we shall be saved by his life . (Romans 5:10)
Everyone who desires to live this believing life — trusting in the very Creative Power of The One who made all things — also needs to believe that He has NOT stopped creation. He is now at the stage of working in human clay — converting each repentant human being INTO a sibling of Jesus Christ. Thus we "abide in Him" — as potential sons of God — living an obedient life as a human being, just as Christ did when He walked this earth (I John 2:6).
The purpose of God is character building. That is why he made man of matter. We could be molded spiritually, in a body of earthly clay, into divine character. We read in Isaiah 64:8, "But now, O Lord, thou art our father; we are the clay, and thou our potter; and we all are the work of thy hand."
Even Job asked, "If a man die, shall he live again? all the days of my appointed time will I wait [meaning in the grave], till my change come. Thou [God] shalt call, and I will answer thee: thou wilt have a desire to the work of thine hands" (Job 14:14-15).
Job knew he was the work of God's hands. We all are the clay. God is the potter. A potter molds and fashions clay into the form and shape he wants. Now God will – if we put ourselves in his hands, if we surrender to him, and to his will – take us and mold and shape us into the godlike character of love. ( Plain Truth October 1983 - Why Must Man Suffer?)
Should not perish:
And the result? First what we are freed from:
For it became him, for whom are all things, and by whom are all things, in bringing many sons unto glory, to make the captain of their salvation perfect through sufferings.
For both he that sanctifieth and they who are sanctified are all of one: for which cause he is not ashamed to call them brethren,
Saying, I will declare thy name unto my brethren, in the midst of the church will I sing praise unto thee.
And again, I will put my trust in him. And again, Behold I and the children which God hath given me.
Forasmuch then as the children are partakers of flesh and blood, he also himself likewise took part of the same; that through death he might destroy him that had the power of death, that is, the devil;
And deliver them who through fear of death were all their lifetime subject to bondage. (Hebrews 2:10-15)
It is not death itself that we are freed from, but the fear of death. For this reason, though death remains an enemy (I Corinthians 15:26) we "sorrow not, even as others which have no hope" (I Thessalonians 4:13) — for we know that even if we, or our loved ones die, it is not for eternity! There is incredible hope beyond the grave - they/we will live again:
For since by man came death, by man came also the resurrection of the dead.
For as in Adam all die, even so in Christ shall all be made alive.
But every man in his own order: Christ the firstfruits; afterward they that are Christ's at his coming.
Then cometh the end, when he shall have delivered up the kingdom to God, even the Father; when he shall have put down all rule and all authority and power.
For he must reign, till he hath put all enemies under his feet.
The last enemy that shall be destroyed is death. (I Corinthians 15:21-26)
But have everlasting life:
And finally, what we look forward to... not just a never-ending existence ... but an everlasting abundant LIFE - with a capital "L"!
Let's get this matter straight. The founder of the Christian religion, Jesus Christ, said that He came to this earth for a purpose. "I have come," said Jesus, "that they may have LIFE, and that they may have it more abundantly" (John 10:10). Jesus Christ came to bring us the "ABUNDANT LIFE." Do you know what that is?...
... The first "fruit of the Spirit" of God is LOVE. Love will mean that your face is beaming. It's going to mean that you are really giving out. It's going to mean that you are radiant and happy. Love results in JOY, the second product of the Spirit of God. The third is "PEACE." Instead of going around quarreling, resentful, bitter, unhappy and arguing – that's not peace, that's a kind of war – you'll be at peace in your mind and with your neighbor, and with your God!
And the next is "longsuffering," which in more modern English is "PATIENCE." Impatience makes more people unhappy than almost anything else! If you can really learn the lesson of patience, you're learning one of the things that will make you happy, and make life worth living.
The next is "kindness," and then "goodness, faithfulness, gentleness, self-control. Against such there is no law." That is the fruit of the Spirit. It will spontaneously spring forth from you. That, you will be emitting from yourself, radiating from yourself, all the time, if you are a real Christian. ( Good News May 1986 - This Is The Life! Real Abundant Living)
Why God allows suffering:
If we are truly to be fashioned "after the God kind" then it's that Holy Righteous Character — flowing from God's Holy Spirit through the converted heart and core within us — which is the precious treasure that God is looking for. It is the vital ingredient we all need for the Abundant Life God has planned for His children stretching out into eternity. Without it there can be no "everlasting joy" (Isaiah 35:10) . And for that reason this world of suffering remains — for just a little while longer — until the optimum number can be led to FULL repentance away from it (II Peter 3:8-9) — FULLY turning from the self-centred way of sin and its resulting life of misery, pain and suffering — to the glorious Give Way, and True Liberty, of the Children of God:
The whole creation waits breathless with anticipation for the revelation of God's sons and daughters.
Creation was subjected to frustration, not by its own choice — it was the choice of the one who subjected it — but in the hope
that the creation itself will be set free from slavery to decay and brought into the glorious freedom of God's children.
We know that the whole creation is groaning together and suffering labor pains up until now.
And it's not only the creation. We ourselves who have the Spirit as the first crop of the harvest also groan inside as we wait to be adopted and for our bodies to be set free. (Romans 8:19-23 CEB)
It's an incredible privilege to understand the full impact of that verse in John 3:16, as it should give us all a reason for getting out of bed every morning, knowing each day we are one day closer to witnessing what God - who cannot lie - has promised for all mankind:
And he will destroy in this mountain the face of the covering cast over all people, and the vail that is spread over all nations.
He will swallow up death in victory; and the Lord GOD will wipe away tears from off all faces; and the rebuke of his people shall he take away from off all the earth: for the LORD hath spoken it.
And it shall be said in that day, Lo, this is our God; we have waited for him, and he will save us: this is the LORD; we have waited for him, we will be glad and rejoice in his salvation. (Isaiah 25:7-9)