Pastors Report - 20 Sep 2019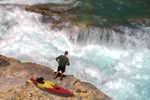 Underestimating Spiritual Power
"... This is the word of the LORD unto Zerubbabel, saying, Not by might, nor by power, but by my spirit, saith the LORD of hosts." (Zechariah 4:6)
In the picture above, a kayaker stands at the side of the river Guil in the French Alps. Apparently he stood there for a full 20 minutes, gazing down, wondering whether it would be wise to kayak down what he was witnessing. (He decided against it at that time, but did so when the flow lessened a year later) For those 20 minutes, he was trying to assess the physical power of the whitewater compared to his skill level. Had he underestimated the force of the water, or overestimated his own capabilities it's very likely he would not be alive today. But underestimating or overestimating such purely physical capacities is simply not in the same league as assessing the spiritual forces we face. In doing so, it is vital that we neither underestimate our enemy, nor overestimate our own abilities – nor underestimate God's overarching power.
Underestimating our Enemy:
Lucifer was originally described as "sealing up the sum, full of wisdom and perfect in beauty" (Ezekiel 28:12) and the following verse itemises both the spectacular appearance and the abilities of this spirit being from the moment he was created. Compare this to God's description of mankind – who He labels as no more than mere clay potsherds of the earth (Isaiah 45:9).
And one of the top reasons for this vast discrepancy has got to be age. For consider the probable age of this being now named Satan – our Enemy. Not only was he there at the start of this present age – in the garden of Eden – but he witnessed the creation of the universe. There is every indication that the universe is several billion years old and according to Job, the angels were already created before the present universe came into being. Taking Satan's age as a conservative 1 billion years, how does man's lifespan of 70 or 80 years compare? One billion years compared to 80 is the same as 80 years is to 2.5 seconds. Our entire lifespan would appear to Satan as a bare 2.5 seconds does to us!
So why do we underestimate? Mainly because we can't see him. A great swathe of mankind dismisses the idea of a devil completely, while others enjoy what they would term as harmless events like Halloween, making fun – and money – out of the whole concept of the demon world. Even though Satan is the undisputed enemy of mankind, he deliberately hides his true self – while continuing to use his broadcast to great effect. The problem is, we live, work and breathe all in the physical world – every one of our five senses is merely physical. We can clearly witness physical power – hurricanes, tornadoes, earthquakes, volcanoes etc, and understand such things, but the spiritual – the invisible – seems unreal. Whereas in actual fact, Jesus Christ shows us that the reverse is true:
While we look not at the things which are seen, but at the things which are not seen: for the things which are seen are temporal; but the things which are not seen are eternal. (2 Corinthians 4:18)
Overestimating Man:
When we consider just how small and insignificant we are in comparison to the vastness of the cosmos – both in size and in age – it seems incredible that any human would become vain in his own brief existence. But we do!
Therefore pride is their necklace; they clothe themselves with violence.
From their callous hearts comes iniquity ; their evil imaginations have no limits.
They scoff, and speak with malice; with arrogance they threaten oppression.
Their mouths lay claim to heaven, and their tongues take possession of the earth...
...They say, "How would God know? Does the Most High know anything?" (Psalm 73:6-9,11 NIV)
And the problem is, this overestimation is not just in the realm of the physical, but in our spiritual abilities as well, and appears to be a particular problem at the end time. The final church era and a major "overestimation problem" within it, is highlighted in this World Tomorrow by Mr. Armstrong:
"... Because thou sayest [this is what the people of this church think; because thou sayest], I am rich, and increased with goods
... " (Revelation 3:15-16). In other words, spiritually rich, 'We have knowledge that the people have not had before.' ...
... it is only those that keep the commandments of God that could have this knowledge. Now here are people who have this knowledge. Here are people that know things that the apostles couldn't know. Here are people that look down on the other people in the world. They look down on even popular churches, [or other church groups?] shall we say, that don't have all of the knowledge that they think that they have, and they say; "Well we're better than they are. We're spiritually rich and increased with goods," speaking of spiritual goods, in other words, knowledge, understanding. "We have the knowledge, we are very important because we have these things." And in their own conceits they have grown spiritually lukewarm. ( WT - True Church of Revelation 2 and 3)
Within this end-time context (Luke 17:27-37) an example is given by Christ specifically concerning those who overestimate their spiritual abilities:
And he spake this parable unto certain which trusted in themselves that they were righteous, and despised others:
Two men went up into the temple to pray; the one a Pharisee, and the other a publican.
The Pharisee stood and prayed thus with himself, God, I thank thee, that I am not as other men are, extortioners, unjust, adulterers, or even as this publican.
I fast twice in the week, I give tithes of all that I possess.
And the publican, standing afar off, would not lift up so much as his eyes unto heaven, but smote upon his breast, saying, God be merciful to me a sinner.
I tell you, this man went down to his house justified rather than the other: for every one that exalteth himself shall be abased; and he that humbleth himself shall be exalted. (Luke 18:9-14)
Realism is the key, which is why Christ, having found Himself as a man, humbled Himself (Philippians 2:8). Indeed, what God specifically requires of us is humility, if we are to walk with Him. (Micah 6:8).
Behold, thou hast made my days as an handbreadth; and mine age is as nothing before thee: verily every man at his best state is altogether vanity. Selah [think about that]. (Psalm 39:5)
Underestimating God:
Satan's ability to hide himself from mankind also allows him to hide his agenda – part of which is for man to underestimate the power of God ... if they believe in a creator God at all! Yet all around us is the unmitigated proof of intelligent design – of His eternal power and Godhead (Romans 1:20) – to those willing to go where the evidence leads. Since God inspired Jeremiah to write: "Am I a God at hand, saith the LORD, and not a God afar off? Can any hide himself in secret places that I shall not see him? saith the LORD. Do not I fill heaven and earth? saith the LORD." (Jeremiah 23:23,24), then the wicked can be assured their ways are also noted:
LORD, avenging God— avenging God, show yourself!
Rise up, judge of the earth! Pay back the arrogant exactly what they deserve!
How long will the wicked—oh, LORD!— how long will the wicked win?
They spew arrogant words; all the evildoers are bragging.
They crush your own people, LORD! They abuse your very own possession.
They kill widows and immigrants; they murder orphans,
saying all the while, "The LORD can't see it; Jacob's God doesn't know what's going on!"
You ignorant people better learn quickly. You fools — when will you get some sense?
The one who made the ear, can't he hear? The one who formed the eye, can't he see?
The one who disciplines nations, can't he punish? The one who teaches humans, doesn't he know? (Psalm 94:1-10 CEB)
But we read in Romans 1:18, that such individuals who deny the very existence – let alone the authority of the Almighty – are standing on very dangerous ground! A day of reckoning is coming to those that underestimate the Creator God and treat His laws with such disdain and contempt:
The LORD shall go forth as a mighty man, he shall stir up jealousy like a man of war: he shall cry, yea, roar; he shall prevail against his enemies.
I have long time holden my peace; I have been still, and refrained myself: now will I cry like a travailing woman; I will destroy and devour at once. (Isaiah 42:13-14)
Our Spiritual Powerhouse:
As God's people, we certainly recognise His creativity and authority – but do we underestimate God's power – and involvement – in our lives, personally? Do we really believe that with our Father "all things are possible"? And that He has every hair of our head numbered? And that not even a sparrow dies but He knows it? And yet – on the cosmic scale – He also knows every star by name (Mark 10:27; Matthew 10:29-30; Psalm 147:4).
Do we just academically accept we could become a son of God ... but find it really hard to believe it can indeed happen, knowing our many shortcomings and failures? Have we forgotten that creation is still on-going, and that the One who took the minute ovum – the size of this full-stop/period (.) plus a sperm cell that can't be seen with the naked eye – and made them into a fully-functioning human being in 40 short weeks ... is He unable to complete the rest of His creation with that human being – with you and me?
No, there is nothing too hard for the Eternal (Genesis 18:14), but there is also much we need to do if we are to remain plugged into the spiritual powerhouse that has been made available to us. It's not a matter of "come as you are", just sitting back and presuming God will do it all – without any effort on our part. For a start, we mustn't underestimate Satan's desire to see us fail, nor underestimate God's power to deal with him ... because we certainly can't. Our job therefore is to work on developing a close relationship with God and letting His power fight our battles for us – making the physical 'weapons' of our spiritual warfare such vital practices as: regular prayer, Bible study, meditation and fasting, and also fellowship.
Prayer and Fasting:
As we might well be reminded on the Day of Atonement – just a matter of weeks away now – in the past this was the only day of the year that the High Priest was allowed to enter the Holy of Holies. Just one day out of 365 ... and just one person out of multiple thousands of Israelites. Yet – at the time of Christ's death – the veil of the temple was torn in two, signifying the opportunity now for all and any of God's begotten sons to be able to talk with Him at any time, day or night, any time of year. Humanly we drastically underestimate the privilege this is, and the power that has been made available to us through it.
In the closing chapters of of John's gospel, more than once Christ encouraged His disciples – which we are – to go to God, the Ruler of this vast Universe, in prayer, mentioning our needs and worries, and He will hear us and step in to help (John 14:13; 15:7; 16:23). Even when we are in such a trial that it becomes increasingly difficult to pray as we should, our Father and Elder Brother also have this specific problem covered:
Likewise the Spirit also helpeth our infirmities: for we know not what we should pray for as we ought: but the Spirit itself maketh intercession for us with groanings which cannot be uttered.
And he that searcheth the hearts knoweth what is the mind of the Spirit, because he maketh intercession for the saints according to the will of God. (Romans 8:26,27)
Another part of our spiritual 'armoury' that would give us the power-filled faith and ability to deal with Satan and the demon world is fasting (Mark 9:25-29) But why? One reason is that it's hard to overestimate our personal strength – physical and spiritual – when we've gone without food and water for a period of time! It's a lot easier to get in the "poor, and of a contrite spirit and tremble at God's word" (Isaiah 66:2) frame of mind when our bodies are telling us that we are very, very human and there's really not much to us. Dust we are and if we don't eat and drink before too long, to dust we will return.
If the Son of God – who was filled with the Holy Spirit – felt the need to fast 40 days and nights before His titanic encounter with the Devil, how foolish to figure we can go about our day-to-day lives, and will muddle through on just the odd bit of prayer from time to time! Christ knew where His strength lay and it was not in Himself – as He so often mentioned, it was the Father in Him that was doing the works – on His own He could do nothing, and neither can we:
Abide in me, and I in you. As the branch cannot bear fruit of itself, except it abide in the vine; no more can ye, except ye abide in me.
I am the vine, ye are the branches: He that abideth in me, and I in him, the same bringeth forth much fruit: for without me ye can do nothing. (John 15:4,5)
Bible Study and Meditation:
As physical food is vital to prolong our physical lives, so is the study of God's word – but this is for our eternal lives. As Christ pointed out in John 6, the ancient Israelites in the wilderness ate manna for 40 long years, but they still died. It's spiritual food that we need on a daily basis, if we are to enter into real LIFE.
This is that bread which came down from heaven: not as your fathers did eat manna, and are dead: he that eateth of this bread shall live for ever....
...It is the spirit that quickeneth; the flesh profiteth nothing: the words that I speak unto you, they are spirit, and they are life. (John 6:58,63)
Humanly speaking, we know physical food is vital for a multitude of functions in our physical bodies and how enervated and debilitated we feel without it. It's the same with spiritual food – but to a far greater extent. We underestimate not only our need for it, but the appreciation of how the Word of God can change our mind to become more like His. That is the essence of true repentance – something that must continue throughout our entire human lives.
But simply reading the Bible – or even doing intensive study – is not sufficient. The words of scripture must become like Jesus Christ – a Living Word that governs every aspect of our existence when the principle is properly understood. And that is the purpose of meditation – taking the time to think deeply about the application of the words being read to our lives today – in this 21st century. Simply reading the Bible by rote is like ingesting our food, but not digesting it ... it is worthless. Meditation is a vital part of Bible study, as in studying the word of God, we see the "end [point] of the law" – i.e. what we are aiming for – which is to become like Christ, (Romans 10:4) with His mind and His approach to life.
Fellowship:
And very much part of that godly nature of Christ when he was here, was to be an outgoing and caring individual. He enjoyed fellowship with those that He was working with, even though at that time, no one yet had the Holy spirit apart from John the Baptist. As the apostle John – who lived with Christ for over 3 years and knew him intimately – brings out; "That which we have seen and heard declare we unto you, that ye also may have fellowship with us: ... (I John 1:3) Such true fellowship with one another is only possible if we actively allow God to create the same mind and approach to life and love for one another that Christ had when human, and which John witnessed.
The Feast these days is virtually the only time many of us can enjoy face-to-face fellowship with brethren and we greatly look forward to that, but what about those who cannot do so, due to ill health or distance ... can they still enjoy "Feast fellowship"? As the second part of verse three of I John 1 brings out ... "and truly our fellowship is with the Father, and with his Son Jesus Christ. ". That is first and foremost in importance, but we can still develop a brotherly bond, if we pray for one another. Prayers for safe travel, for good weather, for good health at the Feast, and for those that are keeping the Feast alone, praying that they will feel a vital part of the whole 8-day experience and be uplifted and encouraged as we all hope to be.
Contrasting Spiritual Powers:
In this present battle against evil, it is crucial to understand our enemy's strategy – particularly in the area of destroying fellowship and human interaction, as it is so important. Satan's spiritual power saturates the present spiritual airwaves and is directed at disrupting and destroying relationships – initially between one third of the angels and God, then Adam and Eve and God ... and has continued these past 6,000 years between families, nations and particularly now between church members. Until we are changed to spirit, no doubt we will be striving against sin, and offend and upset one another from time to time. What we need to remember is that we are all in this together – all merely a 'work in progress' – and that the blood of Christ – which allows us to have our sins forgiven and restore our relationship with God – applies equally to those who might have hurt and offended us, as well:
And I heard a loud voice saying in heaven, Now is come salvation, and strength, and the kingdom of our God, and the power of his Christ: for the accuser of our brethren is cast down, which accused them before our God day and night.
And they overcame him by the blood of the Lamb, and by the word of their testimony; and they loved not their lives unto the death. (Revelation 12:10,11)
For God's spiritual power – as opposed to Satan's – is concentrated on restoring and reconciling ... man to man and mankind to God. And it is clear that Jesus Christ on His return is not only going to defeat Satan, but totally nullify both his spiritual power and even remove his self-centred incoming way of life from the earth as well. For in the soon-coming Millennial age not only will the spiritual broadcast from Satan be removed, but will be replaced with the loving, outgoing spirit of God (Joel 2:28). This is also what we need at the Feast this year – a spirit that gives the kind of fellowship described in I John 1:3 – a spiritual power that restores and reconciles both man-to-man and mankind to God. And to keep that spirit flowing unimpeded, with Satan's mindset removed from our life, it's of critical importance that we neither underestimate our enemy, nor overestimate our own abilities – nor underestimate God's overarching power, made effective in our lives as daily we don the whole armour of God;
Finally, my brethren, be strong in the Lord, and in the power of his might.
Put on the whole armour of God, that ye may be able to stand against the wiles of the devil.
For we wrestle not against flesh and blood, but against principalities, against powers, against the rulers of the darkness of this world, against spiritual wickedness in high places.
Wherefore take unto you the whole armour of God, that ye may be able to withstand in the evil day, and having done all, to stand.
Stand therefore, having your loins girt about with truth, and having on the breastplate of righteousness;
And your feet shod with the preparation of the gospel of peace;
Above all, taking the shield of faith, wherewith ye shall be able to quench all the fiery darts of the wicked.
And take the helmet of salvation, and the sword of the Spirit, which is the word of God:
Praying always with all prayer and supplication in the Spirit, and watching thereunto with all perseverance and supplication for all saints; (Ephesians 6:10-18)