Pastors Report - 22 Nov 2019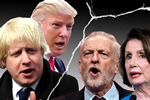 Without Grumbling or Arguing ...
"Do all things without murmurings and disputings ... " (Philippians 2:14)
Note The Context:
It seems such a simple statement … "Do all things without murmurings and disputings" … or in some translations, "without grumbling or arguing", but in a world that is being blasted with this kind of aggressive, confrontational negativism from the satanic broadcast, it can be far from simple! For as we witness the political vitriol across this world today – with their continual "murmurings and disputings" – it becomes ever more important that we recognise the same tendencies in ourselves as well, as it's not just politicians that fall into this trap! Yet only in the absence of grumbling and arguing, can those all-too-rare qualities of God's character become more and more evident in our lives. As we are instructed by Christ, through Paul;
Do all things without murmurings and disputings:
That ye may be blameless and harmless,
the sons of God,
without rebuke,
in the midst of a crooked and perverse nation,
among whom ye shine as lights in the world;
Holding forth the word of life;
that I may rejoice in the day of Christ, that I have not run in vain, neither laboured in vain. (Philippians 2:14-16)
All Without Murmurings/Disputings
In our quest to "do all things without murmurings and disputings" we have been given an area of scripture to refer back to, to learn some vital lessons about the subject, and that is the example of our forefathers – ancient Israel:
...nor complain, as some of them also complained, and were destroyed by the destroyer.
Now all these things happened to them as examples, and they were written for our admonition, upon whom the ends of the ages have come... (I Corinthians 10:10,11 NKJV)
The specific incident being referred to in this passage was when the people murmured at the report which came back with the men who were sent to spy out the land. And this was not the first time by any means. The Eternal was able to point to 10 different occasions where His patience was sorely tried by their griping and complaining:
And all the congregation lifted up their voice, and cried; and the people wept that night.
And all the children of Israel murmured against Moses and against Aaron: and the whole congregation said unto them, Would God that we had died in the land of Egypt! or would God we had died in this wilderness!
And wherefore hath the LORD brought us unto this land, to fall by the sword, that our wives and our children should be a prey? were it not better for us to return into Egypt?...
... Because all those men which have seen my glory, and my miracles, which I did in Egypt and in the wilderness, and have tempted me now these ten times, and have not hearkened to my voice;
Surely they shall not see the land which I sware unto their fathers, neither shall any of them that provoked me see it:
But my servant Caleb, because he had another spirit with him, and hath followed me fully , him will I bring into the land whereinto he went; and his seed shall possess it. (Numbers 14:1-3, 22-24)
A Different Spirit:
The problem was the Israelites simply didn't believe God when He said that He would take them into a land flowing with milk and honey, keeping the promise He'd made centuries earlier to their fathers. They invariably believed only what they could see immediately in front of them – totally disregarding the stunning miracles performed to allow them to leave Egypt in the first place, and then the fire by night, cloud by day and even the very bread that they ate each and every day! And yet we are warned in I Corinthians 10:11 that this particular example has been specifically recorded and preserved, " for our admonition, upon whom the ends of the ages are come" – so we may read it and learn vital lessons from the incident.
So what is the key lesson God wants us to learn from this incident? The answer surely is the incredible difference of Caleb and Joshua's approach versus that of the rest of the spies and the congregation in general. As God points out in verse 24 above, Caleb ... " had another spirit and followed me fully" ... This was the defining difference that caused him and Joshua not to gripe and complain – setting themselves firmly on God's side rather than being in opposition. And this must be the same with us. Too often we bellyache and complain about the current position in which we find ourselves – what we can see that day with our eyes – rather than ask what it is that God wants us to learn through the experience. Note the positive belief demonstrated by Joshua and Caleb below – firmly rooted on God's promise to take them into the land:
And [the people] said one to another, Let us make a captain, and let us return into Egypt.
Then Moses and Aaron fell on their faces before all the assembly of the congregation of the children of Israel.
And Joshua the son of Nun, and Caleb the son of Jephunneh, which were of them that searched the land, rent their clothes:
And they spake unto all the company of the children of Israel, saying, The land, which we passed through to search it, is an exceeding good land.
If the LORD delight in us, then he will bring us into this land, and give it us; a land which floweth with milk and honey.
Only rebel not ye against the LORD, neither fear ye the people of the land; for they are bread for us: their defence is departed from them, and the LORD is with us: fear them not. (Numbers 14:4-9)
Blameless and Harmless:
And the first two character traits mentioned as a result of avoiding this confrontational, contentious approach are not only mentioned together here in Philippians, but also linked in a similar way in James chapter 3. This is because the second quality, translated as 'harmless' in the King James version is probably better translated as 'pure' – or literally 'not mixed' (Strongs 185). So in examining these two passages 'blameless and harmless' can be equally viewed as 'perfect and pure'. For as the book of James points out about a whingeing arguing tongue – and similar words:
"For in many things we offend all. If any man offend not in word, the same is a perfect man, and able also to bridle the whole body... "
... Out of the same mouth proceedeth blessing and cursing. My brethren, these things ought not so to be...
Doth a fountain send forth at the same place sweet water and bitter?
Can the fig tree, my brethren, bear olive berries? either a vine, figs? So can no fountain both yield salt water and fresh. (James 3:2,10-12)
An "unmixed" fountain/spirit-source is what is required. And in James 3:17, the word pure has a similar meaning to the word used in Philippians – as in pure, chaste, clear, immaculate (Strongs 53), or the dictionary definition "unadulterated, uncontaminated, flawless, genuine, real, true":
But the wisdom that is from above is first pure, then peaceable, gentle, and easy to be intreated, full of mercy and good fruits, without partiality, and without hypocrisy.
And the fruit of righteousness is sown in peace of them that make peace. (James 3:17,18)
The Sons of God:
It is therefore clear that simply striving to control our physical tongue won't fix the underlying problem of grumbling or arguing. Unless the heart is converted, changed ... with the pure "wisdom that is from above" ... we have no better chance than the carnal Israelites of old of solving the problem. Just as Caleb was seen as different by God from the complaining Israelites by having a different spirit, so too is the defining difference between those who are sons of God and those who are not:
For as many as are led by the Spirit of God, they are the sons of God.
For ye have not received the spirit of bondage again to fear; but ye have received the Spirit of adoption, whereby we cry, Abba, Father.
The Spirit itself beareth witness with our spirit, that we are the children of God: (Romans 8:14-16)
Being alert – watching – to what comes out of our mouths is crucial in the process. Is it unnecessarily confrontational? Is it nit-picking? Whinging and complaining is self-centred, it's very much "all about me" – the antithesis of a son of God. We won't inherit eternity in the Kingdom of God if we buy into the all-pervasive, negative spirit of today. This attitude no doubt is very prevalent within the demon world, and probably originated with Lucifer millions or billions of years ago.
Without Rebuke:
"...without rebuke ... in the midst of a crooked and perverse nation". The rebuke mentioned here appears to reflect our position in the world – that they cannot find anything to genuinely find fault with, just as in the time of Daniel;
Then the presidents and princes sought to find occasion against Daniel concerning the kingdom; but they could find none occasion nor fault; forasmuch as he was faithful, neither was there any error or fault found in him.
Then said these men, We shall not find any occasion against this Daniel, except we find it against him concerning the law of his God. (Daniel 6:4,5)
But can the same be said about us? When people of the world look at our day-to-day example, what do they see? Are we seen as being somewhat contentious, griping, complaining and negative individuals, or – on the other hand – uplifting? A peacemaker? (Matthew 5:9)
Compare this confrontational approach of James and John before conversion, and note how Christ highlighted the true spiritual source of what He was witnessing:
And sent messengers before his face: and they went, and entered into a village of the Samaritans, to make ready for him.
And they did not receive him, because his face was as though he would go to Jerusalem.
And when his disciples James and John saw this, they said, Lord, wilt thou that we command fire to come down from heaven, and consume them, even as Elias did?
But he turned, and rebuked them, and said, Ye know not what manner of spirit ye are of.
For the Son of man is not come to destroy men's lives, but to save them. And they went to another village. (Luke 9:52-56)
Shine as Lights:
"...among whom ye shine as lights in the world;" Whether we like it or not, being someone who doesn't gripe or complain, who is not contentious or argumentative, will be recognised as being different from what is normally found within this world. Unfortunately not all within God's church are such good examples – and it's not a new problem. Notice the concerns the apostle Paul had regarding the brethren in Corinth:
For I fear, lest, when I come, I shall not find you such as I would, and that I shall be found unto you such as ye would not: lest there be debates, envyings, wraths, strifes, backbitings, whisperings, swellings, tumults: (II Corinthians 12:20)
Contrast this with his admonition to the Ephesian church – who, having now turned their backs on their old way of life and 'illuminated' with the truth, they are encouraged to walk as children of that light – and so dramatically contrasting by example what is found in the world;
For ye were sometimes darkness, but now are ye light in the Lord: walk as children of light:
(For the fruit of the Spirit is in all goodness and righteousness and truth;)
Proving what is acceptable unto the Lord.
And have no fellowship with the unfruitful works of darkness, but rather reprove [expose] them.
For it is a shame even to speak of those things which are done of them in secret.
But all things that are reproved are made manifest by the light: for whatsoever doth make manifest is light. (Ephesians 5:8-13)
The Word of Life:
Being without murmurings and disputings is not something that men have merely dreamed as a good idea. It comes directly from the pages of scripture which defines the standards God requires in our interactions with one another. And these "God-breathed" words of life are able to clean us up, if they are read, studied and applied.
That he might sanctify and cleanse it with the washing of water by the word,
That he might present it to himself a glorious church, not having spot, or wrinkle, or any such thing; but that it should be holy and without blemish. (Ephesians 5:26,27)
As brought out in the last verse of chapter 5 ... "this [marriage relationship] is a great mystery, but I speak concerning Christ and the church". (Ephesians 5:32 ) So we understand that the church is to be the Bride of Christ, and as continually brought out in the book of Proverbs, a contentious, brawling wife is to be studiously avoided!
A foolish son is the calamity of his father: and the contentions of a wife are a continual dropping. (Proverbs 19:13)
It is better to dwell in the wilderness, than with a contentious and an angry woman. (Proverbs 21:19)
It is better to dwell in a corner of the housetop, than with a brawling woman in a wide house. (Proverbs 21:9)
To 'hold forth the word of life', means living by every word of God, daily – even in difficult, problematic situations.
That I may Rejoice:
"that I may rejoice in the day of Christ, that I have not run in vain, neither laboured in vain." So important is this very basic character trait – that of not grumbling or arguing – that the apostle Paul recognised that unless we get a handle on it, we could 'fall at the last hurdle' and not enter into the Family of God! In such a case, all the effort that Paul put out as their apostle would have been wasted – and the same is even true of Jesus Christ's efforts on our behalf as well. All could be negated by this satanic grumbling arguing frame of mind.
So is it possible to conquer this all-pervasive weakness? The scripture above that stresses how the example of ancient Israel has been recorded specifically for us does not end with verse 11 but continues on to give us great encouragement when faced with the trials of life:
These things happened to them as examples and were written down as warnings for us, on whom the culmination of the ages has come.
So, if you think you are standing firm, be careful that you don't fall!
No temptation has overtaken you except what is common to mankind. And God is faithful; he will not let you be tempted beyond what you can bear. But when you are tempted, he will also provide a way out so that you can endure it. (I Corinthians 10:10-13 NIV)
How to Overcome:
So how do we correctly express ourselves when tempted to 'murmur' over what is impacting us personally or what we see going on in the world? It's not that we have to pretend problems don't exist – as life will throw us these curves on a pretty regular basis. Fortunately a little later in the book of Philippians we are given the approach needed to bring about the required result:
Be [anxious] for nothing; but in every thing by prayer and supplication with thanksgiving let your requests be made known unto God.
And the peace of God, which passeth all understanding, shall keep your hearts and minds through Christ Jesus.
Finally, brethren, whatsoever things are true, whatsoever things are honest, whatsoever things are just, whatsoever things are pure, whatsoever things are lovely, whatsoever things are of good report; if there be any virtue, and if there be any praise, think on these things.
Those things, which ye have both learned, and received, and heard, and seen in me, do: and the God of peace shall be with you. (Philippians 4:6-9)
Which quite simply put: focus on the things we have been given, and how God has intervened for us in the past, rather than grumbling and arguing over what we'd rather see happen, and take what worries and concerns we do have to God in an attitude of thanksgiving. Thanking God for what we have is the key – knowing He is in ultimate control of the world's politics, the environment, the problems with our neighbours, and whatever other daily trials we may have in our lives also. This was the apostle Paul's approach and in verse nine above, he urges the Philippian church to follow him in doing this. Is it any wonder that Mr Armstrong when he was alive, also urged us to follow him in doing the same:
Now love is God's way of life; and we are to love, brethren, all people. We are to love even our enemies! And I think I mentioned last night that when I pray, I customarily pray first of all … Well, first of all (let me say) I give God thanks. I believe perhaps the most prevalent sin is ingratitude. People are not grateful for what God has given them, most people. We should be grateful, and I want to thank God for what He has given. Thank God for His great purpose. Thank Him for His great master plan, for revealing it. I thank God first of all for that, and that the greatest POWER (greater than any other power) is that power of God, who is love. Who loves us all so much He gave His only begotten Son to die and give His life for us – to pay the penalty that we have incurred on ourselves, every one of us. That is love, and I want to be grateful for it. So I usually, in my prayers, start out by thanking God (if that is any kind of example to you). ( Sermon - 1982-10-02 - Another Civilization)