Pastors Report - 20 Dec 2019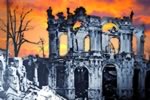 Punishment – but Why?
"For then shall be great tribulation, such as was not since the beginning of the world to this time, no, nor ever shall be." (Matthew 24:21) ... And the cities shall be laid waste and the land desolate. (Ezekiel 12:20)
A Time of Punishment:
It's very clear that we stand prophetically on the cusp of the greatest time of trouble this world has ever seen. And regardless of whether it is the world at large, or specifically the nations of Israel, or specifically the Laodicean church – this time of trouble is also seen as a time of punishment. But is that all we need to be aware of – that this dreadful time of trouble is coming? That it will initially involve the final resurrection of the holy Roman Empire? That the English-speaking nations of Britain and America will be punished? That the Laodicean church will be punished? That ultimately, the entire world will be punished? Is that all we need to know?
The glaring and simple – yet sadly too often ignored – further question is, WHY? Why is God going to allow such punishment on Laodicea, Israel and the world? Is it merely the inevitable consequence of 6000 years under Satan's rule? Is there anything more specific that God highlights – something that perhaps would need to change for God to change His mind? Fortunately, God often mentions such things in the prophecies that go on to talk about the punishments themselves. 'Why?' is not merely an adjunct to the revelation He gives, it should be regarded as the key central point of the entire 'secret' ... that He must first reveal to His servants the prophets – the most vital part of the entire prophecy that has been delivered:
Shall a trumpet be blown in the city, and the people not be afraid? shall there be evil in a city, and the LORD hath not done it?
Surely the Lord GOD will do nothing, but he revealeth his secret unto his servants the prophets .
The lion hath roared, who will not fear? the Lord GOD hath spoken, who can but prophesy? (Amos 3:6-8)
Different Treatments:
Before examining the 'why', it is necessary to understand another vital principle. That is the fact that God deals with different people in different ways. This is brought out quite graphically in the book of Isaiah where God points to the example in agriculture how the treatment of different seeds must invariably differ – from the time of preparing the soil, to sowing the seed, to the best method of treating what is harvested. This is not so much a lesson in sensible farming practice, as God pointing out that the various categories of human beings He is dealing with need to be treated in different ways so the maximum harvest of human lives is made possible:
Listen and hear my voice; pay attention and hear what I say.
When a farmer plows for planting, does he plow continually? Does he keep on breaking up and working the soil?
When he has leveled the surface, does he not sow caraway and scatter cumin? Does he not plant wheat in its place,barley in its plot,and spelt in its field?
His God instructs him and teaches him the right way.
Caraway is not threshed with a sledge, nor is the wheel of a cart rolled over cumin; caraway is beaten out with a rod, and cumin with a stick.
Grain must be ground to make bread; so one does not go on threshing it forever. The wheels of a threshing cart may be rolled over it, but one does not use horses to grind grain.
All this also comes from the LORD Almighty, whose plan is wonderful, whose wisdom is magnificent. (Isaiah 14:23-29 NIV)
We can also see this vital principle of God's tailor-made treatment when He needs to bring punishment on nations or individuals. This is pointed out by Jesus Christ to His disciples when asked the question:" ... Lord, speakest thou this parable unto us, or even to all? (Luke 12:41).
And that servant, which knew his lord's will, and prepared not himself, neither did according to his will, shall be beaten with many stripes.
But he that knew not, and did commit things worthy of stripes, shall be beaten with few stripes. For unto whomsoever much is given, of him shall be much required: and to whom men have committed much, of him they will ask the more. (Luke 12:47,48)
Three Broad Groups:
The apostle Paul clearly recognised this need for a different approach depending on who he was talking to, when he said . ..
For though I be free from all men, yet have I made myself servant unto all, that I might gain the more.
And unto the Jews I became as a Jew, that I might gain the Jews; to them that are under the law, as under the law, that I might gain them that are under the law;
To them that are without law, as without law, (being not without law to God, but under the law to Christ,) that I might gain them that are without law.
To the weak became I as weak, that I might gain the weak: I am made all things to all men, that I might by all means save some. (I Corinthians 9:19-22)
In a similar way Mr. Armstrong also would vary his message according to who he was addressing – broadly categorised into three distinct groups: the world at large; the Israelite nations of English-speaking peoples; and the Church of God. He would go round the world talking to world leaders – in a very simple way that they all could understand – the way of give and the way of get. Yet when talking to Britain and America in the World Tomorrow broadcast, a much more biblical message was used – pointing out the errant Christianity of the day and what the Bible actually does say. And to the true church – his focus was on the spiritual dimension required – continually going back to the two trees, and the two entirely opposite ways of life – coming from diametrically opposing spirits.
THE Creator God:
From a closer inspection of these three groups, we can see that what is expected of each is different. And one of the key areas – if not THE key area – that illustrates this is the recognition of the Creator God Himself. This is something that everyone in the world should be able to see but in Israel's case this Creator of Heaven and Earth is specifically Israel's God as well. And in the case of the true church, the Creator God is also our Father - working His greatest creation of all time – spirit born sons, who think as He does, sharing His spiritual 'DNA'.
We can see how this forms an essential end-time position to the world at large when we look at the message that the angel gives on the return of Jesus Christ and before the seven last plagues:
And I saw another angel fly in the midst of heaven, having the everlasting gospel to preach unto them that dwell on the earth, and to every nation, and kindred, and tongue, and people,
Saying with a loud voice, Fear God, and give glory to him; for the hour of his judgment is come: and worship him that made heaven, and earth, and the sea, and the fountains of waters. (Revelation 14:6)
Even if we look at the world today there is truly a huge need for this message as our education centres from kindergarten onwards, and the media in all its forms promote an entirely evolutionary position. They attribute the profound engineering and artistry we see all around us to nothing more than blind chance mutation and the beauty of the heavens to the lucky chance of an exquisitely precise, yet entirely undirected Big Bang explosion, totally ignoring the all too obvious "eternal power and Godhead" involved, as brought out by Paul in the first chapter of Romans:
But God shows his anger from heaven against all sinful, wicked people who suppress the truth by their wickedness.
They know the truth about God because he has made it obvious to them.
For ever since the world was created, people have seen the earth and sky. Through everything God made, they can clearly see his invisible qualities—his eternal power and divine nature. So they have no excuse ... (Romans 1:18-20 NLT)
Israel's God:
Romans 1 then goes on to graphically explain what this position leads to. The perverted thinking required to hold such a position – particularly in a setting of education (v28) – then cascades into a plethora of similar concepts and unmitigated evil. This is very much the 'why' punishment will come on the world at large, and particularly so for Israel. Even when we consider the mark of the Beast, it too fits within this cascade of evil, replacing God's Holy Days with pagan holidays – and enforcing their observance – directing peoples' minds away from the Creator God, as the Sabbath itself is a memorial of creation and the annual Holy Days show His Plan, and both were given as identifying signs between God and His people.
It is the mark of the Beast, and all it entails, that is highlighted within the book of Revelation as the dividing line between those who suffer the first of the seven last plagues and those who do not (Revelation 16:2). Prior to this division the two witnesses will have been actively preaching and warning both Israel and the world what is coming and most importantly, why. And also no doubt informing modern-day Israel of just WHO they are, where they came from and who their God is:
Hear, O heavens, and give ear, O earth: for the LORD hath spoken, I have nourished and brought up children, and they have rebelled against me.
The ox knoweth his owner, and the ass his master's crib: but Israel doth not know, my people doth not consider.
Ah sinful nation, a people laden with iniquity, a seed of evildoers, children that are corrupters: they have forsaken the LORD, they have provoked the Holy One of Israel unto anger, they are gone away backward. (Isaiah 1:2-4)
In the book of Ezekiel God gives some very clear explanations of why in Israel's case:
And when they entered unto the heathen, whither they went, they profaned my holy name, when they said to them, These are the people of the LORD, and are gone forth out of his land.
But I had pity for mine holy name, which the house of Israel had profaned among the heathen, whither they went.
Therefore say unto the house of Israel, Thus saith the Lord GOD; I do not this for your sakes, O house of Israel, but for mine holy name's sake, which ye have profaned among the heathen, whither ye went. (Ezekiel 36:20-22)
Thus saith the Lord GOD; This is Jerusalem: I have set it in the midst of the nations and countries that are round about her.
And she hath changed my judgments into wickedness more than the nations, and my statutes more than the countries that are round about her: for they have refused my judgments and my statutes, they have not walked in them ...
... A third part of thee shall die with the pestilence, and with famine shall they be consumed in the midst of thee: and a third part shall fall by the sword round about thee; and I will scatter a third part into all the winds, and I will draw out a sword after them.
Thus shall mine anger be accomplished, and I will cause my fury to rest upon them, and I will be comforted: and they shall know that I the LORD have spoken it in my zeal, when I have accomplished my fury in them. (Ezekiel 5:5,6,12,13)
In fact, throughout the whole book of Ezekiel – specifically written to the house of Israel in the latter days – warning our nations of the punishment God will not only allow, but also bring on us – the phrase " ye shall know" appears 25 times, and " they shall know" 26 times. God will leave Israel in no doubt as to Who is their God and why the correction is so necessary.
Spiritual Israel:
In the case of the church, the relationship between God and His people is much, much closer. Individual members are destined to become the very born sons of God (Revelation 21:7) and collectively the wife of Jesus Christ (Ephesians 5:32) – the very dwelling place, or temple, of the Godhead (Ephesians 2:22). With such an exalted and responsible position the spiritual criteria involved is obviously that much greater. Simple worldly 'righteousness' becomes no more than filthy rags, for only those who are led by the spirit of God – and are so developing the outgoing, loving mind of God – are indeed His sons. As Mr. Armstrong brings out in Mystery of the Ages, regarding this truly converted mindset:
The very basic teaching, belief AND DOCTRINE OF God's true Church therefore is based on the righteousness of and obedience to the law of God. That law is LOVE. But it is not human love. Human love cannot rise above the level of human self-centeredness. It must be "the love of God… shed abroad in our hearts by the Holy [Spirit]" (Rom. 5:5). Ancient Israel could not really obey God's law – they could have kept it according to the strict letter of the law. But since love is the fulfilling of the law and they had only human self-centered love, they could not have kept the law according to the spirit – because the Holy Spirit had not yet been given. ( Mystery of the Ages p274)
As stated in Isaiah, God's thoughts, His ways are SO much higher than our feeble human attempts at righteousness – they are on a different plane altogether!
Let the wicked forsake his way, and the unrighteous man his thoughts: and let him return unto the LORD, and he will have mercy upon him; and to our God, for he will abundantly pardon.
For my thoughts are not your thoughts, neither are your ways my ways, saith the LORD.
For as the heavens are higher than the earth, so are my ways higher than your ways, and my thoughts than your thoughts. (Isaiah 55:7-9)
A Stupendous Plan:
In all three cases – the world, Israel and the church – God has His own stupendous plan in mind throughout. His ultimate creation – The Family of God, consisting of spirit born sons, having the same mind and character as He does – influences everything He does with mankind within those three groups. This includes any punishment that may be needed:
Have you forgotten the encouraging words God spoke to you as his children? He said, "My child, don't make light of the LORD's discipline, and don't give up when he corrects you.
For the LORD disciplines those he loves, and he punishes each one he accepts as his child."
As you endure this divine discipline, remember that God is treating you as his own children. Who ever heard of a child who is never disciplined by its father?
If God doesn't discipline you as he does all of his children, it means that you are illegitimate and are not really his children at all.
Since we respected our earthly fathers who disciplined us, shouldn't we submit even more to the discipline of the Father of our spirits, and live forever?
For our earthly fathers disciplined us for a few years, doing the best they knew how. But God's discipline is always good for us, so that we might share in his holiness. (Hebrews 12:5-10 NLT)
God has a long-term view of what He plans to achieve with humanity, wanting only what is good for mankind, and as implied in so many places in the Bible ... in both Old and New Testament: "Say unto them, As I live, saith the Lord GOD, I have no pleasure in the death of the wicked; but that the wicked turn from his way and live: turn ye, turn ye from your evil ways; for why will ye die, O house of Israel?" (Ezekiel 33:11)
Ultimately God is destined to be the Father of us all – not willing that any should perish (eternally), but that all, including those within the world now, be given the chance to become members of the God Family through repentance. This is why He is so insistent on Israel protecting His Holy Name as brought out in Ezekiel 36, as they are eventually going to be used to teach the nations across this earth using their example of genuinely applying the laws that define the Way of God – a Spirit-led Way of life that will ultimately bring peace, happiness and everything good – a true Utopia on earth:
A new heart also will I give you, and a new spirit will I put within you: and I will take away the stony heart out of your flesh, and I will give you an heart of flesh.
And I will put my spirit within you, and cause you to walk in my statutes, and ye shall keep my judgments, and do them . ..
... And they shall say, This land that was desolate is become like the garden of Eden; and the waste and desolate and ruined cities are become fenced, and are inhabited.
Then the heathen that are left round about you shall know that I the LORD build the ruined places, and plant that that was desolate: I the LORD have spoken it, and I will do it. (Ezekiel 36:26-27,35-36)
Keep therefore and do them; for this is your wisdom and your understanding in the sight of the nations, which shall hear all these statutes, and say, Surely this great nation is a wise and understanding people.
For what nation is there so great, who hath God so nigh unto them, as the LORD our God is in all things that we call upon him for?
And what nation is there so great, that hath statutes and judgments so righteous as all this law, which I set before you this day? (Deuteronomy 4:6-8)
In a similar way, seeing as the church also is destined for a vital future teaching role within this process, it is necessary that our minds and the resulting actions from them now reflect those of a God-being, albeit currently still in the flesh. Hence we see the church being washed in water by the Word, in Ephesians 5, and corrected as a loving father corrects his children, in Hebrews 12. And as brought out in Revelation chapters 2 and 3, Christ, our High Priest, is continually encouraging His people, His church towards repentance, change. The whole process is designed to bring many sons to glory as stated in Hebrews 2:
For it became him, for whom are all things, and by whom are all things, in bringing many sons unto glory, to make the captain of their salvation perfect through sufferings.
For both he that sanctifieth and they who are sanctified are all of one: for which cause he is not ashamed to call them brethren. (Hebrews 2:10,11)
The Big Picture:
What is coming on this earth is destined to be the greatest time of trouble the world has ever seen – or ever will see. It will come like a snare on the world at large (Luke 21:35) but simply knowing about the Tribulation and the Day of the Lord is not sufficient. Of far greater importance is WHY. What's the purpose of God allowing what is prophesied to take place? As God inspired Ezekiel to record, eventually all affected by the punishment will indeed understand:
For thus saith the Lord GOD; How much more when I send my four sore judgments upon Jerusalem, the sword, and the famine, and the noisome beast, and the pestilence, to cut off from it man and beast?
Yet, behold, therein shall be left a remnant that shall be brought forth, both sons and daughters: behold, they shall come forth unto you, and ye shall see their way and their doings: and ye shall be comforted concerning the evil that I have brought upon Jerusalem, even concerning all that I have brought upon it.
And they shall comfort you, when ye see their ways and their doings: and ye shall know that I have not done without cause all that I have done in it, saith the Lord GOD. (Ezekiel 14:21-23)
All the heartache, all the pain and suffering will finally make sense – both to the church, Israel and the world when no longer will any punishment be necessary – for God will "... wipe away all tears from their eyes; and there shall be no more death, neither sorrow, nor crying, neither shall there be any more pain: for the former things are passed away." (Revelation 21:4) The Incredible Plan will have come to fruition – we will have reached a time when this entire age of being human will no longer even be remembered within the new heavens and the new earth:
For, behold, I create new heavens and a new earth: and the former shall not be remembered, nor come into mind.
But be ye glad and rejoice for ever in that which I create: for, behold, I create Jerusalem a rejoicing, and her people a joy.
And I will rejoice in Jerusalem, and joy in my people: and the voice of weeping shall be no more heard in her, nor the voice of crying. (Isaiah 65:17-19)
God speed that day.