Pastors Report - 31 Jan 2020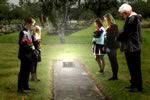 No More Death ...
"... and there shall be no more death, neither sorrow, nor crying, neither shall there be any more pain: for the former things are passed away" (Revelation 21:4)
Auschwitz:
Many were reminded last Monday of the unspeakable horrors of the Nazi concentration camps in the second World War, as the 75th anniversary of the liberation of Auschwitz by the Red Army was remembered in around 10,000 commemorations around the globe. Robert Hardman — who was at Auschwitz itself for the 75th anniversary of the camp's liberation — wrote the following in The Daily Mail:
"There can be few places on Earth more infused with evil than this – the railhead at Auschwitz; the spot where countless families were savagely wrenched apart for eternity; where a click of the fingers dictated death now or death later; the end of the line in every sense three quarters of a century back.
And it was here last night, between the wreckage of two gas chambers, that some of the surviving witnesses to the greatest crime in modern history came with world leaders...
...Many wore caps or scarves with the same blue and white stripes that once marked them out as prisoners. In front of them stood the notorious arched watchtower – the 'Gate of Death' ..." ( dailymail.co.uk)
Personal stories of immense courage in the face of misery, deprivation and the witnessing of death on an almost hourly basis brought tears to the eyes of several in the audience. As one survivor put it: "We do not want our past to be our children's future... that is the key to my existence". And a constant refrain was, "Never again!"
Closer to Home:
The enormity of the slaughter of multiple millions of men, women and childen can hardly be grasped - the sheer number of deaths makes it hard to comprehend - but reduced down to individuals, each one was someone's mother, father, son, daughter, husband, wife, brother or sister and was so mourned. Death is indeed an enemy and from the death of millions, to just one beloved family member - the personal grief and loss is the same. In the past few weeks we've witnessed the death of personal friends in God's church - one a young man in his 30's, horribly debilitated by a genetic disease and at the other end of the scale - 50 years between them - an elderly gentleman in his 80's. As much as they are truly missed, we can be comforted by the promises we find in scripture:
But I would not have you to be ignorant, brethren, concerning them which are asleep, that ye sorrow not, even as others which have no hope. For if we believe that Jesus died and rose again, even so them also which sleep in Jesus will God bring with him. (I Thessalonians 4:13,14)
The righteous perisheth, and no man layeth it to heart: and merciful men are taken away, none considering that the righteous is taken away from the evil to come.
He shall enter into peace: they shall rest in their beds, each one walking in his uprightness. (Isaiah 57:1,2)
The Immediate Future:
Quoting from an article in the Times, 28th January - "Camp's survivors return to warn against rise in hatred":
"Others warned of how hatred could take hold in gradual steps. 'We would like that the next generation know what we went through, and it should never happen again', said David Marks, 91, his voice cracking. He lost 35 relatives after they were transported to Auschwitz from their village in Romania. 'A dictator doesn't come up from one day to the other', he said, adding that it happened in 'micro-steps'. 'If we don't watch it, one day you wake up and it's too late' ". ( thetimes.co.uk)
As goes the famous quote by Mark Twain: "History doesn't repeat itself, but it does rhyme".
And sadly we are aware prophetically that this wretched world is once again going to find that: "our past will be... for a short time ...our children's future", for we understand the prophecies relating to the time of Jacob's trouble, and that the horrors of the second World War will be repeated, but this time taking in most of humanity.
For then there will be great distress, unequaled from the beginning of the world until now – and never to be equaled again.
If those days had not been cut short, no one would survive, but for the sake of the elect, those days will be shortened. (Matthew 24:21,2 NIV)
A Learning Process:
We still witness anti-Semitism in Europe even in these supposedly enlightened times. And as brought out in the Westminster ceremony on Monday's Holocaust Memorial Day, genocide was not limited to WW2 - since then we've seen mass murders in Cambodia, Bosnia, Rhwanda, Darfur and a genocidal threat now to the Rohingya peoples in Myanmar. And virtually daily, continual horrendous acts of terrorism around the globe.... so what have we learnt? To get the message across, God must keep His hands-off policy for just a little longer and allow humanity to reap was was sown back in the garden of Eden. Indeed, reading the news within this present evil world can indeed be depressing but only if we lose our true focus. If we begin to focus down – instead of up – then yes, we can be depressed. But "looking up" is something Christ specifically tells us to do when He warns us of the times we are now entering:
"And there shall be signs in the sun, and in the moon, and in the stars; and upon the earth distress of nations, with perplexity; the sea and the waves roaring;
Men's hearts failing them for fear, and for looking after those things which are coming on the earth: for the powers of heaven shall be shaken.
And then shall they see the Son of man coming in a cloud with power and great glory.
And when these things begin to come to pass, then look up, and lift up your heads; for your redemption draweth nigh." (Luke 21:25-28)
A Temporary Life:
James describes this life we are in as a mere vapour (James 4:14) – a "temporary chemical existence" as Mr Armstrong used to call it – sustained by the blood in our veins, rooted to our stomachs and fired by each breath of air we breathe. And yet, we become so absorbed with this brief taste of existence. Our trials and problems seem to take on a life of their own, even though the reality of the situation is that our very life itself is not even Real Life at all! That is up ahead. Real Life comes from above and must be given to us – "after we have suffered a while" (1 Peter 5:10) during this present evil age.
But "the key to our existence" is the knowledge of what the future holds for those that have perished, and in particular Israel!
But now thus saith the LORD that created thee, O Jacob, and he that formed thee, O Israel, Fear not: for I have redeemed thee, I have called thee by thy name; thou art mine.
When thou passest through the waters, I will be with thee; and through the rivers, they shall not overflow thee: when thou walkest through the fire, thou shalt not be burned; neither shall the flame kindle upon thee.
For I am the LORD thy God, the Holy One of Israel, thy Saviour: I gave Egypt for thy ransom, Ethiopia and Seba for thee.
Since thou wast precious in my sight, thou hast been honourable, and I have loved thee: therefore will I give men for thee, and people for thy life.
Fear not: for I am with thee: I will bring thy seed from the east, and gather thee from the west;
I will say to the north, Give up; and to the south, Keep not back: bring my sons from far, and my daughters from the ends of the earth;
Even every one that is called by my name: for I have created him for my glory, I have formed him; yea, I have made him. (Isaiah 43:1-7)
Look Upwards:
Whether it is due to warfare - as in the Holocaust, or plague - as in the Coronavirus, illness, accidents or 'just' old age, death is an enemy and although we try to not think about it applying to us or our loved ones, it still mentally enslaves us:
Forasmuch then as the children are partakers of flesh and blood, he also himself likewise took part of the same; that through death he might destroy him that had the power of death, that is, the devil;
And deliver them who through fear of death were all their lifetime subject to bondage. (Hebrews 2:14,15)
But as brought out in Hebrews 2, God has a plan to release us - not only from the fear of death but eventually death itself! First, notice this passage from Isaiah...
The wilderness and the solitary place shall be glad for them; and the desert shall rejoice, and blossom as the rose.
It shall blossom abundantly, and rejoice even with joy and singing: the glory of Lebanon shall be given unto it, the excellency of Carmel and Sharon, they shall see the glory of the LORD, and the excellency of our God.
Strengthen ye the weak hands, and confirm the feeble knees.
Say to them that are of a fearful heart, Be strong, fear not: behold, your God will come with vengeance, even God with a recompence; he will come and save you. (Isaiah 35:1-4)
...and now re-read it in the light on what the apostle Paul brings out in Hebrews 12:10-13, (applying it to mankind as a whole) — and realise that it is only by focusing on the glorious future — lifting our eyes and thoughts above the present seemingly insurmountable problems — that we are able to strengthen and lift up our weak hands and feeble knees as well:
For they verily for a few days chastened us after their own pleasure; but he for our profit, that we might be partakers of his holiness.
Now no chastening for the present seemeth to be joyous, but grievous: nevertheless afterward it yieldeth the peaceable fruit of righteousness unto them which are exercised thereby.
Wherefore lift up the hands which hang down, and the feeble knees;
And make straight paths for your feet, lest that which is lame be turned out of the way; but let it rather be healed. (Hebrews 12:10-13)
And more encouragement from Isaiah to look beyond the present evil:
Lift up your eyes on high, and behold who hath created these [things], that bringeth out their host by number: he calleth them all by names by the greatness of his might, for that [he is] strong in power; not one faileth. (Isaiah 40:26)
Lift up your eyes to the heavens, and look upon the earth beneath: for the heavens shall vanish away like smoke, and the earth shall wax old like a garment, and they that dwell therein shall die in like manner: but my salvation shall be for ever, and my righteousness shall not be abolished. (Isaiah 51:6)
God of Israel:
Focusing on the future, we read that anti-Semitism will be turned on its head! Never again another Auschwitz, or Belsen, Ravensbruck, Treblinka - or any of the other multiple thousands of concentration, labour, extermination or transit camps that existed during the Third Reich. Never again the white-hot hatred currently being broadcast from a distorted satanic mind that loathes the laws and ways of God, and especially the tribe of Judah, from which his replacement on the throne of this earth is destined to come! There will instead be a complete recognition of the great Eternal God of Israel that the Jews will then represent:
Thus saith the LORD of hosts; It shall yet come to pass, that there shall come people, and the inhabitants of many cities:
And the inhabitants of one city shall go to another, saying, Let us go speedily to pray before the LORD, and to seek the LORD of hosts: I will go also.
Yea, many people and strong nations shall come to seek the LORD of hosts in Jerusalem, and to pray before the LORD.
Thus saith the LORD of hosts; In those days it shall come to pass, that ten men shall take hold out of all languages of the nations, even shall take hold of the skirt of him that is a Jew, saying, We will go with you: for we have heard that God is with you. (Zechariah 8:20-23)
Staying Centred:
So let us always remember: depression, despair and various problems come when we begin to get our minds off the True Goal set before us. That Goal is not here within this present, temporary, chemical existence. It is the goal of Real Life – Spirit Born Life – the same kind of Life that Christ and the Father enjoy and have enjoyed from eternity (John 1:4; 17:5). And when that Way of Life has at last been universally accepted, then will come True Life itself — and a time when: "God shall wipe away all tears from their eyes; and there shall be no more death, neither sorrow, nor crying, neither shall there be any more pain: for the former things are passed away." (Revelation 21:4)
Currently still in training, we are destined to become the Spirit Born Sons of God in the everlasting Kingdom of God, as part of the very Family of Almighty God — ultimately working with those that will be brought back to life in the second resurrection. Instead of staring at the grim walls of the concentration camp, with the stench of death all around them ... their last memory... they will find themselves in Paradise, and reunited with the loved ones they thought were lost for ever. Instead of " Work Makes you Free" - the meaning of the slogan "Arbeit macht frei" over the entrance to Auschwitz, they will find that it is the Truth that will make them free: eternally free from sickness, heartache and even death. That Gospel – Good News beyond man's wildest imagination – is utterly sure, absolutely true, and as reliable as tomorrow's sunrise, as they both rest on the same unswerving Word of God! And if we are indeed focused – looking to the source of that True Life – then we will indeed be " looking up", understanding and appreciating that as we witness these things on earth that are now beginning to take place all around us, then our redemption — and that of all mankind, including the victims of Auschwitz — does indeed draw near.
For a small moment have I forsaken thee; but with great mercies will I gather thee.
In a little wrath I hid my face from thee for a moment; but with everlasting kindness will I have mercy on thee, saith the LORD thy Redeemer.
For this is as the waters of Noah unto me: for as I have sworn that the waters of Noah should no more go over the earth; so have I sworn that I would not be wroth with thee, nor rebuke thee.
For the mountains shall depart, and the hills be removed; but my kindness shall not depart from thee, neither shall the covenant of my peace be removed, saith the LORD that hath mercy on thee.
O thou afflicted, tossed with tempest, and not comforted, behold, I will lay thy stones with fair colours, and lay thy foundations with sapphires.
And I will make thy windows of agates, and thy gates of carbuncles, and all thy borders of pleasant stones.
And all thy children shall be taught of the LORD; and great shall be the peace of thy children.
In righteousness shalt thou be established: thou shalt be far from oppression; for thou shalt not fear: and from terror; for it shall not come near thee.
Behold, they shall surely gather together, but not by me: whosoever shall gather together against thee shall fall for thy sake.
Behold, I have created the smith that bloweth the coals in the fire, and that bringeth forth an instrument for his work; and I have created the waster to destroy.
No weapon that is formed against thee shall prosper; and every tongue that shall rise against thee in judgment thou shalt condemn. This is the heritage of the servants of the LORD, and their righteousness is of me, saith the LORD. (Isaiah 54:7-17)