Pastors Report - 14 Feb 2020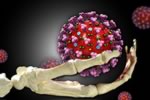 Coronavirus and the 4th Horseman
"...and behold a pale horse: and his name that sat on him was Death, and [the grave] followed with him. And power was given unto them over the fourth part of the earth, to kill with sword, and with hunger, and with death, and with the beasts of the earth." (Revelation 6:8)
Christ the Revelator:
We in the church can so easily forget just how precious is the understanding which has been given to us. Although it appears so simple – that the revelator is Jesus Christ as described in Revelation 1:1 – it is only with this key piece of information that the entire book can be unlocked. This includes chapter 6 and the four mysterious horsemen – laid out for us by Christ in Matthew 24:5-7, including the fourth – the pale green horse – symbolically pointing us to pestilence and disease epidemics.
The following verse – verse 8 – is also very interesting when we take note of the word translated as 'sorrows' in the King James, ( "all these are the beginning of sorrows"). The Greek word used is 'odin' (Strongs 5604) and is more specifically used for birth pains – perhaps indicating that these things will come in progressive waves like birth pains – finally reaching a crescendo at the end time. This therefore is what we should be taking careful note of at the moment, that pandemic disease will eventually – perhaps coupled with the preceding horsemen – kill a quarter of the entire world's population.
So where could the current coronavirus outbreak in China fit within this cascade of prophetic pestilence of the fourth horseman?
A Potential Pandemic:
We have seen people across the world being quarantined in an attempt to stop the spread of this illness – but do you know where the word 'quarantine' comes from? It means forty days in a mediaeval Venetian dialect and the term was first used in the 1300's when ships arriving at Venetian ports would have to wait 40 days before unloading their cargo. This was virtually the only effective means of lessening the spread of the Black Death, as it had an incubation period of 37 days. Nevertheless, even with such measures, the plague still killed well over 30% of the European population and a similar percentage in Asia.
But we don't have to go to the Middle Ages to witness a global pandemic. Immediately following the first World War the Spanish Flu was responsible for killing more people than the war itself. Five hundred million people around the world became infected – about 27% of the then world population of about 1.8 billion. The death toll has been estimated between 50 and 100 million – i.e. between 3 and 6% of the Earth's population at that time – making it one of the deadliest epidemics in human history.
The question is, will Covid-19 (the official name given for the Wuhan strain) become something similar – as it certainly seems to have the potential of doing so? With a fatality rate of over 1%, it is over 50 times that of the 2009 Swine Flu epidemic, which killed around 280,000 people. Should it spread in a similar way to Swine Flu, it thereby gives a potential death toll of 14 million. The prospect is daunting!
Just like birth pains this current outbreak of Covid-19 will undoubtedly first continue to rise and then inevitably fall. But the question is, how severe will it prove to be? And how long will it last? Clearly it has the potential to be profoundly severe, killing hundreds of thousands and perhaps millions before it subsides – and there are even some uniquely present day reasons that make such a scenario more likely.
What the problems are:
Comparing the issues that made the Spanish Flu so deadly to millions, it is interesting to note that some medical journals from the period of the pandemic found that the viral infection was no more aggressive than previous influenza strains, but was exacerbated by overcrowded medical camps and hospitals, malnourishment, poor hygiene and ease of transmission to other areas. These problems promoted what they termed as "bacterial superinfection".
And what do we see a hundred years on? Back in the middle of the 20th century there were just two "mega cities" (with population in excess of 10 million) in the world... London and New York, but today we have dozens (Tokyo around 37 million) and the concentration of world population in urban centres is a particularly fast-growing trend within the Third World, allowing the speedy transmission of diseases of all kinds. Malnourishment? Even our fruit, vegetables, meat – "real food" – has been stripped of its nutritional value to a horrific degree for decades. Hygienic conditions – or rather, lack of them – continue to be a major concern with human waste often flowing in open gutters, and live animals and reptiles crammed together in food markets. At the time of the Spanish flu disaster, one particular troop staging and hospital camp in France saw around 100,000 soldiers in transit through that camp each day – which sounds similar to so very many of our major airports. And one more aspect that was missing in 1918 is the fact of biological warfare laboratories, where it's not unreasonable to assume that on occasion the population becomes in real danger of a leak – if not sometimes deliberately used as guinea pigs?
Naturally enough, in today's Covid-19 outbreak there are companies springing up that want to sell you their 'special' face masks, in order to keep you safe – and some at quite eye-watering prices! National newspapers here in the UK have full-page ads from the government advising readers on how to avoid contamination...mainly by washing their hands and using paper handkerchiefs for coughs and sneezes and then disposing of these wisely. So should we be overly concerned? Should we invest in face masks and avoid crowded areas, revise our travel plans etc etc? Certainly avoiding those who have the disease makes prudent sense. But let's take a minute to just think through what our God-given natural defence system consists of, and marvel at what God has made.
Our Immune System:
How many of us ever give a thought to the range of spores, viruses and other micro-organisms we inhale with each breath of air or ingest with every bite of food? The body normally takes care of such things without a qualm and we get on with our daily lives totally oblivious — the body fighting off potential invaders without a problem. But the way in which this is done is quite remarkable. Let me quote a short extract from a book on our immune system called, "The Body Victorious" by Lennart Nilsson:
"Scratches on the skin, bacteria in the throat, and sore, infected sebaceous glands — all these are everyday occurrences, and, as such, are entirely undramatic. After a few days, we are fit again and all is forgotten... If, however, we could become as tiny as cells or bacteria and visit the sites of the superficially undramatic events, we would experience them as they really are — life-and-death struggles between attackers and defenders, waged with a ruthlessness found only in total war.
"Suddenly the site of the injury, previously so peaceful, is transformed into a battlefield on which the body's armed forces, hurling themselves repeatedly at the encroaching microorganisms, crush and annihilate them. No one is pardoned, no prisoners are taken — although fragments of the invading bacteria, viruses, rickettsias, parasites, and fungal microorganisms are conveyed to the lymph nodes for the rapid training of the defence system's true bloodhounds, the "killer cells". These cells learn in detail, molecule by molecule, how to recognise the adversary, whereupon they launch their offensive. " ("The Body Victorious" by Lennart Nilsson)
The Spiritual Parallel:
It is the automatic nature of the above process that is so astounding. Provided we take certain steps — have enough sleep and rest; eat nutritious food; cope properly with stress; exercise moderately; avoid poisons and injury — in other words, obey the various laws God has made for our physical bodies — then our immune system just works! But begin to break those laws and principles, and major adjustments have to be made to 'get back on track' in the physical area of health. Should we fail to do so, we become ill and if we persist in our unhealthy direction, we eventually die! What can be totally ignored by a healthy person can so suddenly become a crisis in the malnourished and stressed, as we are witnessing now with Covid-19!
The irony is, that this is also true — in an incredibly parallel way — in our spiritual battleground as well, and how much more valuable is eternal life, than merely this fleeting physical chemical existence! With the spirit world being invisible, it's easy for us to ignore the spiritual "spores, viruses and various micro-organisms" that Satan blasts at us and the whole of humanity, with the intent of total annihilation! We are operating on the front lines of a battlefield, each and every day, but we are not without back-up. Thankfully, to keep our spiritual immune system in tip-top condition, God has given us clear guidlines:
Some Clear Guidelines:
Use the Sabbath rest each week for its full purpose;
"Six days thou shalt do thy work, and on the seventh day thou shalt rest: that thine ox and thine ass may rest, and the son of thy handmaid, and the stranger, may be refreshed (Strongs 05314 – to take breath)" (Exodus 23:12)
Eat a nutritious spiritual diet from God's Word each day;
"As the living Father hath sent me, and I live by the Father: so he that eateth me, even he shall live by me. This is that bread which came down from heaven: not as your fathers did eat manna, and are dead: he that eateth of this bread shall live for ever." (John 6:57,58)
Properly digested with meditation;
"Finally, brethren, whatsoever things are true, whatsoever things are honest, whatsoever things are just, whatsoever things are pure, whatsoever things are lovely, whatsoever things are of good report; if there be any virtue, and if there be any praise, think on these things." (Philippians 4:8)
Cope with stress by going to God, in faith, during our trials;
"Come unto me, all ye that labour and are heavy laden, and I will give you rest. Take my yoke upon you, and learn of me; for I am meek and lowly in heart: and ye shall find rest unto your souls. For my yoke is easy, and my burden is light." (Matthew 11:28-30)
Exercise, that is live what we learn not merely on the Sabbath and/or among brethren, but within every aspect of life;
"But strong meat belongeth to them that are of full age, even those who by reason of use have their senses exercised to discern both good and evil." (Hebrews 5:14)
Avoid the poisons and injury from people and organizations that are clearly no longer under God's Government and Way;
"Now I beseech you, brethren, mark them which cause divisions and offences contrary to the doctrine which ye have learned; and avoid them." (Romans 16:17)
Come out of the world as taught:
"And what concord hath Christ with Belial? or what part hath he that believeth with an infidel? And what agreement hath the temple of God with idols? for ye are the temple of the living God; as God hath said, I will dwell in them, and walk in them; and I will be their God, and they shall be my people. Wherefore come out from among them, and be ye separate, saith the Lord, and touch not the unclean thing; and I will receive you, And will be a Father unto you, and ye shall be my sons and daughters, saith the Lord Almighty." (II Corinthians 6:15-18)
Blind Leading the Blind:
Truly today the human race is very sick and we struggle on, hardly living, but just existing as the last degeneration. At the heart of the problem lies the fact that both our physical and our spiritual food has been corrupted. The accumulated debris of 6,000 years under the toxic hand of Satan has destroyed both, not only making us easy pray for cancer and other degenerative illnesses and as we are witnessing today, respiratory diseases, but also more insidiously, Satan's doing his utmost to destory any chance of a relationship with our Creator, so we wander aimlessly through life, the blind leading the blind and suffering the penalties of breaking God's immutable laws, often without knowing of their existence:
Their feet run to evil, and they make haste to shed innocent blood: their thoughts are thoughts of iniquity; wasting and destruction are in their paths.
The way of peace they know not; and there is no judgment in their goings: they have made them crooked paths: whosoever goeth therein shall not know peace...
...We grope for the wall like the blind, and we grope as if we had no eyes: we stumble at noonday as in the night; we are in desolate places as dead men. (Isaiah 59:7,8,10)
But in OUR personal battle against the devil, if we obey the various Laws God has designed for our spiritual lives — then our spiritual immune system works!
Our Living Word:
Many times we can take for granted our understanding of scripture, forgetting that only those the Father has individually called has had his or her mind opened. And that these God-breathed words – like physical food – are building our bodies, but this time the spirit body, which will last out into eternity!
For which cause we faint not; but though our outward man perish, yet the inward man is renewed day by day.
For our light affliction, which is but for a moment, worketh for us a far more exceeding and eternal weight of glory;
While we look not at the things which are seen, but at the things which are not seen: for the things which are seen are temporal; but the things which are not seen are eternal. (II Corinthians 4:16-18)
That spiritually nutritious word flows from the Father via the Living Word or Logos who spoke only as the Father directed (John 8:28). This Being was in the beginning with God as one of the very members of the God-Family — and remains to this day as our living and active High Priest. He is The One who created all things and even currently upholds them by the word of His power (John 1:1-3, Hebrews 1:3) And it is the same "word of his power" that He uses within each of us, as a Master Potter, to accomplish His greatest creation ever — Perfect Holy Divine Character within human clay — "That he might sanctify and cleanse it with the washing of water by the word, that he might present it to himself a glorious church, not having spot, or wrinkle, or any such thing; but that it should be holy and without blemish." (Ephesians 5:26-27)
As Christ finished what we call the "Beatitudes" – pointing out to His disciples the spiritual intent of God's magnificent law – He gave this summing up:
Therefore everyone who hears these words of mine and puts them into practice is like a wise man who built his house on the rock.
The rain came down, the streams rose, and the winds blew and beat against that house; yet it did not fall, because it had its foundation on the rock.
But everyone who hears these words of mine and does not put them into practice is like a foolish man who built his house on sand.
The rain came down, the streams rose, and the winds blew and beat against that house, and it fell with a great crash."
When Jesus had finished saying these things, the crowds were amazed at his teaching,
because he taught as one who had authority, and not as their teachers of the law. (Matthew 7:24-29 NIV)
This same Individual also gave the Old Testament scriptures — which is why the apostle Paul records:
All scripture is given by inspiration of God, and is profitable for doctrine, for reproof, for correction, for instruction in righteousness:
That the man of God may be perfect, throughly furnished unto all good works. (II Timothy 3:16-17)
And Christ Himself declares:
"Your fathers did eat manna in the wilderness, and are dead.
This is the bread which cometh down from heaven, that a man may eat thereof, and not die ...
the words that I speak unto you, they are spirit, and they are life." (John 6:49-50,63)
The Whole Word:
This Living Word of God is described as "the sword of the Spirit" (Ephesians 6:17) . This is because it is indeed, " quick, and powerful, and sharper than any twoedged sword, piercing even to the dividing asunder of soul and spirit, and of the joints and marrow, and is a discerner of the thoughts and intents of the heart." (Hebrews 4:12) Once digested — with its full spiritual-mineral content, into a converted heart — God's Word gives an immunity second to none ... by "casting down imaginations, and every high thing that exalteth itself against the knowledge of God, and bringing into captivity every thought to the obedience of Christ." (II Corinthians 10:5)
This is also why Mr Armstrong continually stressed that it is not enough to just believe IN God, we also must unreservedly BELIEVE God. What He says within the pages of scripture. What we need is very much a 'whole-grain' approach to God's Word. To accept, without reservation, the entire spiritual intent of what God says in the Bible and try to honestly apply it to whatever subject we deal with. In a world that has been raised on a diet of sugar-laden spiritual junk food — a sick world and struggling Church whose spiritual immune system is greatly weakened, that unrefined, Living, whole-grain, organic Word, honestly aligned with the Spirit-led foundation laid by God's apostle, is exactly what such a world — and God's Church today — so desperately needs.
Deliverance:
Do we need to fear the pale horse, or any of the four horsemen that are prophesied to 'ride again', with even more destructive power than in the past? No, not if we prioritise the importance of our spiritual immune system, as in so many places in scripture, God promises to be our rearguard, to fight our battles for us, to protect us through fire and flood and to hold our right hand as we go through life. As the psalmist points out in Psalm 91, we don't have to fear warfare or plague, even if 1,000 were to fall at our right hand... but why?
Because he hath set his love upon me, therefore will I deliver him: I will set him on high, because he hath known my name.
He shall call upon me, and I will answer him: I will be with him in trouble; I will deliver him, and honour him.
With long life will I satisfy him, and shew him my salvation. (Psalm 91:14-18)
Covid-19 may or may not become THE end-time plague to decimate mankind, but it certainly is one of the birth pangs. And as such, we can take comfort in the words of Isaiah 66, that the birth of God's sons and the setting up of His government on this earth isn't going to be a long, drawn out process – but on the contrary:
A voice of noise from the city, a voice from the temple, a voice of the LORD that rendereth recompence to his enemies.
Before she travailed, she brought forth; before her pain came, she was delivered of a man child.
Who hath heard such a thing? who hath seen such things? Shall the earth be made to bring forth in one day? or shall a nation be born at once? for as soon as Zion travailed, she brought forth her children.
Shall I bring to the birth, and not cause to bring forth? saith the LORD: shall I cause to bring forth, and shut the womb? saith thy God.
Rejoice ye with Jerusalem, and be glad with her, all ye that love her: rejoice for joy with her, all ye that mourn for her:
That ye may suck, and be satisfied with the breasts of her consolations; that ye may milk out, and be delighted with the abundance of her glory.
For thus saith the LORD, Behold, I will extend peace to her like a river, and the glory of the Gentiles like a flowing stream: then shall ye suck, ye shall be borne upon her sides, and be dandled upon her knees.
As one whom his mother comforteth, so will I comfort you; and ye shall be comforted in Jerusalem. (Isaiah 66: 6-13)