Pastors Report - 13 Mar 2020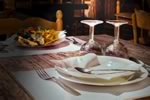 Fasting for Others
"When they were ill, I wore the sackcloth, I went humbly fasting. I prayed for them, with head bent on my breast" (Psalm 35:13 Moffatt)
From time to time we become aware of brethren struggling with serious trials - maybe involving employment or lack of it, relationship problems and occasionally life-threatening illnesses. Praying for one another is clearly found within scripture : "Confess your faults one to another, and pray one for another, that ye may be healed." (James 5:15) But the question I want to ask is: what about fasting? Can we fast for one another also - as David appeared to do in the above psalm. Or is fasting purely a personal activity designed to help us examine ourselves and our individual relationship with God?
The short answer is Yes - on both counts! We can fast for others, but such fasting still needs to be done in the correct, very personal way. We should not fast about the sickness, or fast about the difficult times others are having. That is not the purpose of fasting. The purpose of every and any fast is to see ourselves more clearly so we may improve our own personal relationship with God. That really is the only reason there is to fast. Then having succeeded in obtaining effective contact with God, and becoming more in tune with His will:
And this is the confidence that we have in him, that, if we ask any thing according to his will, he heareth us:
And if we know that he hear us, whatsoever we ask, we know that we have the petitions that we desired of him.(I John 5:14,15)
Receiving whatever we pray for, includes God's intervention - according to His timing and purpose - in whatever trial or sickness others are having.
Why Fast at all?
Jesus Christ made it clear when He was on earth with His disciples, that there was no need for them to fast at that time. He said, "Can the children of the bridechamber fast, while the bridegroom is with them? as long as they have the bridegroom with them, they cannot fast." (Mark 2:19) . Jesus Christ was God in the flesh, and during His time on earth, He daily walked and talked with His disciples, as we would do with our friends. There was no barrier in communication. But Christ then went on to say, "But the days will come, when the bridegroom shall be taken away from them, and then shall they fast in those days." (Mark 2:20)
Once Christ was no longer with them, then communication was not so straightforward. Of that time Christ said very clearly "then shall they fast" . Fasting was to be part of the process needed for effective, close communication with the Godhead. Today, regular fasting is not an option but more a command because Christ - a member of the Godhead and our High Priest - is no longer humanly accessible. Access is today through prayer. Fasting, therefore, is a tool that helps us to keep and improve our contact with God. If ever there appears to be a problem with our communication with God- if our prayers seem be be bouncing off the ceiling - then we should fast.
The View of Ourselves:
When you consider it, fasting seems a strange thing to do – to deliberately make ourselves hungry, uncomfortable and often downright miserable by not eating and drinking for a day or so! Is God wanting to see us suffer before He answers our prayers? Not at all! It's the worldly religions that encourage suffering to please and placate their gods! The Almighty God desires everything good for us, and a close walk with Him provides just that.
So how does fasting promote a close one-to-one relationship with our Creator? The answer is that it helps us to view ourselves realistically. To really see - and feel - just how temporary we really are! It helps to get us focused on the vast difference between our frail human frame and the Almighty, Eternal God and thereby get ourselves into perspective. When we are physically full - and especially when we are younger and in the prime of life - we tend to feel we can accomplish anything, but when hunger strikes and our stomachs grumble and rumble, and our heads hurt, we also feel weak and then reality hits! We are little more than flesh and blood 'machines' that need refuelling on a regular basis or else death is at the door.
Draw nigh to God, and he will draw nigh to you. Cleanse your hands, ye sinners; and purify your hearts, ye double minded.
Be afflicted, and mourn, and weep: let your laughter be turned to mourning, and your joy to heaviness.
Humble yourselves in the sight of the Lord, and he shall lift you up. (James 4:8-10)
How NOT to Fast:
However it is even very clear that we can fast in a totally wrong way. The Pharisee in Christ's parable proudly proclaimed, "I fast twice in the week," but it did him absolutely no good at all. Isaiah 58 shows very clearly that we should never try and use fasting to force God to do our will, and we can see from verse 2 that God is obviously addressing His church and He goes onto say:
Yet they seek me daily, and delight to know my ways, as a nation that did righteousness, and forsook not the ordinance of their God: they ask of me the ordinances of justice; they take delight in approaching to God.
Wherefore have we fasted, say they, and thou seest not? wherefore have we afflicted our soul, and thou takest no knowledge? Behold, in the day of your fast ye find pleasure, and exact all your labours.
Behold, ye fast for strife and debate, and to smite with the fist of wickedness: ye shall not fast as ye do this day, to make your voice to be heard on high.(Isaiah 58:2-4)
The problem given here - the reason the fast was worthless - was that the human will was not being made submissive to God's will: It appears the point of the fast was instead an attempt to get at someone ... to take from someone ... for selfish, grasping reasons. Such fasting would include the way Mahatma Ghandi used to fast - trying to gain self-discipline and thereby force his will in a situation. This approach is a form of gnosticism – a desire to obtain esoteric knowledge, and elevate oneself about the 'masses'. In this case it is the ascetic variety, punishing the body to make our will paramount ... the very antithesis of true Godly fasting. This approach is of absolutely no value before God.
In his letter to the Colossians, Paul goes so far as to condemn the very concept as a purely pagan, gnostic philosophy when he talks about it as "will worship", or worship of "self-will", in the context of "neglecting the body" ( Colossians 2:23). This unfortunately seems to be the only form of spiritual fasting found within this world. This was also the aim and attitude of the Pharisee mentioned by Christ in Luke 18:
I fast twice in the week, I give tithes of all that I possess.
And the publican, standing afar off, would not lift up so much as his eyes unto heaven, but smote upon his breast, saying, God be merciful to me a sinner.
I tell you, this man went down to his house justified rather than the other: for every one that exalteth himself shall be abased; and he that humbleth himself shall be exalted. (Luke 18:12-14)
Quite often, when trials or hardships strike, we're tempted to think "I must fast about this!", but that is not really the correct approach, as it could be inferred that by our physical suffering we're attempting to pressurise God to do our will. But on the contrary, the reason must always be on drawing closer to God, and never the other way round i.e an attempt to bend God to OUR will. God's acceptable type of fasting is something totally different.
True Fasting:
Anyone who has fasted knows the effects: It makes us feel weak, hungry, thirsty, uncomfortable, light-headed and befuddled ... in fact, unable to do anything much at all! It makes us feel very physical, very human, frail and vulnerable. And that, at its core, is the purpose of fasting. By making us weak physically, and even mentally, fasting humbles us, and gets us to look at ourself in a much more accurate way. So often we as human beings become self-important, self-assertive, self-ish!! And God simply cannot, and will not, listen to us in that condition:
Behold, the LORD'S hand is not shortened, that it cannot save; neither his ear heavy, that it cannot hear:
But your iniquities have separated between you and your God, and your sins have hid his face from you, that he will not hear (Isaiah 59:1,2)
The difference between what we are, and what God is, is immeasureable. By seeing ourselves correctly, and the huge degree of conversion necessary, we begin to have a greater appreciation of how great is the gift of eternal Life - Real Life - coupled with the Mind of God! Unless we recognise this - and how such vast change is only possible through God's creative strength and Spiritual power, and in absolutely no other way - we can't even begin the conversion process. We must recognise this first and foremost before we can even start the development towards becoming a son of God, as it is the very Mind of a God-Being that must be created within us, not merely a 'good human'!
"Verily I say unto you, Except ye be converted, and become as little children, ye shall not enter into the kingdom of heaven.
Whosoever therefore shall humble himself as this little child, the same is greatest in the kingdom of heaven. (Matthew 18:3-4)
This attitude of repentance of what we currently ARE (not merely what we have done), begins at baptism and must then continue throughout life for God to make us His child. But so often, the carnal mind get in the way. Fasting puts this essential childlike attitude back into us again. And as we all know, it can do so rapidly - normally in about 2 meals!
How to Fast:
As we have seen in Isaiah 58:3, fasting is described as "afflicting our souls" - the soul (Heb. nephesh) being our physical, breathing bodies. That "affliction" is normally done by not eating or drinking anything at all for a period of time - normally a 24 hour day (verse 5), though up to 3 days should not be a problem for someone in good health. However, I remember talking with a minister at one time, who was very much into striving to keep the "letter of the law" - come what may. He tried to convince me that Mr Armstrong's administration of this issue was wrong. He felt that on Atonement under no circumstances should any within the Church eat or drink at all - including those who Mr Armstrong had allowed to take a little medicinal nourishment, such as diabetics. This minister felt that even if someone were to die, rigid observance of this aspect was more important! However, that was certainly not the view of Mr Armstrong, nor is it the position of COGiW.
The body should always be afflicted by restricting food and drink to accomplish this purpose, but in certain rare medical cases during this physically degenerate age, wisdom should be used to be sure long term damage is avoided. This is particularly true of those with diabetes. For the rest of us, may I suggest to the few of you that may be new to fasting that you try cutting out tea/coffee/alcohol and drink plenty of water the day before. This at least helps lessen the headaches.
Mr. Armstrong's Example:
But what should we do on a fast? It can be tempting to just spend the day in bed and sleep much of the time away. It might help you lose weight but to gain a closer relationship with our heavenly Father, fasting is not just going without food and water. It involves much more.
There is an excellent Good News article on the subject. This was written by Mr Armstrong -- GN Jan 1980 ... "The Time Has Come For Fasting and Prayer". In this article he brings out ....
"Some of us are too far from our God right now. Let me tell you of a time when I came to realize that I was not close enough to God. My prayers were not being answered. ARE YOURS. I have written this before, but those of you who read it need to read it again. It was about mid-January, 1930. I had been converted less than three years. God had directly answered my prayers, but now, near mid-January, 1930, they were not being answered... I decided to FAST AND PRAY until I found the answer... I asked for nothing, except for God to show me what was wrong with ME that my prayers were not being answered. Then I meditated for one hour, searching my mind, to understand wherein I was wrong. This was followed by one hour of searching the Bible to see if God would reveal to me, there, the answer. Then I started all over again, with one hour of prayer, one hour of soul-searching meditation and one hour of searching the Bible. This hour-by-hour program was maintained..." ( The Good News – January 1980)
Obviously, if you have young children, doing this 3 hour rota is going to be difficult, but it does at least give a framework to aim for.
On the run up to Passover it's very likely that we'll need to take some time out - even a Sabbath if necessary - putting our thoughts and desires under a microscope to see what is really in our hearts. And fasting can be a valuable tool in this respect. For that day we can be totally introspective, with our minds on ourselves. We need God to show us our shortcomings, which are usually hidden from our own eyes. Do we see ourselves as strangers and pilgrims in this society, or are we guilty of having one foot still in the world, maybe liking some of its ways? Have we allowed the truth to morph into a "religion", as opposed to the 24/7 Way of Life that brings everything good... now and throughout eternity? Is it still the "pearl of great price" with us, or possibly a bit of a burden? Indeed, have we lost our first love?
The section about the "fast which I have chosen" in Isaiah 58 brings out more valuable points as to where we might need a drastic change of direction or at the very least a good deal of improvement:
Is not this the fast that I have chosen? to loose the bands of wickedness, to undo the heavy burdens, and to let the oppressed go free, and that ye break every yoke?
Is it not to deal thy bread to the hungry, and that thou bring the poor that are cast out to thy house? when thou seest the naked, that thou cover him; and that thou hide not thyself from thine own flesh? (Isaiah 58: 6,7)
The Blessing that comes from Fasting:
Don't become discouraged if you don't find yourself incredibly close to God during a fast. As I brought out above, during a fast we are normally unable to do anything much at all! It simply makes us feel very physical, weak and tired. The benefit however should come at the end of the fast. It is then that whatever we pray brings results.
Then shall thy light break forth as the morning, and thine health shall spring forth speedily: and thy righteousness shall go before thee; the glory of the LORD shall be thy rereward.
Then shalt thou call, and the LORD shall answer; thou shalt cry, and he shall say, Here I am... (Isaiah 58:8,9)
Fasting in this way before we pray is therefore how we should fast for one another. At the end of our fast, now looking at ourselves in a much more accurate way, we use the improved closeness to God to ask Him to intervene on behalf of other people. Fasting so we can 'get through' on behalf of someone else IS indeed a Godly principle, as brought out by the apostle James: "Therefore confess your sins to each other and pray for each other so that you may be healed. The prayer of a righteous person is powerful and effective" (James 5;16 NIV)
Future Feasts:
Fasting to gain closer contact with our heavenly Father and elder Brother is something that is necessary now, but won't always be so! As it was 2,000 years ago, when Christ is once again here on earth with His creation, there will be no more need to fast. Unemployment, relationship problems, sickness and disease will be things of the past, and all humanity will have the privilege of a close and personal walk with their Creator. God speed that day.
And the word of the LORD of hosts came unto me, saying,
Thus saith the LORD of hosts; The fast of the fourth month, and the fast of the fifth, and the fast of the seventh, and the fast of the tenth, shall be to the house of Judah joy and gladness, and cheerful feasts; therefore love the truth and peace.
Thus saith the LORD of hosts; It shall yet come to pass, that there shall come people, and the inhabitants of many cities:
And the inhabitants of one city shall go to another, saying, Let us go speedily to pray before the LORD, and to seek the LORD of hosts: I will go also.
Yea, many people and strong nations shall come to seek the LORD of hosts in Jerusalem, and to pray before the LORD. (Zechariah 8:18-22)