Pastors Report - 10 Apr 2020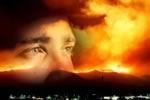 Alert to the Spiritual:
Watch ye therefore, and pray always, that ye may be accounted worthy to escape all these things that shall come to pass, and to stand before the Son of man. (Luke 21:36)
We currently find ourselves living in unprecedented times. Had anyone predicted back in early January how severe the current chaos would be, we'd all have struggled to see it as any way credible. But one thing is clear – that the lasting economic consequences are destined to be even greater still, with rampant inflation and insolvency on a scale almost no one alive today has ever experienced. But we in the church have known for many years now that we are fast approaching the end time – and that behind so many physical events that are taking place there lies a clear spiritual dimension. And that spiritual dimension will lead to the axiel period between two radically opposing ways of life – as far as give is from get – and with a history that is not just the 6,000 years that is immediately apparent, but probably goes back millions if not billions of years.
"To Watch"?
Repeatedly in scripture we are told to watch. And if you look up that verb in a modern English dictionary you'll find watching appears restricted to visually looking at something. Such definitions as: to look at or focus, pass time looking at, to guard, look after, keep track of, keep under surveillance, check on, (Chambers Dictionary 1997)
Whereas, when the King James version of the Bible was translated in 1611, the word had a very different meaning. Even as late as 1873 in The Globe Dictionary of the English language the primary definitions are given as follows: forbearance of sleep, preservative or preventative vigilance, to be awake, on the look out, to keep guard. Passively looking at something – the modern English meaning of to watch, such as watching TV – is simply nowhere to be found.
And we can immediately see why the ancient definition of the word was used by the translators of the KJV back in 1611 when we look at the three Greek words translated "watch" in the New Testament. Not one of them implies visually watching events in a passive way, but rather staying awake or alert to what is happening in the times in which we find ourselves. More along the lines of a guard on a "watch"... on sentry duty, who would most definitely want to stay awake or he could face a court martial! In order of the number of times used we find these Greek words:
Gregoreuo – Strongs 1127, from a root meaning to collect one's faculties, arouse from sleep
Agrupneo – Strongs 69, from a root meaning don't sleep
Nepho – Strongs 3525, meaning to be sober, calm and collected in spirit
So I hope we can all see that merely looking passively at world news – even on a regular basis – is not what God is instructing us. It is being alert that is crucial and in particular, alert to the spiritual aspects in what we see.
Conspiracy Theories:
The media is awash with conspiracy theories of every shade concerning the coronavirus and the latest one I heard was that it was originally released as an effective measure of putting a stop to the student riots in Hong Kong in a way that China didn't seem able to before. It's hard to discern these days between the truth being reported and fake news – so much can sound very credible. One thing we can totally rely on as being 100% accurate is that there indeed is a conspiracy behind what we are witnessing, but very few people in the western world today are aware of it.
Being brainwashed virtually from birth by the theory of evolution, the concept of a spirit world, a Creator God and a Higher Power is sadly lacking for millions. If the devil comes into the conversation at all, it'll probably be around Halloween time, when the kids have a bit of fun with trick and treat. But our minds have been opened to THE conspiracy against God that was engineered between Satan and his demons so very long ago, and we also know that his broadcast is still going out – ever more strongly as we approach the end of his reign.
So without a doubt there are spiritual battles being played out behind the news itself! The first "conspiracy" against humanity started back in the Garden of Eden, and at the time of Daniel, the archangel Gabriel pointed out that the evil spirit world had hindered his coming any sooner to answer his prayer:
But the prince of the kingdom of Persia withstood me one and twenty days: but, lo, Michael, one of the chief princes, came to help me; and I remained there with the kings of Persia. (Daniel 10:13)
Daily, Satan perseveres in his schemes to destory humanity and right at the end time, he'll pull out all stops to influence world events:
And the sixth angel poured out his vial upon the great river Euphrates; and the water thereof was dried up, that the way of the kings of the east might be prepared.
And I saw three unclean spirits like frogs come out of the mouth of the dragon, and out of the mouth of the beast, and out of the mouth of the false prophet.
For they are the spirits of devils, working miracles, which go forth unto the kings of the earth and of the whole world, to gather them to the battle of that great day of God Almighty. (Revelation 16:12-14)
And we certainly can't relax regarding our own spiritual condition either – we need to be on our guard, wide awake – " Be sober, be vigilant [1127]; because your adversary the devil, as a roaring lion, walketh about, seeking whom he may devour: (I Peter 5:8) And lions tend to pick off the weak, the stragglers, those that have become separated from the herd.
Aversion therapy:
At the very heart of the spiritual alertness we need towards what we are witnessing in today's world – one that is held captive by the adversary – is aversion therapy, which God is using to teach some vital lessons to mankind. God is a Creator who, when He does something, He "gets it right". Solomon points out:
"whatsoever God doeth, it shall be for ever: nothing can be put to it, nor any thing taken from it: and God doeth it, that men should fear before him." (Ecclesiastes 3:14)
That "fearing before Him" will ultimately lead to an eternity of joy. But for that to happen, every one of us -- every single human being that gains entry into God's Kingdom, His Family – is going to have to first get to the point that they will never want to go back to this way of Satan again. The way of get, selfishness, and greed. Ever! That is the very purpose of our physical existence at this time, and is almost certainly why this present age has not quite arrived at its close. This therefore behoves us all to stay alert spiritually.
There is an old saying...."A wise man learns from another's mistakes". We don't have to experience the entire gamut of problems ourselves to understand that not only does sin not pay but will in fact, exorably lead to misery and destruction in some way or other. And this lesson can be forcibly rammed home by observing the end result in the lives of others and we're given many examples in scripture to highlight this point.
For instance - was it really necessary for the Israelites of old to go through the first 3 plagues? They were, after all, carnal people who remained unaware of the spiritual lessons being taught at the time. Well, the answer has to be both yes ... and no, for the aversion therapy re. sharing the suffering inflicted on the Eygyptians wasn't a lesson primarily for them, but all these things were for our example, "and they are written for our admonition, upon whom the ends of the world are come." (1 Corinthians 10:11)
Could this current virtual worldwide lockdown from the coronavirus pandemic and its aftermath be something similar? The normal day-to-day lives of every one of us has been drastically affected – we church members suffer along with the general public. Is that one of the lessons we need to learn - compassion and empathy for the suffering of others? It certainly appears that God is making a point – one which the world is not aware of yet, but along with the inconveniences we are having to endure, we very much need to remain alert to the spiritual dimension at all times, and "open to suggestion" as to what God wants us to learn from this.
The Fig Tree:
Yet remaining alert to the spiritual dimension in no way precludes the need to physically watch, in the modern sense of the word. This fact is evident in the parable of the fig tree:
Now learn a parable of the fig tree; When his branch is yet tender, and putteth forth leaves, ye know that summer is nigh:
So likewise ye, when ye shall see all these things, know that it is near, even at the doors.
Verily I say unto you, This generation shall not pass, till all these things be fulfilled. (Matthew 24:32-34)
This parable is very clear that it is by seeing all the things prophesied, that we know the end time is close at hand. But the big danger is attempting to apply a purely physical approach to the process. Such a box-ticking approach would run something like the following: "OK, so we had the Berlin wall down and Germany re-united – tick. Europe's a major economy – tick. Brexit & UK leaving the EU – tick. THEREFORE a (purely human) conclusion would be...... " It is this last step which is fraught with danger and it goes against so much of what we have been taught in scripture. Passages such as:
Watch (1127) therefore: for ye know not what hour your Lord doth come....
...Therefore be ye also ready: for in such an hour as ye think not the Son of man cometh. (Matthew 24:42,44)
Being ready spiritually is primarily what is required...a change of heart and attitude, as brought out in the book of Micah: " He hath shewed thee, O man, what is good; and what doth the LORD require of thee, but to do justly, and to love mercy, and to walk humbly with thy God?"(Micah 6:8) As we have seen lately, "black swans" have a way of suddenly appearing on the scene and turning lives upside down, virtually overnight. The key is that we remain spiritually alert. The reason why the world as a whole is unaware of the diastrous direction in which it is heading is because of a lack of appreciation of a spirit world – a clash of mindsets, of the vicious and destructive broadcast pervading the very atmosphere – and so disaster can hit at any time:
Wherefore thus saith the Holy One of Israel, Because ye despise this word, and trust in oppression and perverseness, and stay thereon:
Therefore this iniquity shall be to you as a breach ready to fall, swelling out in a high wall, whose breaking cometh suddenly at an instant.
And he shall break it as the breaking of the potters' vessel that is broken in pieces; he shall not spare: so that there shall not be found in the bursting of it a sherd to take fire from the hearth, or to take water withal out of the pit. (Isaiah 30:12-14)
God's timing isn't going to be second-guessed by any human being!
Look up:
Should this depress us? The answer is given in Luke 21:28 "And when these things begin to come to pass, then look up, and lift up your heads; for your redemption draweth nigh." . The following few verses of Isaiah 30 show that God has a very different outcome for this present evil world, but it will take mankind acknowledging where they have gone wrong. In other words, seeing the spiritual dimension to their lives – acknowledging their faults, sins and rebellion against their Creator.
For thus saith the Lord GOD, the Holy One of Israel; In returning and rest shall ye be saved; in quietness and in confidence shall be your strength: and ye would not.
But ye said, No; for we will flee upon horses; therefore shall ye flee: and, We will ride upon the swift; therefore shall they that pursue you be swift.
One thousand shall flee at the rebuke of one; at the rebuke of five shall ye flee: till ye be left as a beacon upon the top of a mountain, and as an ensign on an hill.
And therefore will the LORD wait, that he may be gracious unto you, and therefore will he be exalted, that he may have mercy upon you: for the LORD is a God of judgment: blessed are all they that wait for him. For the people shall dwell in Zion at Jerusalem: thou shalt weep no more: he will be very gracious unto thee at the voice of thy cry; when he shall hear it, he will answer thee.
And though the Lord give you the bread of adversity, and the water of affliction, yet shall not thy teachers be removed into a corner any more, but thine eyes shall see thy teachers:
And thine ears shall hear a word behind thee, saying, This is the way, walk ye in it, when ye turn to the right hand, and when ye turn to the left. (Isaiah 30:15-21)
The end result will be so worth the heartache that must proceed it.
Our confidence:
As we witness this sad old world being brought to its knees, we need to keep in mind Paul's instuctions to the brethren in Ephesus:
And have no fellowship with the unfruitful works of darkness, but rather reprove them.
For it is a shame even to speak of those things which are done of them in secret.
But all things that are reproved are made manifest by the light: for whatsoever doth make manifest is light.
Wherefore he saith, Awake thou that sleepest, and arise from the dead, and Christ shall give thee light.
See then that ye walk circumspectly, not as fools, but as wise,
Redeeming the time, because the days are evil.
Wherefore be ye not unwise, but understanding what the will of the Lord is. (Ephesians 5:11-17)
We should certainly be well aware of an evil spirit world and how it's increasingly active at this end time – and that God's people and His way of life are its main target. But there is no need whatsoever for us to live in fear! As brought out at the beginning of the book of Job, Satan and his demons cannot do anything unless allowed by God. Their hands are well and truly tied. Satan did enter Judas Iscariot in an attempt to destroy the One that was destined to take over his throne, but we know that was in the Plan. As Christ mentioned to the apostle Peter: "Thinkest thou that I cannot now pray to my Father, and he shall presently give me more than twelve legions of angels?" (Matthew 26:53) God is in control, totally and utterly and from time to time, reminds us of that fact with some stunning examples:
Therefore the heart of the king of Syria was sore troubled for this thing; and he called his servants, and said unto them, Will ye not shew me which of us is for the king of Israel?
And one of his servants said, None, my lord, O king: but Elisha, the prophet that is in Israel, telleth the king of Israel the words that thou speakest in thy bedchamber.
And he said, Go and spy where he is, that I may send and fetch him. And it was told him, saying, Behold, he is in Dothan.
Therefore sent he thither horses, and chariots, and a great host: and they came by night, and compassed the city about.
And when the servant of the man of God was risen early, and gone forth, behold, an host compassed the city both with horses and chariots. And his servant said unto him, Alas, my master! how shall we do?
And he answered, Fear not: for they that be with us are more than they that be with them.
And Elisha prayed, and said, LORD, I pray thee, open his eyes, that he may see. And the LORD opened the eyes of the young man; and he saw: and, behold, the mountain was full of horses and chariots of fire round about Elisha. (II Kings 6:11-17)
So, as we see the prophecies unfold, let's never forget the spiritual dimension to what we are witnessing daily, but remain fully awake and alert drawing ever closer to God, with our eyes firmly fixed on the coming Kingdom, and knowing fully that "they that be with us are more than they that be with them".