Pastors Report - 24 Apr 2020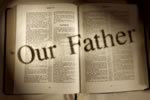 Christ and the Sample Prayer:
After this manner therefore pray ye: Our Father which art in heaven... (Matthew 6:9)
Along with "God so loved the world..." this section of scripture in the gospels of Matthew and Luke is without a doubt one of the most well known in the traditional Christian world today. And is also repeated word for word in their worship services each week, in spite of the previous verses discouraging "vain repetition". We realise that it is more of an outline, a framework on which to base our daily prayers, but have we ever considered that this would almost certainly be true of Jesus Christ as well? Obviously, in His prayers there would be a far greater depth of understanding that we can have at this time, but by examining each point from His perspective, it should help us gain an added dimension to ours.
Our Father:
That first word – in both locations where the sample prayer is given (Matthew 6 and Luke 11) is the word "Our". And on numerous occasions Christ expresses the close father/son relationship He held with this eternal Being and encourages us – His brothers and sisters – to address Him in the same way.
So by saying "Our Father", He's including us, and when we pray "Our Father" we are including Him – our elder brother, the firstborn of many brethren – and this profound concept sheds a different light on everything else that follows. As an example, notice how this shared relationship was at the forefront of His mind very shortly after His resurrection:
Jesus saith unto her, Woman, why weepest thou? whom seekest thou? She, supposing him to be the gardener, saith unto him, Sir, if thou have borne him hence, tell me where thou hast laid him, and I will take him away.
Jesus saith unto her, Mary. She turned herself, and saith unto him, Rabboni; which is to say, Master.
Jesus saith unto her, Touch me not; for I am not yet ascended to my Father: but go to my brethren, and say unto them, I ascend unto my Father, and your Father; and to my God, and your God. (John 20:15-17)
In John 14 – and right through the next three chapters, we are given even greater insight into this incredibly close spiritual relationship – one that we can find hard to totally grasp, and yet it is the reality:
At that day ye shall know that I am in my Father, and ye in me, and I in you.
He that hath my commandments, and keepeth them, he it is that loveth me: and he that loveth me shall be loved of my Father, and I will love him, and will manifest myself to him...
...Jesus answered and said unto him, If a man love me, he will keep my words: and my Father will love him, and we will come unto him, and make our abode with him. (John 14:20,21,23)
Which art in heaven:
The word translated as "heaven" also carries the meaning of on high, and comes from a root meaning lofty, indicating the position of power this Almighty God holds. Christ alone has had the privilege of actually existing alongside this awesome Being from eternity, and – unlike ourselves – no doubt could summon up vivid memories of His life "before", (John 17:5) and by so doing, would bring back to His mind the incredible source of power and influence He was addressing.
In a similar way we too must have our minds elevated to the reality of just who we are addressing – and the supremacy of the position the Father holds... a most vital concept that Job had to learn.
"Where were you when I laid the earth's foundation? Tell me, if you understand.
Who marked off its dimensions? Surely you know! Who stretched a measuring line across it?
On what were its footings set, or who laid its cornerstone—
while the morning stars sang together and all the angels shouted for joy? (Job 38:4-7 NIV)
And now at this time Christ Himself is very much included, sitting on the right hand of the Father, as brought out in Psalm 110 and quoted by Peter in his initial sermon on the day of Pentecost:
This Jesus hath God raised up, whereof we all are witnesses.
Therefore being by the right hand of God exalted, and having received of the Father the promise of the Holy [Spirit], he hath shed forth this, which ye now see and hear.
For David is not ascended into the heavens: but he saith himself, The LORD said unto my Lord, Sit thou on my right hand,
Until I make thy foes thy footstool. (Acts 2:32-35)
Hallowed be thy name:
As brought out in Philippians: "And being found in fashion as a man, he humbled himself" (Philippians 2:8) so when He found himself in human form, Christ would have been very much aware of the huge gulf between humanity and His Father – and so would always address this Being with tremendous respect... "for my Father is greater than I"... (John 14:28)
By addressing God as our Father in the opening phrase of this prayer, we're implying the right - alongside Christ! - to be His children, as brought out in gospel of John:
But as many as received him, to them gave he power [right or privilege] to become the sons of God, even to them that believe on his name:
Which were [begotten], not of blood, nor of the will of the flesh, nor of the will of man, but of God. (John 1:12.13)
And having addressed God as our Father initially, we are denoting that we're of the same family, having the same spiritual DNA – something which brings with it a heavy weight of responsibility! Just as Christ hallowed the name of His father by His perfect lifestyle and actions, then so must we.
Thy kingdom come:
After getting His mind focused on the central role of His Father, the very first thing Christ would mention was the goal that is given to all of us – seeking first the Kingdom of God and His righteousness (Matthew 6:33) .
More than any other human being in the whole of Satan's rule, Christ knew the incredible difference between the government of man - swayed by the mind of Satan - and the Government of God. The kingdom of God is the ruling Family of God, which will implement the government of God – a government that will transform the whole world and ultimately the whole universe by applying God's spiritual law – i.e. His loving lifestyle. Crucial in this process is the role of Christ Himself, who, for the joy that was set before Him, willingly died for our past sins – part of the Plan that was set in motion when Adam took the knowledge of good and evil to himself.
Even as a pre-teen, Christ was aware He had been given a vital job to do... "how is it that you sought me? Wist ye not that I must be about my Father's business?" (Luke 2:49) But throughout His adult life, surely He would think of how it was to end... on the cross. As mentioned in Luke's account: "But I have a baptism to be baptized with; and how am I straitened [under constraint] till it be accomplished!" (Luke 12:50) After addressing His Father in His prayer, His focus went immediately to the goal! Without Him there would be no additions to the Family of God, no future for mankind at all. The coming Kingdom of God was first and foremost in His mind as the driving force for all He needed to accomplish, and all that was to take place that day.
But he said unto them, I have meat to eat that ye know not of.
Therefore said the disciples one to another, Hath any man brought him ought to eat?
Jesus saith unto them, My meat is to do the will of him that sent me, and to finish his work.
Say not ye, There are yet four months, and then cometh harvest? behold, I say unto you, Lift up your eyes, and look on the fields; for they are white already to harvest. (John 4:32-35)
This has also to be why we too get up in the morning – realising that although we're currently strangers and pilgrims on this earth, the whole thrust of our existence is bound up in the coming Kingdom of God... and the job we are being prepared for:
In my Father's house are many mansions: if it were not so, I would have told you. I go to prepare a place for you.
And if I go and prepare a place for you, I will come again, and receive you unto myself; that where I am, there ye may be also. (John 14:2,3)
Thy will be done in earth, as it is in heaven:
Having been with God from "the beginning", Christ had experienced what happens when God's will is not done; "...I beheld Satan as lightning fall from heaven" (Luke 10:18) and also what happens when God's government is fully active and appreciated by the untold millions of other created beings. While living with mankind here on earth, He witnessed the misery and heartache that is inevitable when God's will is either totally disregarded and dismissed or just plain misunderstood. Christ's focus was 100% on doing His Father's will, and yearned for the time when the whole of humanity will reap the incredible blessing of doing so as well.
O thou afflicted, tossed with tempest, and not comforted, behold, I will lay thy stones with fair colours, and lay thy foundations with sapphires.
And I will make thy windows of agates, and thy gates of carbuncles, and all thy borders of pleasant stones.
And all thy children shall be taught of the LORD; and great shall be the peace of thy children.
In righteousness shalt thou be established: thou shalt be far from oppression; for thou shalt not fear: and from terror; for it shall not come near thee. (Isaiah 54:11-14)
And one reason for allowing mankind to have his own way these past 6,000 years is to experience aversion therapy... so we too can see without a doubt what happens when another god, with his grasping mindset, is ruling this world and when his will is being done – albeit in ignorance most of the time.
For the creature was made subject to vanity, not willingly, but by reason of him who hath subjected the same in hope,
Because the creature itself also shall be delivered from the bondage of corruption into the glorious liberty of the children of God. (Romans 8:20,21)
And how we long for that day!
Give us this day our daily bread:
Throughout the scriptures God encourages us to ask for what we need :
Ask, and it shall be given you; seek, and ye shall find; knock, and it shall be opened unto you:
For every one that asketh receiveth; and he that seeketh findeth; and to him that knocketh it shall be opened.
Or what man is there of you, whom if his son ask bread, will he give him a stone?
Or if he ask a fish, will he give him a serpent?
If ye then, being evil, know how to give good gifts unto your children, how much more shall your Father which is in heaven give good things to them that ask him? (Matthew 7:7-11)
But Christ's view of this was much broader than just our physical needs, as is brought out in John 6:58. So when He would talk to His Father using this framework, this section would be more expansive than just from our purely human perspective, and this is brought out in Luke's account: " If ye then, being evil, know how to give good gifts unto your children: how much more shall your heavenly Father give the Holy Spirit to them that ask him?" (Luke 7:13)
We should indeed take our requests to God, as Paul encourages us in Philippians 4:6, but keep uppermost in our minds that the most vital need we have each and every day is the indwelling and renewing of the Holy Spirit. Even Christ acknowledged that on His own He could do nothing (John 15:19) and yet so many times we attempt to battle our way through each day, to a great deal depending on our own human strength.
Labour not for the meat which perisheth, but for that meat which endureth unto everlasting life, which the Son of man shall give unto you: for him hath God the Father sealed. (John 6:27)
And Jesus said unto them, I am the bread of life: he that cometh to me shall never hunger; and he that believeth on me shall never thirst. (John 6:35)
And forgive us our debts, as we forgive our debtors:
Uniquely, for Jesus Christ, He lived without sin of any kind – though He was "...tempted in all points as we are, yet without sin" (Hebrews 4:15) . We can imagine Him using this segment of the sample prayer to discuss with the Father the various battles He was having living as a man. And this should help us in our own case, understanding that He was indeed able to perfectly leave things in God's hands, as witnessed by the apostle Peter and is recorded for us, as He was nailed to the cross.
Who, when he was reviled, reviled not again; when he suffered, he threatened not; but committed himself to him that judgeth righteously: (I Peter 2:23)
Then said Jesus, Father, forgive them; for they know not what they do. And they parted his raiment, and cast lots. (Luke 23:34)
Humanly, this can be one of the most difficult aspects of our Christian life, but with the indwelling of God's Holy spirit, we too can reflect this merciful and longsuffering approach to our fellow human beings. (Exodus 34:6)
As this section in Hebrews 4 goes on to explain, Christ knows our struggles and is more than willing to help us in the battles we have to face
For we have not an high priest which cannot be touched with the feeling of our infirmities; but was in all points tempted like as we are, yet without sin.
Let us therefore come boldly unto the throne of grace, that we may obtain mercy, and find grace to help in time of need. (Hebrews 4:14-15)
And lead us not into temptation, but deliver us from evil:
We can graphically see how Christ must have used this part of the prayer by His conduct in the Garden of Gethsemane, about to face His greatest trial. On this occasion, for three hours He concentrated on this segment but always on the condition that "not my will, but yours be done". That too should teach us how to apply this request for deliverance from our "sore trials" – it must always be within the scope of God's will:
And he went a little further, and fell on his face, and prayed, saying, O my Father, if it be possible, let this cup pass from me: nevertheless not as I will, but as thou wilt...
...He went away again the second time, and prayed, saying, O my Father, if this cup may not pass away from me, except I drink it, thy will be done...
...And he left them, and went away again, and prayed the third time, saying the same words. (Matthew 26:39,42,44)
We can see this is further amplified in the opening verses of James 1, which encourages us to view trials as an opportunity for spiritual growth – as hard as that may be. But that is why Christ - who understood this - used the proviso that God's will was paramount, knowing it is always, but always for our ultimate good.
For thine is the kingdom, and the power, and the glory, for ever. Amen:
We can well imagine how often Christ's mind must have gone back to the glory He once had with the Father before the world was (John 17:22,24). And so in closing His prayer, His understanding of these words would be vastly greater than ours. Nevertheless, if we can grasp Christ using this prayer framework Himself – and then teaching it to the disciples (which includes us) it should help us to expand the reality of just what prayer really is and the almost unbelievable privilege we have. When the veil of the temple was torn at His death, that gave us 24/7 access to the two Beings that created and currently uphold the universe, and who actually desire to share with us the kingdom, the power and the glory, as valued members of the ruling Family of God.
Then one said unto him, Behold, thy mother and thy brethren stand without, desiring to speak with thee.
But he answered and said unto him that told him, Who is my mother? and who are my brethren?
And he stretched forth his hand toward his disciples, and said, Behold my mother and my brethren!
For whosoever shall do the will of my Father which is in heaven, the same is my brother, and sister, and mother. (Matthew 12:50)
---