Pastors Report - 6 Jun 2020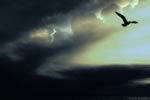 Peace – In a Gathering Storm:
"For thou hast been a strength to the poor, a strength to the needy in his distress, a refuge from the storm, a shadow from the heat, when the blast of the terrible ones is as a storm against the wall." (Isaiah 25:4)
It's amazing to think that something so infinitesimally small as the Covid-19 virus has changed society so much across the world - and our daily lives almost out of all recognition. But all indications are that the most serious changes are yet to come. This is how one leading commentator expresses it:
"I blame this fine weather" said Daniel Hannan in The Sunday Telegraph. "It lulls us into thinking that we're passing through a sunlit dreamtime, a holiday from reality after which things will get back to normal." But they won't. "Our problems are only just starting". The British economy has collapsed. The Chancellor, Rishi Sunak, warned this week that the UK is facing a recession "the likes of which we haven't seen" before. A new generation is about to learn "what mass unemployment feels like": claims for out-of-work benefits rose by 856,000 between March and April. We have taken on debt at a rate not seen since 1945. "The sums we are borrowing, hour by hour, will condemn us to decades of tax rises, inflation or both. No one is immune. If you're a pensioner, your pension will lose its value." If you're a public sector worker, your pay will go down. "If you have savings, they will be inflated away. If you're a student, you'll be working off these debts for the rest of your life." ("THE WEEK" magazine, 23 May 2020 page 4)
The above scenario shouldn't come as a total shock to any of us, as for a long time now we have tended to think that - like ancient Israel at the time of the plagues of Egypt - we won't escape totally unscathed from the first raft of problems ourselves. But this pandemic and its current aftermath has come out of a seemingly clear blue sky and there are very few people or families that have avoided any disruption to their lives.
Those of you in America are effectively experiencing 3 crises at once; a financial crash on a par with that of 1929; a pandemic potentially severe as the Spanish 'flu of 1918; and now race riots comparable to those following the assassination of Martin Luther King in 1968. They are all rolling into one and feeding off each other and people are fearful of the future and what it may hold. The question is though - as this is quite likely just the start of the upheaval to hit the whole world - how do we cope mentally, physically and spiritually as we find ourselves swept along within this gathering storm?
This Age's Experiment:
The chaos, disruption, misery and anguish we are now witnessing and will undoubtedly witness to a far greater extent are all vitally necessary. This closing period of our present age concludes the greatest experiment mankind has ever conducted - an experiment in living a way of life that is opposed to, and the antithesis of the way God reveals in His word. A 6000 year trial run in which man tests the validity of Satan's self-centred hypothesis of living. As Mr. Armstrong put it in his Last Great Day Sermon, in 1979:
Eve finally tried the first scientific experiment in this world. I wonder if you realize the tools of science? Of modern science?
1. The rejection of revelation from God as the source of knowledge. They will not receive knowledge from God.
2. Observation and measurement,
3. Experiment,
4. Human reason.
So, Eve rejected what God had said – that she would surely die if she took of that tree. She looked at it and had observation and reason. It looked desirable, good for food. It was beautiful. She couldn't see anything wrong with it, and she was not about to believe God when He said it was wrong. She was going to determine that for herself.
So, she used human reason, and then she decided to make an experiment. She TOOK of the tree to see what would happen. RESULT OF THAT FIRST SCIENTIFIC EXPERIMENT, SHE AND HER HUSBAND DIED and they're not living today. That was the first scientific experiment. ( Why the Holy Days, October 13, 1979)
But this key event was only the start! The same basic experiment has continued to be conducted down through the ages by succeeding generations of humanity with God's full knowledge and permission for He knows the inevitable outcome of such an approach. After all, He has seen it before within the angelic realm, and witnessed the resulting massive, universe-wide destruction. And therefore, as recorded in Matthew 24, God knows that the events to precede the return of Christ will be so catastrophic, that unless there is miraculous intervention, life – of all description – will be blasted off planet Earth.
Aversion Therapy for All:
Christ did not ask the Father to remove us from the world as this human experiment is taking place. (John 17:15) He knew there was a vital need for His people to live in and live through the insoluble problems we see around us. The process is called Aversion Therapy ... or as the dictionary defines the word 'aversion': " an intense dislike, an extreme repugnance "... something God ultimately wants within each of us against the entire way of Satan and all that way engenders.
In the run up to the Great Tribulation, we experience this 'therapy' as strangers and pilgrims in our progressively vile and godless societies - although we are not entirely immune to the repercussions of our own sins and those of others! Even so, the experience of the rest of the world is much more hands-on and drastic. This closing age will unfortunately be forced to taste the ultimate destination of a self-centred, satanic lifestyle when they begin to witness the cataclysmic events taking place. God deems this remedial treatment – this therapy – to be of such eternal importance that nothing must be allowed to stand in its way, but that it must run its full course - right through to the return of Christ at the last trump. He is wanting the best outcome for every human being, as brought out in II Peter: "The Lord is not slack concerning his promise, as some men count slackness; but is longsuffering to us–ward, not willing that any should perish, but that all should come to repentance." (II Peter 3:9)
In fact, it is the sole reason that God allows this present evil age to exist at all. And for us who find ourselves living during these closing stages, the required faith in the fact that God knows what He's doing in allowing such an horrendous and devastating time, and the patience to allow Him to do it with perfect timing, are both paramount. He alone has the big picture, the overall view of the incredible potential He wants to achieve through mankind, and if it takes suffering the full consequences of the wrong way of life to achieve it, then that is unfortunately what is going to have to take place.
Bootstraps not sufficient:
So what must we do and think as we face this gathering storm to avoid becoming completely overwhelmed by it? It's becoming more and more obvious that since the instigation of 'lockdown' and 'social distancing', illnesses connected to mental anguish and anxiety are on the rise. Certainly, the world presents its own solutions of one kind or another to try to counteract this fallout, but the world's solutions will only go so far. We do indeed have the ability to choose the way we think – whether negative or positive – and as we think, that is how we will be - for better or for worse! (Proverbs 23:7) But what we have to face in the future requires way, way beyond mere 'positive thinking'. We're looking at the sun, the moon, the very earth moving – increasing brightness seven fold one moment (Isaiah 30:26) and making it dark the next! (Joel 2:31) And "distress of nations" mentioned in Luke might even be thought an understatement. Wishing the rocks to fall on you means you are most certainly in severe mental anguish. (Luke 23:30)
Such things will bring the 'positive thinkers' and 'pull yourself up by your bootstrap' philosophers to see that their ideas – although perhaps humanly helpful in normal circumstances - are not able to stand up to the horrors that are coming. As Mr. Armstrong wrote ...
Great Tribulation Cut Short...
...The very first man God created, Adam, rejected the tree of life which meant reliance on God and the gift of eternal life from God. Instead he chose to rely on himself and his own mind to guide his life and solve all his problems. To this very day, the nations and the leaders of this world still try to rely on themselves and human attempts at solution of their escalating problems. The world still refuses to rely on God.
It is only when the world and its leaders have come to the place where they have to realize their utter helplessness before their own problems and that their only hope from here on is reliance on and obedience to God, that God will intervene and bring about the end of this world by sending Jesus Christ. (" Are we in the Last Days")
When all such human devices fail – both mental and physical – only then are men going to be forced to "look up" ...and to rely on God! How much better for us to be learning to do the same, day by day – in a positive way, in prayer and in faith – through our present trials, NOW.
Reliance on God's Word:
Prior to our repentance we had one of two approaches to God's Word, the Bible. Either we totally ignored it — looking at it as something totally incomprehensible and meaningless in this modern world — or we elevated ourselves over scripture, looking down on it and decided for ourselves which bits to accept and which bits to ignore, reject or 'massage' to our liking.
But with the about-face that took place at baptism, our relationship with God's Word dramatically changed. Our goal became to literally start living " by every word that proceeds out of the mouth of God" (Matthew 4:4). And as we began to believe it and submit to what it said, so it began to make more and more sense. As mentioned in II Corinthians. 3:14, from once being blinded, the "vail had been taken away". Our 'spiritual' eyes were opened and we could understand what we read and what is more, scripture became progressively ever more meaningful as its position relative to us moved — from something we looked down on to something we looked up to and placed what it had to say in complete authority over us. We could see that "God's way works" and we had a respect to that Word – a good and right godly fear - and a great appreciation of the promises it held.
Blessed is the man that trusteth in the LORD, and whose hope the LORD is.
For he shall be as a tree planted by the waters, and that spreadeth out her roots by the river, and shall not see when heat cometh, but her leaf shall be green; and shall not be careful in the year of drought, neither shall cease from yielding fruit. (Jeremiah 17:7,8)
Christ's Example:
But there is another vital principle we should take careful note of. The word of God has not only been given to us as the writings on the pages of the Bible but as a living, breathing example of how to correctly apply those words as well. Both in his gospel account and his epistles the apostle John captures this reality in a vivid way by recording the true origin of the Being that became Jesus Christ, the Logos, or the Word of God personified. Applying this principle to the dilemma of having peace in this gathering storm we can see Jesus Christ both encouraging us verbally as well as by example in the following two passages. Note carefully however, how in verse 32 of chapter 16 the true secret of the process is given:
Peace I leave with you, my peace I give unto you: not as the world giveth, give I unto you. Let not your heart be troubled, neither let it be afraid. (John 14:27 )
Behold, the hour cometh, yea, is now come, that ye shall be scattered, every man to his own, and shall leave me alone: and yet I am not alone, because the Father is with me.
These things I have spoken unto you, that in me ye might have peace. In the world ye shall have tribulation: but be of good cheer; I have overcome the world. (John 16:32,33)
As with Christ, so it is with us... we are not being left alone to face this uncertain future... "...and lo, I am with you always, even unto the end of the world..." (Matthew 28:20). Although God has hand-picked various individuals throughout the ages to serve Him in different areas, it's only since Christ came 2,000 years ago that we have been given an understanding of this intimate family relationship available between man and his God. No small wonder then that Satan works overtime to destroy the family, because as its best, it's a nurturing, safe environment, headed by a loving and concerned Father.
Day-tight compartments:
But there is much more we can glean from Christ's personal example. From the Genesis account of creation being accomplished in day-tight segments, to the command; "let not the sun go down upon your wrath" (Ephesians 4:26) God reinforces our need as human beings to live our lives within realistic day-tight compartments. And the very fact that we have time so usefully divided for us into these 24 hour segments at all should add weight to the truth of this – something further reinforced within the Scriptures themselves:
And God divided the light from the darkness. And God called the light Day, and the darkness he called Night. And the evening and the morning were the first day. (Genesis 1:4-5)
And God said, Let there be lights in the firmament of the heaven to divide the day from the night; and let them be for signs, and for seasons, and for days, and years: (Genesis 1:14)
Take therefore no [anxious] thought for the morrow: for the morrow shall take thought for the things of itself. Sufficient unto the day is the evil thereof. (Matthew 6:34)
Give us day by day our daily bread. (Luke 11:3)
Even worldly wisdom advises we don't try to "cross that bridge before you come to it" and it's clear that Christ followed His own advice while here on earth to take it a day at a time, concentrating on what was ahead that particular day – rather than constantly playing "but what if ..." for any future week, month or year. From the age of 12 it is clear He had an appreciation of why He was here on earth - a plan laid down from the foundation of the world (Revelation 13:8) But from what we see in the gospel accounts, He did not allow His mind to dwell on the horrendous events which would end His physical life until just a few hours before His crucifixion - well after sunset on Passover.
Future Focus:
Within His day-tight compartments Christ's overall focus always remained firmly on the Kingdom to come. Yes, He was distraught in the Garden of Gethsemane but even then, His mind consistently returned to the overarching will of His Father, the coming Kingdom of God, and all that that entailed for humanity – made possible by His impending sacrifice. This was the future focus that the apostle Paul points us to in Hebrews 12:2 as "the joy that was set before him" and that He Himself had prophesied He would possess within the closing verses of Psalm 22 – a prophetic psalm that deals extensively with events and His thoughts during the crucifixion:
The poor shall eat and be satisfied; Those who seek Him will praise the Lord. Let your heart live forever!
All the ends of the world Shall remember and turn to the Lord, And all the families of the nations Shall worship before You.
For the kingdom is the Lord's, And He rules over the nations.
All the prosperous of the earth Shall eat and worship; All those who go down to the dust Shall bow before Him, Even he who cannot keep himself alive.
A posterity shall serve Him. It will be recounted of the Lord to the next generation,
They will come and declare His righteousness to a people who will be born, That He has done this. (Psalm 22:26-31 NKJV)
The God of the Unexpected:
We find ourselves standing on the cusp of the end time tribulation with God's kingdom and its utopian rule just beyond our horizon. Between now and the end of this age we face an uncertain future, to say the least. We know that God is going to work it out in the best way possible but the details of how He is going to do that have not been revealed in the majority of cases. But as Hebrews 12:1 encourages us, we have within the pages of Scripture many witnesses who have had to face similar circumstances in the past. They too faced an uncertain future at times: Abraham, Jacob, Joseph, Jeremiah, Job, Elijah – all struggled to see God's hand with clarity on occasions. But with their lives recorded so faithfully in scripture, we can clearly see how they were being trained, even if they themselves could not much of the time.
But bringing it closer to home, have we not many times wondered... "I can't see how God can sort this out!" And no doubt that's been echoed down through the ages, and how God DID sort it out so many times has been recorded for our encouragement... and to our amazement. The classic example that first springs to mind is the crossing of the Red Sea - and even Moses might have wondered what on earth God had in mind at that juncture. But there are others: how would Jericho be conquered? Just "walking around the block" a few times? When Joshua was confronted with being outnumbered by the 5 kings of the Amorites, God promised him that he'd be delivered - and so he was... by "great stones from heaven" which killed the majority of the enemy and then the sun stood still so Joshua had time to finish off the job... "Joshua's long day" as recorded in Joshua chapter 10.
Another unexpected outcome is recorded for us in Daniel chapter 3 - Shadrach, Meshach, Abednego and the fiery furnace scenario. Who would have second-guessed that would happen? And into the New Testament, it appears it was astonishing to the Jews that God would actually call gentiles into the church ... and their apostle would be none other than the man who was so energetically persecuting the church ... Saul of Tarsus. And even more, that God would use him to write the majority of the New Testament epistles!
Our Confidence, our Peace:
No doubt in our own lives we can think back to incidents that have left us open-mouthed at how God intervened... "I never would have thought that would happen!". As Paul mentioned to the brethren in Ephesus; God is "... able to do exceeding abundantly above all that we ask or think, according to the power that worketh in us..." (Ephesians 3:20) One of the major problems with ancient Israel is that they limited God, and Psalm 78 is replete with their "I can't see how God can fix this!" moanings. As it says: "Yea, they turned back and tempted God, and limited the Holy One of Israel". (Psalm 78:41)
But if we take the time to mediate on what God has done for us personally, as well as the examples written in the Bible, we should be able to say with all confidence:
For I am persuaded, that neither pandemic, nor unemployment, nor poverty, nor race riots... nor angels, nor principalities, nor powers, nor things present, nor things to come,
Nor height, nor depth, nor any other created thing, shall be able to separate us from the love of God, which is in Christ Jesus our Lord. (Romans 8:38,39 paraphrased)
And it's the "love of God and of Christ" - both their love for us and their love IN us, changing us to be part of the God family - that is the whole point of the exercise. And continuing on in Isaiah 25, which is where we started, here is the positive and eventual outcome, so we can move forward in confidence, with the peace that passes all understanding, even as we witness the gathering storm ahead.
Thou shalt bring down the noise of strangers, as the heat in a dry place; even the heat with the shadow of a cloud: the branch of the terrible ones shall be brought low.
And in this mountain shall the LORD of hosts make unto all people a feast of fat things, a feast of wines on the lees, of fat things full of marrow, of wines on the lees well refined.
And he will destroy in this mountain the face of the covering cast over all people, and the vail that is spread over all nations.
He will swallow up death in victory; and the Lord GOD will wipe away tears from off all faces; and the rebuke of his people shall he take away from off all the earth: for the LORD hath spoken it. (Isaiah 25:5-8)