Pastors Report - 28 Aug 2020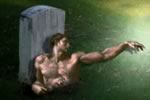 Hope Beyond the Grave:
"I know the plans I have in mind for you, declares the LORD; they are plans for peace, not disaster, to give you a future filled with hope." (Jeremiah 29:11 CEB)
A Profound Poem:
Just ten miles from where I currently write these words lies the Welsh village of Laugharne – home of the late poet Dylan Thomas, who penned the following lines as the beginning to probably his most famous poetic work ...
Do not go gentle into that good night,
Old age should burn and rave at close of day;
Rage, rage against the dying of the light ...
(full poem here; Dylan Thomas recital here)
This poem – undoubtedly spawned when considering his own father's eventual passing, whom Thomas specifically mentions in the final stanza – seems to strike a resonance with so many who similarly contemplate the human condition, which is probably why the work is so often recited at funerals here in the UK. And the irony is that the 'rage' against death found within the poem is becoming more and more pronounced as time goes on, as this once "Christian" nation becomes increasingly indoctrinated with all the rank futility found within the unguided materialistic evolutionary concept, leaving society hopeless and helpless before its problems and facing an increasingly bleak future. It's a situation that cannot possibly lessen the rage, but will only increase it, as daily we are bombarded with news of wars, violent demonstrations, murders, catastrophes, floods, hurricanes, famines, genocides ... and a pandemic which appears to have no end in sight. Most just want to live their lives in peace and quiet – but more and more we're being faced with danger and untimely death. No wonder people rage at the unfairness of it all!
The Human Condition:
People talk of "the human condition", but how many really understand what that term actually means? Here is one fairly accurate assessment from an on-line psychology website:
The human condition encompasses the totality of the experience of being human and living human lives. As mortal entities, there are a series of biologically determined events which are common to most human lives, and some which are inevitable for all. The ongoing way in which humans react to or cope with these events is the human condition. However, understanding the precise nature and scope of what is meant by the human condition is itself a philosophical problem.
The term is also used in a metaphysical sense, to describe the joy, terror and other feelings or emotions associated with being and existence. Humans, to an apparently superlative degree amongst all living things, are aware of the passage of time, can remember the past and imagine the future, and are intimately aware of their own mortality. Only human beings are known to ask themselves questions relating to the purpose of life beyond the base need for survival, or the nature of existence beyond that which is empirically apparent: What is the meaning of existence? Why was I born? Why am I here? Where will I go when I die? The human struggle to find answers to these questions — and the very fact that we can conceive them and ask them — is what defines the human condition in this sense of the term. ( Human condition, Psychology Wiki)
The true answers to these BIG questions of life are currently hidden from mankind – deliberately! At the close of the year, the book of Ecclesiastes was traditionally read at Feast time, as it brings out the futility of this physical life from a purely human perspective – which for all of us is going to come to an end:
Surely the fate of human beings is like that of the animals; the same fate awaits them both: As one dies, so dies the other. All have the same breath ; humans have no advantage over animals. Everything is meaningless.
All go to the same place; all come from dust, and to dust all return.
Who knows if the human spirit rises upward and if the spirit of the animal goes down into the earth?
So I saw that there is nothing better for a person than to enjoy their work, because that is their lot. For who can bring them to see what will happen after them? (Ecclesiastes 3:19-22 NIV)
And why this particular book at the Feast? Because part of the meaning of the Feast of Tabernacles (or tents) that God wants us to 'get' is the temporary 'tent-like' nature of man, and the futility of the physical riches we may accumulate along the way – none of which we can we take with us! In ancient times, the pharaohs tried to do so with their heavily guarded tombs, and in this day and age, some are putting hope in literally being 'frozen' via cryonics to be brought back to life at a later date. But as Psalm 49 brings out:
Hear this, all you peoples; listen, all who live in this world,
both low and high, rich and poor alike ...
... those who trust in their wealth and boast of their great riches?
No one can redeem the life of another or give to God a ransom for them—
the ransom for a life is costly, no payment is ever enough—
so that they should live on forever and not see decay.
For all can see that the wise die, that the foolish and the senseless also perish, leaving their wealth to others.
Their tombs will remain their houses forever, their dwellings for endless generations, though they had named lands after themselves.
People, despite their wealth, do not endure; they are like the beasts that perish. (Psalm 49:1,2,6-12 NIV)
As the Wiki quote above mentions: "Humans, to an apparently superlative degree amongst all living things, are aware of the passage of time, can remember the past and imagine the future, and are intimately aware of their own mortality" ... and in most cases, without any concrete hope for life beyond this frail existence.
A World in Bondage:
I will always remember listening to an interview with a young British RAF pilot who found himself having to dog-fight in one of the recent Middle East wars. He was verbally reflecting on his own mortality – that in a split second his life could be cut short by a guided missile from the enemy. In his own words he contemplated moving from being a fully-functioning human to absolutely nothing – not existing – as that was the only belief he held. And this is the bondage that so many are under today. This young man was being forced to think about the brevity of life by the nature of his job, but most people run away from such thoughts. However, with Covid 19 stalking the earth – plus escalating violence near and far, more people are being forced to think about life, death and if there is indeed any 'hereafter'. And this is destined to both continue and intensify – certainly when we come to the Tribulation when nine out of ten people appear destined to lose their lives.
Forasmuch then as the children are partakers of flesh and blood, he also himself likewise took part of the same; that through death he might destroy him that had the power of death, that is, the devil;
And deliver them who through fear of death were all their lifetime subject to bondage. (Hebrews 2:14,15)
Christ was fully cogniscent of this bondage that the society of His day was burdened with. At the death of Lazarus He was deeply moved by the misery He witnessed:
When Jesus therefore saw her weeping, and the Jews also weeping which came with her, he groaned in the spirit, and was troubled,
And said, Where have ye laid him? They said unto him, Lord, come and see.
Jesus wept.
Then said the Jews, Behold how he loved him!
And some of them said, Could not this man, which opened the eyes of the blind, have caused that even this man should not have died?
Jesus therefore again groaning in himself cometh to the grave. It was a cave, and a stone lay upon it. (John 11:33-38)
And Christ was also deeply moved when contemplating the immediate future that He knew Jerusalem was facing – the war to come and the death and destruction that would accompany it:
And when he was come near, he beheld the city, and wept over it,
Saying, If thou hadst known, even thou, at least in this thy day, the things which belong unto thy peace! but now they are hid from thine eyes.
For the days shall come upon thee, that thine enemies shall cast a trench about thee, and compass thee round, and keep thee in on every side,
And shall lay thee even with the ground, and thy children within thee; and they shall not leave in thee one stone upon another; because thou knewest not the time of thy visitation. (Luke 19:41-44)
As we watch the world scene and see the chaos and misery increase on a day by day basis, we too can feel a deep sorrow for the suffering we witness. But even more than that – a great appreciation for the knowledge God has given to His church – that there is a future for mankind and if we stay the course, we will be in a position of passing on this understanding, this hope, to free a world currently held captive.
A Present Hope:
Since the Feast last year we have lost several dear friends within both COGiW and the wider church – but do not mourn as those who currently have no hope. That hope, for all, is the resurrection of the dead.
But I would not have you to be ignorant, brethren, concerning them which are asleep, that ye sorrow not, even as others which have no hope.
For if we believe that Jesus died and rose again, even so them also which sleep in Jesus will God bring with him.
For this we say unto you by the word of the Lord, that we which are alive and remain unto the coming of the Lord shall not [precede] them which are asleep.
For the Lord himself shall descend from heaven with a shout, with the voice of the archangel, and with the trump of God: and the dead in Christ shall rise first:
Then we which are alive and remain shall be caught up together with them in the clouds, to meet the Lord in the air: and so shall we ever be with the Lord
Wherefore comfort [GK: console, encourage, strengthen] one another with these words. (I Thessalonians 4:13-18)
Not only are we instructed by Paul in this passage not to sorrow as others that have no such hope, but to approach the subject from the positive perspective as well – that of comforting one another with the breathtaking truth. And as the return of Christ draws ever closer and that wordly rage increases, so conversely that comfort is also destined to grow, because that means our rescue is that much closer! And that rescue is for the privilege of being able to impart such encouraging and reassuring truth to those brought through the Tribulation – that they have not lost their loved ones for ever! And what comfort will we personally witness when at the Last Great Day, those billions resurrected will find themselves surrounded by people they too thought they'd never see again.
The crucial point is the astounding extensive nature of this sure hope ... something that will be offered to every single human being that has ever lived ... the offer of eternal life for themselves and their loved ones through a resurrection from the dead. Now some religions of this world have their own take on life after death – possibly becoming one with the universe in a kind of nirvana or coming back to this earth in a different life form or drifting off to heaven to do who knows what, but what religion understands a resurrection to physical human life? That this is not the only day of salvation and those that haven't been given the opportunity to learn the way of God in this life, are not lost, but will simply have their chance at a later time. This is really an astounding statement – the incredible meaning of the Last Great Day – and is firmly centred around God's ability and willingness to resurrect from the dead.
And a Future Reality:
As of now the world lies in darkness on this point, and when faced with death and a funeral service, all that remains for the vast majority is a reminder of what kind of person this individual was in his or her life and how much they achieved and hopefully were loved by so many. And to be grateful for their life, which to all intents and purposes, is now over. Such sentiments are not wrong, but they don't answer the real questions ... Why? Why had the deceased been given life in the first place? Why have any of us been given this brief physical, chemical existence? What is it for? If – as some religions believe – there is the most wonderful afterlife in heaven or similar, what's the purpose of this present vale of tears? Why not allow the devotees of any or all religions to avoid the rest of this human life of struggle and take them to their reward there and then?
The world has no clue ... no idea whatsoever, but those that God has called don't have to bear the burdens that the rest of humanity presently do. We've been released from "the house of bondage", and sometimes it takes attending a worldly funeral to make us realise what an incredible blessing we have been given with this understanding, and to just how profound such basic truth really is ... that the dead are not lost for ever, but are currently asleep. And even that precious nugget of understanding points us to much more, that the dead are in fact awaiting the right time to be awakened from that sleep. The resurrection is a reality! As the psalmist continues in Psalm 49:
Like sheep they are laid in the grave; death shall feed on them; and the upright shall have dominion over them in the morning; and their beauty shall consume in the grave from their dwelling.
But God will redeem my soul from the power of the grave: for he shall receive me. Selah . (Psalm 49:14,15)
For since by man came death, by man came also the resurrection of the dead.
For as in Adam all die, even so in Christ shall all be made alive.
But every man in his own order: Christ the firstfruits; afterward they that are Christ's at his coming. (I Corinthians 15:21
And once resurrected – literally a whole new world opens up for mankind. For the firstfruits, it will be spirit life, for the vast majority of humanity, their first chance at understanding why they were born – and the future God has in mind for them.
God's Plan for Mankind:
From the banishment of Adam and Eve from the Garden of Eden, thereby barring access to the Holy Spirit – God has allowed this world to go its own way, to reap the 'rewards' of taking the wrong tree, and to be in ignorance of the true purpose of human life. But along with a mind so vastly superior to that of the animal kingdom, God has also put in mankind a yearning for more than just this threescore and ten, and for some kind of meaning to our existence:
He has made everything beautiful in its time. Also He has put eternity in their hearts, except that no one can find out the work that God does from beginning to end. (Ecclesiastes 3:11 – NKJV)
And within the pages of the world's bestseller, God does indeed reveal a purpose for human life – a Plan encapsulated within the annual Holy Days, which picture a series of human harvests, via resurrections. But by throwing out the Holy Days man also has thrown out any understanding of a future life of joy and accomplishment. And by replacing the true Gospel with one about the person of Christ and not His message, "christianity" has effectively done away with the Kingdom of God ... which unbeknown to them is their future.
Our job in the future will undoubtedly include encouraging a world that is currently under bondage to have confidence in the resurrection process, as God showed Ezekiel:
He said to me, "Son of man, these bones are the entire house of Israel. They say, 'Our bones are dried up, and our hope has perished. We are completely finished.'
So now, prophesy and say to them, The LORD God proclaims: I'm opening your graves! I will raise you up from your graves, my people, and I will bring you to Israel's fertile land.
You will know that I am the LORD, when I open your graves and raise you up from your graves, my people.
I will put my breath in you, and you will live. I will plant you on your fertile land, and you will know that I am the LORD. I've spoken, and I will do it. This is what the LORD says." (Ezekiel 37:11-14 CEB)
Those that arise in the second resurrection will have spent a lifetime – however long or short – either without any hope at all, or at best one that is generally meaningless and more wishful thinking. They might well have spent their last years raging against what they see as the unfairness of life – and therefore of God Himself. But by this time – the end of the Millennial period – there will be millions of converted God beings to work with these misguided and formerly blinded humans and they'll be given the sure hope that we currently have. That there is indeed life and hope beyond the grave – and more than that, the most incredible future for humanity.
The Hope of the Patriarchs:
As much as mankind might rage against the 'dying of the light' and the inevitability and inconveniences of the ageing process, one basic truth is unmoveable ... that " ... dust though art, and unto dust shalt thou return" (Genesis 3:19). But those God has worked with over the past 6000 years did have hope – knowing death is not the end. When God talked to Moses in Deuteronomy 33 and discussed that he was to die in the mount, it is inconceivable that God hadn't told Moses about his future resurrection, and a future for the people of Israel (Psalm 90). In perhaps the oldest book of the Bible, Job reveals his understanding (Job 14:15), and king David also understood what his future would hold (Psalm 17:15). This unshakeable hope for a life beyond this present evil world was the bedrock of the faith of those mentioned in Hebrews 11:
These all died in faith, not having received the promises, but having seen them afar off, and were persuaded of them, and embraced them, and confessed that they were strangers and pilgrims on the earth.
For they that say such things declare plainly that they seek a country.
And truly, if they had been mindful of that country from whence they came out, they might have had opportunity to have returned.
But now they desire a better country, that is, an heavenly: wherefore God is not ashamed to be called their God: for he hath prepared for them a city. (Hebrews 11:13-16)
Even without the detailed understanding of His plan for mankind, which God has revealed in these last days, these men and women of God knew there was more to life than just the present, and they lived their lives accordingly ... keeping their eyes on the future, and yearning for that better resurrection (Hebrews 11:35)
The Hope of the Apostles:
The apostles and the disciples were eye-witness of Christ's resurrection (see Acts 1:22, 2:32, 3:15, 4:33, 5:32, 10:41, 13:31) and as brought out by Paul; "And declared to be the Son of God ... by the resurrection from the dead" (Romans 1:4) It's also worth remembering that all of the apostles with the possible exception of John were martyred which should tell us the strength of their beliefs. This wasn't just a vague, wishy-washy hope they had! They were willing to put their lives on the line for what they had literally witnessed and therefore believed – to the end.
For I am now ready to be offered, and the time of my departure is at hand.
I have fought a good fight, I have finished my course, I have kept the faith:
Henceforth there is laid up for me a crown of righteousness, which the Lord, the righteous judge, shall give me at that day: and not to me only, but unto all them also that love his appearing. (II Timothy 4:8)
And to underline the reality of spirit life to come, Christ made a point of showing His apostles and disciples what a resurrected Being was like ... what they too could become:
Behold my hands and my feet, that it is I myself: handle me, and see; for a spirit hath not flesh and bones, as ye see me have.
And when he had thus spoken, he shewed them his hands and his feet.
And while they yet believed not for joy, and wondered, he said unto them, Have ye here any meat?
And they gave him a piece of a broiled fish, and of an honeycomb.
And he took it, and did eat before them. (Luke 24:39-43)
Hope in 2020:
This sure hope of life beyond the grave – rescue from this frail existence – is of utmost importance to each and every one of us within The Church, as we battle within the depressing and sobering events that we see around us now, and with the knowledge that they are going to get so much worse before life gets better. Apart from the state of the world, each day seems to present its own personal trials and problems as well, and it would be all too easy to be overtaken with such cares of this life. So how to cope? We've never talked face to face with God, as Moses did. We've not witnessed Christ's resurrected spirit body, as did the apostles. Without God's Holy Spirit working in our lives, we'd be in the same boat as the world, to merely 'rage, rage against the dying of the light'.
With the autumn Holy Days fast approaching, we'll shortly have the priceless opportunity to immerse our minds in the reality of the soon-coming Kingdom of God and what that will mean for mankind – but not only mankind in general, but for us also! It's vital that this hope LIVES in our present daily lives, staying the course with the help of God – as our salvation is nearer now than when we first believed (Romans 13:11), and Christ assures us He will never leave us or forsake us (Hebrews 13:5)
I know the plans I have in mind for you, declares the LORD; they are plans for peace, not disaster, to give you a future filled with hope.
When you call me and come and pray to me, I will listen to you.
When you search for me, yes, search for me with all your heart, you will find me. (Jeremiah 29:11 CEB
Finally the at-one-ment shall be completed. Both God the Father and the Son Jesus Christ in us and we united with them as the one great supreme God family.
How wonderful beyond the ability of words to express is the glory of God and his wonderful purpose actually now in progress. Praise, honor and glory be to God and to Jesus Christ forever and forever. With God's great master plan of seven thousand years finally completed – the mystery of the ages finally revealed, and with the re-creating of the vast universe and eternity lying ahead, we come finally to
THE BEGINNING.