Pastors Report - 20 Nov 2020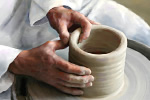 In Earthen Vessels:
"As a father pitieth his children, so the LORD pitieth them that fear him. For he knoweth our frame; he remembereth that we are dust." (Psalm 103:13,14)
The Duality of Life:
In 1 Corinthians 15 – the 'resurrection chapter' – the apostle Paul makes very clear the dual nature of our life. The aim of both Christ and the Father is to enable us to have inherent spirit-born life, of the kind they themselves enjoy and referred to in this passage as "that which is spiritual" (verse 46). But before this is possible, it is important that we both understand and appreciate the life we presently experience – "that which is natural, from the earth, earthy."
It is sown a natural body; it is raised a spiritual body. There is a natural body, and there is a spiritual body.
And so it is written, The first man Adam was made a living soul; the last Adam was made a quickening spirit.
Howbeit that was not first which is spiritual, but that which is natural; and afterward that which is spiritual.
The first man is of the earth, earthy: the second man is the Lord from heaven.
As is the earthy, such are they also that are earthy: and as is the heavenly, such are they also that are heavenly.
And as we have borne the image of the earthy, we shall also bear the image of the heavenly. (I Corinthians 15:44-49)
From "dust thou art" at Adam's physical creation, and on throughout the Bible God reminds us of our humble beginnings. Job referred to " ... them that dwell in houses of clay, whose foundation is in the dust, which are crushed before the moth?" (Job 4:19 ) And as God points out in Isaiah 45:
Woe unto him that striveth with his Maker! Let the potsherd strive with the potsherds of the earth. Shall the clay say to him that fashioneth it, What makest thou? or thy work, He hath no hands? (Isaiah 45:9)
One key reason for being made thus is so we can change, but there are also other aspects we should keep in mind ...
Life's Purpose:
Each year in the church we rehearse the very meaning of life as we celebrate the Holy Days, which are very forward looking – focused on the spirit life that is up ahead for us as members of the very Family of God, and rescue for the human race. But I wonder if we sometimes fail to truly grasp the necessity of understanding – and fully appreciating – our current physical existence?
In our day-to-day lives we are faced with challenges, problems and often severe trials. What we really long to do – and often pray to that end – is to have them rectified ... ie. escape them as quickly as possible. Whereas God looks at the situation in a very different way from us, because most times 'escape' doesn't come about as speedily as we'd like! When Christ uttered the immortal words in the garden of Gethsemane "... take away this cup from me: nevertheless not what I will, but what thou wilt." (Mark 14:36) He humanly would have appreciated a 'get out clause' – any possibility of escape from what He knew was coming, but He also recognised that the very purpose of His existence was nearing its conclusion, as the Saviour for all mankind.
Do we in similar fashion, as mere earthen vessels, keep in mind that the very purpose of our physical chemical existence now – as the end time around us approaches its conclusion – is to be ready as the teachers of the future, alongside our Elder Brother?
Since the children have flesh and blood, he too shared in their humanity so that by his death he might break the power of him who holds the power of death—that is, the devil—
and free those who all their lives were held in slavery by their fear of death.
For surely it is not angels he helps, but Abraham's descendants.
For this reason he had to be made like them, fully human in every way, in order that he might become a merciful and faithful high priest in service to God, and that he might make atonement for the sins of the people.
Because he himself suffered when he was tempted, he is able to help those who are being tempted. (Hebrews 2:14-18 NIV)
Old Age:
Many of us are now finding ourselves in a position we never expected – that of having to deal with the problems of old age. When we first came into the church we certainly foresaw the need to overcome the world as Ambassadors of a New Age, which we anticipated was just over the horizon. But it didn't quite work out that way! And God has not seen fit to allow us to escape the frailties, disabilities and bereavements that so often accompany the ageing process. But we shouldn't have been surprised – as with the exception of those that were martyred, most of God's people before us have had to face the same trial.
By the time Isaac decided to give the blessing to his son Esau, he had become blind in his old age, enabling Jacob to deceive him. In a similar way, before Jacob died, he too went blind, crossing his hands when it came time to bless Ephraim and Manasseh. In the case of king David, at the age of 70 he was described as "old and stricken in years" (I Kings 1:1). But in spite of old age, illness, bereavement etc, God had not abandoned His people. He never stopped working with them and caring for them and promises it will be the same with us;
And even to your old age I am he; and even to hoar hairs will I carry you: I have made, and I will bear; even I will carry, and will deliver you. (Isaiah 46:4)
As we age our physical strength diminishes, and 'the bloom of youth' certainly fades! Our mind becomes more tuned towards what is beyond this life and the vital necessity of God's help to not only get through each day, but to continue to achieve and grow. Often it's only the ageing process that drives home to us how short this life is and what really is important, and it's definitely not 'things'. If there is one chapter in one book of the Bible that addresses the shortcomings of ageing, it has to be Ecclesiastes 12, which encourages us all to "Remember now thy Creator in the days of thy youth, while the evil days come not, nor the years draw nigh, when thou shalt say, I have no pleasure in them;" (Ecclesiastes 12:1)
Even though the coming Millennium promises to be free of the sicknesses that so often accompany ageing, the indication is that during this time also there will still be old men and women – having to use a cane or staff for support – as there will still be much for them to learn from the ageing process:
Thus saith the LORD; I am returned unto Zion, and will dwell in the midst of Jerusalem: and Jerusalem shall be called a city of truth; and the mountain of the LORD of hosts the holy mountain.
Thus saith the LORD of hosts; There shall yet old men and old women dwell in the streets of Jerusalem, and every man with his staff in his hand for very age.
And the streets of the city shall be full of boys and girls playing in the streets thereof. (Zachariah 8:3-5)
"That you might have Peace:"
How can we possibly effectively handle the trials, heartaches, challenges and stresses, when simultaneously limited by this very physical body that is basically dying each day we live? This is a reality that particularly hits home as we approach – and pass – the threescore and ten generally allotted to mankind. But Jesus Christ Himself encourages us with a promise of peace when we have to face such things:
These things I have spoken unto you, that in me ye might have peace. In the world ye shall have tribulation: but be of good cheer; I have overcome the world. (John 16:33)
The things He had just spoken to them about concerned the actions of the Holy Spirit, and specifically the way it would not speak of itself but would impart to them the information Christ Himself wanted them to have (John 16:13,14). And as He then continues a few verses further on:
And the glory which thou gavest me I have given them; that they may be one, even as we are one:
I in them, and thou in me, that they may be made perfect in one; and that the world may know that thou hast sent me, and hast loved them, as thou hast loved me. (John 17:22,23)
Again – we're encouraged at the end of the gospel of Matthew that He would be with us always, even to the end of the age. (Matthew 28:20) And the way that is possible is through the Holy Spirit. This is why – even though He points out that we'd all have trials in this world – we can still be of good cheer and have peace because we are not facing them alone. And the One who is with us has already overcome the world.
The Power of God:
The analogy of likening us to an earthen vessel comes from a passage in II Corinthians 4. In the preceding chapter the apostle Paul is explaining the ongoing process of conversion – changing the basic self-centred character of a carnal human being into that of a God-being:
Now the Lord is that Spirit: and where the Spirit of the Lord is, there is liberty.
But we all, with open face beholding as in a glass the glory of the Lord, are changed into the same image from glory to glory, even as by the Spirit of the Lord. (II Corinthians 3:17,18)
He then elaborates on this concept in chapter 4, explaining how the light of the character of Christ can then be expressed in each of the faces of those going through this conversion process, ending with the verse " But we have this treasure [this priceless process and the godly reactions that flow from it] in earthen vessels, that the excellency of the power may be of God, and not of us" (II Corinthians 4:7).
The key point is not merely the weakness of the earthen vessels but what those vessels are daily being filled with ... the power of the Holy Spirit! Paul then goes on to explain how our reactions and perceptions in the trials we face should correspondingly change as our understanding and conversion grows. And for Paul what he then goes on to explain in the next two verses of chapter 4, was not just book learning – mere academic understanding – by any means, but what he himself was having to regularly deal with. (For a list of some of the things he personally went through, check out II Corinthians 11:24-29!)
"Yet not Distressed":
"We are troubled on every side, yet not distressed" (II Corinthians 4:8)
The translation in the King James version does not carry the full intent of the original. The words translated as "troubled on every side" would be better expressed as being squashed or squeezed from every direction. And the phrase translated as "not distressed" carries with it the inference of not being totally crushed. One particular translation that carries this concept well is the Aramaic Bible in Plain English, which says: "For we are squeezed in all things but we are not strangled.."
Naturally speaking an earthen vessel is easily broken – either by too hot an oven, or dropping it onto a hard surface. And in the outside world today, the 'heat is on' to a great degree for so many, with the covid-19 restrictions, which are not only damaging businesses and relationships – but driving some to suicide as they see their life's work ruined, their families separated and their homes repossessed.
However, the source of OUR strength cannot come from ourselves as mere "houses of clay", and it's vital that we recognise this, or we too will suffer mentally and emotionally. We have to remember the TRUE source of our strength:
Abide in me, and I in you. As the branch cannot bear fruit of itself, except it abide in the vine; no more can ye, except ye abide in me.
I am the vine, ye are the branches: He that abideth in me, and I in him, the same bringeth forth much fruit: for without me ye can do nothing. (John 15:4,5)
For God hath not given us the spirit of fear; but of power, and of love and of a sound mind (II Timothy 1:7)
"But Not in Despair":
"we are perplexed, but not in despair" (II Corinthians 4:8)
Once again, the original two words being used carry a little more meaning which links them together. "Perplexed" (Gk aporeo) carries with it the idea of "being without resources" ... i.e. not knowing which way to turn when things are going wrong. But we're not in despair ... "utterly destitute of measures or resources" (Strongs 1820) because we know that God, as the Master of Timing, will step in and see us through. With God nothing is impossible and nothing too hard for Him to do. (Genesis 18:14, Jeremiah 32:27)
A classic example of God stepping in and rescuing His people was at the Red Sea. Ancient Israel obviously felt they didn't know which way to turn ... totally 'without resources', but the impossible happened – and was recorded for our learning:
And Moses said unto the people, Fear ye not, stand still, and see the salvation [rescue] of the LORD, which he will shew to you to day: for the Egyptians whom ye have seen to day, ye shall see them again no more for ever.
The LORD shall fight for you, and ye shall hold your peace. (Exodus 14:13,14)
"But Not Forsaken"
"Persecuted, but not forsaken" (II Corinthians 4:9)
We can see this in action in the Book of Acts when Paul and Silas, having been beaten were then thrust into prison. But their reaction was not a normal human reaction – and the surrounding prisoners certainly noticed this, as recorded in Acts 16:
And when they had laid many stripes upon them, they cast them into prison, charging the jailor to keep them safely:
Who, having received such a charge, thrust them into the inner prison, and made their feet fast in the stocks.
And at midnight Paul and Silas prayed, and sang praises unto God: and the prisoners heard them. (Acts 16:23-25)
Why could Christ encourage us to have peace in verse 33 of John 16, even in such difficult circumstances? The previous verse explains:
Behold, the hour cometh, yea, is now come, that ye shall be scattered, every man to his own, and shall leave me alone: and yet I am not alone, because the Father is with me. (John 16:32)
And that is what Paul and Silas also understood "I will not leave you comfortless: I will come to you" (John 14:18). At the end of the book of Hebrews, no doubt through personal experience, Paul was able to write:
Let your conversation be without covetousness; and be content with such things as ye have: for he hath said, I will never leave thee, nor forsake thee.
So that we may boldly say, The Lord is my helper, and I will not fear what man shall do unto me. (Hebrews 13:5,6)
"But Not Destroyed":
"cast down, but not destroyed" (II Corinthians 4:9)
Or as another translation graphically puts it: "We are knocked down, but we aren't knocked out" (II Corinthians 4;9 CEB)
How many times have we felt "I can't take any more ... ", "this is just too much pressure ... ", "this is just not working!" We might feel we just can't go on – life has become too hard, but we are able to call on supernatural help, as the apostle Paul understood:
Seeing then that we have a great high priest, that is passed into the heavens, Jesus the Son of God, let us hold fast our profession.
For we have not an high priest which cannot be touched with the feeling of our infirmities; but was in all points tempted like as we are, yet without sin.
Let us therefore come boldly unto the throne of grace, that we may obtain mercy, and find grace to help in time of need. (Hebrews 4:14-16)
Many of us, over the years can attest to the truth of the following encouragement given to the church in Corinth. This 'escape' happens in a multitude of ways, and varies from person to person, but it does happen:
There hath no temptation [trial, adversity, affliction, trouble] taken you but such as is common to man: but God is faithful, who will not suffer you to be tempted above that ye are able; but will with the temptation also make a way to escape, that ye may be able to bear it. (I Corinthians 10:13)
God the Master Potter:
We're all earthen vessels – vividly described in Hebrew as "dust, earth, powder, rubbish, ashes, mortar, ground" (Strongs 06083). Indeed, "... if a man think himself to be something, when he is nothing he deceiveth himself" (Galatians 6;3) And what we need to keep in mind too is that our fellow brethren – our fellow potsherds – they too are struggling in this life. We need to give each other space and time to change ... as we are all merely 'a work in progress'. Some may be a little further along the 'production line' in certain areas, often depending on age and experience, and even personality and family background. And some – as we have witnessed this past year – have had their final 'firing' and are now being safely stored by God, to be used in the near future when Christ returns. But meanwhile, we who have yet to arrive at that point, need to have confidence in the fact we're not having to battle through this life alone and should learn to relax in God's most capable hands – as Mr Armstrong, who himself was certainly no stranger to the trials and problems of this life, explains:
Now I overlooked some very important scriptures. One is how God is the Potter and we are the clay and He can fashion and mold us; we are the work of His hands but we must submit. Now I had to take a little therapy. I had a very bad knee yesterday. And my left knee is heavily wrapped in wrapping today and I think it will be all right in another day or two now. But while the doctor who takes care of that type of thing was working on me, and I had a cartilage a little out of joint and he had to twist and jerk the leg and it was a little painful at the time, but I had to just relax. I had to relax in his hands. And that's what we must do in God's hands. We must relax and let God form and shape us His way and He will do it. I, years ago, used to take some osteopath treatments, and I learned that the osteopath couldn't do what he wanted to, in his twisting of my body and massaging and one thing and another, if I didn't just completely relax. And that's what we have to do in God's hands. And I tell you, what He has in store for us, people in this world have no idea! It is, well, it is not just fantastic; it is awesome and clear beyond any human understanding or realization now–The Awesome Human Potential. ( Transcript - Sermon (1982-10-16) - Aversion Therapy)