Pastors Report - 18 Dec 2020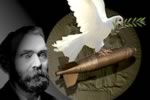 The Prize of Peace
"And suddenly there was with the angel a multitude of the heavenly host praising God, and saying, Glory to God in the highest, and on earth peace, good will toward men." (Luke 2:13,14)
Each year on the 10th December the world pauses briefly on the anniversary of the death of Alfred Nobel, to award the Nobel Peace Prize for that year. On the 25th of the same month the so-called Christian world gives lip service to the words of peace, announced by the angelic host to the shepherds at the birth of Christ. But the prize of world peace – which can be inferred in each case – has yet to materialise.
Alfred Nobel became an exceptionally successful engineer, chemist and businessman in spite of being born into poverty in Stockholm, Sweden in 1833. His crowning achievement was to take the exceedingly powerful but unstable nitroglycerine and by mixing it with sand make the readily-handled dynamite used extensively in mining and engineering thereafter. The irony is that, although he regarded himself as a pacifist, his inventive genius was very much in the area of explosives, inventing such things as gelignite, and he owned a number of armament factories, including the armament company Bofors. This company gave its name to the Bofors anti-aircraft gun used in WW2 – and still in service to this day.
However, in the last few years of his life a mistake by a French newspaper caused him to reevaluate the entire nature of his legacy. The newspaper inadvertently published his obituary on the incidence of his brother's death, describing him as "the merchant of death" in a major headline. This caused him to re-write his will, setting aside 94% of his extensive fortune – much to the dismay of his family – to establish the Nobel prizes; "to those who, during the preceding year, shall have conferred the greatest benefit on mankind" , and the most well known today is the Nobel Peace Prize.
The Reality:
It seems ironic that Alfred Nobel could be so successful in the armament industries and yet be primarily remembered today for his legacy of the peace prize which bears his name. But how many other individuals in recent history find themselves in a very similar position? Winston Churchill would certainly be one, along with many notables on the other side of the Atlantic ... Eisenhower, Truman and yes, even Abraham Lincoln. The world's attempts at peace so often take the form of trying to hide true intentions, merely by using 'peaceful' language. Hence we have defence departments, rather than what they truly are ... departments of warfare. And as far as achieving the prize of peace, the world remains as remote to such a reality as it ever has been. In the twentieth century alone there hasn't been a year in the full one hundred year period that hasn't had a major war of some kind somewhere on the earth. A ceasefire is little more than a snatching of breath between successive conflicts and the compromises made to produce peace agreements simply ensure that neither side is satisfied.
And as for the current Brexit negotiations in Brussels, Sky TV's reporter, Adam Parsons, had this to say ... "they can't even agree on what they are disagreeing about". What hope of peace there?
But if ye have bitter envying and strife in your hearts, glory not, and lie not against the truth.
This wisdom descendeth not from above, but is earthly, sensual, devilish.
For where envying and strife is, there is confusion and every evil work. (James 3:14-16)
...their works are works of iniquity, and the act of violence is in their hands.
Their feet run to evil, and they make haste to shed innocent blood: their thoughts are thoughts of iniquity; wasting and destruction are in their paths.
The way of peace they know not; and there is no judgment in their goings: they have made them crooked paths: whosoever goeth therein shall not know peace. (Isaiah 59:6-8)
Behold, their valiant ones shall cry without: the ambassadors of peace shall weep bitterly. (Isaiah 33:7)
Destruction Comes Easy:
Earlier this week I happened to catch a radio programme which was examining the cultural revolution of Chairman Mao Tse Tung from the mid 1960's and into the 1970's. One of the professors who were being interviewed made a most interesting comment, when he said that, as with so many revolutions, Chairman Mao found it relatively easy to destroy what he saw as decadent bourgeoisie imperialism, but exceedingly difficult to create anything truly meaningful to replace it. And I thought how insightful and true his comment was. Across the world so many of the initiators of conflicts put forth grandiose promises to justify the destruction of what went before, only to fall flat on their faces when the time comes to put such boasting into practice. Witness the 'freedom fighter' Robert Mgabe who turned white-ruled Rhodesia – the breadbasket of Africa – into a Zimbabwe on the brink of famine and bankruptcy once he gained power. And his successor, who fought to take over from Mgabe, has brought the country even more disaster, according to this recent report:
Ibbo Mandaza, a respected academic and director of a local think-tank Sapes Trust, said Mnangagwa's first year as president had been a total failure ... "Under Mugabe, things were getting bad. It's the same group of people essentially. It's them and it appears it ends with them. This can't go on forever ..." In the run-up to the elections last year, Mnangagwa promised millions of jobs, a better life, and a better Zimbabwe. A year later, none of the promises has been delivered. "He lied. We thought industries were going to open and new jobs created. He lied. None of the things he promised have been delivered," Zhakata, who was laid off from one of the country's largest bakery, Lobels, pointed out. Not many citizens will vent their anger in public. Some said Mnangagwa is far more brutal than Mugabe and an even worse dictator. ( aljazeera.com)
From the Russian purges by Stalin to the ideological cruelty of Pol Pot in Cambodia, peace has been far from the reality witnessed. Instead, multiple millions have perished and their countries still struggle to bring stability and wealth to their populations. Such all to easy destruction is not just limited to the physical, however. A few ill-chosen words, possibly uttered - or written - in the heat of the moment has damaged many a relationship and re-construction doesn't come easy: " An offended friend is harder to win back than a fortified city. Arguments separate friends like a gate locked with bars" (Proverbs 18:19 NLT) And once again, as with so many things, the real problem is spiritual in nature and involves our heart and mind – the vital lesson we all need to learn in this present unhappy, war-torn world.
True Peace on Earth:
But the true prize of world peace is more than possible – for it is prophesied to appear once the present evil spiritual broadcast has been banished – and replaced. This was the actual message that the angels mentioned in Luke 2 were bringing to the shepherds 2,000 years ago. But how very few are privileged – especially among those celebrating this time of year – to understand how this peace will actually come about.
Yet this universal peace will be true in both the Hebrew and the Greek sense of the word: The Hebrew word 'shalom' [Strongs 07965] will include worldwide abundance, happiness and every good thing. Whereas the Greek word 'eirene' [Strongs 1515] will then be manifested in the peaceful unity of peoples joined together as one, with a common purpose to life.
We see this complete manifestation of peace in several well known scriptures:
Because the palaces shall be forsaken; the multitude of the city shall be left; the forts and towers shall be for dens for ever, a joy of wild asses, a pasture of flocks;
Until the spirit be poured upon us from on high, and the wilderness be a fruitful field, and the fruitful field be counted for a forest.
Then judgment shall dwell in the wilderness, and righteousness remain in the fruitful field.
And the work of righteousness shall be peace; and the effect of righteousness quietness and assurance for ever.
And my people shall dwell in a peaceable habitation, and in sure dwellings, and in quiet resting places; (Isaiah 32:14-18))
And as brought out in both Isaiah and Micah, the art of making war will no longer be taught, but rather how to live at peace with one another. So within such an environment the manufacture of explosive weapons of war will be unthinkable;
And he shall judge among many people, and rebuke strong nations afar off; and they shall beat their swords into plowshares, and their spears into pruninghooks: nation shall not lift up a sword against nation, neither shall they learn war any more.
But they shall sit every man under his vine and under his fig tree; and none shall make them afraid: for the mouth of the LORD of hosts hath spoken it. (Micah 4:3,4)
Making Peace:
The peace that was proclaimed at the birth of the Messiah has absolutely everything to do with the true people of God and the training the church is currently undergoing. The passage above from Isaiah 33 that talks of the ambassadors of peace crying bitterly is particularly interesting in this light, as it is preceded by the following two verses, that explain that the peace that the world is longing for is to be accomplished by God filling Zion (the church) with true judgement and righteousness:
The LORD is exalted; for he dwelleth on high: he hath filled Zion with judgment and righteousness.
And wisdom and knowledge shall be the stability of thy times, and strength of salvation: the fear of the LORD is his treasure. (Isaiah 33:5,6)
Knowing that God's church is being tried, tested and measured, as per the first two verses of Revelation 11, and just as Alfred Nobel was shocked into action when he read his premature obituary, it might be worthwhile thinking what ours might contain, should it appear in the "Obits" in tomorrow's newspaper! With that sobering thought in mind, it's worthwhile going through a list that James gives us ... qualities that I am sure all of us would like to be remembered for:
But the wisdom that is from above is first pure, then peaceable, gentle, and easy to be intreated, full of mercy and good fruits, without partiality, and without hypocrisy. (James 3:17)
First Pure:
In saying that the wisdom from above is "first pure" James is not simply indicating that it just happens to be first in his list of points, as the preceding verses of chapter 3 make very clear indeed ... that you cannot get opposing spirits from the same source. For godly wisdom that leads to true peace can only flow from a single pure spiritual spring. And unless this source is placed first and foremost in our thinking, all the other areas that he goes on to cover would simply not be possible.
O LORD, I know that the way of man is not in himself: it is not in man that walketh to direct his steps. (Jeremiah 10:23)
Let the wicked forsake his way, and the unrighteous man his thoughts: and let him return unto the LORD, and he will have mercy upon him; and to our God, for he will abundantly pardon.
For my thoughts are not your thoughts, neither are your ways my ways, saith the LORD.
For as the heavens are higher than the earth, so are my ways higher than your ways, and my thoughts than your thoughts. (Isaiah 55:7-9)
Then Peaceable:
True peace – between us and God and each other – can only be possible to the extent that we go to this pure source, realising how much we need God's input in each and every aspect of our lives. Any other source of 'wisdom' will be tainted by the god of this world, and the last 6000 years clearly demonstrates the end result of doing so. But if we lock onto the wisdom that flows from God, we'll be taking on His very nature, His mind. And in the prophecy for the Messiah – peace will be the very essence of His rule on earth during the Millennium:
For unto us a child is born, unto us a son is given: and the government shall be upon his shoulder: and his name shall be called Wonderful, Counsellor, The mighty God, The everlasting Father, The Prince of Peace.
Of the increase of his government and peace there shall be no end, upon the throne of David, and upon his kingdom, to order it, and to establish it with judgment and with justice from henceforth even for ever. The zeal of the LORD of hosts will perform this. (Isaiah 9:6,7)
Gentle:
The word used for gentle is translated as 'moderation' in Philippians 4:5, and 'patient' in I Timothy 3:3 and it is again brought out as a dominant characteristic within the Messiah's reign;
Behold, the Lord GOD will come with strong hand, and his arm shall rule for him: behold, his reward is with him, and his work before him.
He shall feed his flock like a shepherd: he shall gather the lambs with his arm, and carry them in his bosom, and shall gently lead those that are with young. (Isaiah 40:10,11)
Just before Paul warns us of the dangers of the end time in II Timothy 3, he tells Timothy he is to be very different from the 'incontinent, fierce and those 'without natural affection', but rather;
...the servant of the Lord must not strive; but be gentle unto all men, apt to teach, patient,
In meekness instructing those that oppose themselves; if God peradventure will give them repentance to the acknowledging of the truth; (II Timothy 2:24,25)
Easy to be Intreated:
When we pray we do so to intreat a favour of God, who richly supplies all our needs. This basic facet of His character is something that flows out of Him via His spirit. That basic attribute should therefore be part of our character and wisdom too – and very much something which would lead inexorably to peace, as His desire is complete reconciliation:
Come now, and let us reason together, saith the LORD: though your sins be as scarlet, they shall be as white as snow; though they be red like crimson, they shall be as wool. (Isaiah 1:18)
Rebuke not an elder, but intreat him as a father; and the younger men as brethren; (I Timothy 5:1)
Like God, we should be willing to go the extra mile – even taking the loss when necessary in order to bring peace and harmony to our relationships. Ask ourselves ... are we approachable?
Full of Mercy:
One of the key ingredients God highlights as to what He requires of us is the character trait of mercy. (Micah 6:8) So important is this that He built it into the sample prayer, and after instructing His disciples to use it when praying, goes on to emphasise this point in particular...
For if ye forgive men their trespasses, your heavenly Father will also forgive you:
But if ye forgive not men their trespasses, neither will your Father forgive your trespasses. (Matthew 6:14,15)
For he shall have judgment without mercy, that hath shewed no mercy; and mercy rejoiceth against judgment. (James 2:13)
Full of Good Fruits:
To understand the good fruit that will result from this wisdom from above, we are given a specific list in Galatians, to evaluate ourselves against:
But the fruit of the Spirit is love, joy, peace, longsuffering, gentleness, goodness, faith,
Meekness, temperance: against such there is no law. (Galatians 5::22,23)
And the only means of generating such traits to the standard required, is given by the living Word of God in John 15:
Abide in me, and I in you. As the branch cannot bear fruit of itself, except it abide in the vine; no more can ye, except ye abide in me.
I am the vine, ye are the branches: He that abideth in me, and I in him, the same bringeth forth much fruit: for without me ye can do nothing. (John 15:4,5)
Without Partiality:
Way back in Deuteronomy, this aspect of not preferring one individual over another was entrenched in the law:
Thou shalt not wrest judgment; thou shalt not respect persons, neither take a gift: for a gift doth blind the eyes of the wise, and pervert the words of the righteous. (Deuteronomy 16:19)
And by the time we come to chapter 3, James has already dealt extensively with showing partiality to those that are rich and therefore have influence. God however, is no respecter persons, and therefore – as James explains – neither should we be.
My friends, as believers in our Lord Jesus Christ, the Lord of glory, you must never treat people in different ways according to their outward appearance.
Suppose a rich man wearing a gold ring and fine clothes comes to your meeting, and a poor man in ragged clothes also comes.
If you show more respect to the well-dressed man and say to him, "Have this best seat here," but say to the poor man, "Stand over there, or sit here on the floor by my feet,"
then you are guilty of creating distinctions among yourselves and of making judgments based on evil motives. (James 2:1-4 GNT)
Without Hypocrisy:
The single Greek word that is translated as 'without hypocrisy' in James 3:17 is normally translated as 'unfeigned', and as discussed in the previous Pastor's Report ... we all too readily put on a mask to make ourselves that much more acceptable, whereas with God, the love, faith and other good fruit you see is indeed the genuine article – and therefore must also be in His spirit-born sons.
In the mean time, when there were gathered together an innumerable multitude of people, insomuch that they trode one upon another, he began to say unto his disciples first of all, Beware ye of the leaven of the Pharisees, which is hypocrisy.
For there is nothing covered, that shall not be revealed; neither hid, that shall not be known. (Luke 12:1,2)
As the first few verses of the 'love chapter', in 1 Corinthains brings out...
Though I speak with the tongues of men and of angels, and have not charity, I am become as sounding brass, or a tinkling cymbal.
And though I have the gift of prophecy, and understand all mysteries, and all knowledge; and though I have all faith, so that I could remove mountains, and have not charity, I am nothing.
And though I bestow all my goods to feed the poor, and though I give my body to be burned, and have not charity, it profiteth me nothing (I Corinthians 13:1-3)
And the Result...
And the fruit of righteousness is sown in peace of them that make peace. (James 3:18)
In this case, the peace will be a lasting peace – a peace for the entire world and extending out into the universe:
And I will make with them a covenant of peace, and will cause the evil beasts to cease out of the land: and they shall dwell safely in the wilderness, and sleep in the woods.
And I will make them and the places round about my hill a blessing; and I will cause the shower to come down in his season; there shall be showers of blessing.
And the tree of the field shall yield her fruit, and the earth shall yield her increase, and they shall be safe in their land, and shall know that I am the LORD, when I have broken the bands of their yoke, and delivered them out of the hand of those that served themselves of them. (Ezekiel 34:25-27)
And long, long after Alfred Nobel and the legacy of his 'peace prize' has been forgotten, the true peacemakers, those who dearly prize peace – have this rock solid guarantee...
Instead of thy fathers shall be thy children, whom thou mayest make princes in all the earth.
I will make thy name to be remembered in all generations: therefore shall the people praise thee for ever and ever . (Psalm 45:16,17)
---